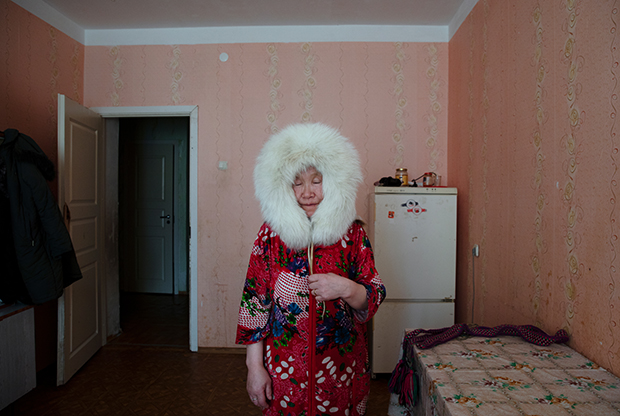 Pudani Audi (born.1948). Pudani was born in the tundra and roamed since birth. In this portrait, she is wearing a fur hat, the sole object she was left with from her wandering days. Pudani Audi: "I feel that my part is over. That I am no longer needed"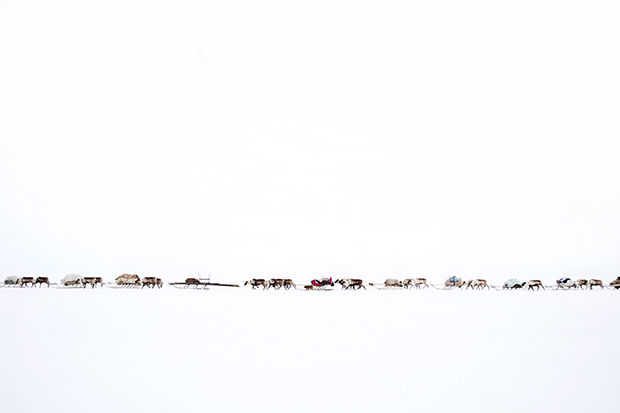 A convoy of reindeer, belonging to the Serotetto (white reindeer) family, during their migration over the frozen river of Ob.
In order to visit Yar-Sale, a secluded village deep in Northern Siberia, the photographer Oded Wagenstein spent days traveling: a plane to Moscow, followed by a sixty-hour train journey, and finally, a seven-hour drive to traverse a frozen river. "The first few days were extremely difficult," he tells me. "On my first night in the tundra, I slept in the tent of an eighty-year-old herder. The tent was filled with smoke from the stove, and the temperature outside was minus 25. Did I already mention that I am asthmatic?" In the end, though, it was all worth it to meet a group of elderly Nenets women who call this unforgiving landscape their home.