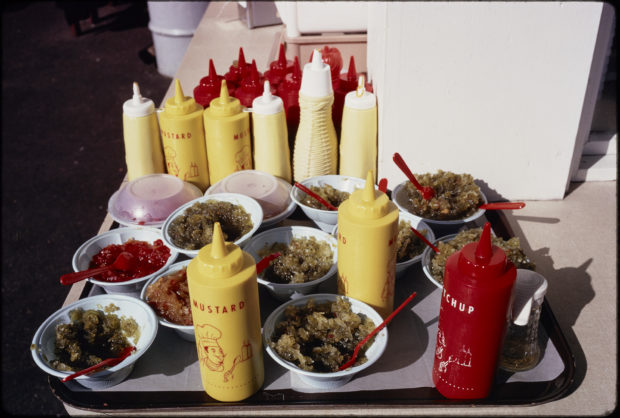 Garry Winogrand (American, 1928-1984). Untitled (Cape Cod), 1966.
35mm color slide. Collection of the Center for Creative Photography,
The University of Arizona.
During the 1950s and '60s, Garry Winogrand made more than 45,000 color slides, socking away tens of thousands of unprinted images when he died. The Bronx native came from humble working class roots, where the journey — and not the end — was the purpose of his work. Winogrand photographed, and left an archive behind of the world seen through his streetwise eyes.
Known best for his black and white photographs that pioneered a snapshot aesthetic in fine art, Winogrand's color work is now receiving its due in Garry Winogrand: Color at the Brooklyn Museum, now through December 8, 2019.
As the exhibition reveals, color was an ace in Winogrand's hand. He was thoughtfully attuned to the vibrations that color imbued the image as a whole — as well as the way it enhanced our experience of the objects themselves. In his hands, color becomes a poem, a sonnet, an ode, a diddy bop that you can imagine Winogrand whistling while he worked making these photos.