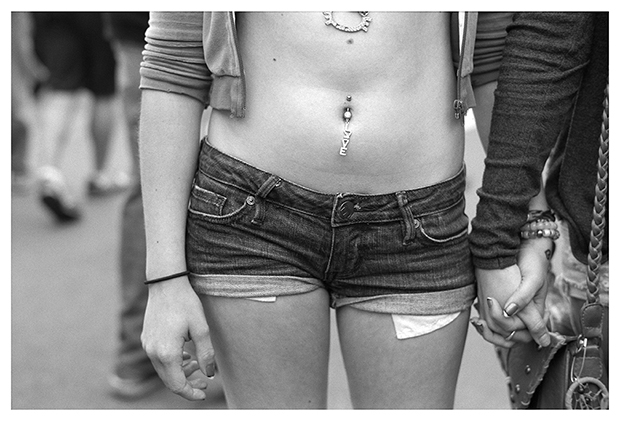 Love Belly, Huntington Beach, California, 2011
February-March 1987
I didn't know what was expected of me.
I didn't know what to tell my dad.
How could I give him directions to save me.
I didn't want to make him mad.
I didn't want to get into trouble with him.
So I decided not to call him.
That was my last decision.
He decided to kiss me on the couch.
I sat there scared to death.
He decided we should go to "bed".
I was praying for sleep.
He wore just boxers.
I think I wore a t-shirt.
He decided to kiss me some more. He decided to lay on top of me.
I told him I was still a virgin.
© Deanna Templeton, courtesy the artist and Little Big Man Gallery
In 1985, a teenage girl in Orange County ran away from home. She stayed away for one night and came back to her mother, who gave her a camera "as a coming home present." Thirty years later, that young woman has grown to become photographer Deanna Templeton, but the camera continues to be the thread that ties her to her past as a passionate, punk-loving adolescent from suburbia.