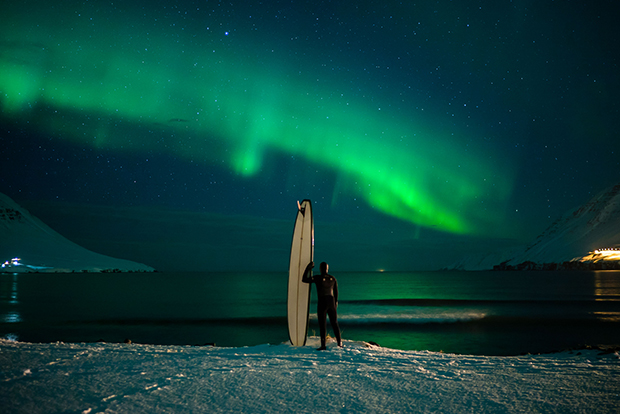 Justin Quintal standing under the northern lights while filming for Under an Arctic Sky. Shot with Sony a7S II with 35mm f1.4 ©Chris Burkard/Massif
Photographer Chris Burkard has navigated frozen waters, survived rugged waves, and walked beaches so remote they don't have names. He's smiled his way through harsh blizzards, braved arctic winds, and come face-to-face with some of the wild animals who call this planet their home.
Burkard was only nineteen years old when left his job at the time to become a professional surf photographer, and his connection with water has only become stronger over the years. "My entire life I've lived less than a mile from the ocean," he recently wrote on Instagram, where he has well over two and a half million followers.
But Burkard isn't your typical surf photographer. "I set out to find the places others had written off as too cold, too remote, and too dangerous to surf," he told the audience in a TED talk a few years ago. For his book Distant Shores, he documented surfing on six of the seven continents on earth.
His film Under An Arctic Sky tells the story of six surfers who made the journey to Iceland right before the arrival of the worst storm in a quarter-century. They risked everything for a shot at once-in-a-lifetime waves, and with just three hours of sunlight per day, their journey was illuminated by the aurora borealis.
The film is currently touring, and Burkard made time in his packed schedule to tell us a bit about his process and motivations. Below, he shares some of his most memorable stories and insights into the importance of conservation. He also gives us a peek into his camera bag and reveals how he uses Sony mirrorless cameras to make the photographs the Sierra Club once called "too good to be true."