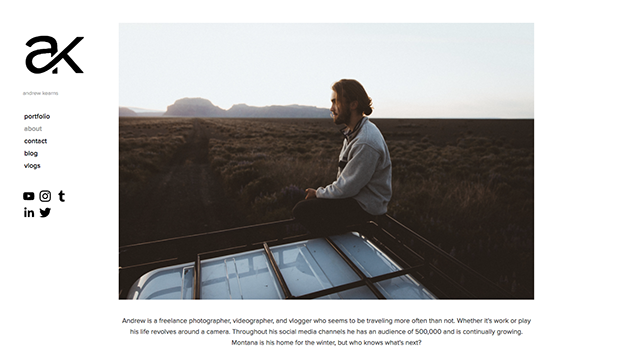 When Andrew Kearns first started taking pictures, people told him it was almost impossible to make a living as a photographer. They thought he needed a "safe" career. They were wrong. In early 2015, he took a leap of faith and left his job at Starbucks. His Instagram took off, and soon after that, his dream became a reality.
Since then, he's taken more risks. In the spring of 2016, he left everything behind to live out of his car and explore the world around him. These days, Kearns is still traveling, shooting sublime landscapes and chronicling his adventures on his popular vlog channel. He's watched the sun rise and set over some of the most beautiful places on earth, and most recently, he's hiked Ben Hope in Northern Scotland.
We interviewed Kearns about Instagram stardom, the importance of hard work, and the value of a Squarespace website.