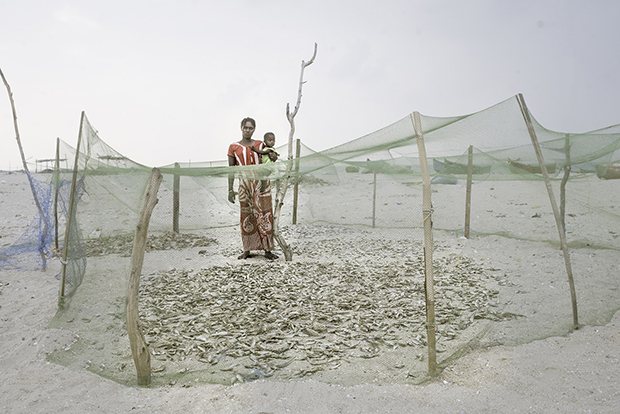 Japiyammal, 34, sells dry fish to make a living for her family. She also received a notice to vacate her home. After 50 years, the government suddenly seems to have woken up from its deep slumber and recognized the tourism potential in Dhanushkodi.
The fishing community here relies on traditional methods of reading the winds, stars and direction of waves. Without any formal training on modern techniques of fishing and unavailability of any GPS or Wireless devices, it is very hard for Japiyammal and other fishing community, to leave their land and learn the new ways of fishing elsewhere.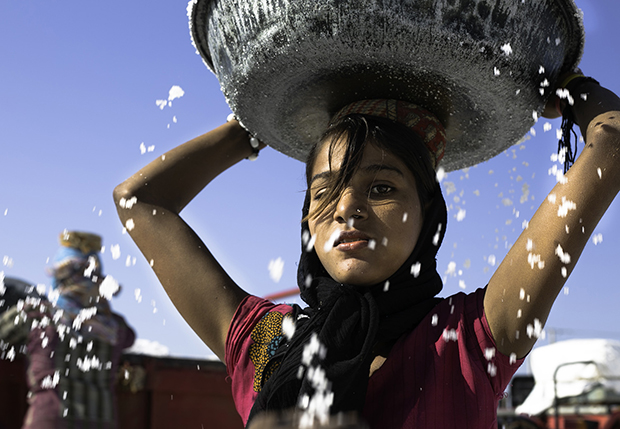 Initially, I thought Bharti, 13, was accompanying her parents to the fields since they did not want to leave her behind at home. But to my surprise, Bharti joined the work along with other adults on the salt plant. I saw her lifting the heavy pans full of salt, way too heavy for her thin arms. Her repeated movements of lifting salt and filling the tractors were fast but painful. It's not just Bharti; there are scores of children waiting endlessly for an opportunity to lead a healthy life beyond these salt pans.
Deepti Asthana is a self-taught photographer living in Mumbai, India. She was born and raised in a north-Indian city called Bareilly in Uttar Pradesh, where she grew up in challenging circumstances. Asthana graduated with a degree in engineering from Tamil Nadu and spent some time working in Mumbai and Delhi; all this while she knew she wanted more out of life. In 2011 she was sent to London for a project from her organisation and met a landscape  photographer there. This meeting helped her discover a talent and passion for telling women's stories through photography, which led Asthana to begin her project titled Women of India, in 2016. Her journey since then has brought the two Indias closer through her work and continues to shape her perspective of travelling alone through rural India.