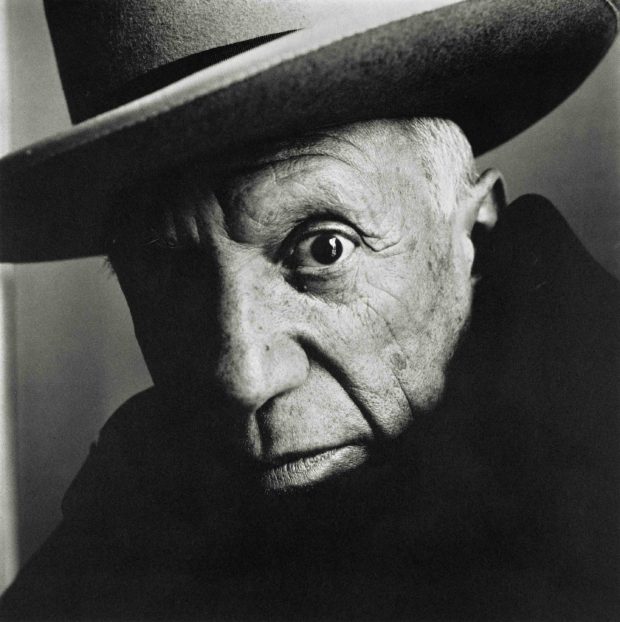 Irving Penn, American, Plainfield, New Jersey, 1917–2009, New York.
Pablo Picasso at La Californie, Cannes
1957, printed February 1985 Platinum-palladium print
Image: 18 5/8 x 18 5/8 in. (47.3 x 47.3 cm.) Sheet: 24 15/16 x 22 in. (63.3 x 55.9 cm.) Mount: 26 x 22 in. (66 x 55.9 cm.) Overall: 26 x 22 in. (66 x 55.9 cm.)
Promised Gift of The Irving Penn Foundation IP .123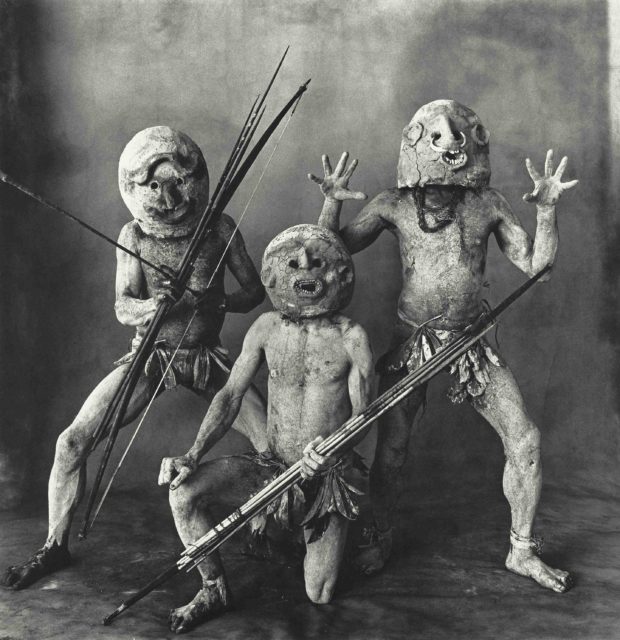 Irving Penn, American, Plainfield, New Jersey, 1917–2009, New York.
Three Asaro Mud Men, New Guinea
1970, printed 1976 Platinum-palladium print
Image: 20 1/8 x 19 1/2 in. (51.1 x 49.6    cm.) Sheet: 24 15/16 x 22 1/16 in. (63.3 x 56 cm.) Mount: 26 1/16 x 22 1/16 in. (66.2 x 56 cm.) Overall: 26 1/16 x 22 1/16 in. (66.2 x 56 cm.)
Promised Gift of The Irving Penn Foundation IP .154

"Photography is just the present stage of man's visual history," Irving Penn (1917-2009) sagely observed, recognizing the infinite possibilities of the human animal to create technology that would advance our ability to document, represent, and re-envision the world. As a master of the form, Penn understood that the only thing that limits us is imagination.
For seven decades he worked, becoming a master of studio photography with the ability to craft pictures of anything he wished. Here was a man who could transform his very first commission for Jell-o pudding into a resounding success, even though, as Penn realized, it was, "a abstract nothing, it's just a blob of ectoplasm."
Yet with that formless glob of goop crafted in a laboratory, Penn was able to entice consumers to buy and serve the product en masse. It's precisely this ability to transcend the particulars that made Penn a master of whatever form he chose to shoot, be in portraits, fashion, still life, food, nudes, or flowers. He understood that the photograph was an invitation to engage, to gaze upon the world without actually having to interact with it.