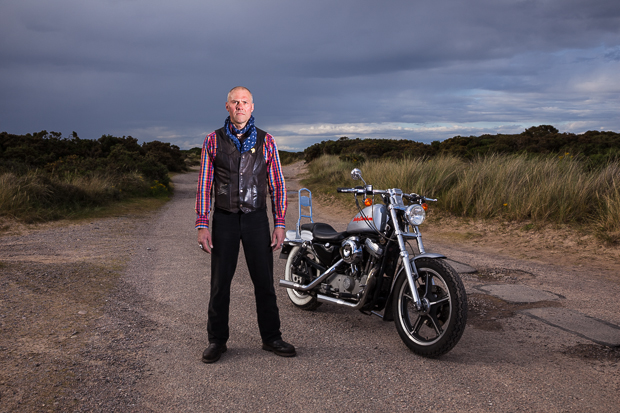 [17.2 tonnes CO2e]
Bev is an Environment Protection Officer with the Scottish Environment Protection Agency (SEPA). He loves riding his motorcyles of which he has four. He lives alone.
"The ice caps have come and gone on a 180,000 year cycle but it is evident that they are now melting at a rate faster than they normally would. Human impacts have made a great contribution to some aspects of climate change, We are in a cycle and we can't stop it. I honestly don't know the answer. Maybe we can slow it down a bit, but I do think we'll end up going back to water where we came from at some point.I am not very optimistic – I really do not know what we could do to make a difference. Personally I'm not surprised at the size of my carbon footprint, it does make me reflect on the sustainability of my current lifestyle. I live in an old stone building with very poor thermal properties."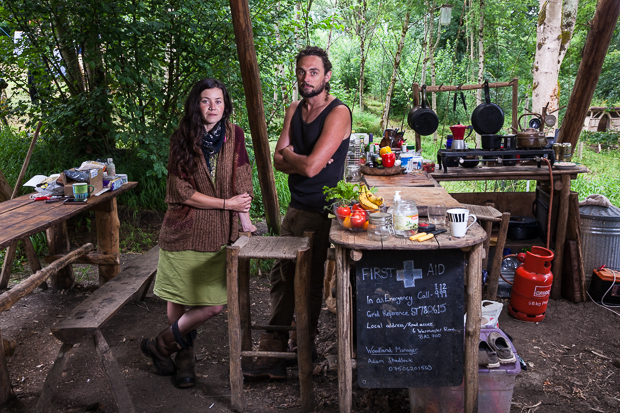 [4.8 and 6.9 tonnes C02e]
Karen and Adam live and work in the woods in the south of England. They make charcoal and manage the woodland using traditional coppicing techniques.
"We think of this as a carbon neutral business. With the coppicing, we're restoring old hazel. When we came here it was getting old and large, and starting to collapse. Old trees don't consume as much carbon as a young tree. Where we've got the young stools coming up, they're consuming much more carbon. So this woodland is now consuming more carbon than before we started managing it. Climate change is a big issue. Where possible I like to buy local, but it often comes down to money if I'm buying new. I drive a lot and I keep an old diesel vehicle on the road and I use recycled chip fat biofuel when I can. I don't really think about climate change when I travel. If I have the funds and want or need to go somewhere, I go. While the elite are making money from war, I don't feel me and my van will make a lot of difference when there are fighter jets burning more fuel on take off than me making a thousand mile journey." The difference in their footprints is largely to do with the driving done by Adam.
We all know about climate change in a sweeping and abstract way; we understand that sea levels are rising, that coastlines are in danger, that animal populations are dwindling, and that we can no longer tame weather patterns and natural disasters. We recognize where our governments and global communities have failed, but for many of us, suggests photographer Neil Baird, our comprehension of climate change has one gaping blind spot: our own role in the problem. For Footprints, he documents and interviews people living around the United Kingdom about their thoughts on the significance of climate change and our uncertain future, all while calculating their individual carbon footprints.