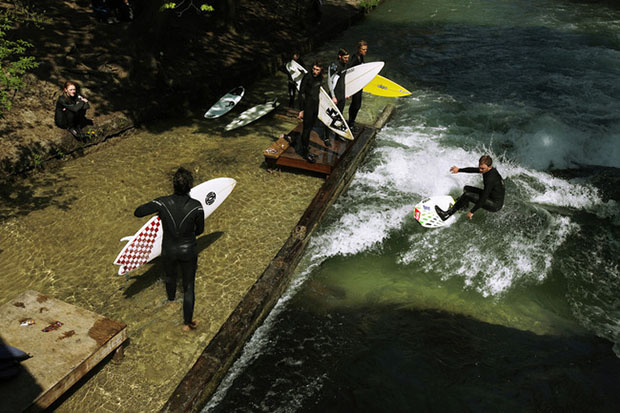 Surfing on The Eisbach river, Munich © Alberto Bernasconi / Offset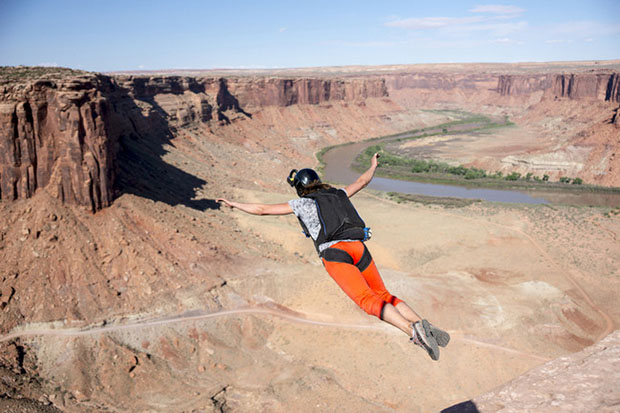 BASE Jumping in Moab, Utah © Gabe Rogel / Aurora Photos / Offset
When we think of "vacationing" as a verb, our minds go to white sand beaches and days spent languidly basking in the sunshine, but over the past five years, a new trend has the tourism industry by storm. Cruises are out of vogue; base jumping, spelunking, and deep sea diving are in.
"Adventure travel" took off full force in 2009, and four years later, the marked departure from the typical family holiday caught the attentions of The George Washington University and prompted the 2013 Adventure Tourism Market Study. According to their research, the industry of adventure travel, which includes scheduled activities like extreme sporting and outdoor exploration, has grown at a rate of about 65% each year. This year, travelers are hungrier than ever for new, uncharted destinations and adrenaline-pumping experiences.
Just a decade ago, traveling to remote locations to participate in risky, physically taxing activities like free-diving, mountain climbing, or parachute jumping was the sole territory of daredevils and backpackers. The increased yearning for overseas adventure comes mostly from the younger generation, those who are waiting longer to get married and have kids, those who are devoting more time to exploring and finding themselves by experiencing different cultures firsthand. What was once alternative has become mainstream.
Now that people are more aware of the importance of sustainability and conservation, resorts and lodges have taken into consideration the ecosystems of some of the world's most precious areas, and instead of wiping away local traditions, they're starting to embrace the value of learning from others. In honor of the summer season, we've pulled together some of the most astounding extreme travel photographs we could find, all sourced from Offset's collection of high-end editorial and commercial imagery.