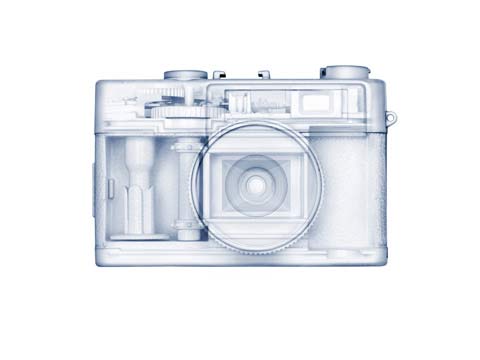 PO5 from the Proposition One: Only The Ephemeral series. ©2011 Max de Esteban
The overall photographic practice of Barcelona-based photographer Max Esteban explores socio-political concepts within visual structures of serialization and repetition. His most recent body of photographs, Proposition One: Only The Ephemeral, is opening tonight at Klompching Gallery (NYC).

With this new work, he turns his camera toward recent cutting-edge technology—utilized in the creation and communication of art—that is now considered obsolete. Through a time-consuming and meticulous process, he disassembles apparatus such as film projectors, 35mm film cameras, VHS tape players and record players. Piece-by-piece, the parts are painted white, the machines are then reassembled and photographed at different stages of being re-built. The photographed layers are themselves assembled into a single image, resulting in x-ray-like photographs that are reminiscent of architectural cyanotypes.