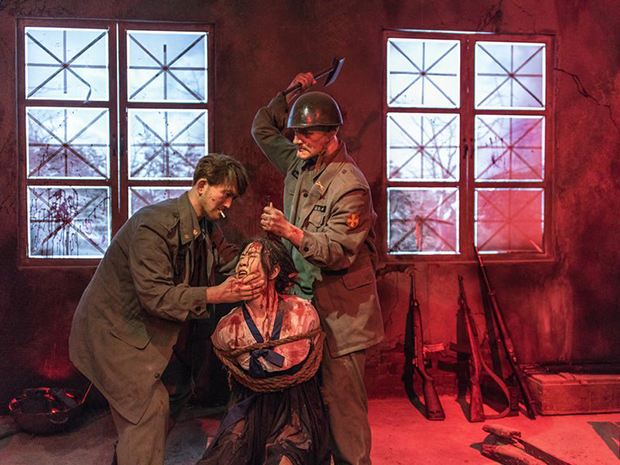 In a diorama at the Sinchon Museum of American War Atrocities, U.S. soldiers are depicted driving a nail into a Korean woman's head. The regime uses the museum's gory displays to foster an unsubstantiated narrative that American-led forces massacred 35,000 civilians in Sinchon in 1950.
Meticulously choreographed military parades. Strident news announcements on state television. Missile tests presided over by a grinning Kim Jong Un. Propaganda from North Korea comes to us fully formed and almost alluring in its opacity: a finished product that has been carefully constructed to convey an idealized image of strength and unity.
Carl De Keyzer, a photographer based in Belgium, offers a different and more intimate view: a glimpse of the process of indoctrination within North Korea. From their first day in kindergarten, children are spoon-fed propaganda—from lectures about the legendary feats of Kim Il Sung to field trips to a museum that depicts, in gruesome detail, Americans massacring Koreans. What makes the images all the more remarkable is that De Keyzer was subject to the same restrictions imposed on foreign tourists who visit North Korea. During his four trips to the country over the past two years, he was attended at all times by official minders, and had to submit his photos for state approval.