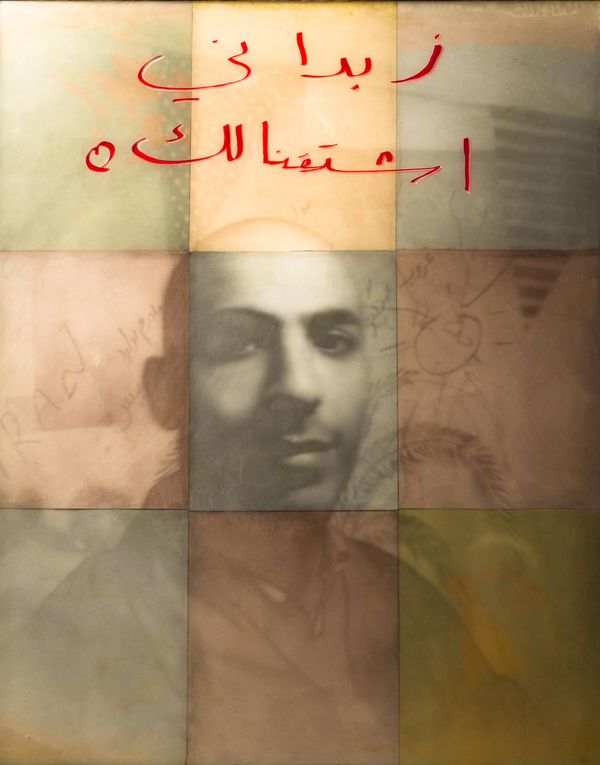 Moria #2: Rakan Alzahab, who fled the civil war in Syria, at the food tent at the Moria refugee camp on Lesbos, Greece, in February 2016. His inscription, in Arabic, reads, "Zabadani, we miss you." It refers to his hometown, in the hills outside Damascus. (Artwork by Wayne Martin Belger; Photograph of artwork by Jade Beall)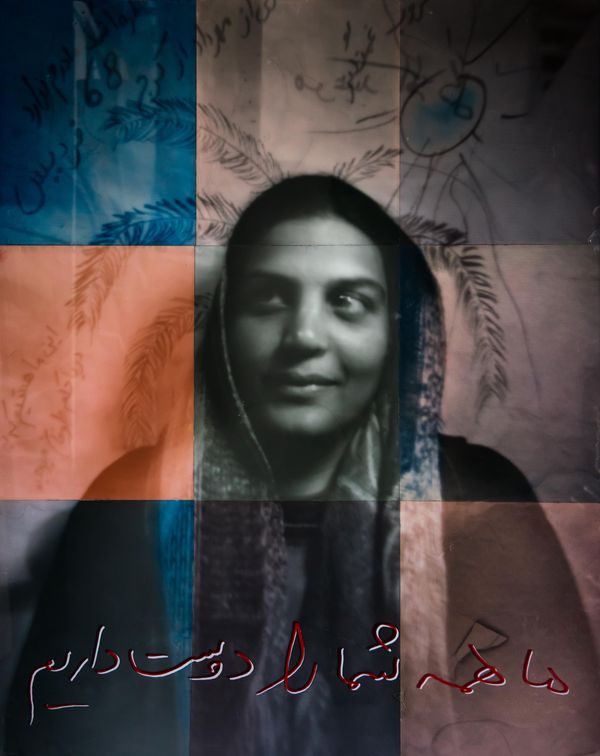 Moria #3: An Afghan woman at the food tent at the Moria refugee camp on Lesbos, Greece, in February 2016. She had arrived after crossing the Aegean Sea in a smuggler's rubber boat. Her inscription, in Dari, reads, "We love you all." (Artwork by Wayne Martin Belger; Photograph of artwork by Jade Beall)
Syria's civil war was hurtling into its third brutal year in the spring of 2014. Rakan Alzahab was 17. One day, when he was stopped at an army checkpoint near Damascus, a soldier examined his cellphone. Among the pictures on it was one of his cousin's daughter holding a rebel group's flag across her shoulder.
The soldier took him into a building where other soldiers beat him for two hours before setting him free. "I returned to my house where I lived with my mother and my sister," Alzahab told Smithsonian by email. "My mother saw me and got shocked and said, 'You will not stay here anymore. Go away and stay alive.'" And so began his long journey into exile.
The photograph of Alzahab on this page was taken while he was on Lesbos, where the Moria refugee camp, a fenced-in jumble of cheek-by-jowl shelters, left a big impression. After a sleepless night—"I was afraid something would happen to me or someone would come and steal my money"—he walked to the food tent. "I was in the line, waiting, when Wayne came with his camera. I asked myself, who is this man and what is he doing here?"
Wayne is Wayne Martin Belger, an American photographer, and he was volunteering at Moria while working on a project he has titled "Us & Them," a series of unusual portraits of people who have been oppressed, abused or otherwise pushed to the margins. The camera that caught Alzahab's eye is indeed a curiosity: 30 pounds of copper, titanium, steel, gold and other metals welded together into a box that makes pictures by admitting only a pinhole of light.