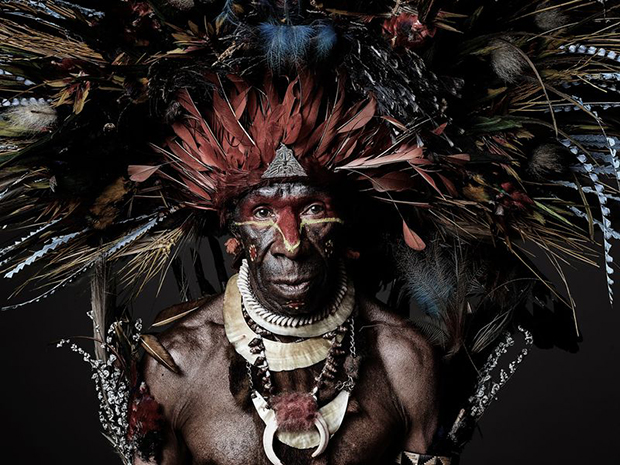 Joseph Kayan, a Goroka Show participant from Chimbu Province, wears boar tusks and the tail of a tree kangaroo around his neck. The design of his headdress is specific to his village: it includes bird-of-paradise feathers, with reeds to fill out the shape. His armlets hold sprigs of plants from his region.
Is any place on the planet less familiar to Americans than heavily forested, mountainous, linguistically complex, faraway Papua New Guinea? The photographer Sandro, who's based in Chicago, went to the Eastern Highlands and attended the Goroka Show. That's a three-day festival where people from all over the country showcase their customs. In a makeshift studio Sandro photographed men and women wearing costumes unique to their villages.
This kind of undertaking is not without risk. Anthropologists rightly caution against ethnic stereotyping, and a Papuan elder in feathered regalia doesn't stand in for the entire population any more than a woman wearing a calico bonnet in Colonial Williamsburg is a typical American. But his headdress is an amazing heirloom, a thing of beauty deeply linked to an ancient way of life.
Read the rest of Torsten Blackwood's article on Sandro's photographs at Smithsonian Magazine.