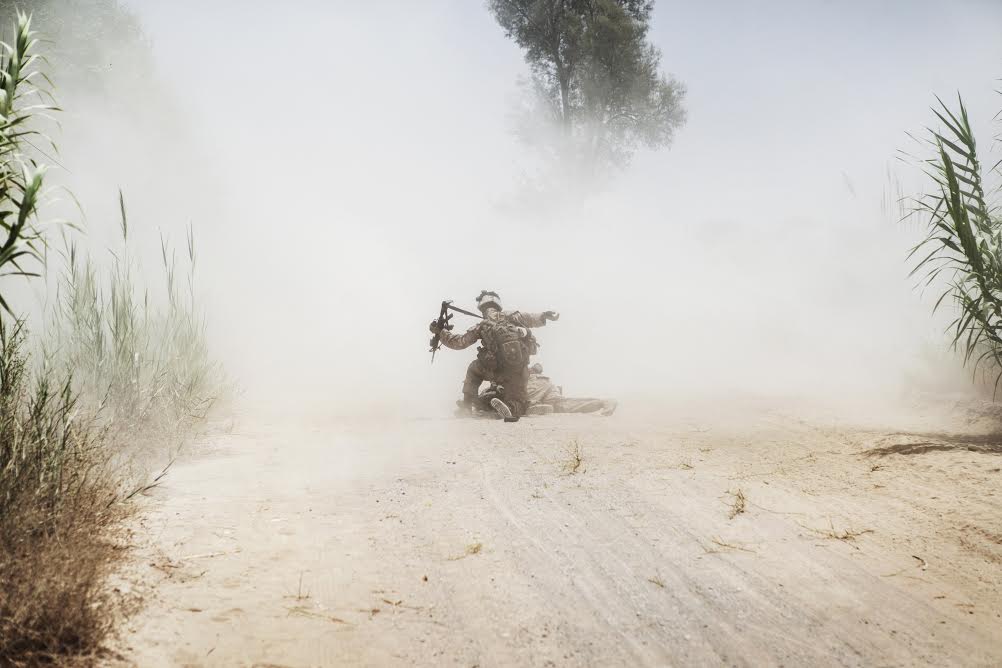 Seconds after an IED buried in the road hit Cpl. Manuel Jimenez, Cpl. Eric Hopp rushes in to help. The unit had engaged in a firefight against the Taliban earlier that same day © Victor J. Blue
The time stamp on the first picture I made after the blast, out of focus and full of dust, says 11:26:06 a.m.
A few pictures later, at 11:27:41, team leader Cpl. Eric Hopp has a tourniquet on Cpl. Manuel Jimenez's arm. Only about 1 minute and 35 seconds, from blast to stopping the bleed. I remember the force of the explosion and how it made my shoulders seize and then I couldn't hear. How I looked back and forth, trying to figure out where it came from until I realized it was right behind me. I remember I wheeled around and saw a curtain of white and I felt Corporal Hopp running past me. I pushed the button and squeezed off a couple of pictures, but the camera wouldn't focus. It felt like someone slowly turned up the volume in my head, and then I could hear Jimenez screaming. I ran into the white dust until I saw him on the ground, writhing, and Corporal Hopp above him, saving him.
The war in Afghanistan took Cpl. Manuel Jimenez's left arm. But in the eight years since we shared that terrible day, he's made it clear that an arm is all he let it take from him.