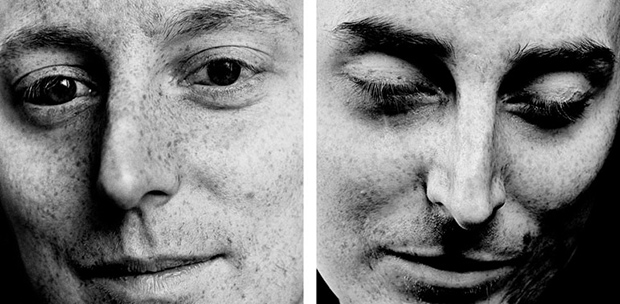 Name: Jan Andersen.
Age: 27
Born: 21st of February 1978
Died: 14th June 2005, at Leuchtfeuer Hospice, Hamburg
Jan Andersen was 19 when he discovered that he was HIV-positive. On his 27th birthday he was told that he didn't have much time left: cancer, a rare form, triggered by the HIV-infection. He did not complain. He put up a short, fierce fight – then he seemed to accept his destiny. His friends helped him to personalize his room in the hospice. He wanted Iris, his nurse, to tell him precisely what would happen when he died. When the woman in the room next to him died, he went to have a look at her. Seeing her allayed his fears. He said he wasn't afraid of death. 
"You're still here?", he said to his mother, puzzled, the night he died. "You're not that well," she replied. "I thought I'd better stay."
In the final stages, the slightest physical contact had caused him pain. Now he wants her to hold him in her arms, until the very end. "I'm glad that you stayed."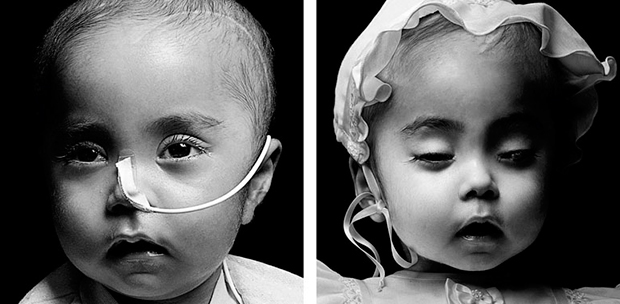 Name: Elmira Sang Bastian
Age: 17 months
Born: 18th October 2002
Died: 23rd March 2004, at her parent's home
The tumor was probably already present when Elmira was born. Now it takes up almost the entire brain. "We cannot save your daughter", the doctor told Elmira's mother. Elmira has a twin sister. She is healthy. Their mother, Fatemeh Hakami, refuses to give up hope: how can God have blessed her with two children, only to take one of them away from her now? Surely God is the only one who decides whether we still breathe or not?
One sunny day, Elmira stops breathing. "At least she lived", says her mother. She takes a small white dress from the cupboard, Elmira's shroud. Her parents then read the Ya Sin – the 36th chapter of the Koran which describes the resurrection of the dead.
Photographer Walter Schels was terrified of death, so much so he refused to see his mother after she passed away. Upon entering his 70s, Schels finally decided to overcome his fear through a bold, bizarre project – photographing individuals before and directly after their death. The black and white portraits are a clinical confrontation with the the unknown, the proximity of the lens to subject unflinching and slightly macabre. Images are paired with startlingly frank accounts of the deceased right before their passing, each person dealing with the inevitable in their own way.