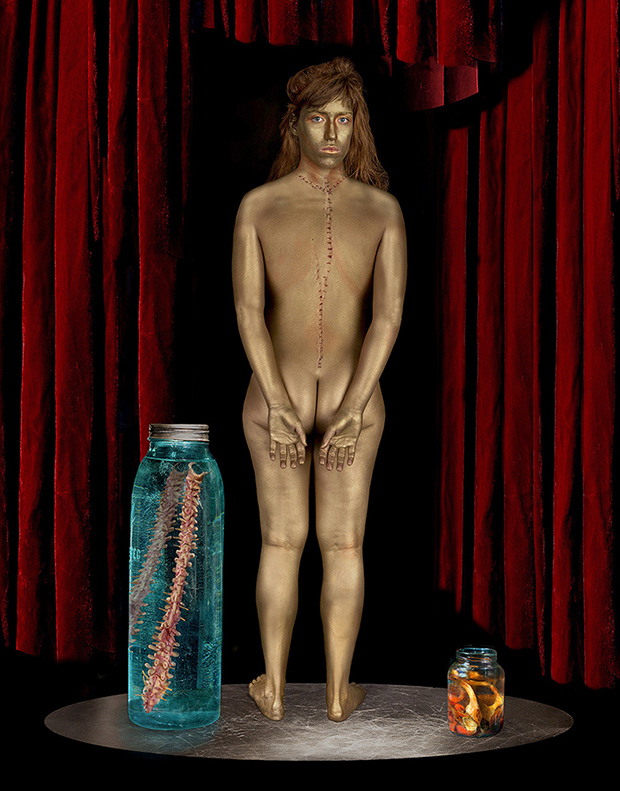 Girl Alive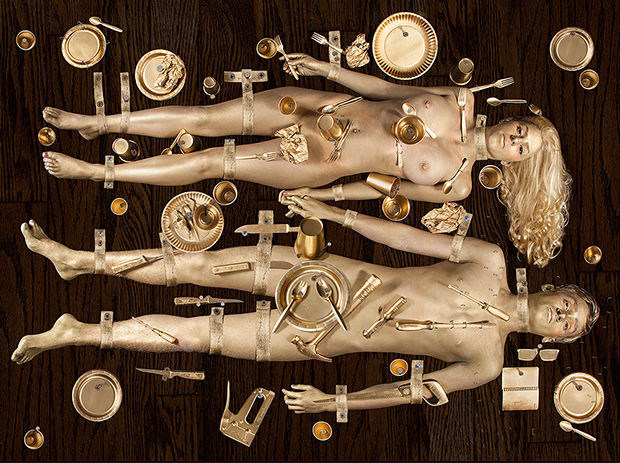 Picnic with Hand Tools and Hardware
"Go back Lou, we're not ready for you yet," said a throng of hundreds as photographer Lou Krueger hovered above the grassy hill. Below him, the figures stood clothed all in beige, the rush of the ocean beside them. This dream— one the photographer can only describe as "most extraordinary, impossibly wonderful, unbelievably joyful"— came to him on the night his heart stopped, and for a brief moment, he died.
Krueger is not a religious man, but his brush with death, followed by a subsequent diagnoses of and treatment for epilepsy, has instilled within him a persistent consciousness of the failings and fragilities of the human body. He recounts an adage once told to him by a friend— "the only problem with our bodies is that we have to live in them"— before divulging that his shoulder is held together with pins, his jaw with wires. His hip is replaced with a metallic alternate, and at night, his breathing is aided by a separate machine.
For all the corporeal pain he's had to endure, the photographer sees parallels in the more private, secreted thoughts that cut in and out of the human subconscious. The Temple of Wonders is a physical representation of all that cannot be uttered, a resurfacing of all things fanciful and monstrous that lay hidden within each of us. In his disfigured protagonists, Krueger illuminates the most disquieting—and paradoxically, the most precious— aspects of being mortal.
Every element in the montage is shot by Krueger himself, and although he uses models, his own body emerges in the details; the staples that bridge severed flesh, for instance, were shot after he had his hip replaced. Although Krueger's distorted and reassembled bodies certainly elicit discomfort, the golden shimmer that blankets nearly every surface allow us to find moments of reverie and exquisiteness within the peculiar.
Krueger's models and props are adorned with either spray paint or airbrush makeup, though most of the models' bodies are painted by hand. The shooting sessions consume hours and are exhausting for everyone involved, says the photographer, but the process is in many ways a labor of love, something intimate and treasured that he shares with those who choose to take part. As for post-processing and compiling the montages, Krueger has devoted hundreds upon hundreds of hours. The images from The Temple take anywhere from three weeks to two years to complete, often requiring their creator to persist on very little sleep.
When asked whether The Temple has in any way answered the questions born from his near miss with the grave, Krueger admits that he will need the rest of his days and more to uncover the truth about life and death. He does allow, however, that he no longer fears the scythe of the grim reaper.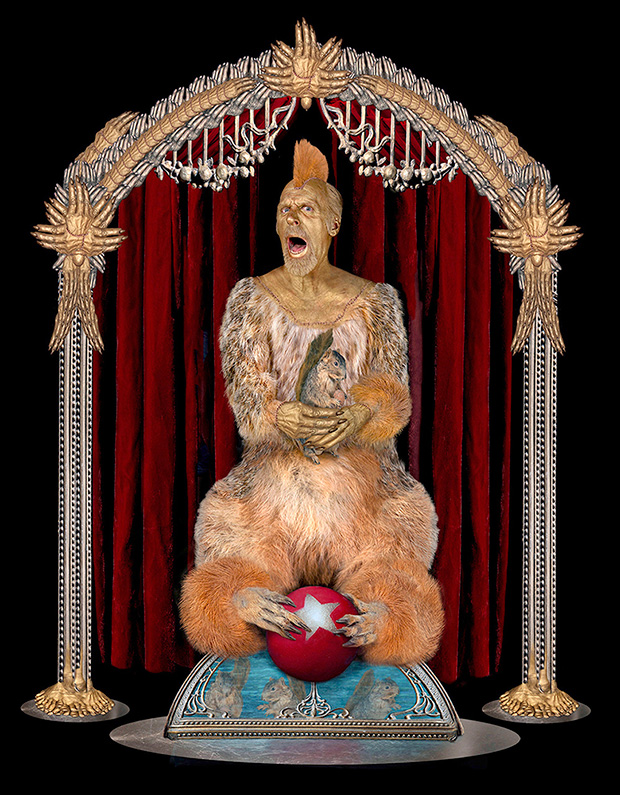 Squirrel Man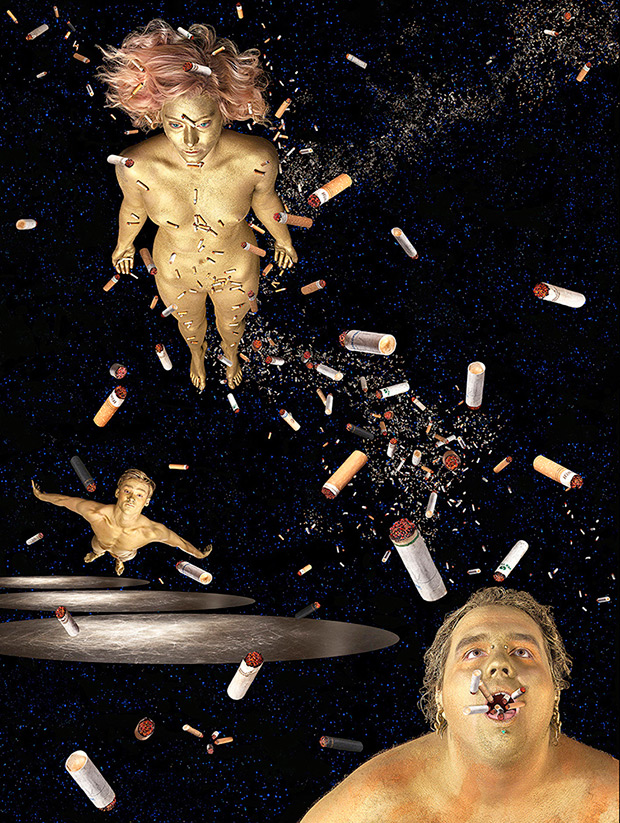 The Human Ashtray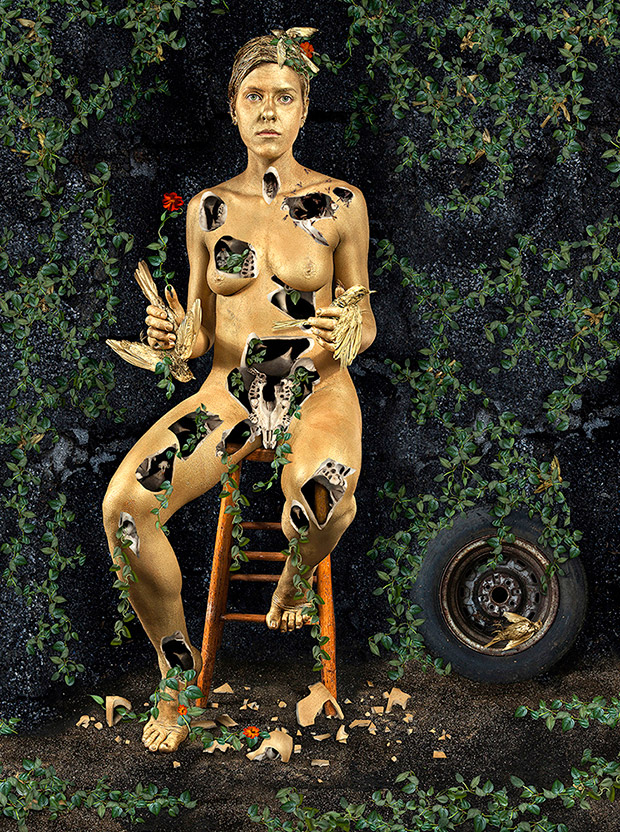 Of Birds, Of Bees, Of Bodies and Bones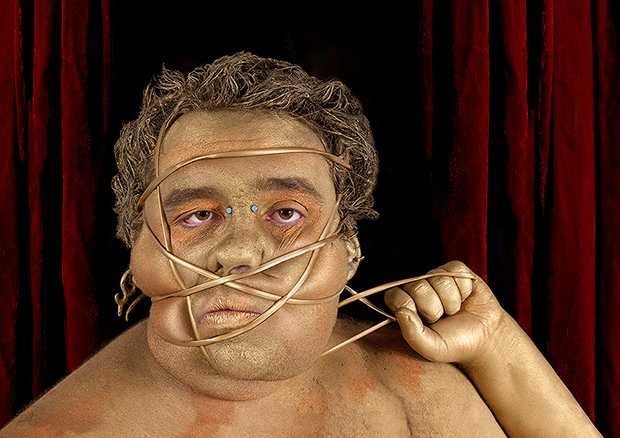 Wired 2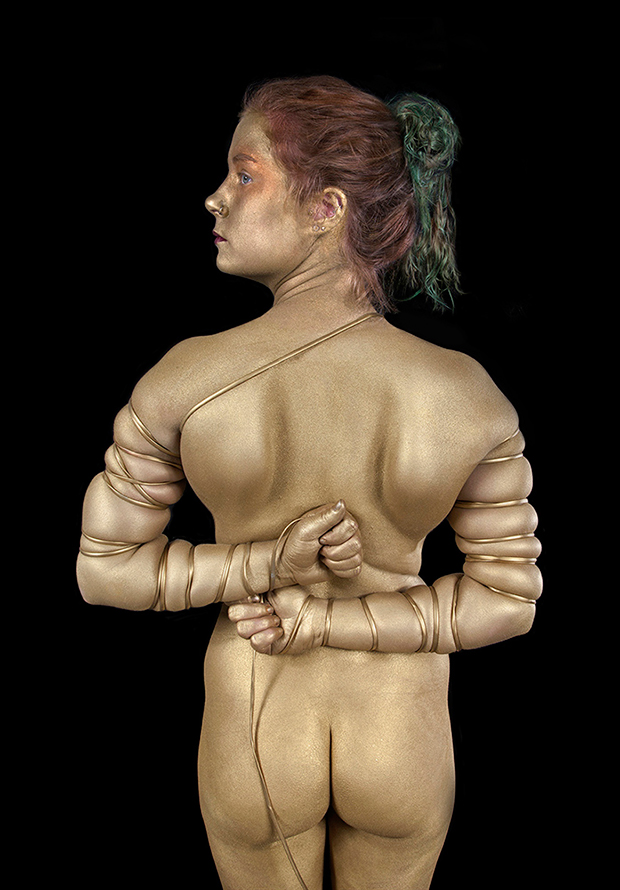 Wired 3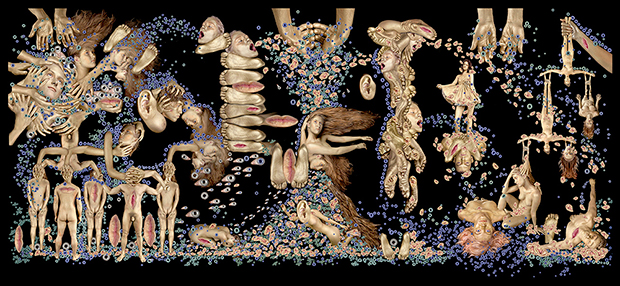 The Gown of Eyes, Ears and Tears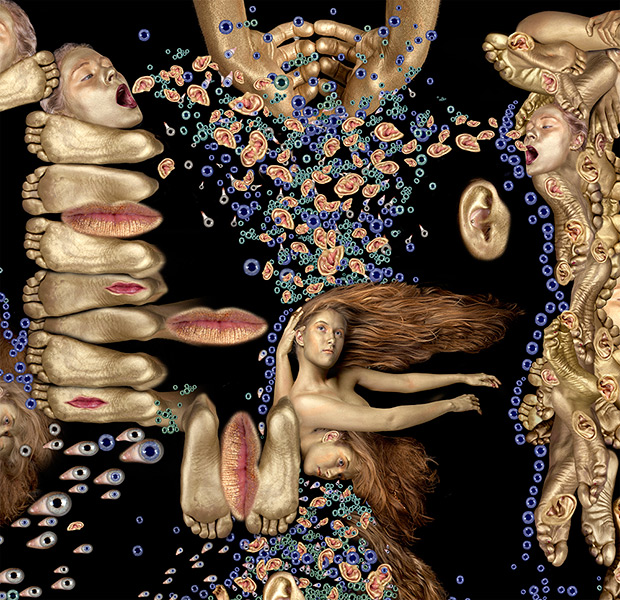 The Gown of Eyes, Ears and Tears (detail)
All images © Lou Krueger
Discover More