Migrants atop the freight trains travel without protection. They are vulnerable to being hit by trees, wind, rain and hot sun, so the tiredness sometimes overcomes they and fall down onto tracks. The dream ends. That dream of supporting to their families that left behind. in Arriaga, Mexico, January 21, 2008.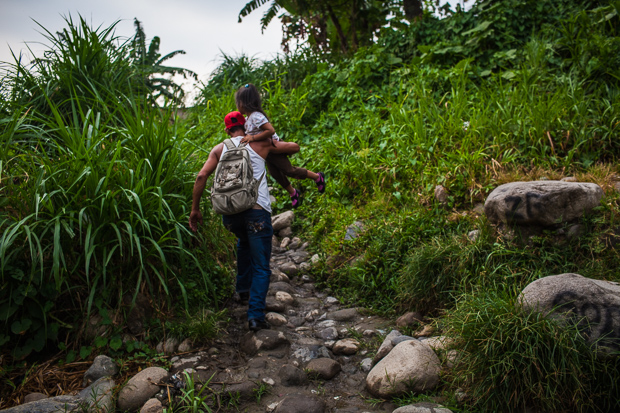 A man holds a little girl while crossing the border under the Talisman checkpoint between Guatemala and Mexico illegally, in Talisman, Mexico, April 18, 2013.
A Honduran immigrant smokes a cigarette and covers himself from the rain with a piece of cardboard while he waits beside the railroad to climb "the beast" or "train of death," the freight train where thousands of migrants travel with the intention of reaching to United States, in the State of Mexico, August 20, 2008.
The Suchiate River is the crossing point between Mexico and Guatemala for thousands of Central American migrants hoping to make it to El Norte, the United States. They cross the water on a couple of beat-up intertubes with planks of plywood taped on top of them. Mexican photojournalist Rodrigo Cruz shot these migrants across the Guatemala-Mexico frontier for his latest project Frontera Sur.