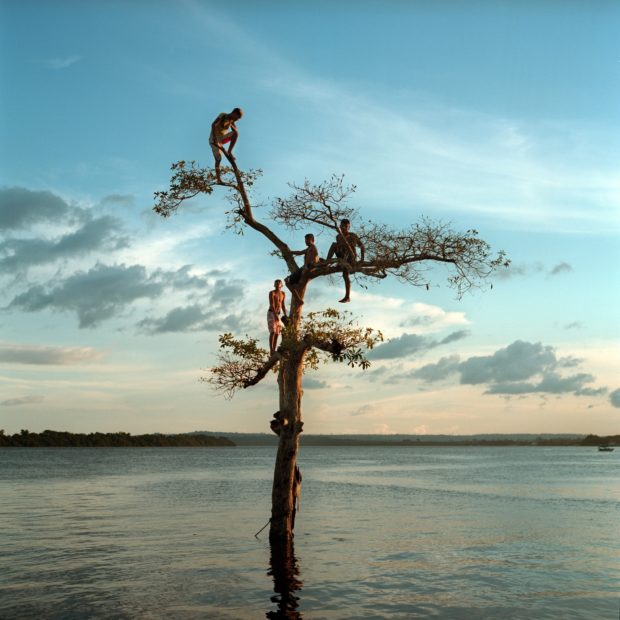 March 29, 2014. A group of boys climb a tree on the Xingu River by the city of Altamira, Para State, Brazil. Major areas of the city have been permanently flooded by the construction of the nearby Belo Monte Dam Complex displacing over 20,000 people while impacting numerous indigenous and riverine communities in the region.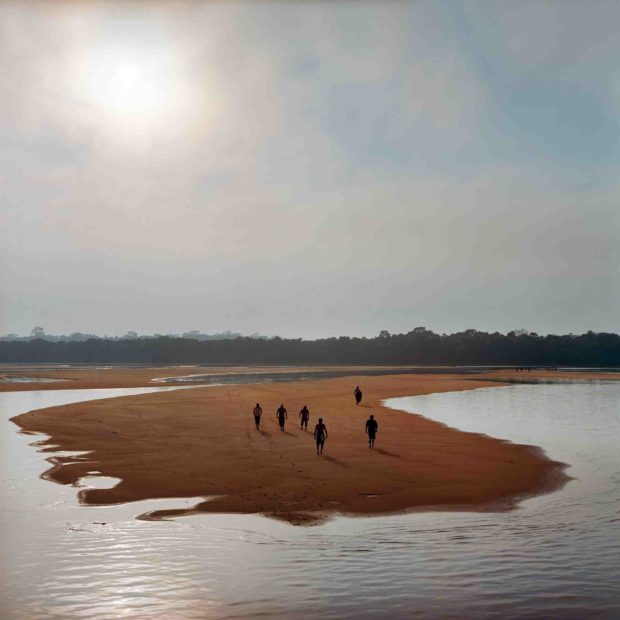 November 26, 2014. Members of the Munduruku indigenous tribe walk on a sandbar on the Tapajos River as they prepare for a protest against plans to construct a series of hydroelectric dams on their river in Para State, Brazil. The tribe members used the rocks to write 'Tapajos Livre' (Free Tapajos) in a large message in the sand in an action in coordination with Greenpeace. After years of fighting, in 2016 the Munduruku were successful in lobbying the government to officially recognize their traditional territory with a demarcation. This recognition forced IBAMA, Brazil's Environmental Agency, to suspend the environmental licensing process for the 12,000 megawatt Tapajós hydroelectric complex, due to the unconstitutional flooding of their now recognized land.
The mouth of the mighty Amazon River lies in the state of Pará, Brazil, which has been home to the people of the rainforest for over 5,000 years. During the 1960s, the government created the nation's very first Indigenous Park, which was, at that time, the largest preserve in the world.
Home to 14 tribes that survive off the land, Xingu Indigenous Park became the site of controversy when the government began to develop plans for the Belo Monte Dam Complex on the Xingu River in 1975. In 1989, the Kayapo, a warrior tribe, mounted a massive campaign in opposition to the construction. International financers pulled out, and the project was shelved until 2007, when President Luiz Inácio Lula da Silva announced the Accelerated Growth Program.
Positioned at the forefront of construction of more than 60 major hydroelectric project in the Amazon over the next 15 years, Belo Monte is poised to become the fourth largest dam in the world — displacing up to 40,000 people living in the park while destroying the complex ecosystems in order to fuel continued mining of the rainforest.
In his series, Where the River Runs Through, which was chosen for the Critical Mass Top 50, photographer Aaron Vincent Elkaim presents Where the River Runs Through, a profound portrait of the people and the landscape at the precipice of a massive change whose impact on the indigenous communities and the environment are devastating. Elkaim shares his insights into the impact of industry on the earth.