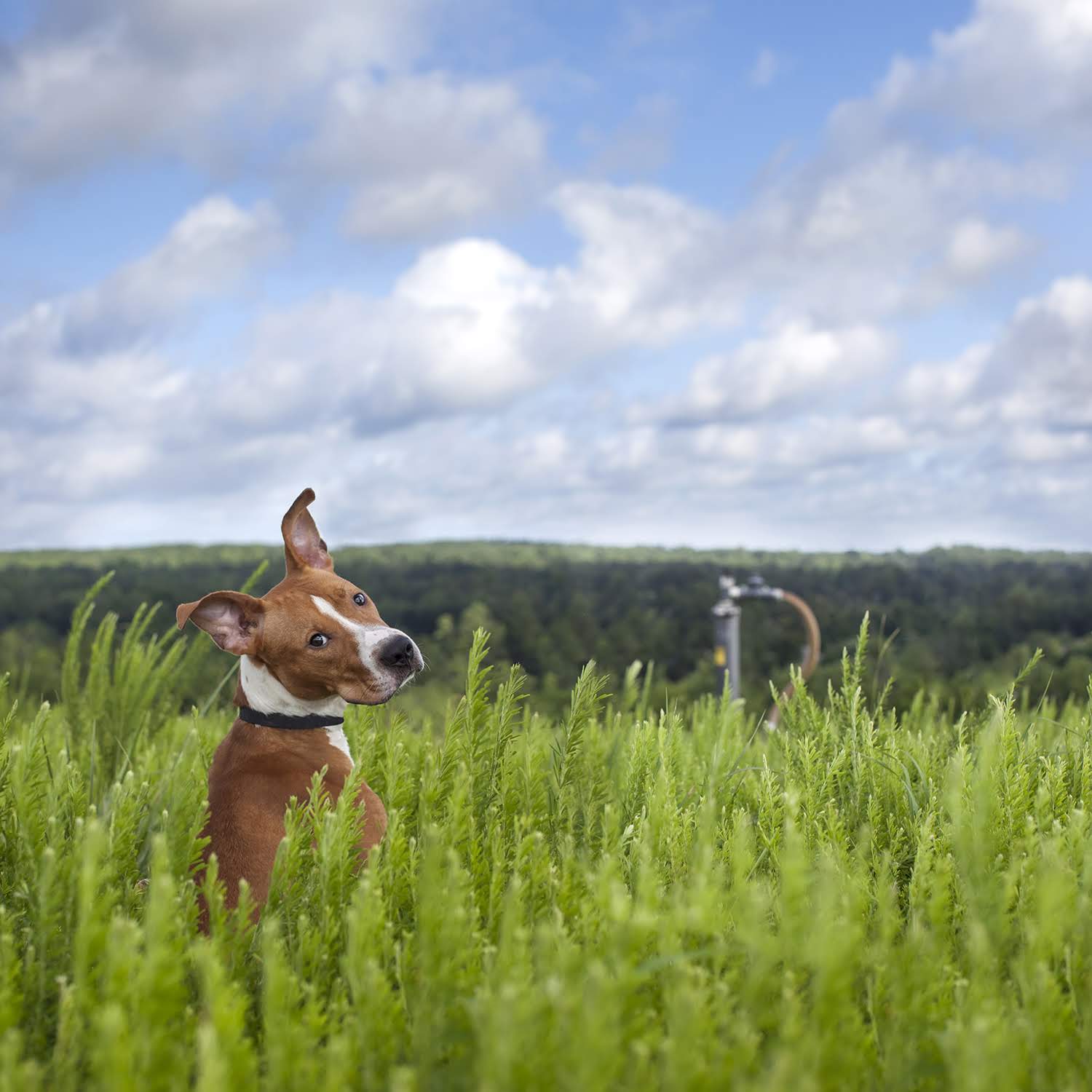 Karsten, impoundment #87239. Karsten was an 11-month male Labrador/hound mix was a stray. He was brought to the Wake County Animal Center in Raleigh, NC on 4/20/13. Karsten was adopted on 8/13/13 after spending 78 days in the shelter, and thirty-seven days after being photographed at Landfill Park. © Shannon Johnstone
In 2013, Shannon Johnstone met a puppy named Karsten at the Wake County Animal Center in Raleigh, North Carolina as part of her long-term project Landfill Dogs, a series of photographs of shelter dogs who are at risk of being euthanized.
Karsten was a great dog, but he was young and big. He also had lots of energy, which meant he'd be harder to adopt. "Not long after his photo shoot, Karsten ended up in quarantine," the artist remembers. "The note in his file read 'Quarantined for rambunctious behavior.'"
Johnstone left Karsten's photo shoot that day feeling sad and worried that he wouldn't find a home. In his portrait, he's sitting in the grass, looking back at the photographer under a cloudy sky. His expression is hopeful, but it's also solemn.
Despite the nuances of the work, Johnstone initially had trouble getting people to care about dogs like Karsten. "When I began Landfill Dogs, I attended portfolio reviews and consultations with curators," she remembers. "I was disappointed to hear that my photographs would never be anything but dog portraits.
"I was told by more than one individual that because of the subject, the photographs needed something else, some other twist to 'elevate' them. This really bothered me. Why can't a portrait of a dog be just as important as a portrait of human?"
Now, an exhibition of five female artists is hoping to shift the narrative. With support from the Culture and Animals Foundation, Johnstone, Lee Deigaard, Jo-Anne McArthur, Traer Scott, and L.A. Watson have come together under one roof to examine the dignity, individuality, and worthiness of animals.