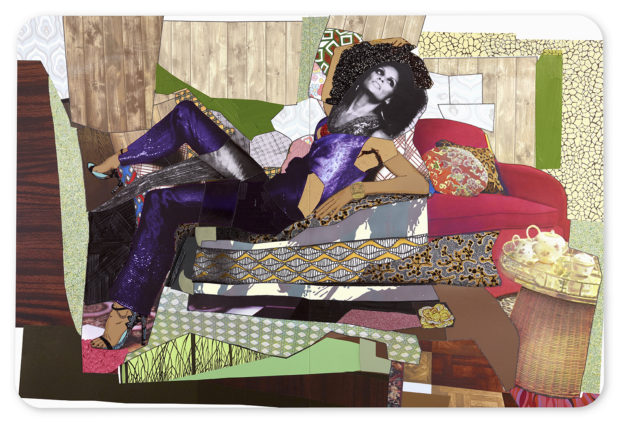 Mickalene Thomas. Racquel Reclining Wearing Purple Jumpsuit , 2015.
Rhinestones, glitter, flock, acrylic, and oil on wood panel. 96 x 144 in.
The Rachel and Jean-Pierre Lehmann Collection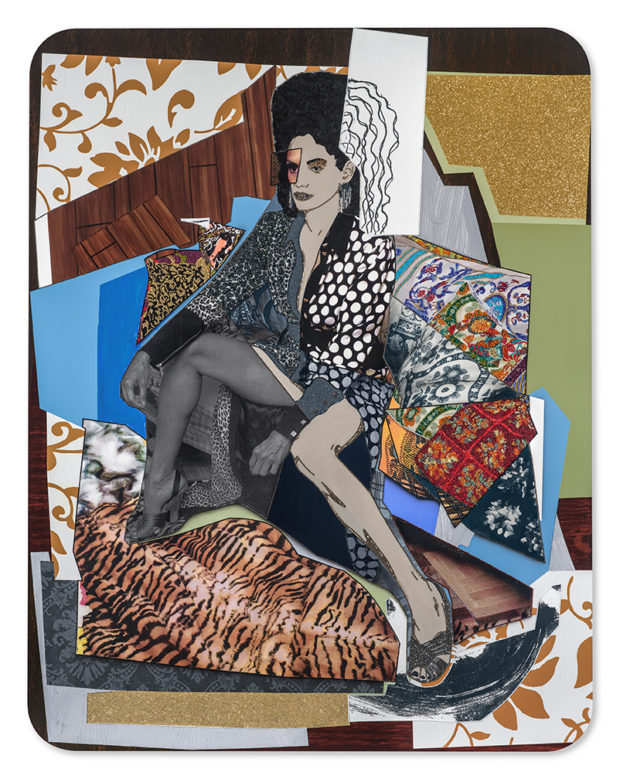 Mickalene Thomas. Racquel: Come to Me , 2017.
Rhinestones, acrylic, oil, oil stick, and glitter on wood panel. 108 x 84 in.
Courtesy of the artist and Lehmann Maupin, New York and Hong Kong
Look, but don't touch, just imagine how it feels as your eyes caress the surface of a work of art by Mickalene Thomas. Painting, photograph, and collage commingle effortlessly as sequins, rhinestones, and glitter every hue imaginable make their way across the picture plane. Spellbound, you stand there and breathe it all in, taking refuge in the infinite glory of the sublime.
At the heart of Thomas's work is an intoxicating sense of intimacy, a sensual embrace that that seems to embody the very air we breathe. One is immediately seduced and disarmed, overwhelmed by the feeling of being welcomed into this milieu, a space that suggests a boudoir filled with velvet and lace, with veils that cover and reveal, of secrets to be shared.
At its very center, it is about relationship, about the dynamic that exists between artist, model, and viewer that dances into the timeless sunsets of an infinite land. It is rooted in the connections Thomas holds with the women who inspire her to create a wonderland.
The recent exhibition Mickalene Thomas: I Can't See You Without Me featured work from 2005 through the present, with more than 30 paintings, videos, and immersive installations dedicated to each of the artist's four significant and sustained muses: her late mother, Sandra; her former lover, Maya; her current partner, Racquel; and Thomas herself.
I Can't See You Without Me explores the ways in which Thomas uses portraiture to create a new language for celebrating the power, beauty, and grandeur of Black women. Western art, which has long marginalized Black women as artist and subject with blatant disregard, is long overdue for stories, styles, and iconography rooted in the experiences artists like Thomas.
In these works, Thomas brilliantly weaves together a mesmerizing tapestry of inspiration and references to create a much-needed way of seeing that recognizes and mirrors the past and present to luminous effect, until you start hearing the crash of thunder and then the opening chords to "Clouds" by Rufus featuring Chaka Khan.
A catalogue of the same name reflects the same glory of the work. Printed using different papers at varying sizes, Thomas invites colleagues Michael Goodson, Antwaun Sargent, Nicole R. Fleetwood, and Beverly Guy-Sheftall to reflect on the rebel woman who exists in a world of her own, one that she made for herself knowing that the world would no sooner hand her the keys to the castle.
It is here, on her own terms, that Thomas carves out a space that is a testament to the history of Black women in the United States. As a queer woman working in Brooklyn, Thomas takes her respect, love, and admiration to extraordinary heights — and invites us all to share in the glory.
Mickalene Thomas: I Can't See You Without Me is currently on view at the Wexner Center for the Arts in Columbus, Ohio, though December 30, 2018.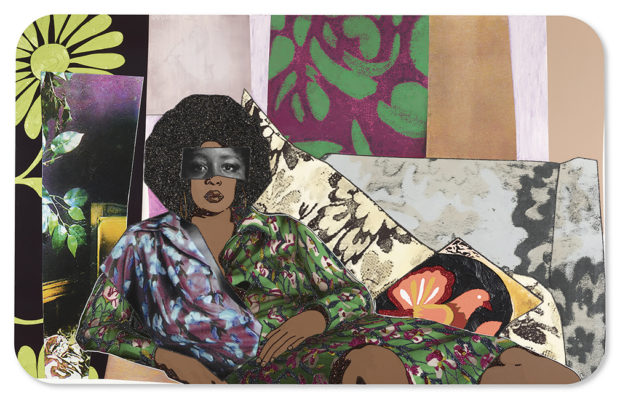 Mickalene Thomas. Afro Goddess Looking Forward , 2015.
Rhinestones, acrylic, and oil on wood panel. 60 x 96 in. Courtesy of the artist.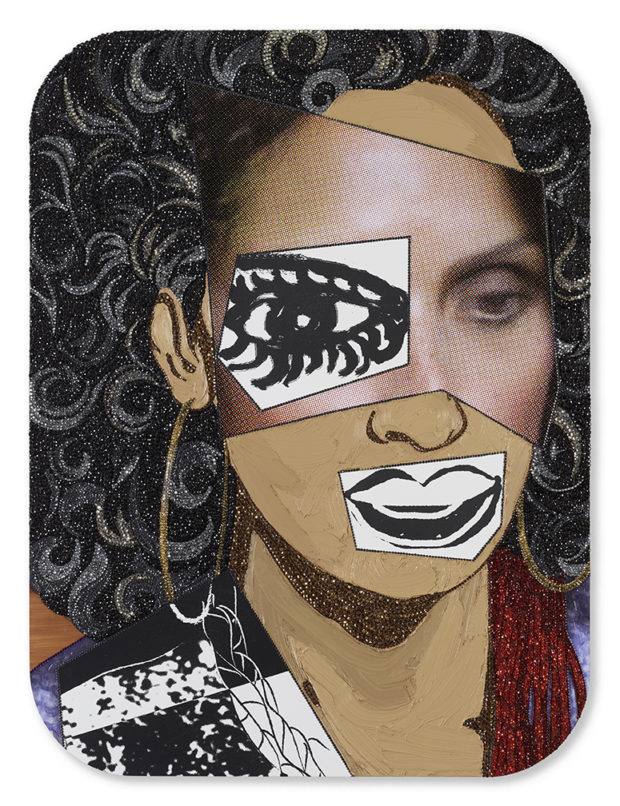 Mickalene Thomas. Portrait of Racquel #1 with Thick Skin, 2016.
Rhinestones, acrylic, and oil on wood panel. 48 x 36 in.
Collection of Marilyn and Larry Fields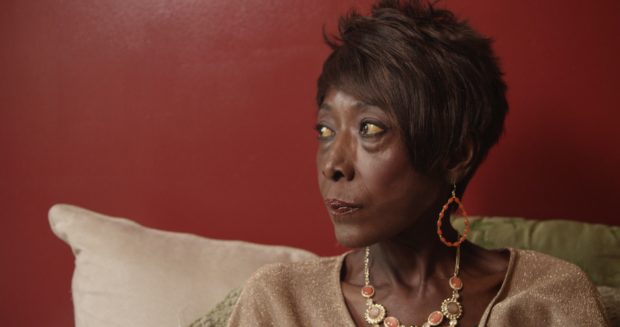 Mickalene Thomas Happy Birthday to a Beautiful Woman , 2012 (still).
Digital video 23:06 min. Dimensions variable Courtesy of the artist.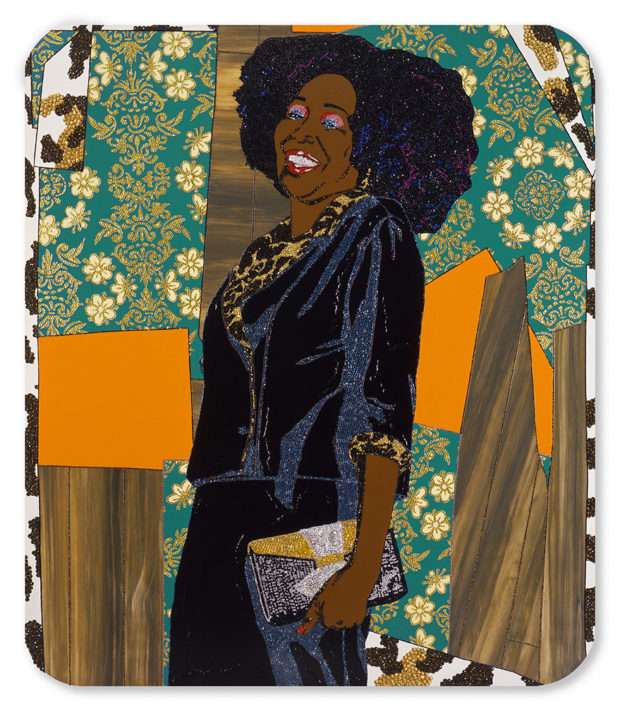 Mickalene Thomas.
Mama Bush (Your Love Keeps Lifting Me) Higher and Higher, 2009.
Rhinestones, acrylic, and enamel on wood panel. 82 x 72 in. Private collection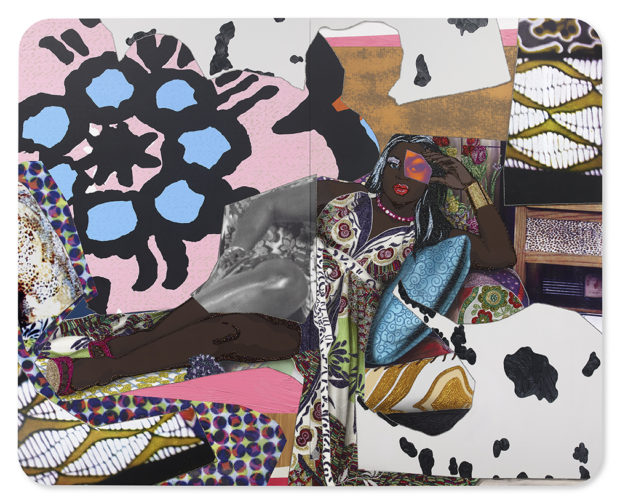 Mickalene Thomas. Qusuquzah Lounging with Pink + Black Flower , 2016.
Rhinestones, acrylic, and oil on wood panel. 96 x 120 in. Private collection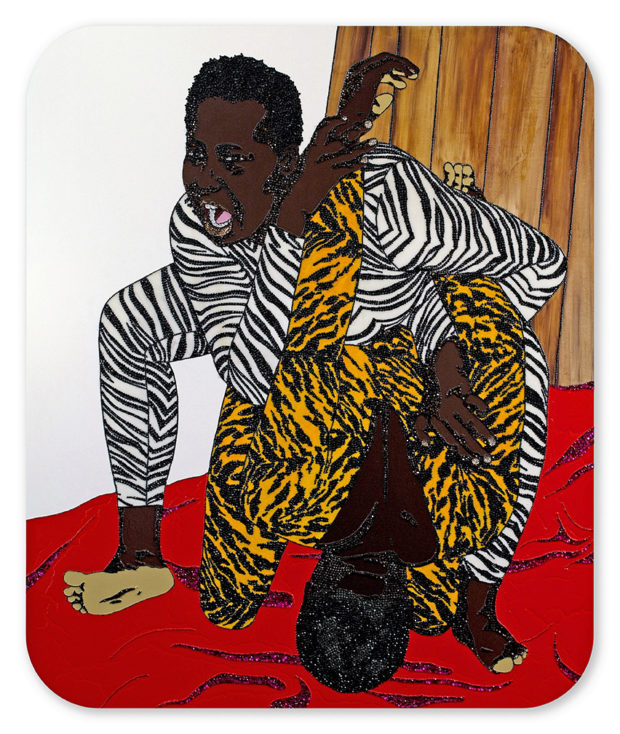 Mickalene Thomas. It Hurts So Good! (Brawlin' Spitfire Two) , 2007.
Rhinestones, acrylic, and enamel on wood panel. 72 x 60 in.
Collection of Danny First, Los Angeles
All images: © Mickalene Thomas / Artist Rights Society (ARS), New York
Discover More