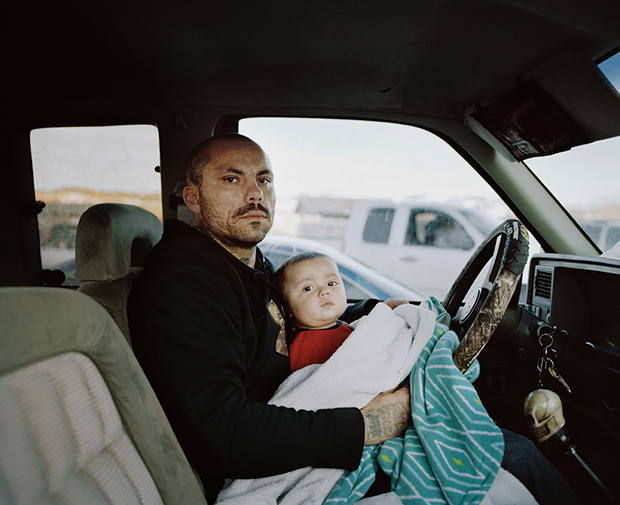 Richard, a Tattoo Artist, with his son in front of the only Gas Station in Hays. Hays is a small community with around 800 people near Fort Belknap's southern end. People come here often as it is the only place to get a little snack or soda without driving a lot further off the Reservation to the next grocery store. Richard is also a very successful bow-hunter.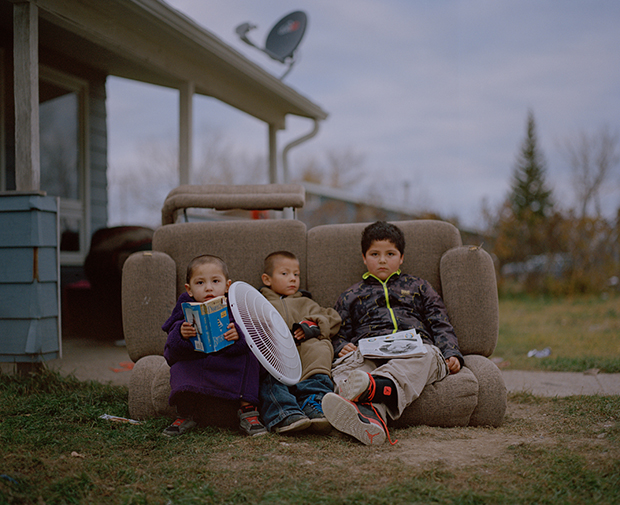 Seth and his brothers playing in front of their parents' house at the Fort Belknap Agency. Because of the bleak situation young people are facing, they are less likely to take the traditional way of thinking, practicing, and simply living. This is a huge problem for any tribe; therefore, their language is traditionally passed down through the generations.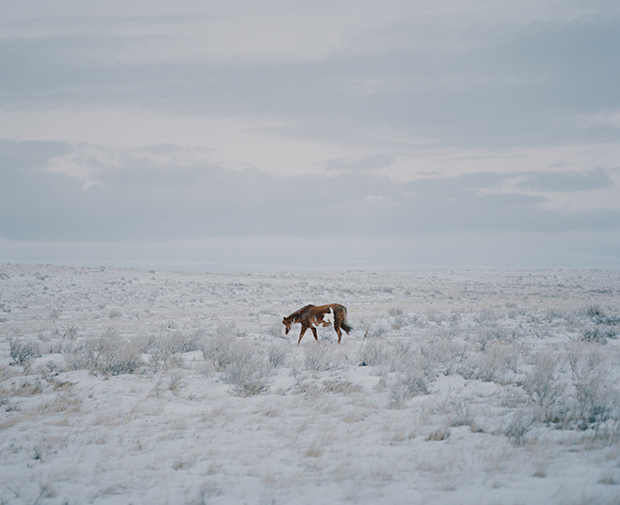 A horse behind the Rodeo Drive in New Town. Horses are very important in the native culture.
For The Buffalo that could not dream, German photographer Felix von der Osten chronicles life on Montana's the Fort Belknap Reservation, where since 1888, the Gros Ventre and Assiniboine Native American tribes have raised their families and continued to foster a deeply-felt respect for the land.
The photographer, who lived on the reservation for a month, gained intimate and unprecedented access to the routines of the reservation, discovering quiet moments of beauty and resilience in the 1,014 square mile area that remains of a once-flourishing Native American territory. As commercial hunters drove the American bison to the very brink of extinction, so too were the country's first inhabitants ripped from the land on which they stood, forced to surrender a devastating 17,500,000 acres in 1988 under increasing pressure from gold mining companies.
More than one hundred years after the Jesuit missions set up station on the Native American land, von der Osten paints a portrait of what survives still of native culture and heritage. He weaves together a tapestry composed hushed moments that together cry out against an injustice, a wrongdoing that reaches from the recesses our nation's history into the throes of an uncertain present. After traveling across the globe, visiting, living with, and listening to the people of the Fort Belknap Reservation, he now feels that they have become like family, their bond transcending the miles of ocean and years of history that separate the European continent from the Native American nations. We spoke to the photographer about the project.
How did you find out about The Fort Belknap Reservation?
"As a child, growing up in Germany, I was always interested in the stories and culture of Cowboys and Indians. In our stories, the 'Indian' is a highly symbolic figure, related to honor and dignity. We have sayings like 'Indians don't know pain' when a child hurts itself and characters like Winnetou and Old Shatterhand from the famous Karl May novels. These 'Indians' are iconic figures. They represent tradition and pride, emanating from their beautiful culture. This had a deep impact on me and shaped how I viewed native culture. However, nothing was ever mentioned about how natives have actually suffered in America, both in the past and present.
"Never in my wildest dreams did I imagine that something like a reservation could exist in America today, in the modern world. I had no idea the way native people were pushed off of the land where they lived and onto these small, undesirable areas. My girlfriend has extended family in Fort Belknap. This summer, I took my first road trip through the United States. We drove through the Badlands and the Black Hills, and as we drove, I started examining my interest in 'Indians' and Native American culture. That is where it started."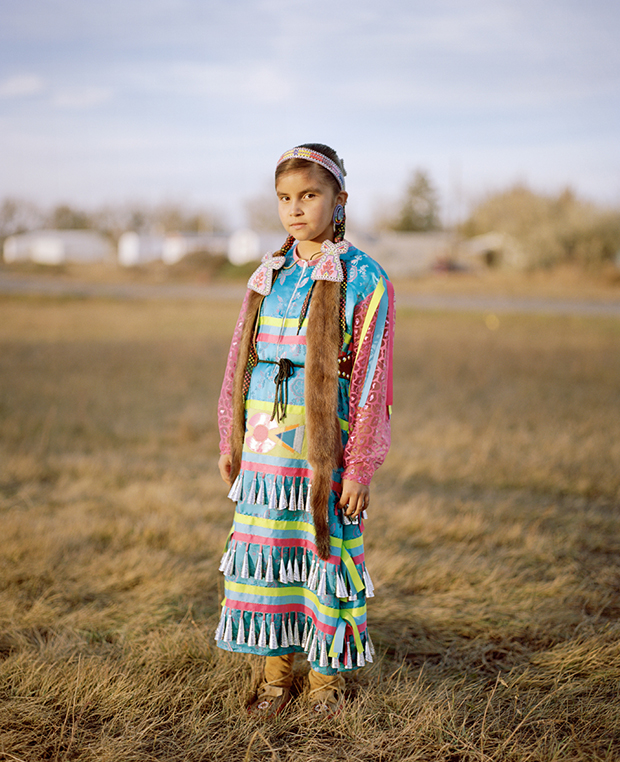 Mia Jo Wing, an eleven year old Gros Ventre Tribe member, during the Veterans Powwow in the Fort Belknap Bingo Hall. She was awarded "Miss Fort Belknap" twice already.
What inspired you to photograph this community and to tell its stories?
"My project became about how indigenous people are living today, with a focus on where they live, as well as how they maintain their centuries old culture. I was especially inspired to photograph in Fort Belknap as I researched and found out about the systematic oppression of the indigenous population and the problems of the relationship between Natives and the American Colonizers. In my research, I was also influenced by the work of Aaron Huey. I started investigating for myself. When I went there, I went with the intention of documenting a sensitive topic and acknowledging a forgotten problem.
"I want to show a slice of life, as it is now; and the beauty and richness of the Native culture with the dignity and respect it deserves. For that, formal portraiture is very important. Instead of making reportage images about these issues, I want to create historical documents that would stand the test of time. This is why I choose to make portraits, landscapes, and very careful still lifes. These slow and thoughtful photographs give the viewer its time to examine everything, from the texture of a woman's braids and the softness of eagle feathers to the rough rocks of the mountainous terrain. It should make the viewer curious, only revealing enough that they can connect the dots for themselves.
"It was not my intention to show the really horrible things that on every Reservation across the United States are the same – stories of gangs, drugs and alcohol abuse are easy topics that a more fast- paced, reportage-interested photojournalist might cover. I don't want the Native Americans to look bad. This is way harder to achieve than to focus on their struggles and hard life. Shining a light on the faces, the lives, and the roots of the culture might help to understand them better and to countervail the oppression. I show what it means to live on a reservation. Native people have to fight everyday to keep the culture alive and undisputed. A lot of people know about that but almost no one does anything."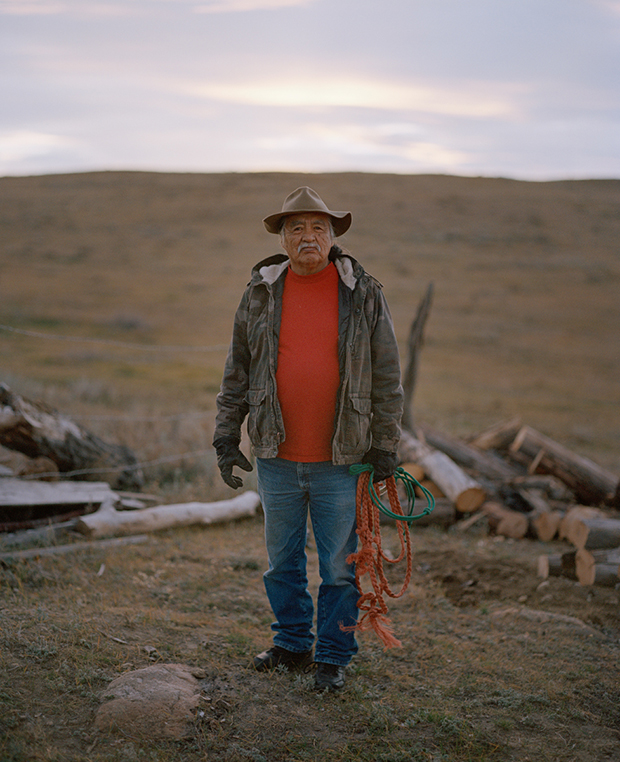 Peter Bigstone, an notible Assiniboine elder, on his land outside of the Fort Belknap Agency as he gets ready for a traditional sweat ceremony.
What is daily life like on the reservation?
"Their daily life is a complicated question to answer. Life on the Reservation can be very difficult (as the average income is very low) but also very simple. The wintertime is especially difficult, because winters are very long and verv, very cold. Temperatures even go below -35°C, and people stay inside a lot, as it is absolutely not fun to walk around. Also there is not much to do on the reservation itself.
"The quality of life there can be way below of that of the surrounding state of Montana. The tap water running through the pipes is not even considered drinkable. Fort Belknap is far away from any urban center. If you live in the south part of the reservation, a trip to the next small grocery store or bank can easily take up to an hour in the car. The unemployment rate is very high, as is the amount of people living below the poverty line. The drop-out rate and diabetes rate are also much higher on the reservation than state averages.
"Life expectancy on Reservations is often below the national average. Domestic violence, drug abuse and especially alcohol abuse are common problems."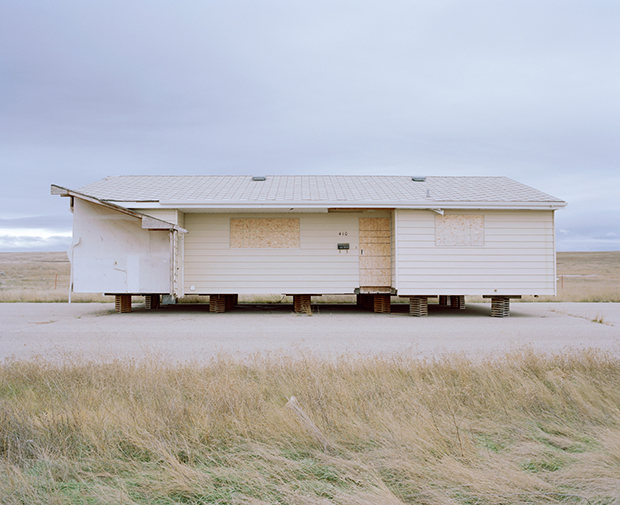 Old Army Houses were purchased by the Fort Belknap Agency to serve as housing for people living on the Reservation. Now the houses are lined up behind the Agency and are rotting, as they have been standing here for years. The doors and windows had to be covered up to prevent people from breaking into the houses to using them as an impromptu party space.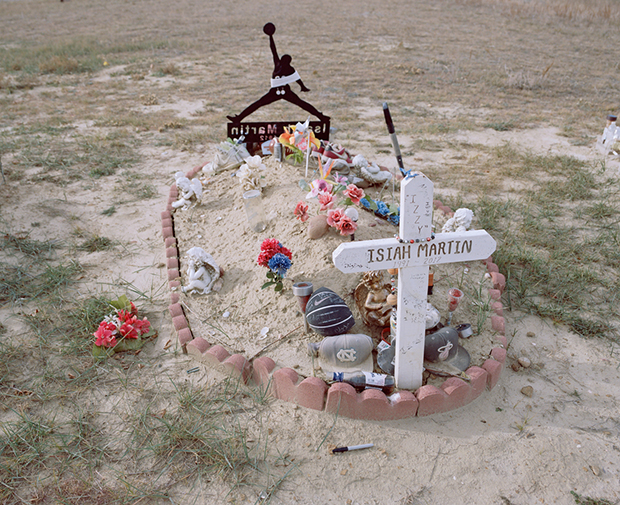 The grave of Isiah, Black Running Eagle, on Pony Hill outside of the Fort Belknap Agency. A 20 year old college student and great Basketball player ended his life at his own will. People lay objects down, so he can use them on the other side.
How did you gain your subjects' trust?
"Staying with extended family shaped my entire experience. In the beginning, I built trust by not making any photographs. I would walk around and not even bring my camera, just exploring and meeting people. Simply my presence attracted a lot of attention. People who I had been introduced to quickly started recognizing me in public. It was important to me to not treat people like 'subjects.' I was willing to sit down, listen and learn. I tried to attend as many open meetings and get-togethers as possible. I developed a close relationship to people.
"Not being American and being a foreigner from Europe helped as well. I was 'the one who flew over the big pan.' The people in Fort Belknap appreciated that I came all that long way only for them and to listen to their voices and spread them in the world.
"Before I left, a couple different people all told me one thing. They said that what I had accomplished, entering their community and getting in so deep, had never been done before. Other people had tried to work within the reservation, but people had been cold to them. No one had managed to gain trust in the way that I did. They didn't like their approach."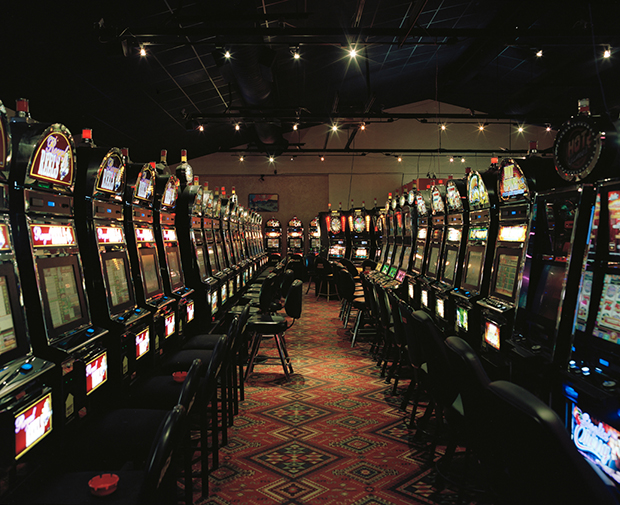 Inside the Fort Belknap casino. It was opened to attract tourists and people living close as a means of income. It is one of the very few businesses that supplies jobs for people on the Reservation. Sadly, residents gamble all their money away on pay-day, as most people are compulsive gamblers.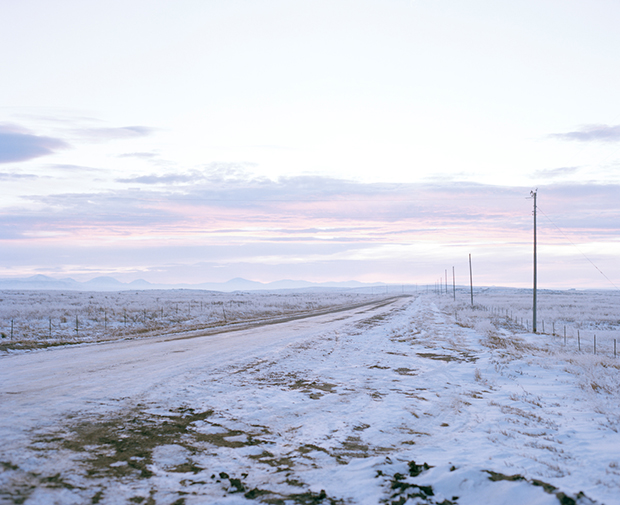 The entrance of Snake Butte Road next to Halftown. It leads to Snake Butte a little plateau and to different Buffalo grounds. People come here often to get water from the natural spring on the side of Snake Butte as the tap-water in Fort Belknap is not drinkable. On the horizon are visible the "Little Rocky Mountains" and "Bear Paws" where Hays and Lodgepole are located.
Is life for the younger generation different from those previous?
"Life is of course different for them. Especially young people gifted with a great sports talent. Basketball is considered the native sport. There are a lot of great talents, but one usually can't make it out of the Reservation to pursue one's dream, as they don't have the money to move away or go to an expensive University.
"With every generation, the culture becomes harder and harder to maintain. Through the bad situations young people are facing, they are less likely to take the traditional way of thinking: practicing simply living. There are so many other problems of modern life that the young people are not always interested in participating in cultural traditions. Their languages are also traditionally only spoken and therefore must be passed down through each generation. Today more and more natives can't speak their tribal tongue and don't know much of the spiritual ceremonies from their unique culture. If that continues, tribes and their cultures will soon become extinct."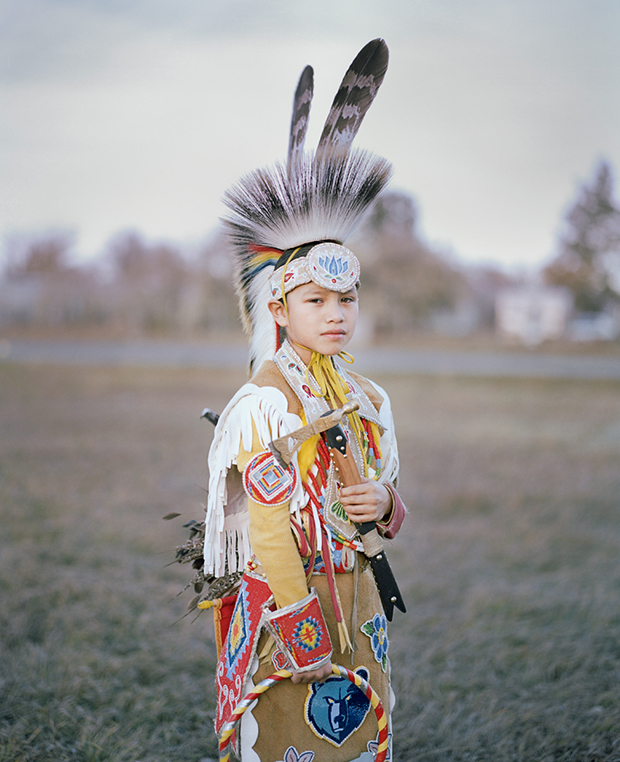 Stephen during the Veterans Powwow to honor all warriors. A Powwow is a traditional gathering to meet, dance and sing. There are over 450 veterans in Fort Belknap.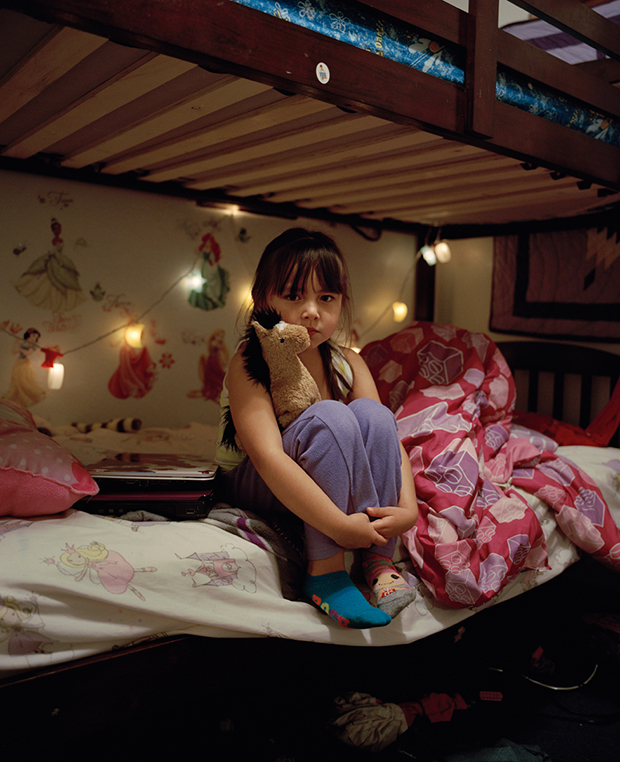 Mila Wing, four years old, at home on her bed with her favorite toy, a stuffed horse. During the day she visits the Little Native Pride Head-Start at the Fort Belknap Agency, MT.
What did you take away from you time at The Fort Belknap Reservation?
"I took so much for me and my life with me that it is hard to explain. I learned a lot about life and that we should take nothing for granted.
"In the beginning, I had a lot of ethical considerations to ponder as I was afraid of white guy photographing or exotifying the native culture with disregard for their ethnographic circumstances. That the amount of privilege required to start such a project has historically been limited to the white and wealthy part of the world. But my plan was not to drive though the culture and snap some pictures.
"The people of Fort Belknap reached their hands out, and I was willing to listen and learn. It got way beyond a simple project as I became involved with them, participating in life in a way that couldn't be photographed. I laid down the camera and went into a sweat lodge ceremony. This is a huge honor to be invited. A sweat is where native people pray to the creator, god, for help and sing healing songs for beloved in trouble. It is a very powerful and exhausting ceremony and it is very hard on your body. I struggle to describe this experience to friends and family, as it is an experience one has to make himself.
"After that, everything changed for me in the way that I was investing all my heart into the pictures to tell the right story and show the richness of this beautiful place. Additionally, it was not permitted to photograph ceremonial sites. I respected that from the beginning and this only strengthened the trust people had in me, because I was learning from asking them what was okay and what was not.
"The project is not finished for me. Maybe it will never be, but I know that I have to go back in the summer to continue telling the story of Fort Belknap and the A'aninen and Nakota Nations, as I left a piece of my heart with them."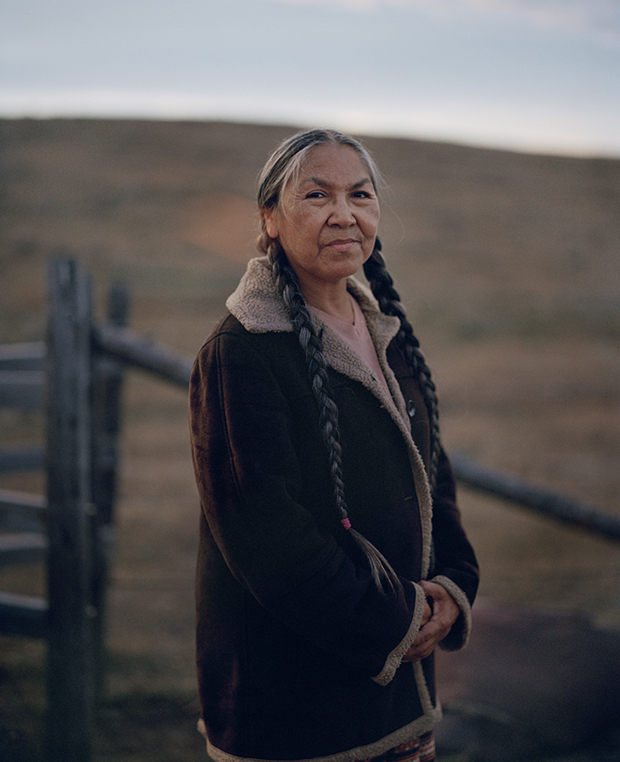 Ranita Longknife in front of her small horse paddock outside of the Fort Belknap Agency. Often, family land is far away from any settlement, so it is not connected to any power or water supplies. This devalues the land significantly.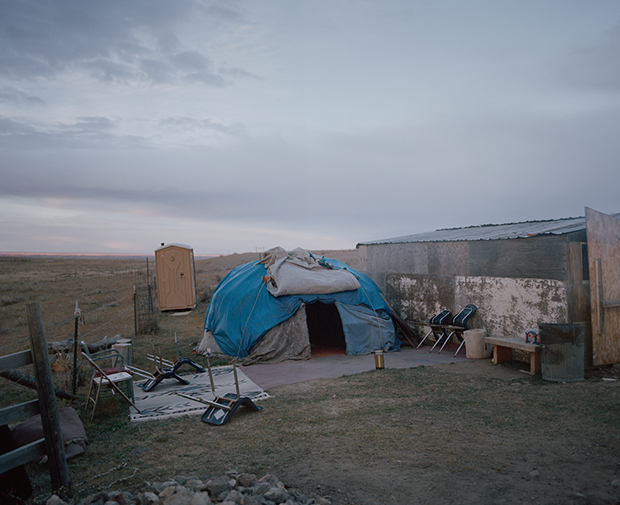 A sweat lodge on Peter Big Stone's property outside of the Fort Belknap Agency. During this traditional sweat ceremony, glowing stones and splashed water should recreate the feeling of the mothers womb. Here, people pray and sing to the animal spirits and ask the creator for help.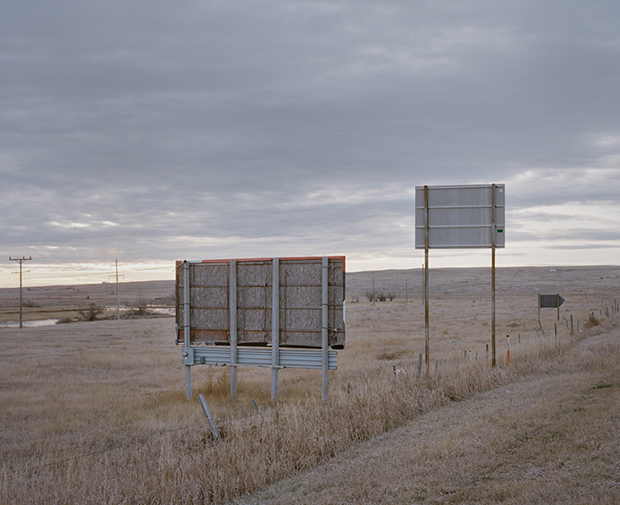 Street and advertisment signs at the US Highways 2 that goes right through the Fort Belknap Agency. Almost no business is possible on or with a Reservation. No one want to risk opening something in a place far away of any urban center. People are trapped here.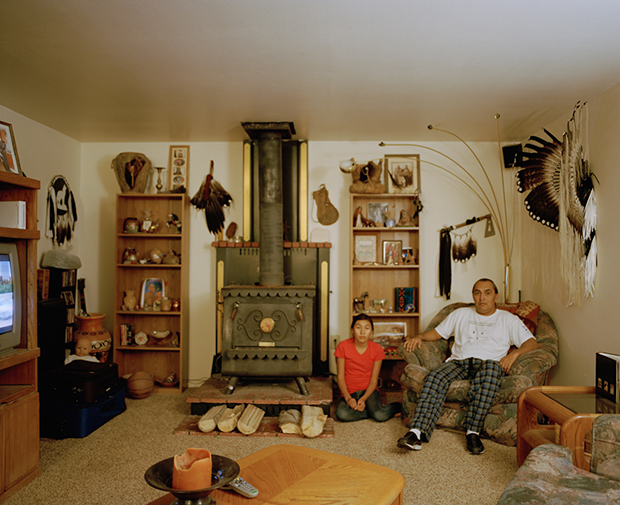 Moses, a Medecine Man, in his house at the Fort Belknap Agency with his daughter Malena. He retired from the Tribal police, as he couldn't see all the misery and violence anymore. Now he works with the local Fish and Game and is responsible for the wild life on the Reservation. On the wall behind him are different native artefacts like a buffalo's ballbag, which was used to carry water.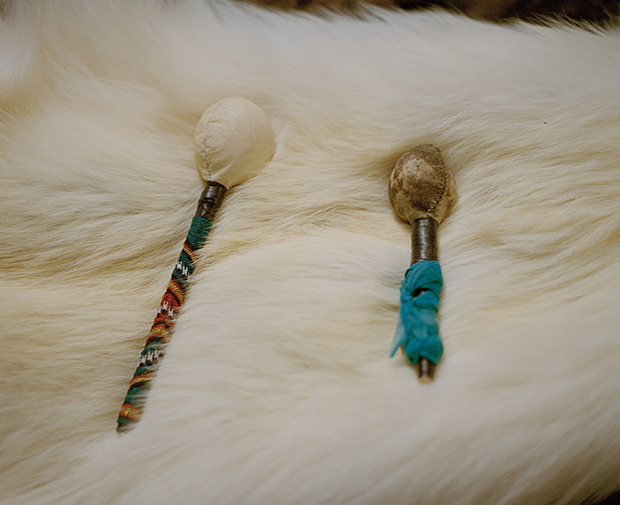 Two Wakmuhas belonging Moses the medicine man. They were inherited through generations and are very old and valuable. A wakmuha is a very powerful healing rattle that is used during a sweat ceremony. The right one has an eagle bone attached to it to make it even more powerful.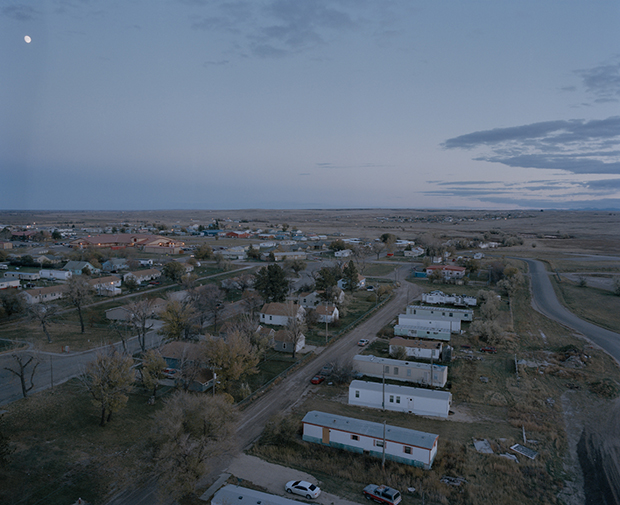 Viewing the Fort Belknap Agency from the main Water Tower. This is the better part of the Reservation where all official government buildings are located.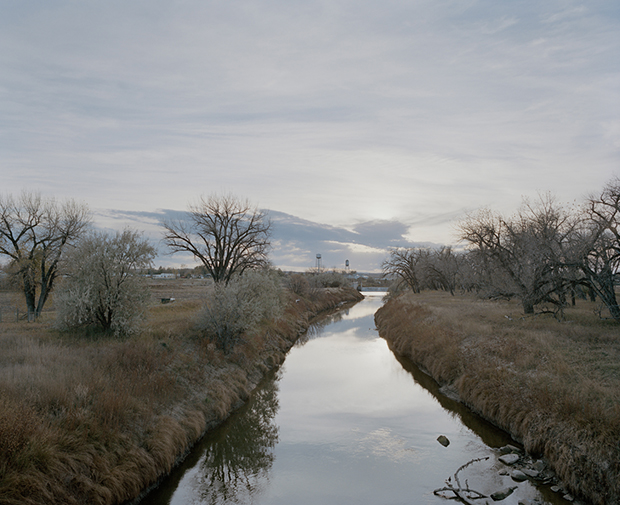 The Milk River is the natural boarder on the north side of the Fort Belknap Reservation, Montana. Here, the surrounding state law ceases to be effective.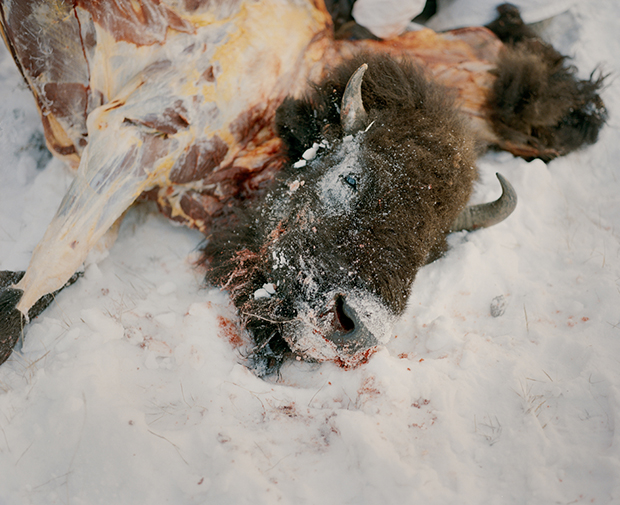 As the Buffalo Cow laid down for her last breath, the hunter offered Tobacco on her to thank the creator for the cow's sacrifice. The buffalo got shot during a buffalo hunt in the surrounding lands around Snake Butte at the Fort Belknap Reservation.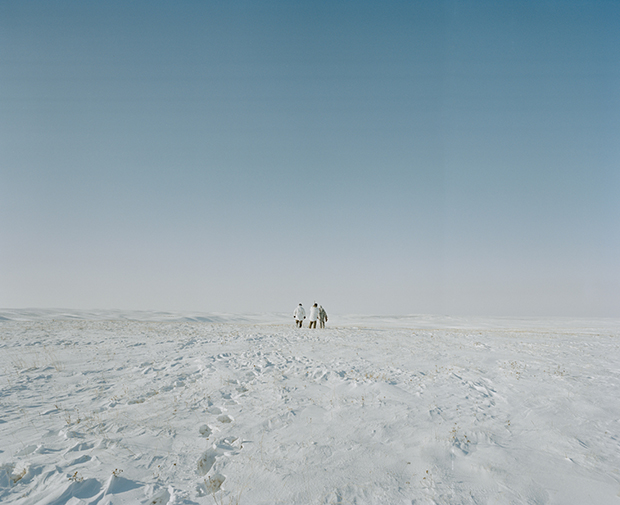 During the buffalo hunt at Fort Belknap, the hunters spread out and sneak up to the buffalo from the bottom of a small hill. With this technique, the buffalo can't see them coming.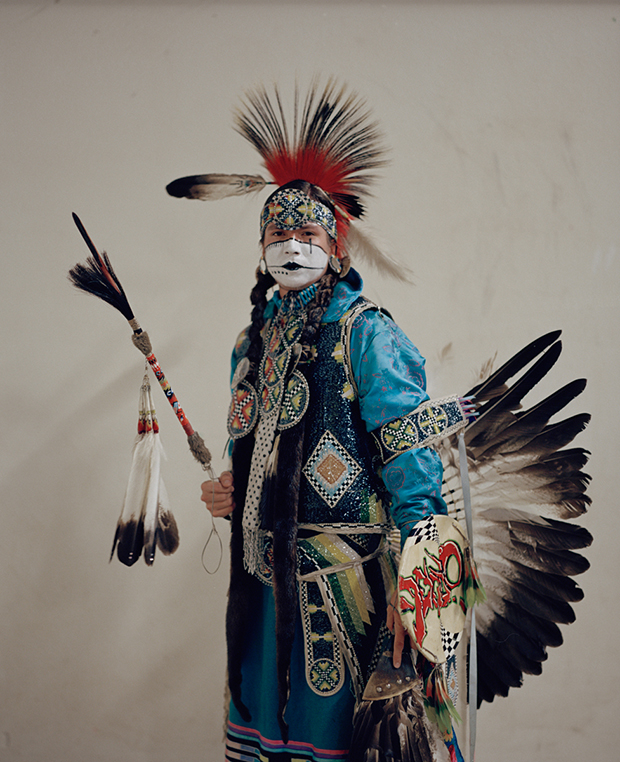 Devan after his dance at the Mens Traditional during the Veteran's Powwow in the Bingo Hall at the Fort Belknap Agency. He later won first price with his performance. The traditional clothing is created by himself to earn some money on the side.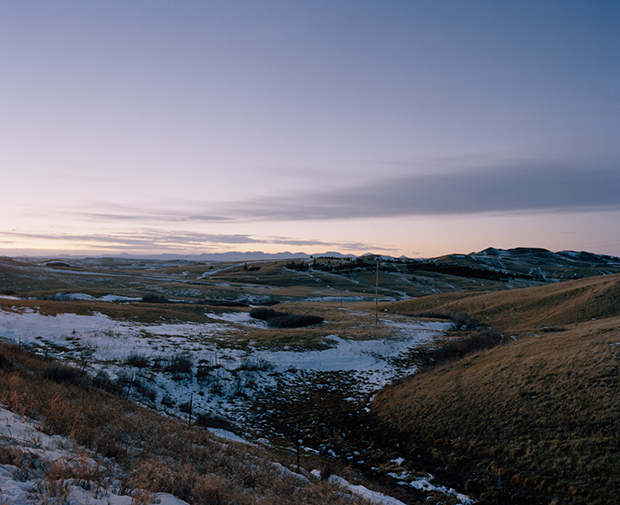 The road between Hays and the Lodgepole community at the southern end of the Fort Belknap Reservation. From here to the next Bank or Grocery Store takes about one hour in the car.
All images © Felix von der Osten
Discover More