Norman, resident of Poplar Spring Animal Sanctuary
"Norman was a veal calf, originally rescued as a baby from an auction by another sanctuary. He came to us as an adult with his girlfriend, a large black Angus cow named Ellie May. Norman and Ellie May were inseparable, always grazing together and sleeping side-by-side in the barn at night. When Ellie May passed away, Norman grieved for weeks, wandering the fields looking for her, and refusing to eat. He even slept on top of her grave. Eventually, he regained his sweet exuberant personality, but he has been a loner amongst the other cows ever since. He is a gentle giant who loves people and enjoys getting treats. His favorites are apples and cinnamon buns."
- Terry Cummings, co-founder, Poplar Spring Animal Sanctuary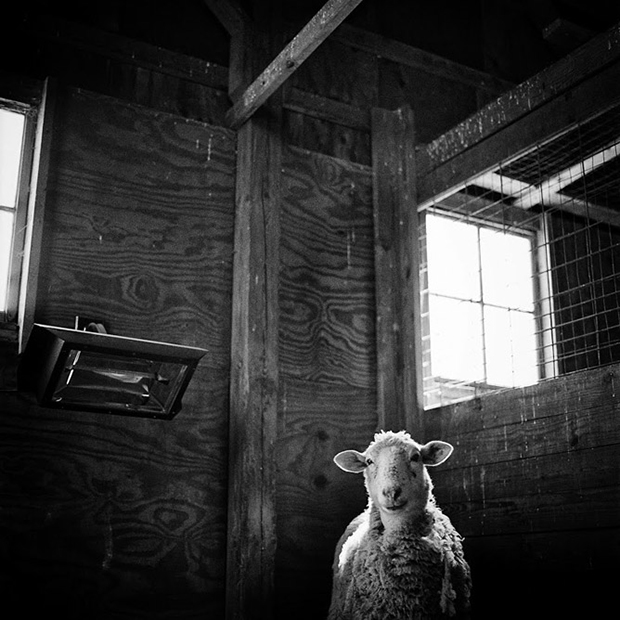 Mata Hari, resident of SASHA Farm
"By the time my Mata Hari came to live at SASHA Farm, she was already a local celebrity. She'd made the news twice, bloggers were following her travels, and she even had her own Facebook fan page. She was 'The Ann Arbor Sheep,' an elusive ewe who had managed to evade capture for months as she grazed Ann Arbor parks and cemeteries, stopped traffic at busy intersections, interrupted business meetings and tennis matches and became to some an urban legend.
"She began frequenting a secluded area behind an Art Van Furniture store, and after she seemed ready to stay a while, they began feeding her. When she showed up one day with a badly wounded neck from a dog attack during the night, they feared she might die of infection. After the police and local animal control were unsuccessful in their attempts to catch her, employees called SASHA Farm. A pen was erected behind the building in the spot where they fed her, and the next day, the door was closed and she was on her way to her new home at SASHA Farm."
- Amanda, SASHA Farm
For Sanctuary: Portraits of Rescued Farm Animals, Florida-based photographer Sharon Lee Hart creates gentle portraits of creatures great and small, all of whom have been delivered from harrowing and abusive situations in live meat markets, cockfighting rings, or slaughterhouses.