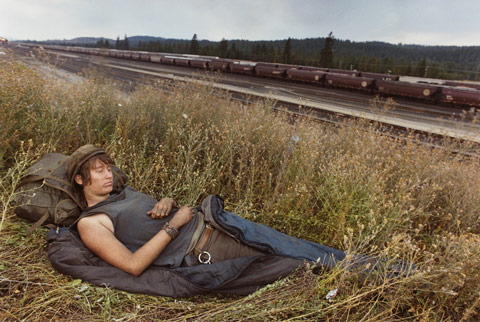 But I needed to find out for myself. Two weeks later I was gone, witnessing my new world wizz by, especially at dusk, then darkness as I watched the sum of all the city lights cast my silhouette across the pine trees of the Florida panhandle. This was it, I was riding my very first freight train. And soon, what would begin as mere natural curiosity and self-discovery would evolve into a casting call of sorts, taking photographs of my newfound friends.—Mike Brodie
I first came across Mike Brodie's photographs many years ago hanging somewhat precariously on the wall of Sluggo's, a vegan/punk rock bar in my hometown of Pensacola, Florida. The images stuck in my mind and many times over the next couple of years I would search for them, to no avail.
The next time I heard anything about Mike Brodie, aka The Polaroid Kidd, was when I learned his photographs of his freight train-hopping peers were hanging in the Louvre as part of the Paris International Photo Fair in 2006.