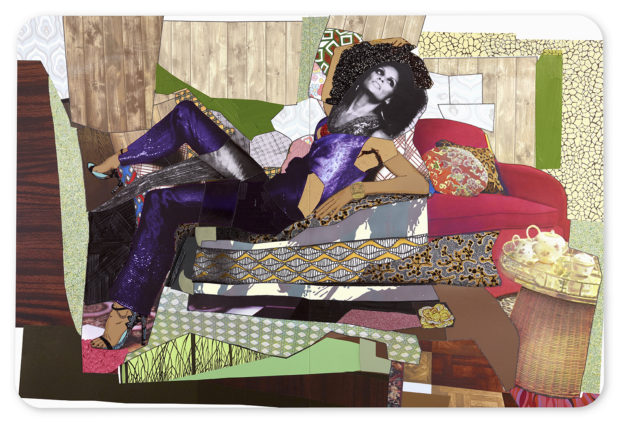 Mickalene Thomas. Racquel Reclining Wearing Purple Jumpsuit , 2015.
Rhinestones, glitter, flock, acrylic, and oil on wood panel. 96 x 144 in.
The Rachel and Jean-Pierre Lehmann Collection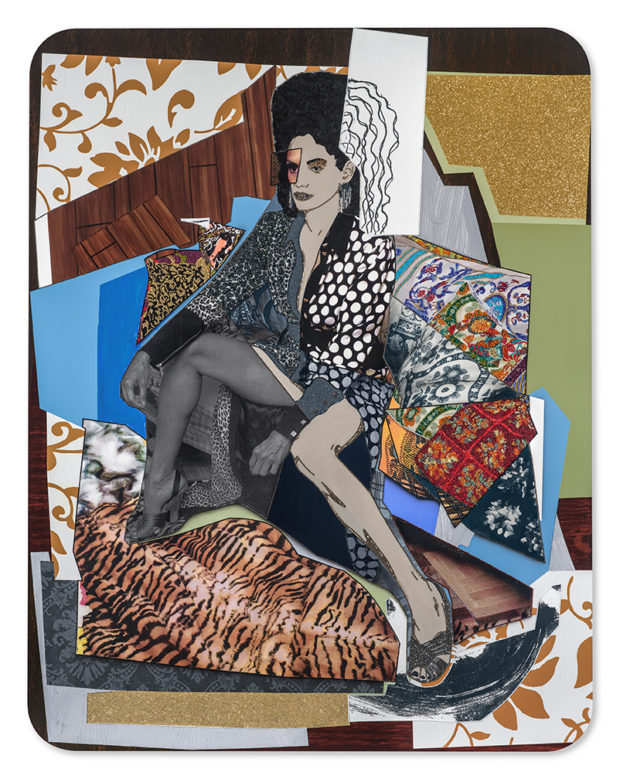 Mickalene Thomas. Racquel: Come to Me , 2017.
Rhinestones, acrylic, oil, oil stick, and glitter on wood panel. 108 x 84 in.
Courtesy of the artist and Lehmann Maupin, New York and Hong Kong
Look, but don't touch, just imagine how it feels as your eyes caress the surface of a work of art by Mickalene Thomas. Painting, photograph, and collage commingle effortlessly as sequins, rhinestones, and glitter every hue imaginable make their way across the picture plane. Spellbound, you stand there and breathe it all in, taking refuge in the infinite glory of the sublime.
At the heart of Thomas's work is an intoxicating sense of intimacy, a sensual embrace that that seems to embody the very air we breathe. One is immediately seduced and disarmed, overwhelmed by the feeling of being welcomed into this milieu, a space that suggests a boudoir filled with velvet and lace, with veils that cover and reveal, of secrets to be shared.
At its very center, it is about relationship, about the dynamic that exists between artist, model, and viewer that dances into the timeless sunsets of an infinite land. It is rooted in the connections Thomas holds with the women who inspire her to create a wonderland.