When it comes to improving your skills behind the camera, Skillshare is an invaluable resource. With a community of over four million people from all corners of the globe, they offer thousands of online courses, including dozens taught by some of the best photographers working today. Skillshare students can learn on-the-go, at their own pace, and around their own schedules, so when they gave Feature Shoot readers two free months of unlimited Premium classes, I jumped online to soak up as much knowledge as I could.
New Year's Resolutions can feel intimidating at first, but successfully realizing an ambition is such a rewarding experience. We put together this list of five Skillshare classes we think will help you achieve your photography goals in 2019. There's something in here for everyone, whether you're a passionate hobbyist or a lifelong professional. Happy learning!
If your New Year's Resolution is to find your voice, then we recommend…
Street & Documentary Photography: The Ongoing Moment by Andre D. Wagner.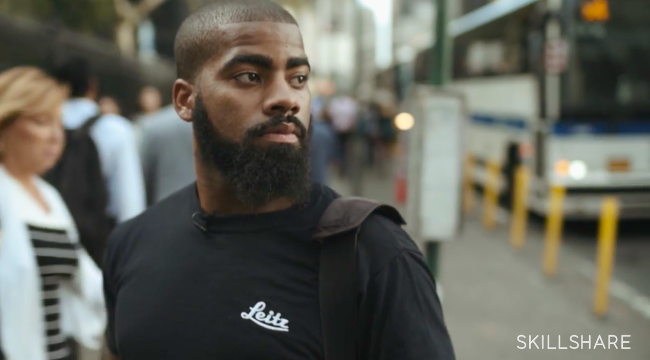 I've admired Andre Wagner's street photographs for a long time, so when I learned he had classes on Skillshare, I was over the moon. In this course, he gives us a behind-the-scenes look at how he approaches documenting life on the diverse and bustling streets of NYC. What's refreshing about his approach is that he invites his students to toss out everything they feel they "should" be doing and explore subjects that actually invigorate them personally.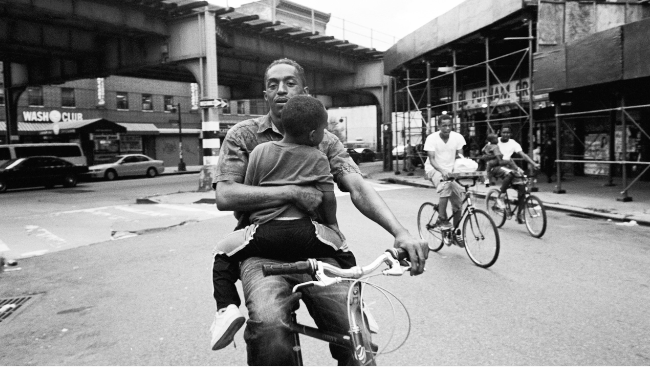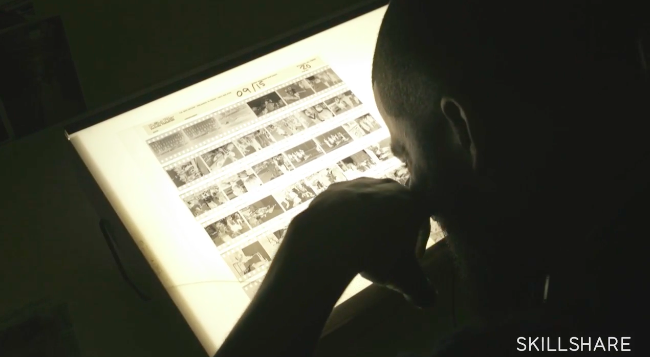 While some street photographers talk a lot about trying to remain "invisible," Wagner does the opposite. He typically goes against traffic, and he'll stop to chat with passersby — in fact, some in Bushwick know him as "The Camera Guy." He isn't simply recording events as they happen; he's also telling his own story. And because he works with film, his images feel both contemporary and timeless.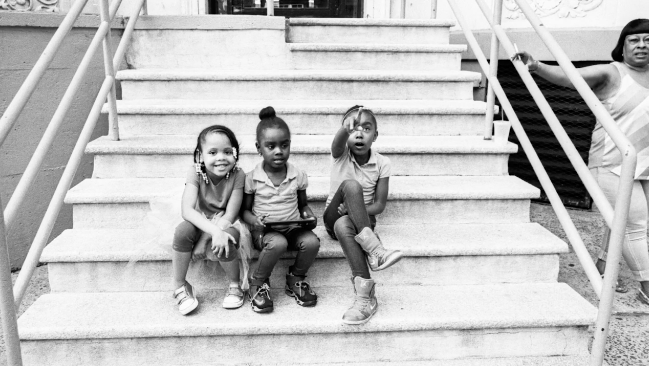 Wagner motivates his Skillshare students to spend the day in their own city, photographing what matters to them. The goal is to capture just four outstanding images that convey a narrative or message. He's happy to discuss any questions we might have, whether they're about overcoming shyness in the streets, choosing the right gear, or developing black and white film. He tells us about the importance of "getting lost" in new places, and in the process, he shows us how to discover ourselves. Helen Levitt and Gordon Parks are sadly no longer around to impart their teachings, but if they were, I have a feeling their classes would look a lot like Wagner's.
If your New Year's Resolution is to try something new every day, then we recommend…
Photojournalism: Making Photo Essays and Stories by Benjamin Lowy.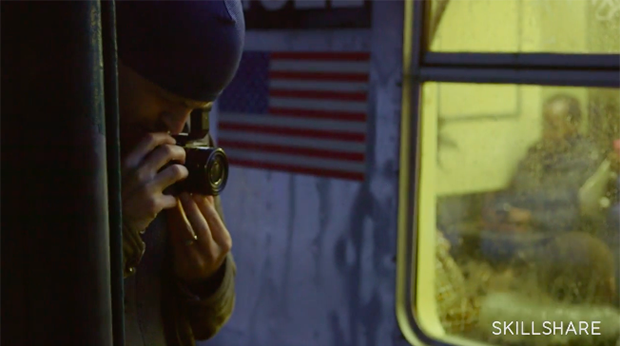 Years ago, we asked Benjamin Lowy a question: "What's the best way to learn?" His advice was to-the-point: "Get out there and practice." In his hands-on Skillshare course, the renowned photojournalist shows his students exactly how to do that. With the NYC subway as his chosen setting, Lowy teaches us about the joy of discovering the unexpected, even in familiar places. His enthusiasm and passion for what he does are infectious, and he'll have you itching to get out your camera try everything for yourself.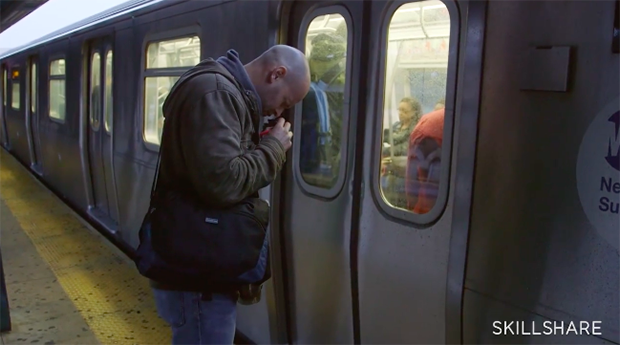 Your assignment? Create a photo essay or a photo story — photo essays convey the mood and atmosphere of an event, while photo stories follow events chronologically — in one specific place. You choose your location, and under Lowy's tutelage, you'll learn all about the kind of gear you need to make your vision a reality. This class has a fun, casual vibe, so feel free to experiment and put yourself out there creatively. Participants in this course hail from all over the world, and finished projects reveal the inner-working of places as diverse as a Kyiv tram, an abandoned bus in Georgia, a boxing gym in the Bronx, and a street market in small-town Brazil.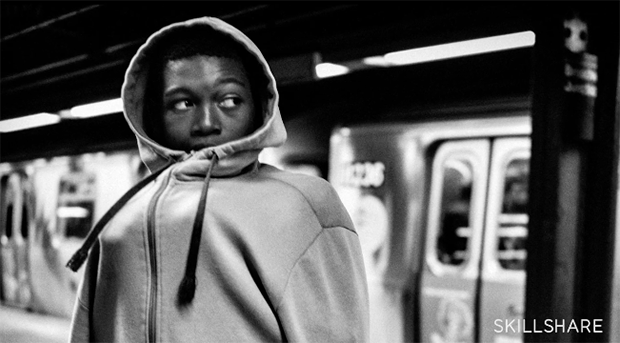 If your New Year's Resolution is to appreciate life more, then we recommend…
Street Shots: Photographing Scale, Light, and Colors by Steve Sweatpants.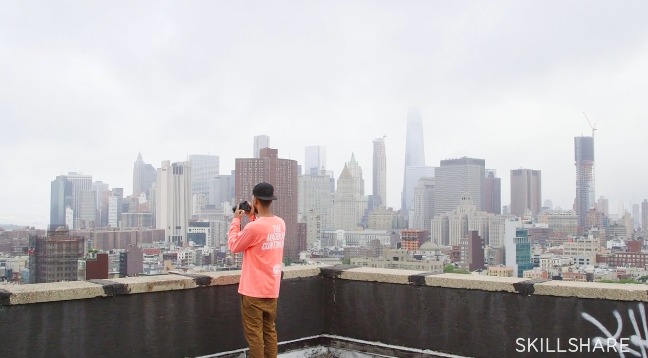 As both a photographer and the co-founder of the pioneering Street Dreams Magazine, Steven "Sweatpants" Irby has a unique perspective on understanding how images work — what interests us, what moves us, and what stays with us. He understands light, color, and composition like the back of his hand, but because he's not at all rigid about the "rules," his Skillshare class teaches us that street photography, at its core, is all about fun and serendipity.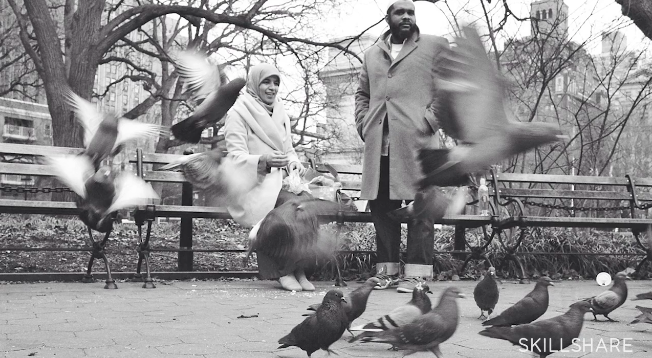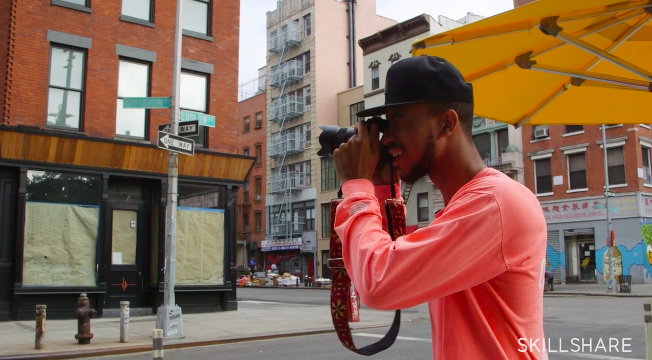 The assignment for this class is a photo scavenger hunt! Irby is looking for creativity, not perfection, so he invites students to let down their guard and take a deep-dive into the dynamic colors, light sources, and vanishing points that define their home cities. This course is all about building that creative muscle; the more you do it, the easier it gets. Students will start to notice moments they could have easily missed prior to Irby's lessons — I certainly did — and in the end, he leaves us with a more profound appreciation for things we once considered ordinary. As an added bonus, Irby is totally open to discussing almost anything with his students, so any questions about gear, camera settings presets, and even Pokemon are welcome.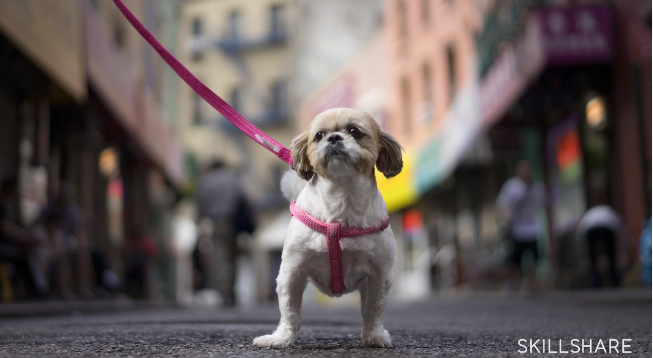 If your New Year's Resolution is to get out of your comfort zone, then we recommend… Outdoor Photography: Shooting at Sunset, Sunrise, and Night by Chris Burkard.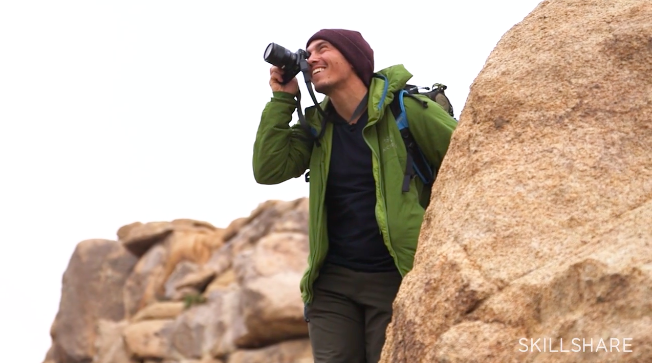 Chris Burkard has well over 3 million followers on Instagram, and it's easy to see why: he's explored some of the most remote corners of the globe, endured extreme climates, and returned home with thousands of breathtaking landscape and adventure photos. But if you're assuming it takes the most expensive gear and strenuous trips to make these kinds of images, think again. Burkard's Skillshare class proves that there's no excuse not to get out there and try.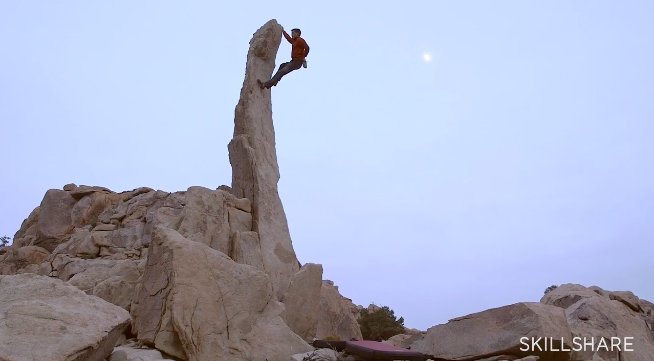 The class takes place at Joshua Tree National Park, but students can participate from anywhere in the world, even if it's just your own backyard. Burkard prefers an approach he calls "quick and dirty"; rather than laboring over his craft, Burkard teaches us how to work in the spur-of-the-moment. He shows us how to prepare in advance for epic sunsets, sunrises, and long exposure night shots, but he also conveys the importance of going with the flow. During the course, he even invites us to make some classic "mistakes" and learn from them.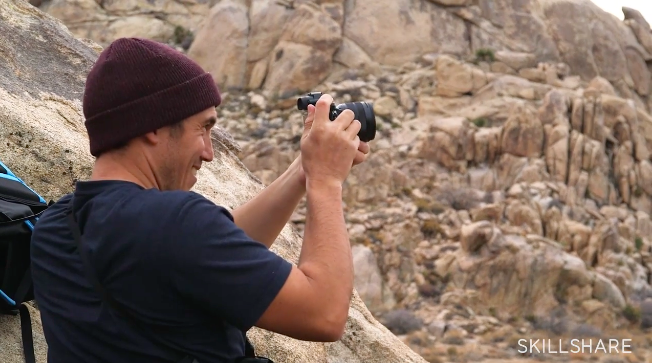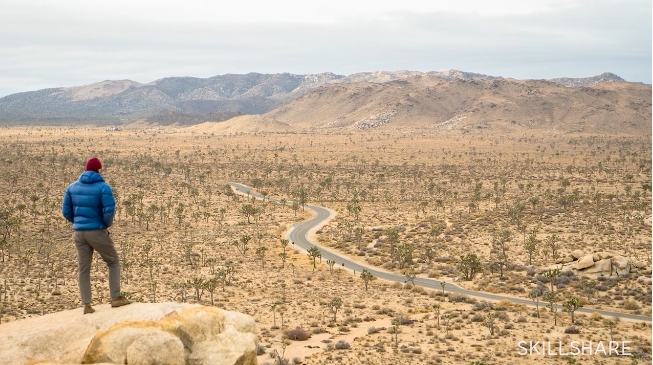 The assignment for this course is to create one photograph at sunrise, sunset, or nighttime. More than a hundred classmates have shared their images with the community, and let me just say: they're beautiful. In fact, my favorite shot from the collection almost never happened. The photographer had almost given up and gone home when she remembered Burkard's teachings and stuck around a little longer to see if a moment would present itself; soon after, she got something better than she imagined.
If your New Year's Resolution is to see the world, then we recommend…
Travel Photography: Seeing, Shooting, and Editing by Dan Rubin.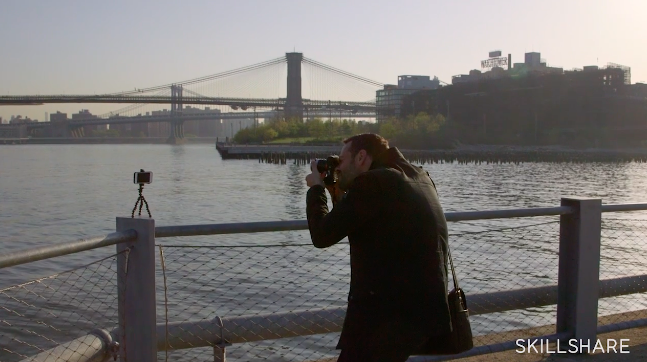 Dan Rubin is another major influencer in the photo-world, so it was exciting to see he'd joined the roster over at Skillshare. Some people think that seeing the world through a camera lens distances us from our surroundings, but in this course, Rubin proves the opposite. He not only instructs us how to take unforgettable images; he also teaches us how to make the most of our travel experiences through photography.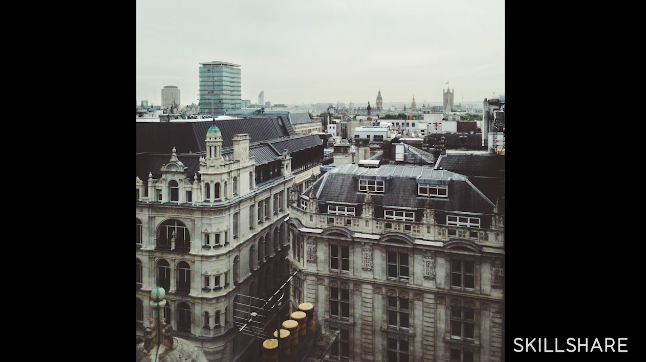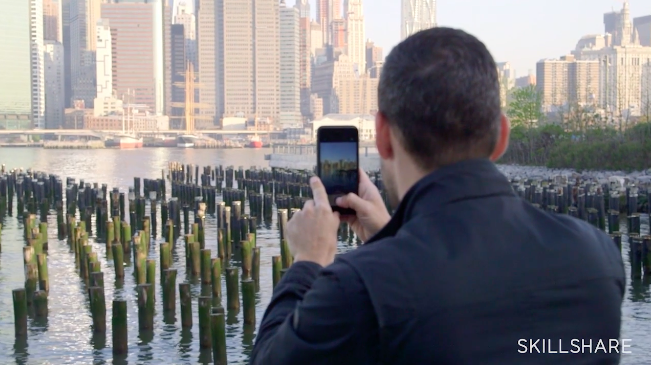 This class also takes place in New York, but he's different from some of his fellow instructors in the sense that he approaches the city as if he's never visited. Rubin walks us through the successful styles he employs on assignments, including the bird's eye view, the iconic postcard, off the beaten path, and more. The assignment for this class is also a scavenger hunt, and you can do it anywhere and everywhere. All you need is an open mind and a willingness to experience new things, and Rubin will be there every step of the way. Throughout, he provides clear and concrete examples from his own portfolio, and we also learn exactly what to pack for any given trip.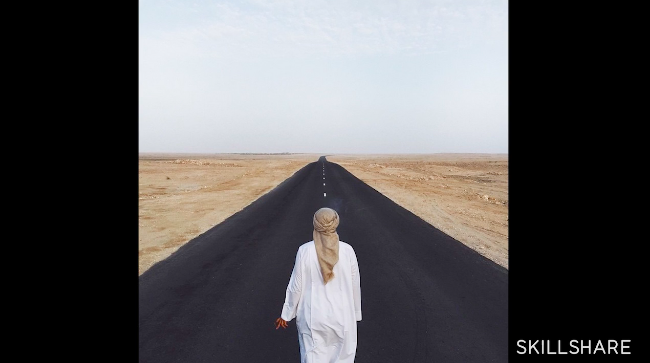 Skillshare has generously offered Feature Shoot readers two months of unlimited free classes on Skillshare Premium! Ordinarily, an annual Premium membership would cost $8.25 per month, but for a limited time, you can enjoy the best the community has to offer with classes, discussions, and more without any commitment. Just use the coupon code 'FEATURESHOOT2019'. If you decide you don't want to continue after your two months, you can cancel, and you won't be charged a penny. Head here before February 28th to sign up for free!
Discover More