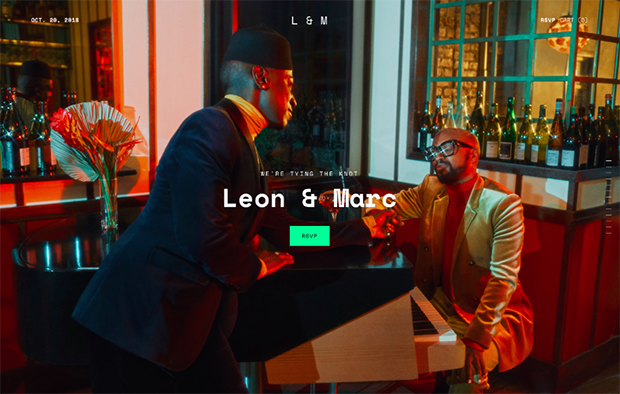 The best photography websites are clear and to-the-point. When visiting any photographer's site, I'm always both excited and relieved to see a landing page with beautiful visuals, minimal fuss, and straight-forward information. One great tool for making a strong impression on your followers and clients is Squarespace's range of Cover Pages, all designed to create an impact without needless distractions.
Two years ago, we ran a story about how Cover Pages can work for photographers. We interviewed influential artists, and we examined the creative ways in which they use these pages as a tool to grow their audiences. Since then, however, we've seen more innovative, clever uses for Cover Pages than we could have imagined. Based on some of the most impressive photography websites we've come across in the last years, we put together this guide of our top five reasons for getting a Cover Page.
Photographers can use Squarespace Cover Pages to:

1. Announce a new project, exhibition, or book.
Let's say you want to promote your latest Kickstarter campaign or exhibition opening. You don't want the announcement to get lost in your website, but you don't want to build a whole separate website for every event or project you might have. A Cover Page is the perfect solution. As the first thing people see when they visit your site, this page will convey all the important information easily and concisely. Call to action buttons can direct followers straight to convenient RSVP forms or even to outside websites, like your gallery, publisher, or fundraiser. Instead of using the same old homepage all the time, you can update this page with new layouts whenever you wish and adapt it for each and every venture that comes your way.
2. Gather contact information and connect with followers.
We already knew that incorporating a Cover Page can inspire people to stay on your site longer without clicking away, but one thing I didn't realize initially is that clients can also use a photographer's Cover Page to stay in touch. In my opinion, complicated and convoluted navigational tools spell the death of any website, and one of the most frustrating things can be fishing around for a place to subscribe to email updates. If I have to scroll through pages and pages just to find a "subscribe" button, I usually give up, and that's a real shame because I want to see new work by the photographers I follow. With Cover Pages, you can introduce a subscribe form right at the get-go so you can easily stay in contact with your audience. It's great to have the option of subscribing without even having to enter the main website.
3. Display images or video.
Squarespace Cover Pages stand out from typical landing pages because they give you the option of using videos or slideshows of images. You can give visitors to your website a sneak-peek into your portfolio by displaying your strongest images right off the bat, or you could upload a dynamic video background. Cover Pages are simple and clean, but with great images (still or moving), they can absolutely steal the show.

4. Tease a new website.
Photographers are busy, and while we've interviewed multiple photographers who got their Squarespace websites up-and-running in less than a day, there's no timeline for building the perfect website. Cover Pages are independent of the rest of your site, so you can push it live before you work out all the details of your other pages. While your main website is still under construction, you can give visitors the basic info they need to get in touch as well as links to your social media; in fact, you can even incorporate your Twitter feed into your Cover Page. In the meantime, you can keep your other pages disabled or password protected. A photographer once told me that a Cover Page is like a theater curtain before a play. It's sophisticated and elegant in its own right, but it also provokes a sense of anticipation. There are multiple design layouts available for these pages, so you can give followers a taste of what's to come.

5. Establish a significant online presence without the hassle.
Until now, we've been assuming that a Cover Page is a landing page, or an introduction, to a larger website, but that's not necessarily the case. Some of the most memorable websites I've seen have been a standalone Cover Page, complete with vivid imagery, contact information, and social links. At Feature Shoot, we regularly use Instagram to find photographers, but Instagram alone doesn't provide enough information. I want to know how I can get in touch and see more work. That's where Cover Pages shine. If you're a photographer on Instagram, and you just don't have the time to create an elaborate portfolio site, a standalone Cover Page gives you all of the efficiency of a website without the hassle. Want to build a fantastic website in ten minutes flat? It's possible with Squarespace.
Make your own beautiful website today with Squarespace, and use the code FEATURESHOOT to get 10% off your first purchase.
Squarespace is a Feature Shoot sponsor.
Discover More