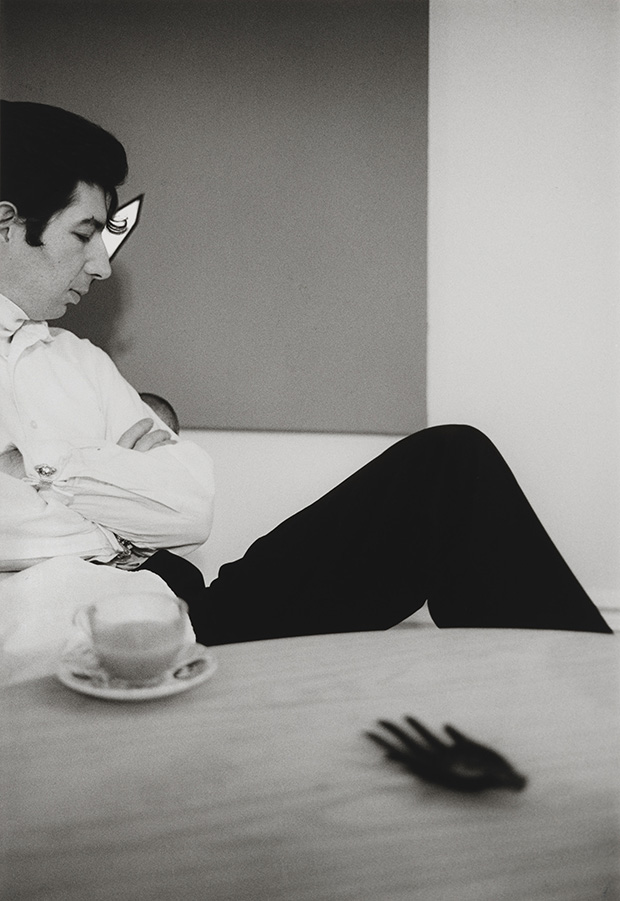 Duggie Fields b.1945
The artist Duggie Fields is celebrated for his large- scale canvasses featuring bright blocks of colour and razor edged outlines. Gwinnutt photographed Fields in his Earls Court flat, in front of his painting Lakshmi, a tribute to the Hindu goddess of good fortune. Fields's forelock of hair is neatly encased in the lines of his painting, a subtle detail that transforms the photograph into a play of shapes and tones, with a flatness that is characteristic of Fields's work.
When Swinging London collapsed, the Pop-optics faded away. The bright cheerful colors of promise became muted, grubby, and grey as the city fell into created desperate times. The rising tide of unemployment, set against an on-going recession, brought the conservatives to fore, and through them a new leader was.
In 1979, Margaret Thatcher became the first woman to assume the mantle and she went hard: deregulating the financial sector, privatizing state-owned companies, and reducing the power of trade unions. She spoke for the elite and was largely unpopular until victory in the 1982 Falklands War.
During those intervening years, a new generation was coming of age, embracing the D.I.Y. ethos of punk and taking it far beyond the reaches of the known. The scene, which came to be known as the New Romantics, was centered at the Blitz, a nightclub in the Covent Garden section of London.
If ever there was a fitting name, it was this. At the Blitz, a fantastical coterie of artists, musicians, designers, filmmakers, and performers came dressed to kill, wearing handmade pieces that could best be described as Ziggy Stardust on acid. The Blitz Kids, as they were known, took that art of the poseur to the next level. The donned costumes and makeup that blurred gender lines, sometimes going so far as to erase the human element in the search for an identity that spoke to the moment.
British photographer David Gwinnutt was one of the creatures of the night, getting to know the curious and compelling personalities that sparkled under the strobe lights. He had taken up photography after discovering the work of Diane Arbus and Robert Mapplethorpe in the London studio of artist Brian Clarke. David Bailey was a frequent visitor, sharing stories and scandals that enticed.
On his website, Gwinnutt recounts, "I thought a photographer would be a cool thing to be….I was also far too lazy to be a painter. I started photographing every interesting gay person I could and anyone else that caught my imagination but being young and idealistic, I only took a picture if it 'appeared'. I would never set it up. I took my camera everywhere."
In the early 1980s, Gwinnutt began to take portraits of the people from the scene in the privacy of their homes. "I've many black & white photographs from this period, they are often grainy and moody as I used only available light but it now seems to reflect the period which was Thatcher's Britain and 'hard times.' There is a documentary quality to the pictures as they were often taken in the habitat of the sitter, at home, work or in recovery…" Gwinnutt writes.
From Gilbert & George to Leigh Bowery, Derek Jarman to Sir Norman Rosenthal, Gwinnutt created a body of work that reveals the person who lay underneath it all. His photographs, currently on view in David Gwinnutt: Before We Were Men at the National Portrait Gallery, London, through September 24, 2017, are a telling reminder of the interplay between surface and substance, of the ways in which we craft a world of appearances to reveal and hide who we are.
The soft, somber simplicity of Gwinnutt's work speaks to the person we keep to ourselves, the one that few ever truly know unless they are invited inside our private realm. And even then, a friction continues to exist, between who we truly are and who we wish to be. In Geinnutt's portraits we can feel this conflict manifest itself in the body language spoken by the poses assumed. It's a marvelous meditation on the distinction between self-consciousness and self–awareness, one that is always inherent in every act of photography.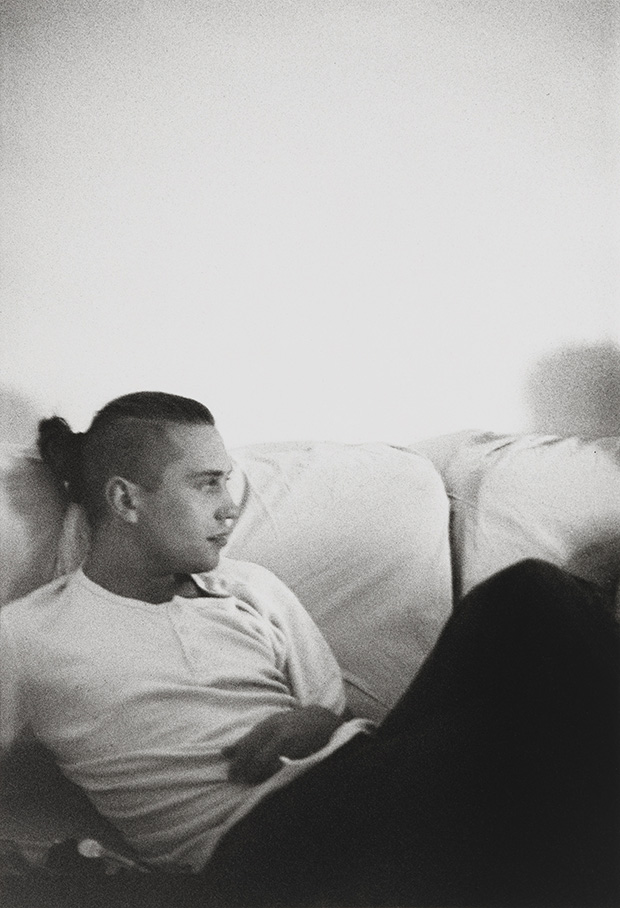 David Holah b.1958
Fashion designer David Holah co-founded the era-defining clothing label BodyMap in 1982, together with Stevie Stewart. Their daring and gender ambiguous designs were an immediate hit, hailed as 'the hottest, most visually arresting company in Britain's design renaissance'. Gwinnutt photographed Holah during a dinner party in Bloomsbury as he reclined on a sofa, his minimalist and relaxed attire in stark contrast to the innovative shapes and distinctive prints of his BodyMap designs.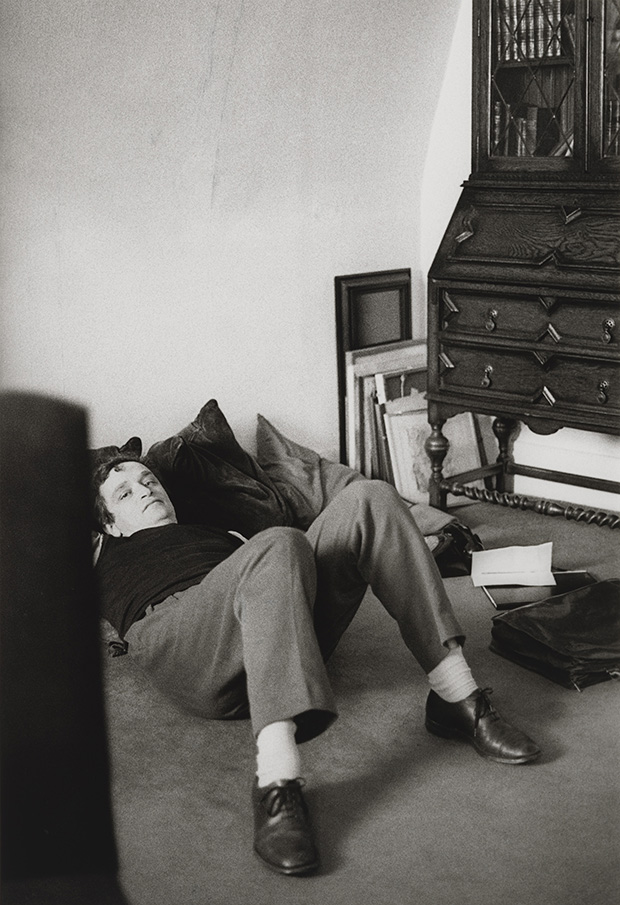 Sir Norman Rosenthal b.1944
Gwinnutt met the curator Norman Rosenthal at Planets nightclub in Piccadilly, where he was accompanied by the artists Gilbert & George. Having asked to take his picture, a shoot was arranged in Rosenthal's flat opposite the Royal Academy, where he served as Exhibitions Secretary. The flat was sparsely furnished with nowhere to sit except the floor, where Rosenthal reclines. While his body appears relaxed, his eyes remain nervous and wary. Gwinnutt recalled, 'I felt all the time that he was observing me'.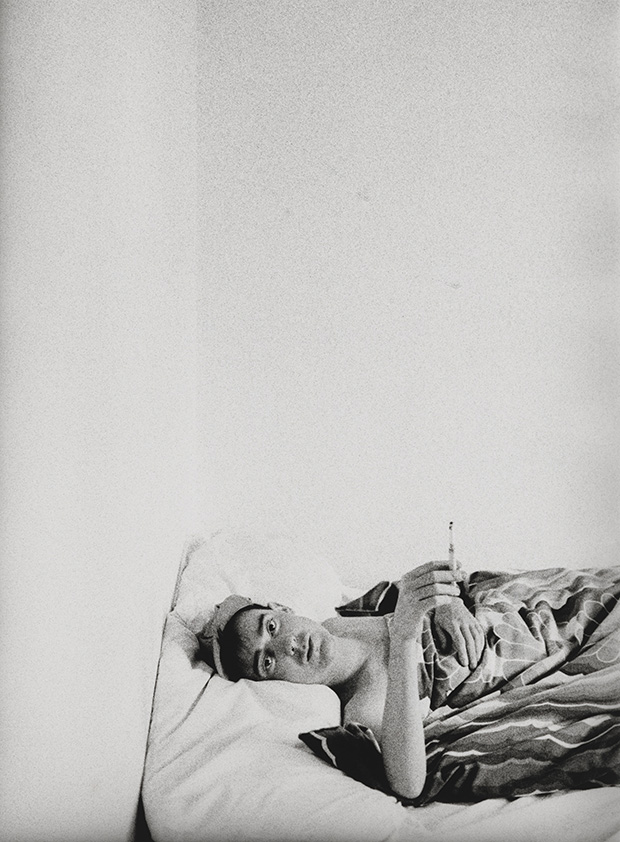 Stephen Linard b. 1959.
Gwinnutt photographed fashion designer Stephen Linard the year after he graduated from St Martin's School of Art and staged his first catwalk show of 'mean and moody menswear', which propelled him to overnight success. Linard was prominent among the Blitz crowd for his eclectic personal style, always flamboyantly dressed with immaculate make-up. Gwinnutt photographed him away from this scene, in the intimacy of his King's Cross flat. Linard gazes directly at the lens in a quietly intense image that allows a glimpse behind his club persona.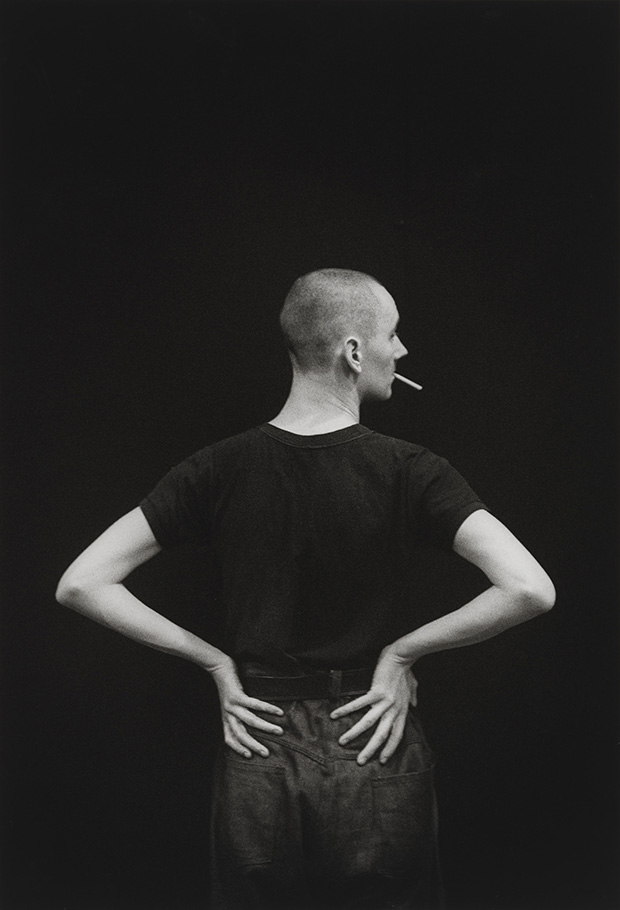 Cerith Wyn Evans b.1958
The artist Cerith Wyn Evans was photographed at the Royal College of Art on the set of his film Epiphany, which took inspiration from the London club scene and featured friends such as Leigh Bowery. The film embodied a style of vivid, baroque aestheticism, but Gwinnutt's portrait of Evans is notable for its stark austerity. Evans's films were screened alongside those of Derek Jarman and John Maybury and he was selected by Norman Rosenthal for inclusion in the Sensation exhibition at the Royal Academy of Arts in 1997.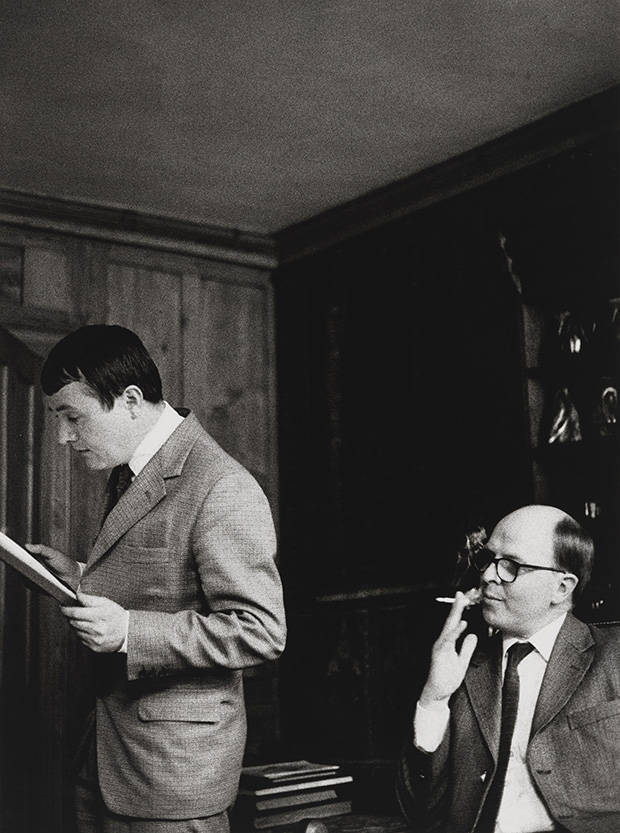 Gilbert & George b.1943; b.1942
Gwinnutt arranged a portrait sitting with the artists Gilbert & George after meeting them at Planets nightclub in Piccadilly, where they were accompanied by the curator Norman Rosenthal. In their formal suits, the artists stood out from the rest of the club crowd, and Gwinnutt felt they must be important so approached them to take their picture. The duo adopted the identity of 'living sculptures' in both their art and their daily life, but here Gwinnutt shows them at ease, photographed at their home in East London.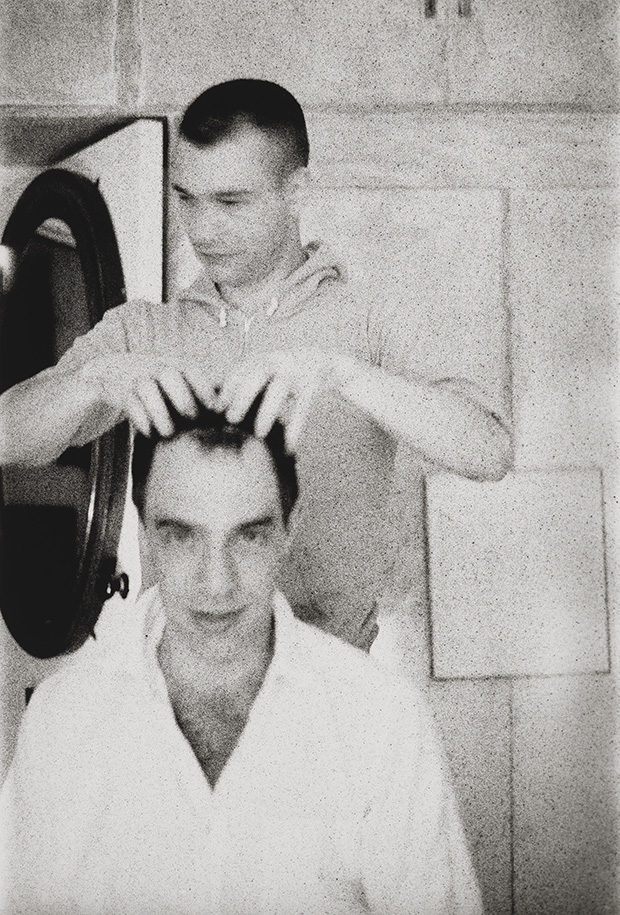 Derek Jarman 1942–94; John Maybury b.1958
Filmaker Derek Jarman was at the centre of the queer art scene, and the group of young artists and designers who defined it. Jarman and his protégé John Maybury were frequent collaborators. Maybury's tactile gesture in this portrait speaks to their closeness. Jarman revelled in having his picture taken and liked to stare intensely down the lens. Maybury in contrast tried to avert his gaze from the camera. The graininess of the image lends a sensual and dream-like quality, echoing the visuals in the experimental Super 8 films both men were producing.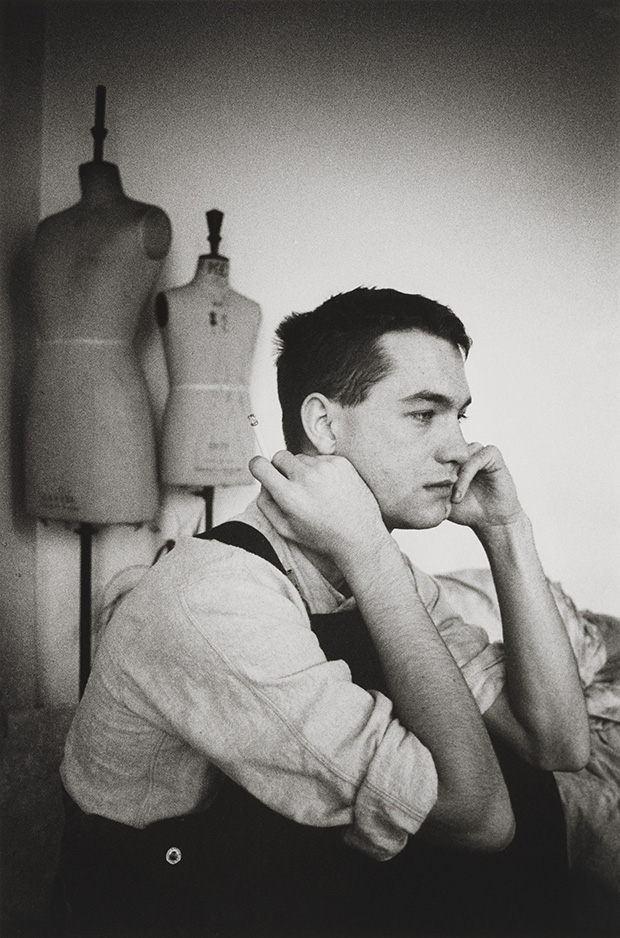 John Maybury b.1958
Derek Jarman introduced Gwinnutt to the filmmaker John Maybury: 'Derek really liked the photographs I had taken of him and asked me who I'd most like to photograph. I said David Bowie. He laughed and said I should photograph John Maybury.' Maybury was prominent in the British underground film movement, and with Evans and Jarman pioneered a style of 'untrammelled excess' using rich colour, elaborate theatricality and hallucinogenic visuals. This meditative portrait was taken one morning in Maybury's Camden flat as he smoked his first cigarette of the day.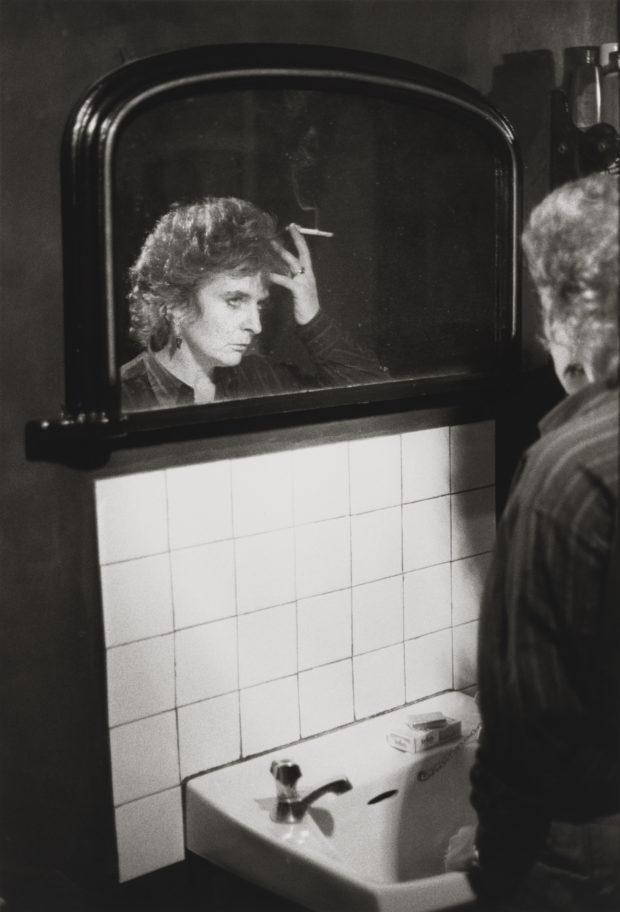 Maggi Hambling, 1984.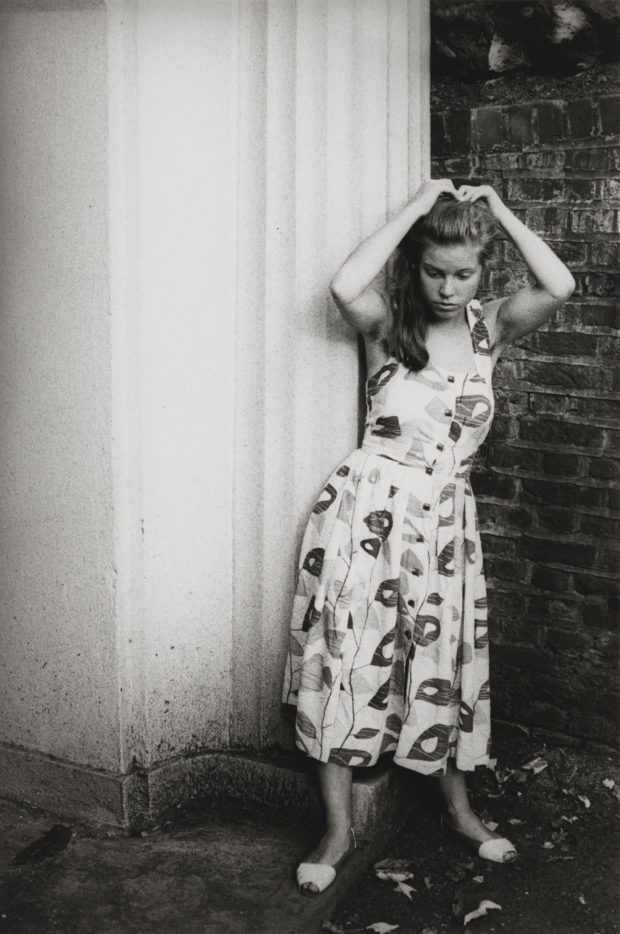 Alison Owen, circa 1984.
All images © David Gwinnutt
Discover More