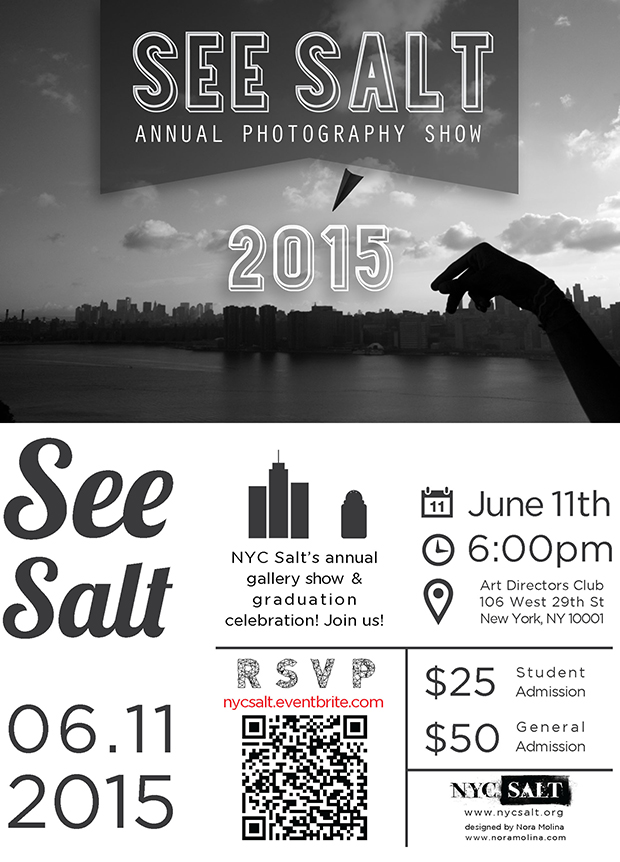 Since it was established in 2008 by editorial photographer Alicia Hansen, NYC SALT has quickly become the birthplace of some of the city's finest young artists. The non-profit organization is devoted to empowering underprivileged teenagers through the art of photography, offering places to sixteen students in residence per year, with an astonishing college acceptance rate of 100%. This year marks the arrival of NYC SALT's first class of college graduates, each of them first generation.
The 2015 NYC SALT Annual Photography Gallery Show promises more than 200 prints drawn from the portfolios of this year's graduating college class alongside pieces by fourteen members year's high school senior class and those created during the program's first smart phone workshop. The show celebrate its opening at The Art Directors Club on the evening of Thursday, June 11th from 6:00 PM until 9:30 PM and will be on display from 10:00 AM until 5:00 PM on both the 11th and 12th of June. There will be food and drink (the brewers at Top Hops will be bringing a variety of craft beers), and Profoto's Cliff Hausner will be manning the photo booth.
NYC SALT photography students are mentored by leading industry professionals and each leaves the program with a finely tuned voice and a skill set that far exceeds those normally possessed by high school and college-age photographers. Most live in areas like Washington Heights and the Bronx, where an estimated 35% of adults have completed any sort of higher education. This school year, students' schedules were filled with courses, field trips to art exhibitions and the sets of television shows, and rigorous college preparation.
The experiences gained at NYC SALT enable these talented young minds not only to pursue but to achieve their goals, both short and long-term, and this gallery show will certainly be a testament both to the future of the city's art education and also to a new and exciting generation of emerging photographers. General admission to the opening is $50, and tickets are sure to go quickly. Get yours here. Prints from NYC SALT photographers are also available for purchase, and you can make a donation to NYC SALT here.
Discover More