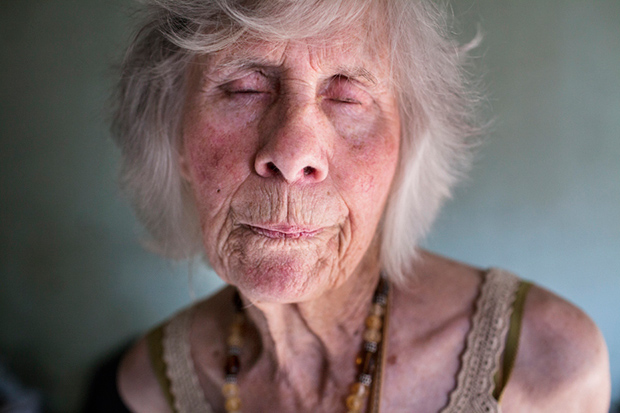 Lee on a rare hot summer evening.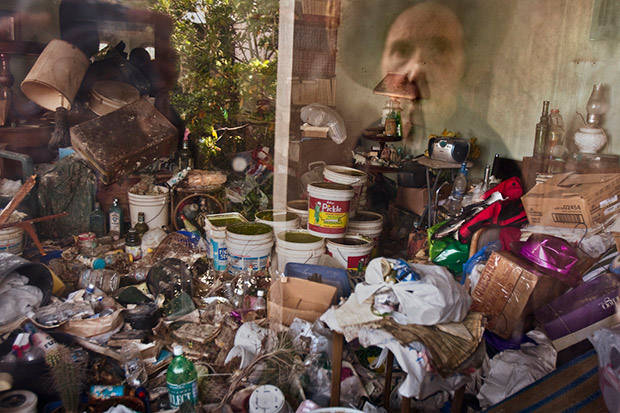 Lee is reflected in the front window of her house. Shortly after this picture was taken her son emptied the house, filling six dumpsters in the process.
At first, Jessica Eve Rattner knew Lee as a shopping-cart pushing raider of recycling bins, a dishevelled old woman with foot-tall dreadlocked hair. But a quick exchange in the driveway, while Lee scoured for recycled cans, changed everything. Instead of dismissing her outright, Rattner became smitten by her intelligence and quirky charm. She asked Lee if it was okay to photograph her, and to her surprise, she agreed.
Lee lives in a condition that many would consider squalor. She has no heat, no running water, and has to use the bathroom at the nearby Safeway. Hoarding is her lifestyle; her floors piled high with relics collecting dust from her long, full life. One of these artifacts includes a diploma, carefully preserved, of a finishing school she attended more than 60 years ago, called House of Charm. According to Rattner, Lee refers to it often and fondly. Her experience there clearly had a huge impact on her sense of self.
Once she had known Lee for a while (their relationship now spans a decade) House of Charm seemed like an obvious title for their burgeoning project. It might seem ironic, given her ramshackled home and unkempt appearance. Rattner argues, "Lee's essence and her way of being in the world are, in my eyes, infused with a beauty or charm that run deeper than manners and make-up." Everyone has some kind of charm if we stop and really pay attention.
Rattner is successful at integrating herself into an uncomfortable and unfamiliar territory. Her photos are both intimate and thoughtful, capturing a portrait of an aging woman, in all her eccentricities. Over time, Rattner's relationship with Lee evolved from curious observer to concerned friend. While she may be eccentric and off-putting to some, Rattner hopes people are able to look at these images and see that Lee is lovely and extraordinary.
"I think that time and intimacy have mostly made me admire Lee more. I don't mean to glamorize Lee or the way she lives. But my admiration of the intelligence and fierce independence that first drew me to her has only grown."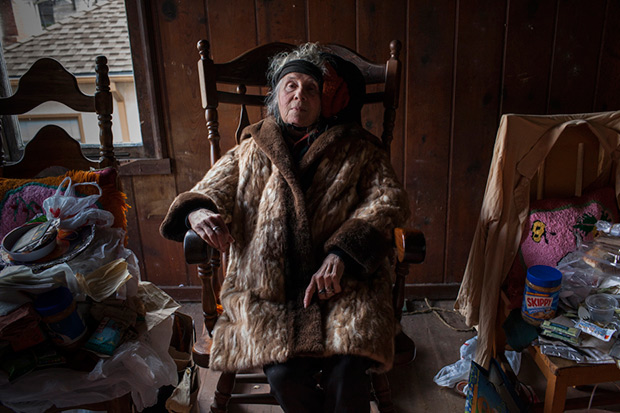 Lee in the rocking chair where she often sits to eat. A typical meal is a ready-made sandwich from the grocery store.
Lee points to an old portrait of herself and her just-groomed poodle, Mignonne.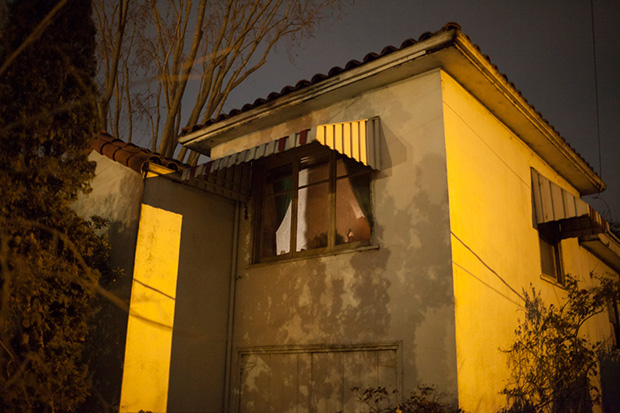 Lee's house at night. There are very few working lights, and she often relies on flashlights and battery powered torches.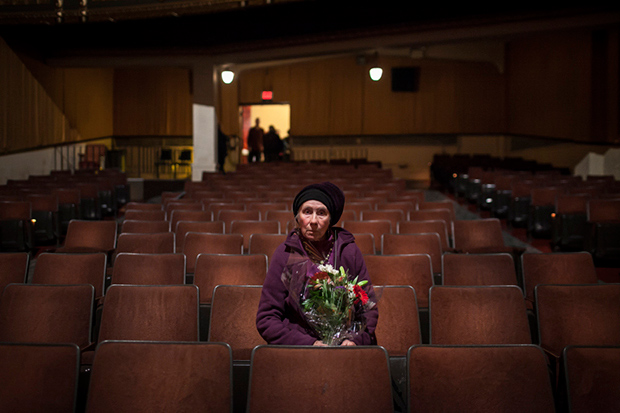 Lee at the local movie theater after the showing of a movie about recycling in which she was featured.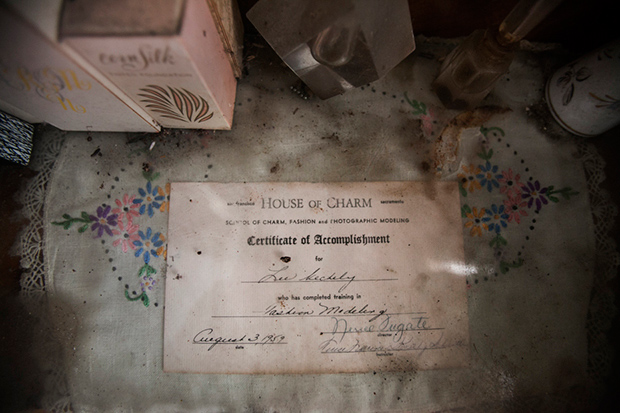 The 1959 graduation certificate from House of Charm, the San Francisco School of Charm, Fashion and Photographic Modeling that Lee attended as a young woman.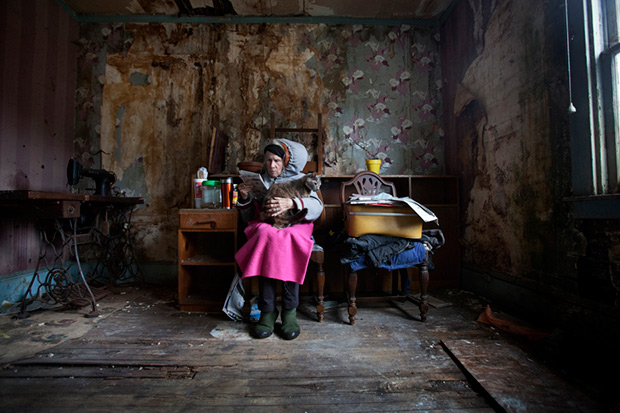 Lee reads several newspapers daily. She especially likes the funnies, and always does the Word Scramble puzzles.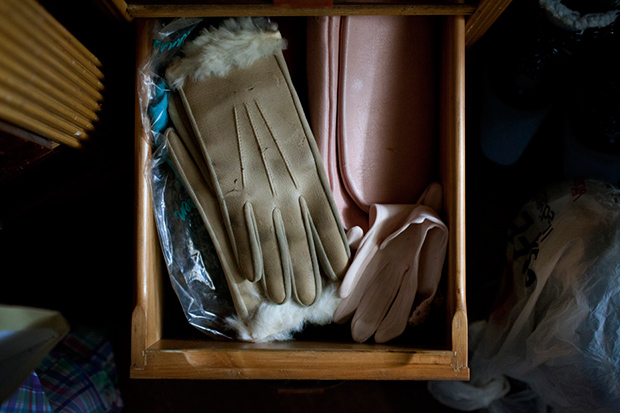 Kid gloves are well preserved in the drawer of a bedroom vanity.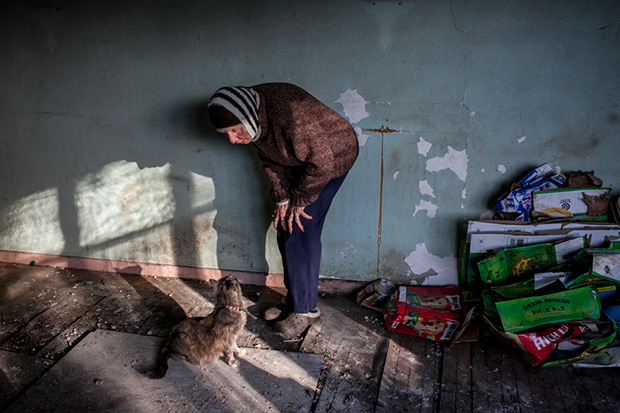 Lee and Kitah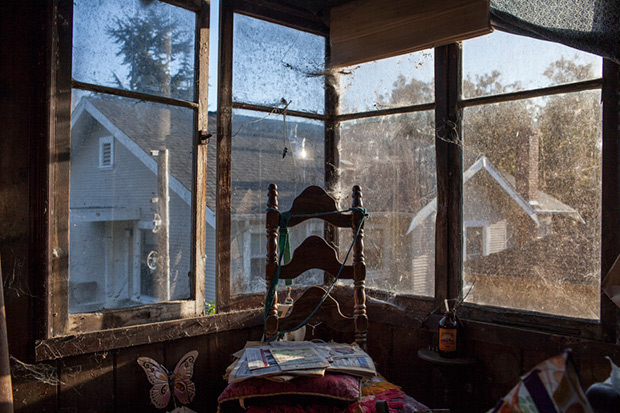 A chair in Lee's bedroom.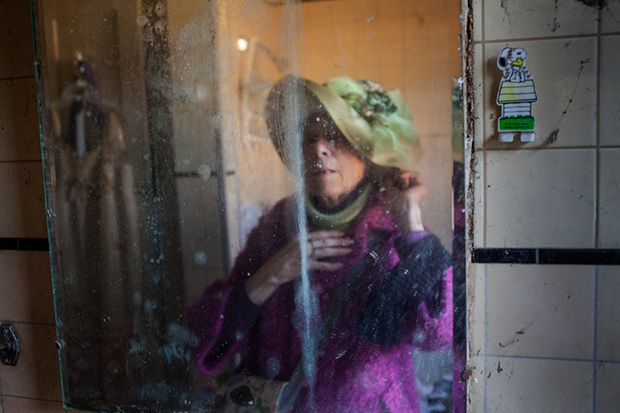 Lee readies herself for a holiday party at the local Pub. During the winter, when her home is especially cold, Lee spends afternoons there by the fire with a book and pint of Guinness.
All images © Jessica Eve Rattner
Discover More