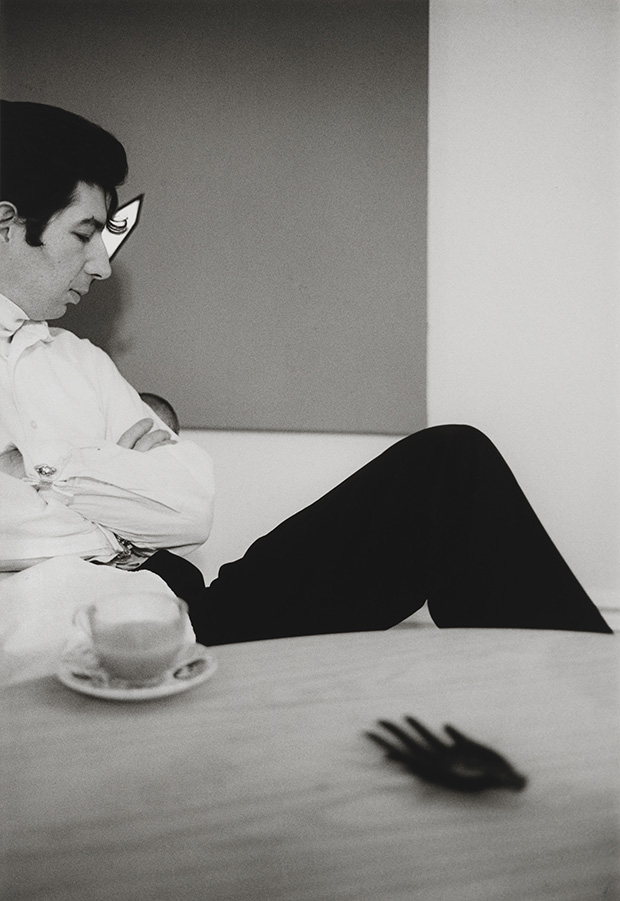 Duggie Fields b.1945
The artist Duggie Fields is celebrated for his large- scale canvasses featuring bright blocks of colour and razor edged outlines. Gwinnutt photographed Fields in his Earls Court flat, in front of his painting Lakshmi, a tribute to the Hindu goddess of good fortune. Fields's forelock of hair is neatly encased in the lines of his painting, a subtle detail that transforms the photograph into a play of shapes and tones, with a flatness that is characteristic of Fields's work.
When Swinging London collapsed, the Pop-optics faded away. The bright cheerful colors of promise became muted, grubby, and grey as the city fell into created desperate times. The rising tide of unemployment, set against an on-going recession, brought the conservatives to fore, and through them a new leader was.
In 1979, Margaret Thatcher became the first woman to assume the mantle and she went hard: deregulating the financial sector, privatizing state-owned companies, and reducing the power of trade unions. She spoke for the elite and was largely unpopular until victory in the 1982 Falklands War.
During those intervening years, a new generation was coming of age, embracing the D.I.Y. ethos of punk and taking it far beyond the reaches of the known. The scene, which came to be known as the New Romantics, was centered at the Blitz, a nightclub in the Covent Garden section of London.
If ever there was a fitting name, it was this. At the Blitz, a fantastical coterie of artists, musicians, designers, filmmakers, and performers came dressed to kill, wearing handmade pieces that could best be described as Ziggy Stardust on acid. The Blitz Kids, as they were known, took that art of the poseur to the next level. The donned costumes and makeup that blurred gender lines, sometimes going so far as to erase the human element in the search for an identity that spoke to the moment.
British photographer David Gwinnutt was one of the creatures of the night, getting to know the curious and compelling personalities that sparkled under the strobe lights. He had taken up photography after discovering the work of Diane Arbus and Robert Mapplethorpe in the London studio of artist Brian Clarke. David Bailey was a frequent visitor, sharing stories and scandals that enticed.