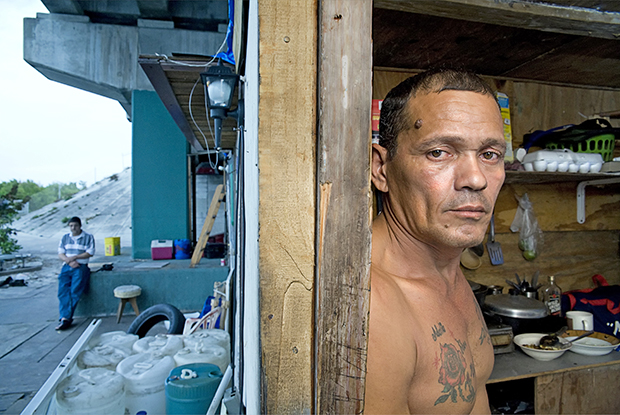 Eddy and the New Guy
MIAMI, FLORIDA / JULIA TUTTLE CAUSEWAY, BOOKVILLE, PAROLED SEX OFFENDER CAMP. In Miami, Florida laws were passed making it impossible for paroled sex offenders to move home with their families. They were required to wear leg monitors and sleep under a bridge each night or they would violate their parole. Released convicts were dropped off at the encampment without so much as a sleeping bag. Older residents like Eddy on the right would sometimes help out the new arrivals. Eddy has a three room wooden shanty that includes a bathroom with a toilet that flushes into the bay.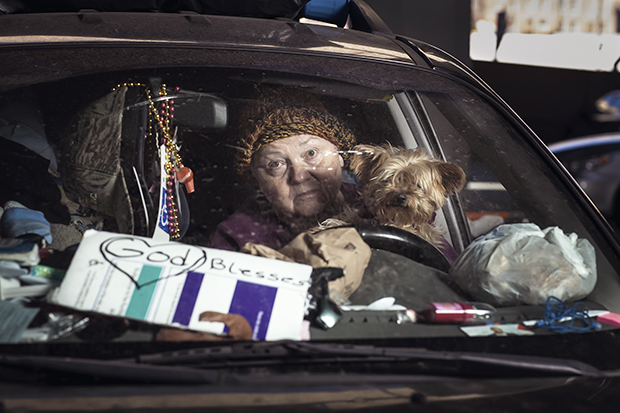 Carol and Molly's Van
NEW ORLEANS, LOUISIANA / RESCUE MISSION CAMP Carol lived in a van with her dog Molly. She drove to New Orleans from Iowa with the hope of a milder winter. The vehicle was full of her belongings and there was no space to sleep unless she removed her valuables.. Her days were spent in a small cramped area at the steering wheel. When the temperature dropped below freezing she refused to go to a shelter because dogs were not welcome there.
Structure out of Chaos is the name given to New Orleans-based photographer Mary Lou Uttermohlen's ongoing documentary project observing homeless people in the United States, who organize their lives by building shantytowns. As authorities strive to wipe away these communities, police conduct regular sweeps which plunge residents back into chaos. While this vicious cycle continues, Uttermohlen aims with her project to open an informed dialogue on the issues of chronic homelessness in the US and beyond.