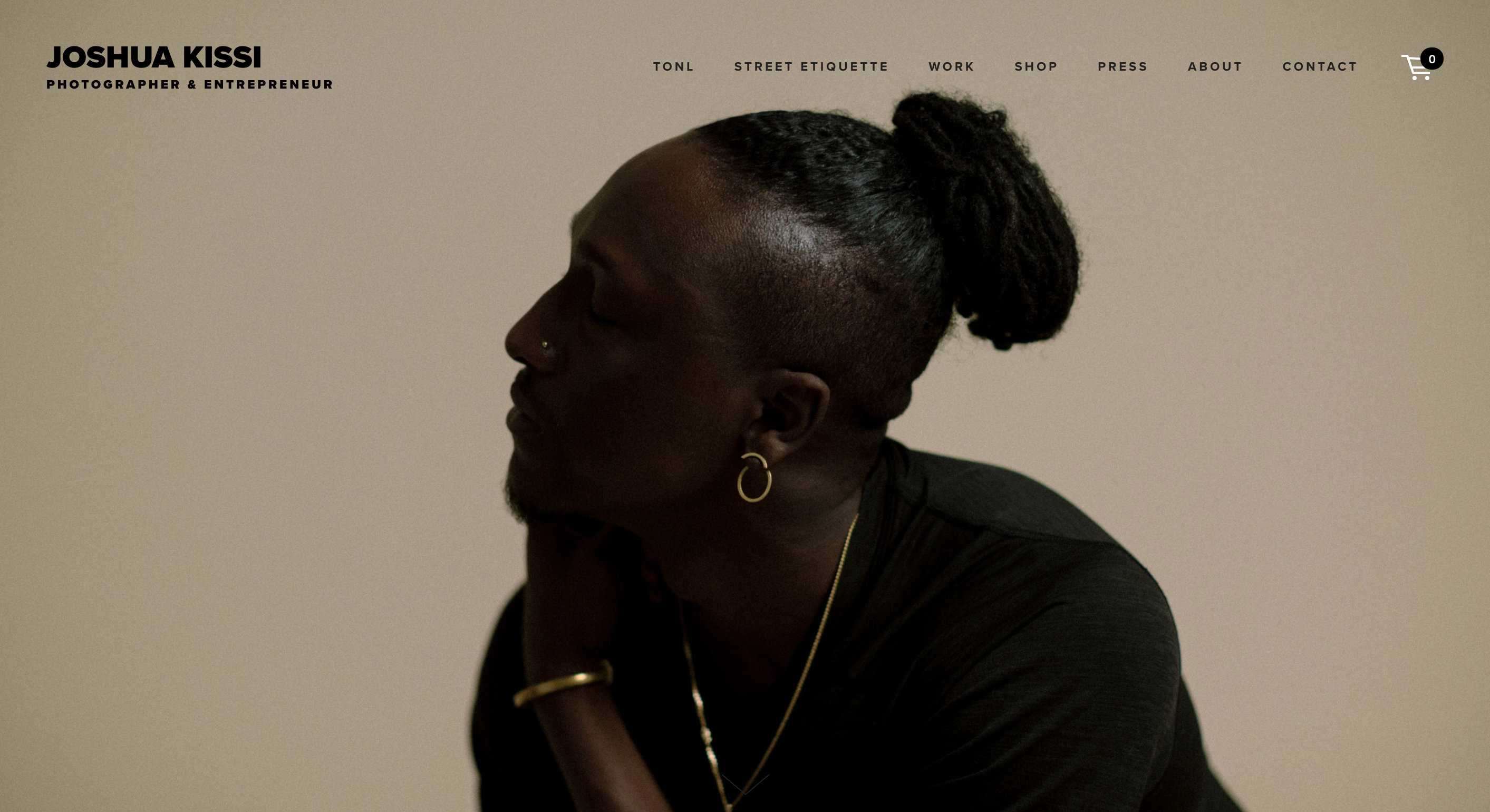 Joshua Kissi's Squarespace Website
One of the great things about the rise of the Internet, and social media especially, is that it gave young and independent creators access to a global audience. Photographer Joshua Kissi was able to create a career for himself in part because of his online influence, and he now stands as one of the pioneers in the business of creativity in the digital age.
Along with his high school friend Travis Gumbs, Kissi created Street Etiquette, a lifestyle blog focusing on black men's style. Since its launch, the platform has evolved into a creative agency, and Kissi has made a name for himself in the industry. His work has appeared in publications worldwide, and he has teamed up with leading brands around the globe. With his stock photo company TONL, the Ghanian-American photographer directs his efforts towards reshaping the stock imagery industry into one that is more culturally diverse and inclusive.
As a photographer with a portfolio as extended as it is diverse, it was important for Kissi to build a website that reflected the range of his work. Thanks to Squarespace and their beautiful website templates, the photographer was able to show off his work in an organized and visually appealing way. Kissi also set up an online store, allowing him to sell prints directly to his audience.
Squarespace is a website builder that offers stunning layouts for photographers and visual artists like Joshua. Known for their clean and striking approach to web design, they make it easy to create a website without the hassle of coding. We talked to the photographer about his business, his photography, and the online platform he created to showcase it all.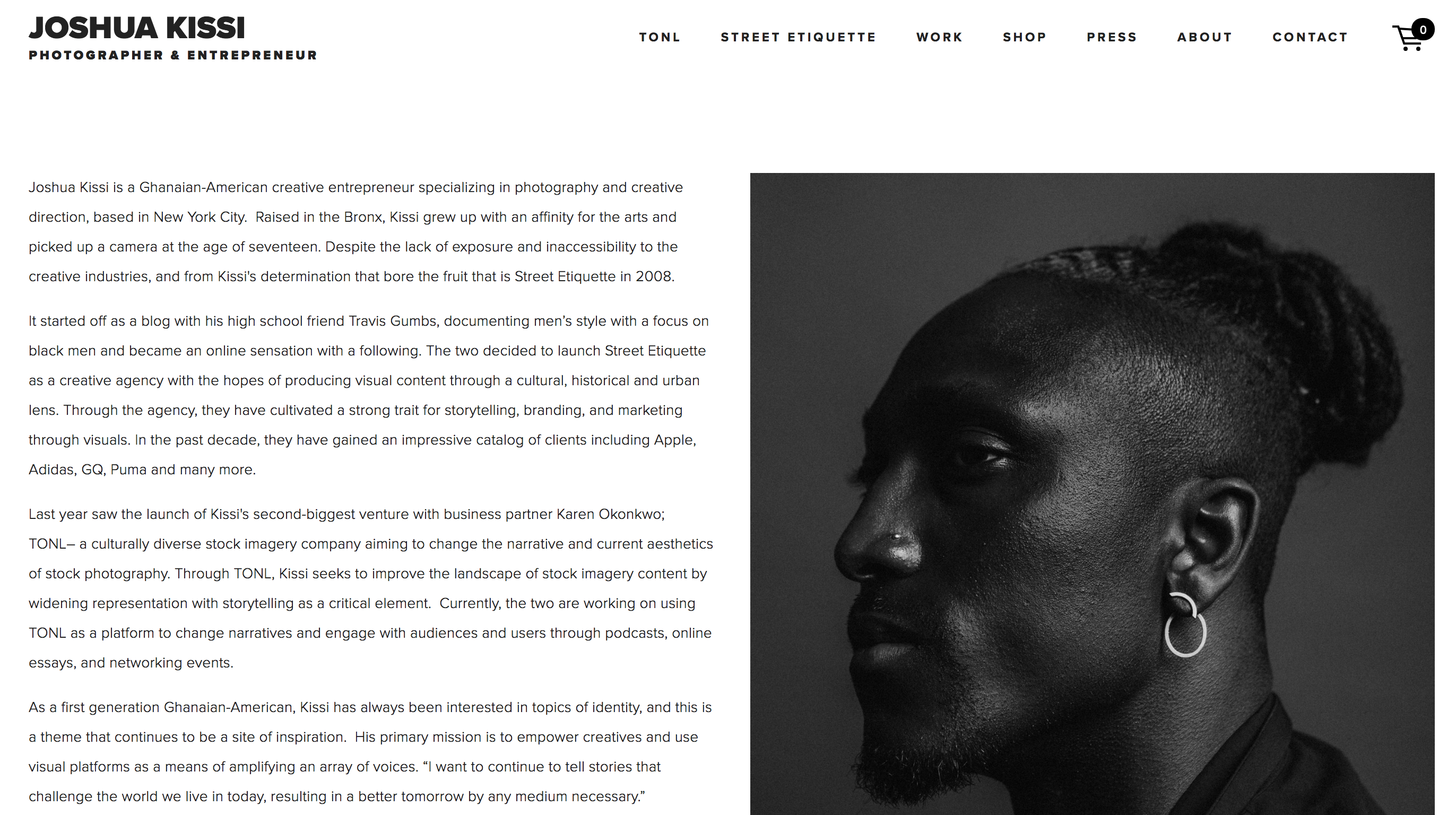 Joshua Kissi's Squarespace Website
What initially attracted you to Squarespace has a hosting platform for your website?
"I think Squarespace is the best platform when it comes to supplying the right type of template and backend functions for anyone, from a novice user to an advanced user. The template designs are diverse in design and aesthetically pleasing. I think the days of having a crappy website are gone; with platforms like Squarespace, there is no excuse."
Your website showcases everything you do, from Street Etiquette to TONL. How important was it for you to show the full range of your talents rather than focus on one specific aspect of your work?
"I was able to have a good friend Cleon Grey, who is a UX/UI designer, help me with what the design and communication points on the website as well. It was very important to us to show the full perspective of my individual pursuits on the website, between TONL, Street Etiquette, and commission-based work. The goal was essentially to display that my craft is photography, but it was also vital to communicate my entrepreneurial journey in co-founding two companies."
Can you tell me a bit more about your template? What exactly attracted you to it?
"I chose the Miller template from Squarespace. I loved the simplicity of the template. You can plug in any image, and the template comes to life in a way that is unique to you."
In your opinion, how important is it for photographers to have a website showcasing their work?
"Instagram has become a new portfolio for a lot of photographers, but potential clients, especially more traditional ones, would ask for a portfolio. I finally decided to create a website one night while hanging out with my fiancé and friends. It was one of those tasks that I frequently procrastinated on because the idea of 'displaying my favorite or best images' would put my mind in a frenzy. Since developing my website, I feel there are potential clients who believe in what I'm presenting to them, and the general consensus is that I'm a working photographer and not a hobbyist."
Your website has a "shop" section as well in which people can get prints of your work. Can you talk a bit about your experience with selling your work on Squarespace?
"Selling prints on my website has been a transformative experience altogether. Personally, it's been my first time printing my images for supporters to take part in my creative journey with me. It has been delightful. When I launched the 'shop' section of the website, I would sit idle and watch the purchase confirmation emails with joy because I didn't think anyone would buy them."
How has your creative process evolved since you started taking photos? What do you think is the best lesson you learned along the way?
"My creative process has evolved through being more intentional about being in the moment when capturing subjects. When I shoot subjects, I try to build a meaningful relationship with them, if possible. Things like learning about their interests, their experience, and their childhood provides me with a perspective on how they see the world, which is so important. The best lesson I learned along the way is to keep going, even when things appear tough, because there is growth on the other side."
What have been the differences between TONL and Street Etiquette in terms of creative process? Do you approach photography the same way in both cases?
"The creative process for TONL and Street Etiquette are a bit similar but also totally different. Street Etiquette's end product photographs are as editorial as they need to be because of our style and fashion background. TONL needs to exist within that perfect medium between commercial, editorial, and lifestyle. When shooting for TONL, we have to make sure we're pushing the narrative of all types of individuals everywhere and not displaying some of the same stereotypical images that have been created in the past."
Which current photographers and visual artists are you inspired by?
"I'm inspired by Andre Wagner, Adrienne Raquel, Serge K Clottey, Travis Gumbs, and Prince Gyasi."
What do you ultimately want to achieve as a photographer?
"I want to have everyone's stories be seen through images."
You can try Squarespace free for 14 days. When you're ready to subscribe, be sure to use coupon 'FEATURESHOOT' for 10% off your first purchase.
Squarespace is a Feature Shoot sponsor.
Discover More