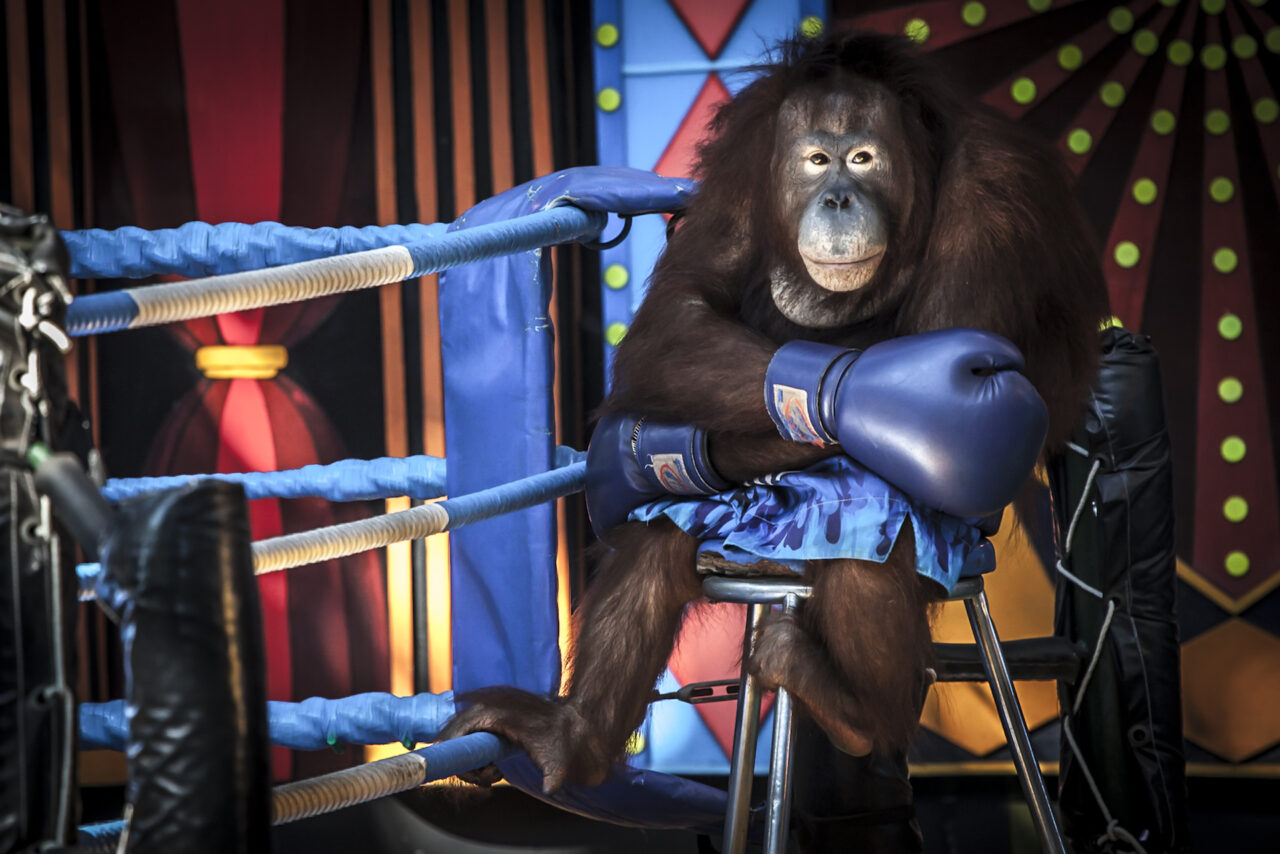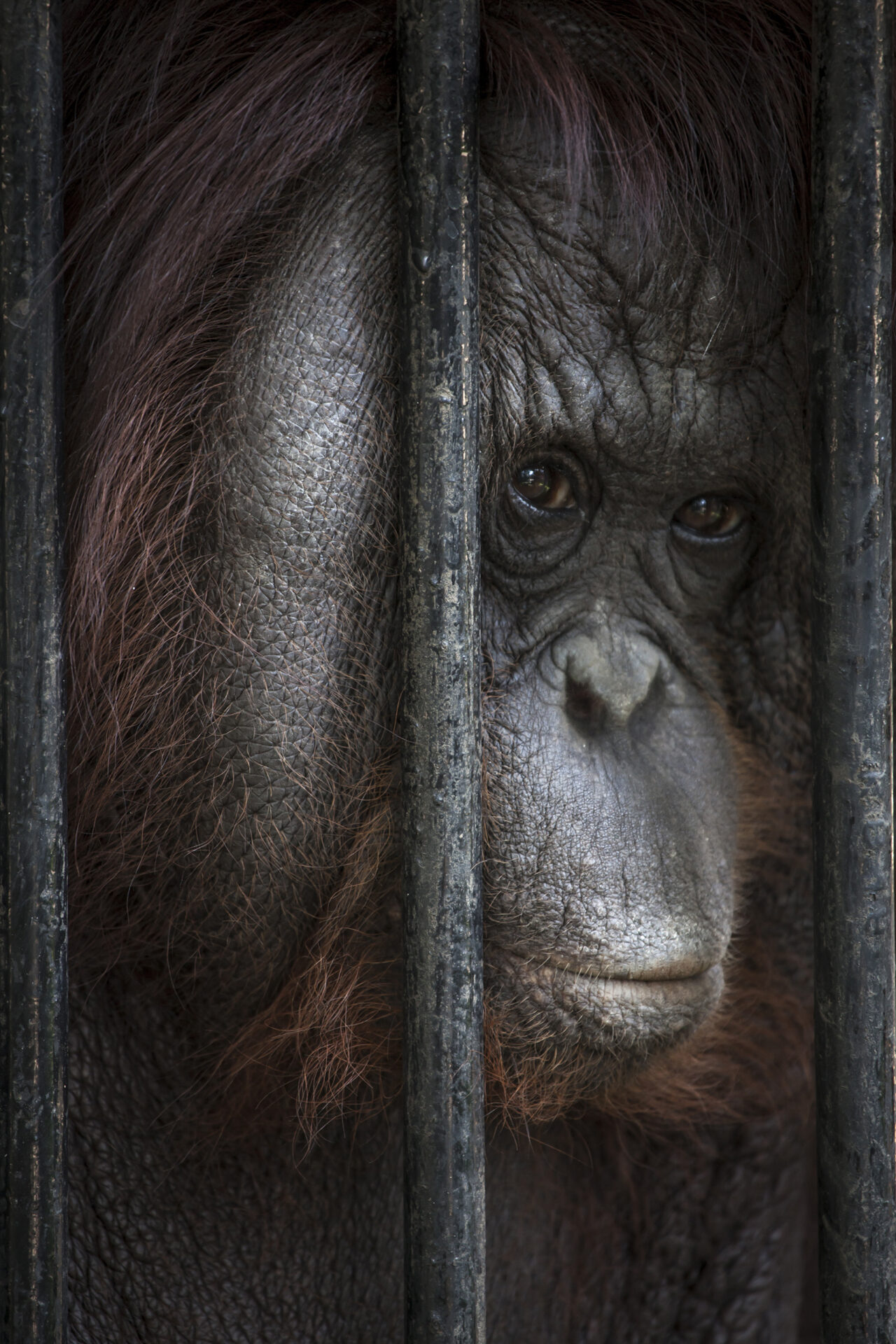 "During filming for Eyes of the Orangutan, we interviewed an ex-trader, and he described how orangutans are caught from the jungles to supply the demand for the Wildlife Tourism industry," the photojournalist and filmmaker Aaron Gekoski tells me. "We were told how the trader watched as an orangutan mother–brains spilling from her head–pulled her baby to her breast for one final meal before she died and he was snatched away. He was then locked away in a cage, smuggled across international borders, and sent to a zoo."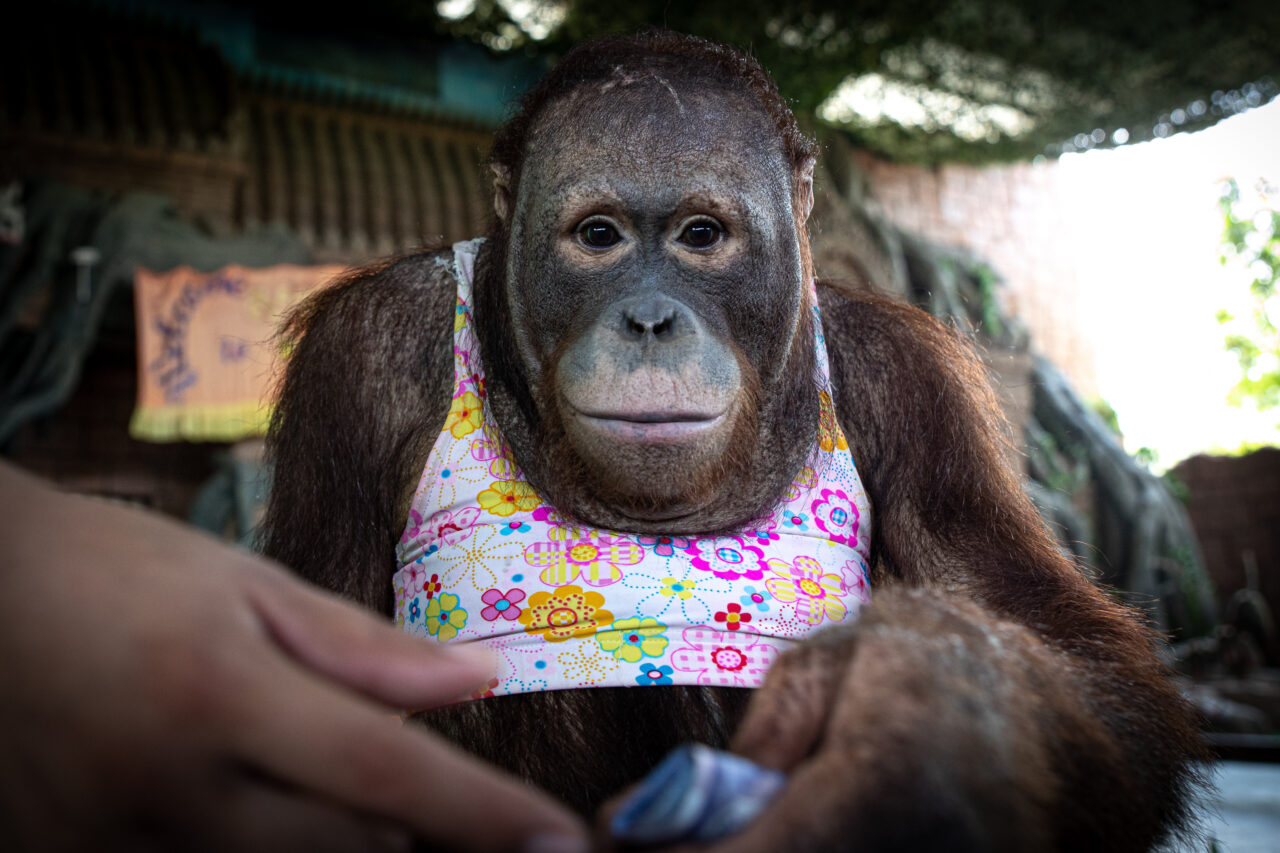 Mother orangutans are usually killed with machetes before their babies are taken. This particular mother fell out of a tree as they cut it down. The orphan screamed as he was forced into a sack and taken. He was later shipped to Thailand, in the dark, with just a doll and a bowl of oats to keep him from crying during the journey. He ended up in a zoo, while other babies like him went to amusement parks. "Other orangutans, we were told, were shaved and then sent away to be prostitutes, used as sex slaves," Gekoski explains.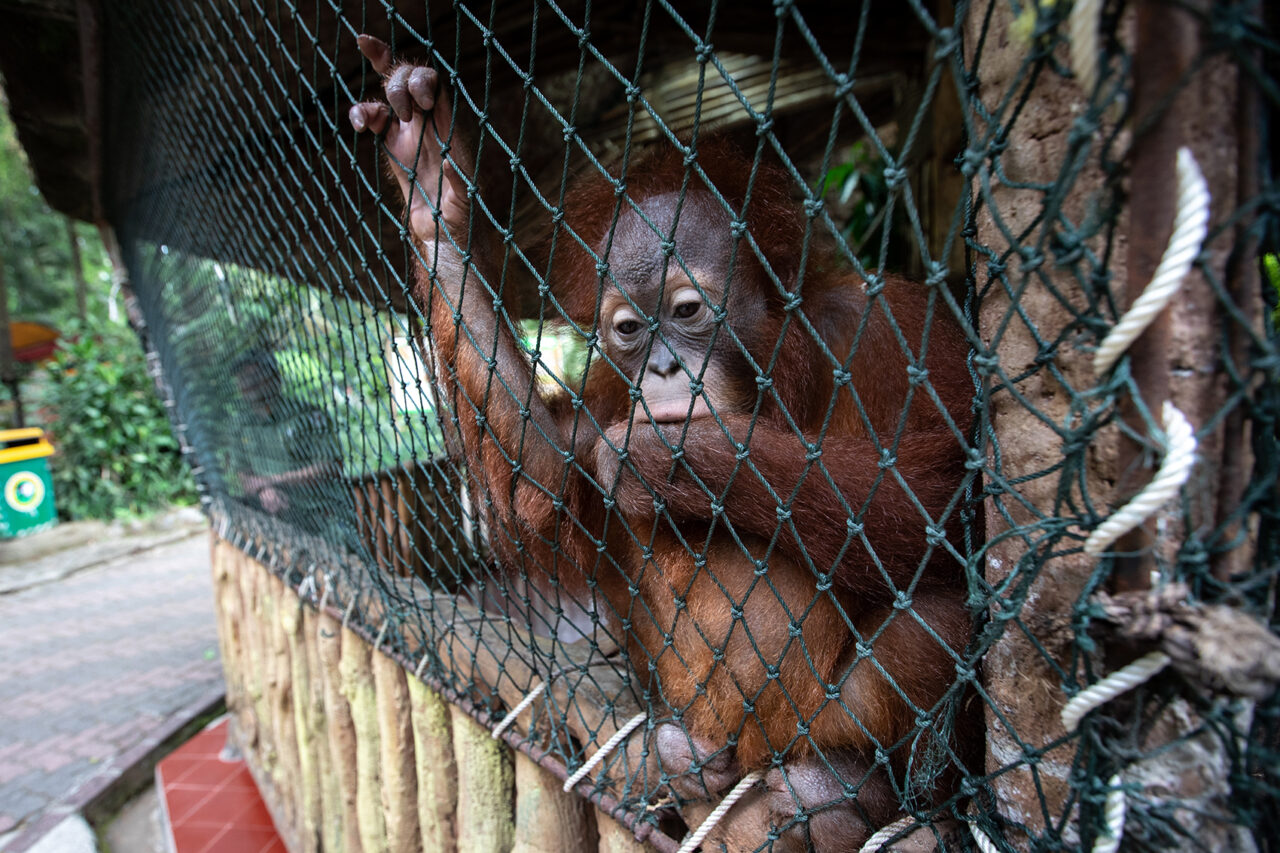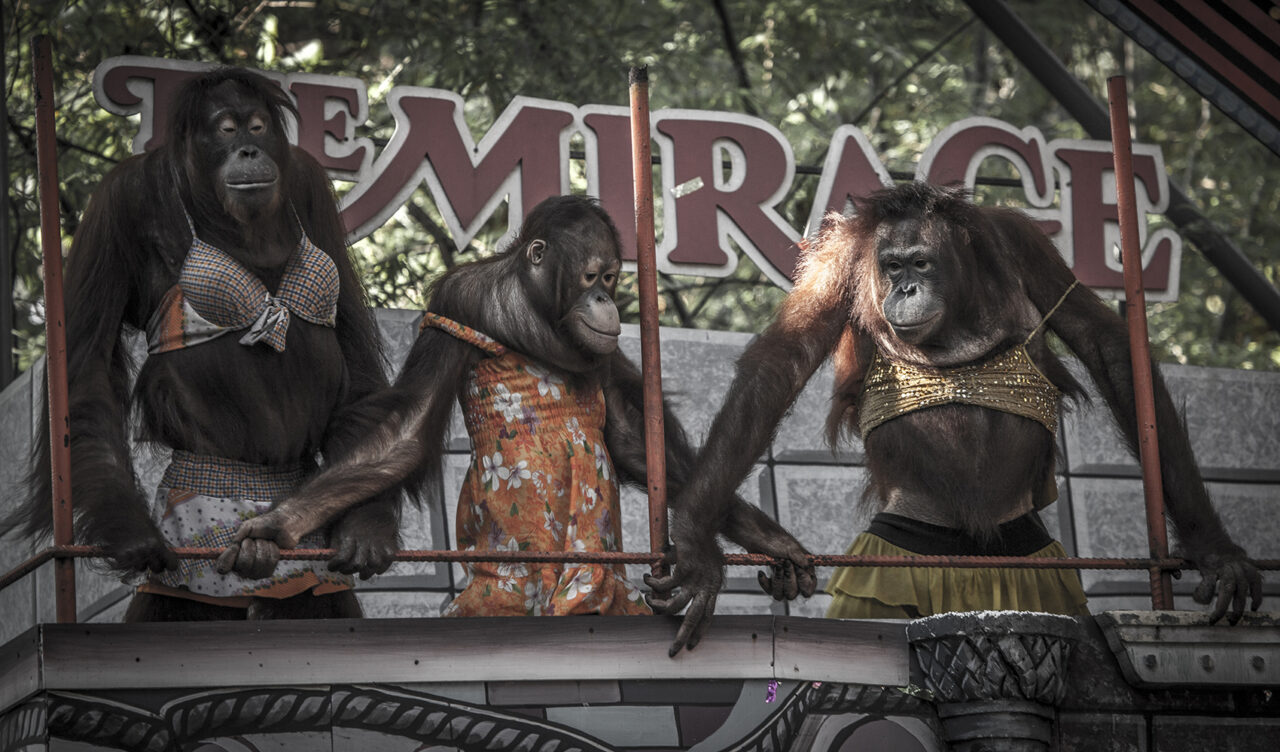 Gekoski has uncovered abuses within the wildlife tourism industry around the world, but his first glimpse into the orangutan tourism industry specifically came in 2017, when he encountered an orangutan confined to a small enclosure in Vietnam's Dam Sen Amusement Park. As visitors passed, taunting the animal, the photographer stopped and sat down on the other side of the glass. He remained there the whole afternoon, and at the end of the day, he left with a promise. "It was this male orangutan who galvanized me to do something about this industry," he remembers. "It isn't right what we're doing to these magnificent animals."
Having dedicated the last four years to documenting orangutan tourism across dozens of countries, he's ready to share Eyes of the Orangutan, a film created with his colleagues Chris Scarffe, Will Foster-Grundy, and Damian Antochewicz. "The more I looked into the story, the bigger it became," he admits. They worked alongside undercover operatives who were able to put them in touch with industry insiders. Ex-traders agreed to speak with them under the condition of anonymity.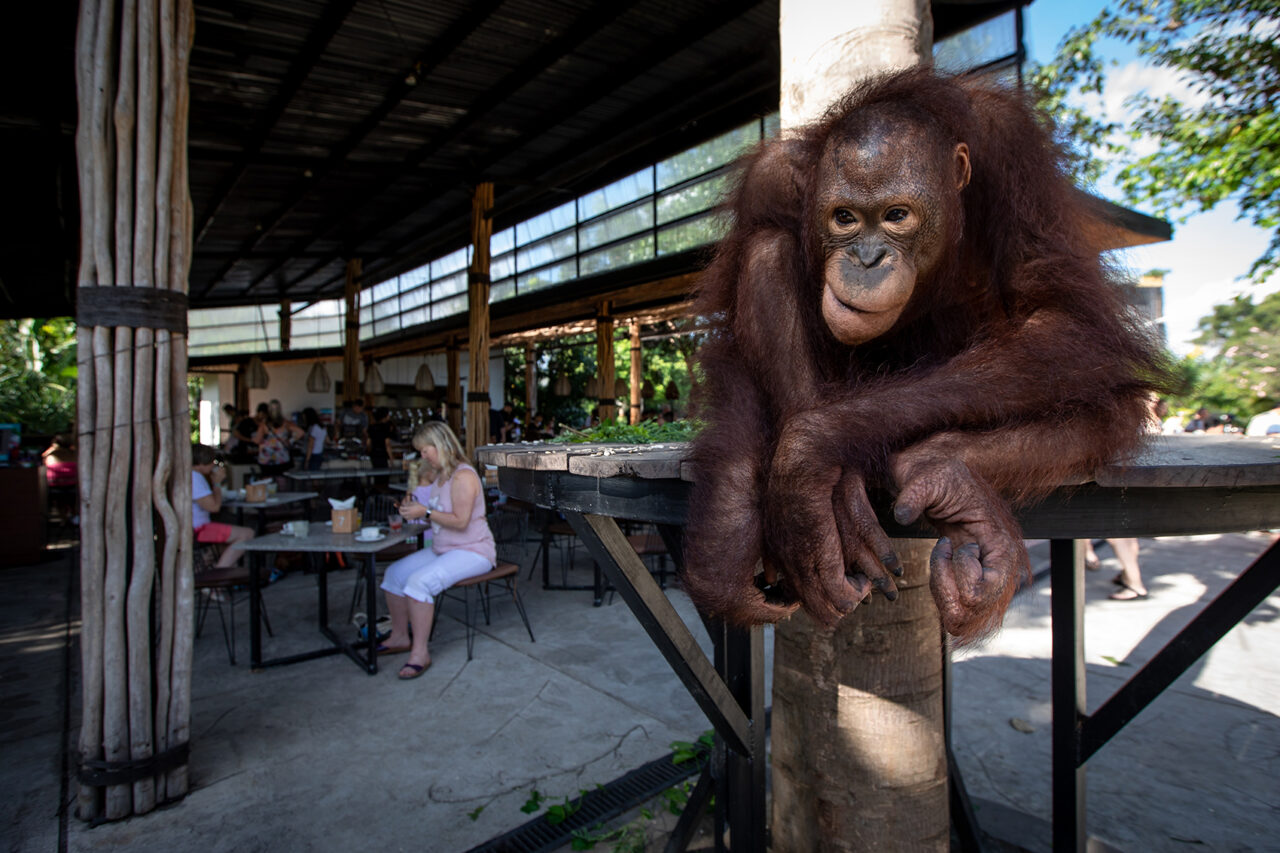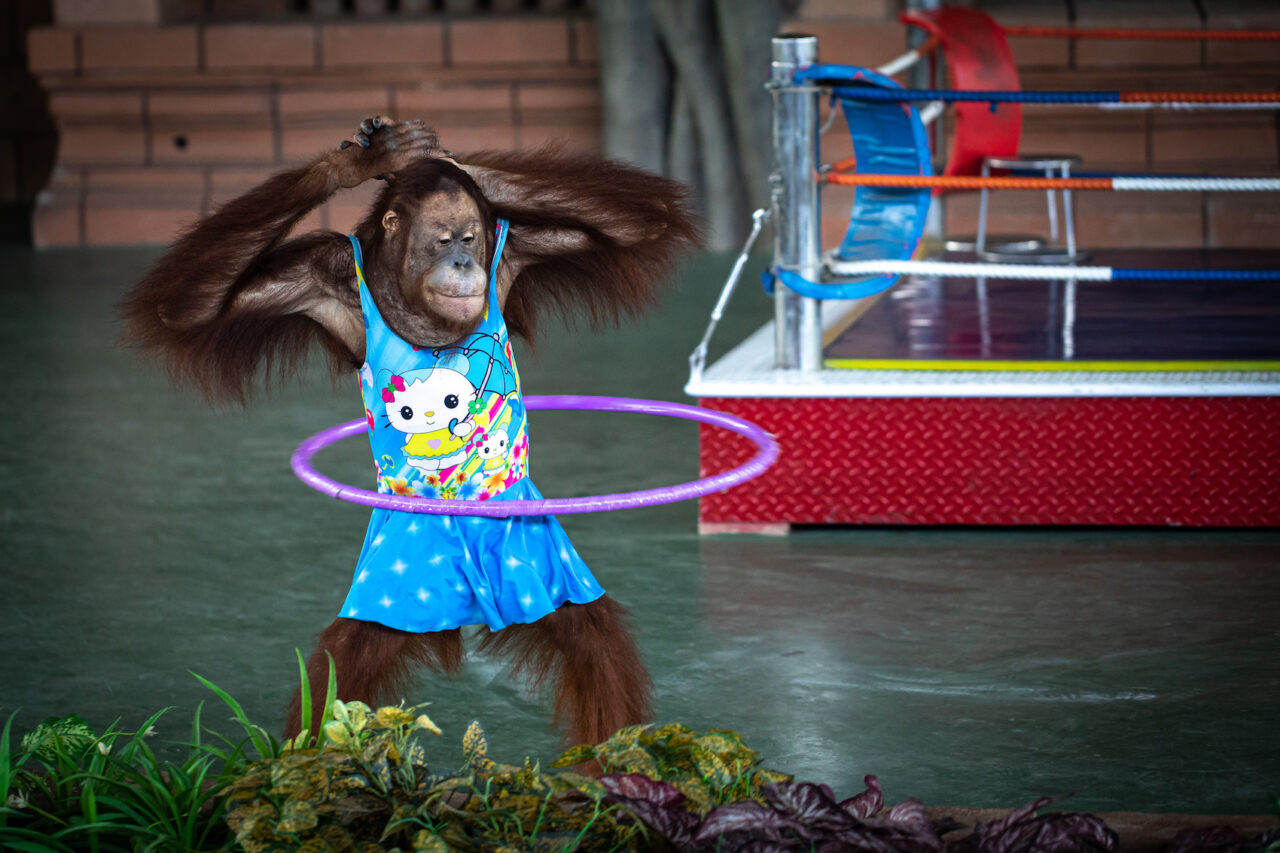 "As one of our closest living relatives, orangutans are star attractions at zoos and amusement parks worldwide; however, many people remain unaware of how the animals arrived at these places, or how much they suffer physically and emotionally in captivity," Gekoski says. "I've seen hundreds of orangutans suffering for our entertainment: orangutans made to box each other, orangutans kept at the top of dank shopping malls, grossly obese and painfully emaciated orangutans, orangutans used as props at breakfast buffets, and more.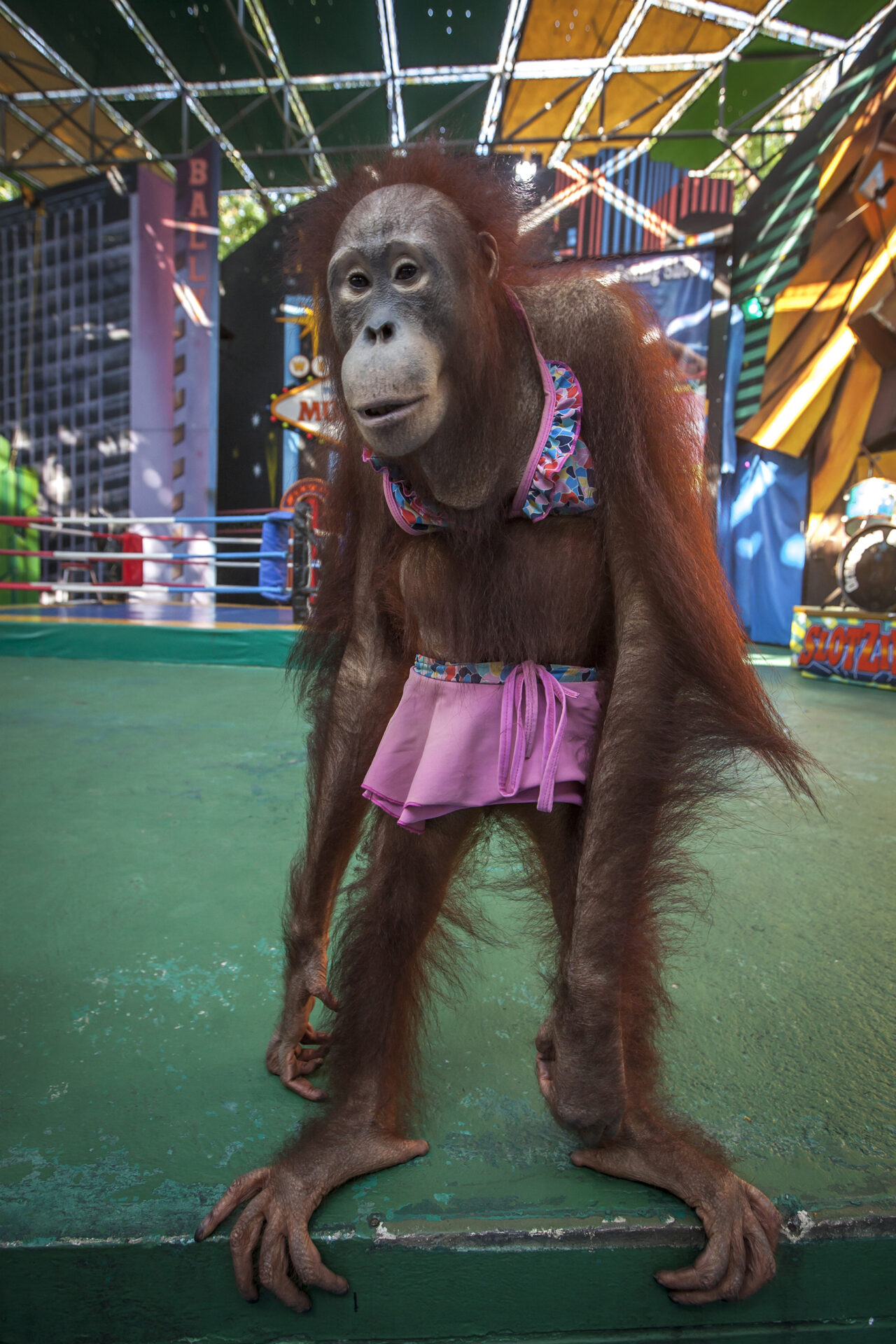 "Due to their extreme intelligence, orangutans suffer immensely at Wildlife Tourism Attractions. They are kept in enclosures with little to no stimulation and no trees to climb, are often fed inadequate diets, and may be kept in cages with other individuals, despite being solitary animals.
"Some would just lie on the floor–completely unnatural behavior for orangutans–looking thoroughly miserable. Others would spit at passersby, which is a sign of aggression and anger. The boxing orangutans, in particular, looked terrified of their handlers. It's common for orangutans to be trained using corporal punishment or food deprivation, so it's likely they had been badly mistreated behind the scenes. Orangutans in captivity are often stressed, depressed, scared and unhappy. Given they may live to over 50 years, this equates to half a century of suffering."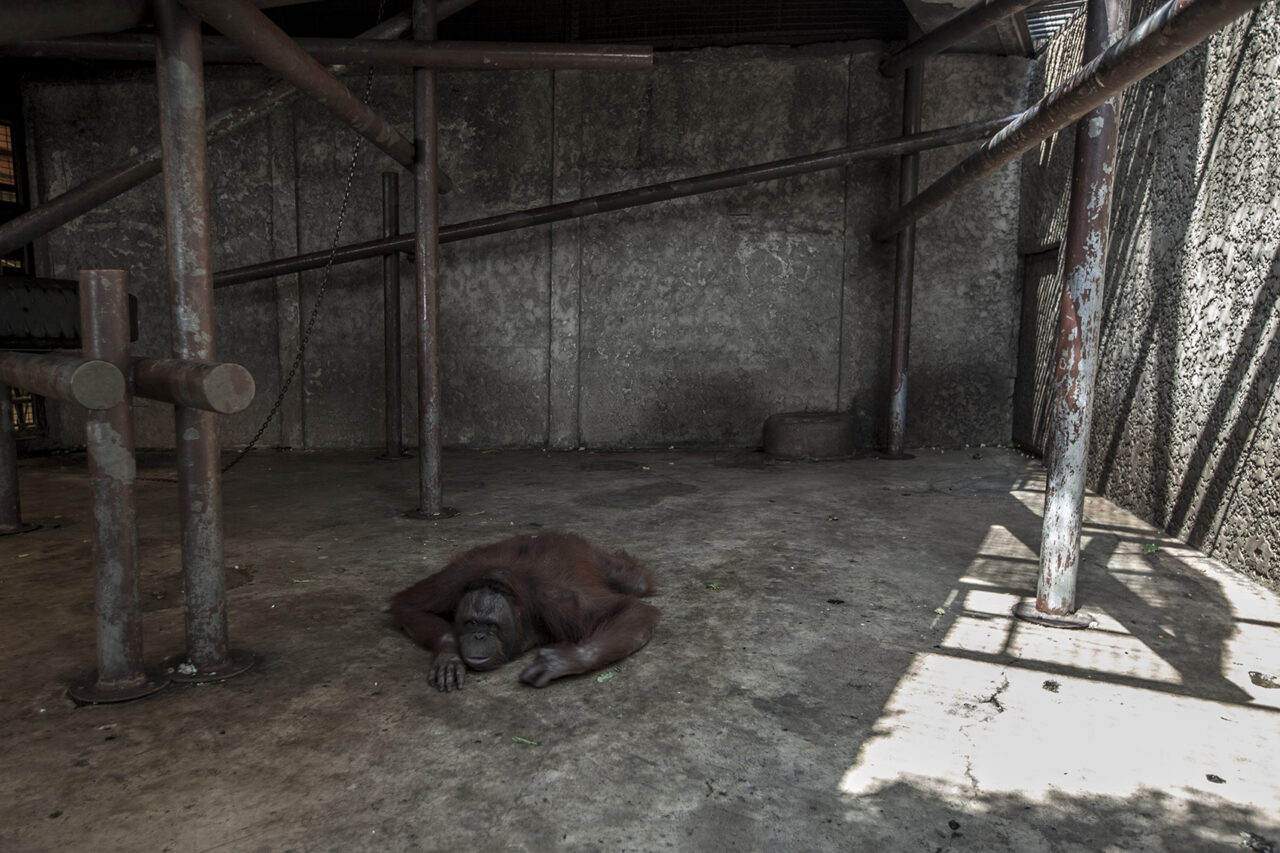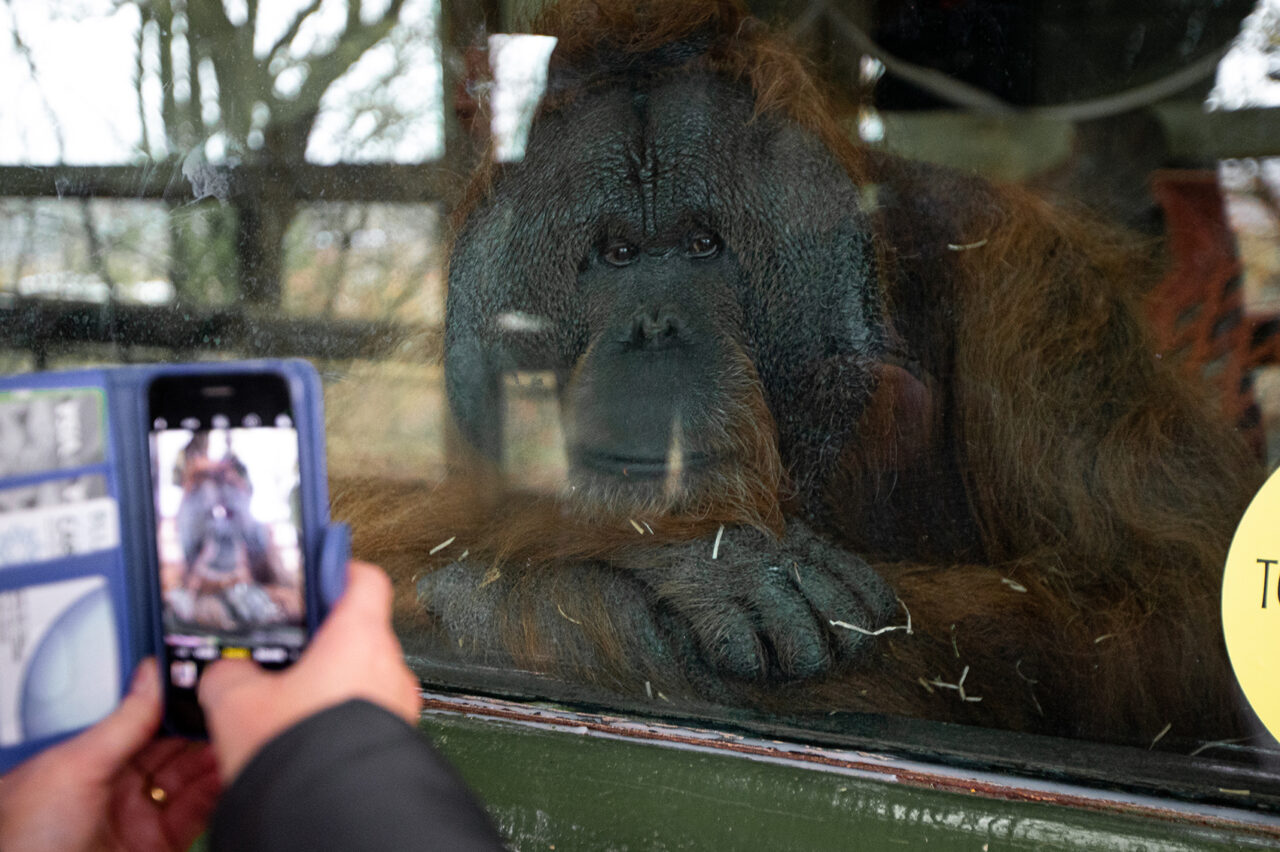 According to estimates, the wildlife tourism industry is worth up to $250 billion annually. "Uncovering any industry that involves such sums of money and high-level criminality has its risks," the photojournalist says." While much of it happens in plain sight, for all to see at public attractions, some remains hidden. "It only was when we started digging into the illegal wildlife trade that things became dangerous," Gekoski explains. "However, it's part and parcel of this job. You need to accept the risks."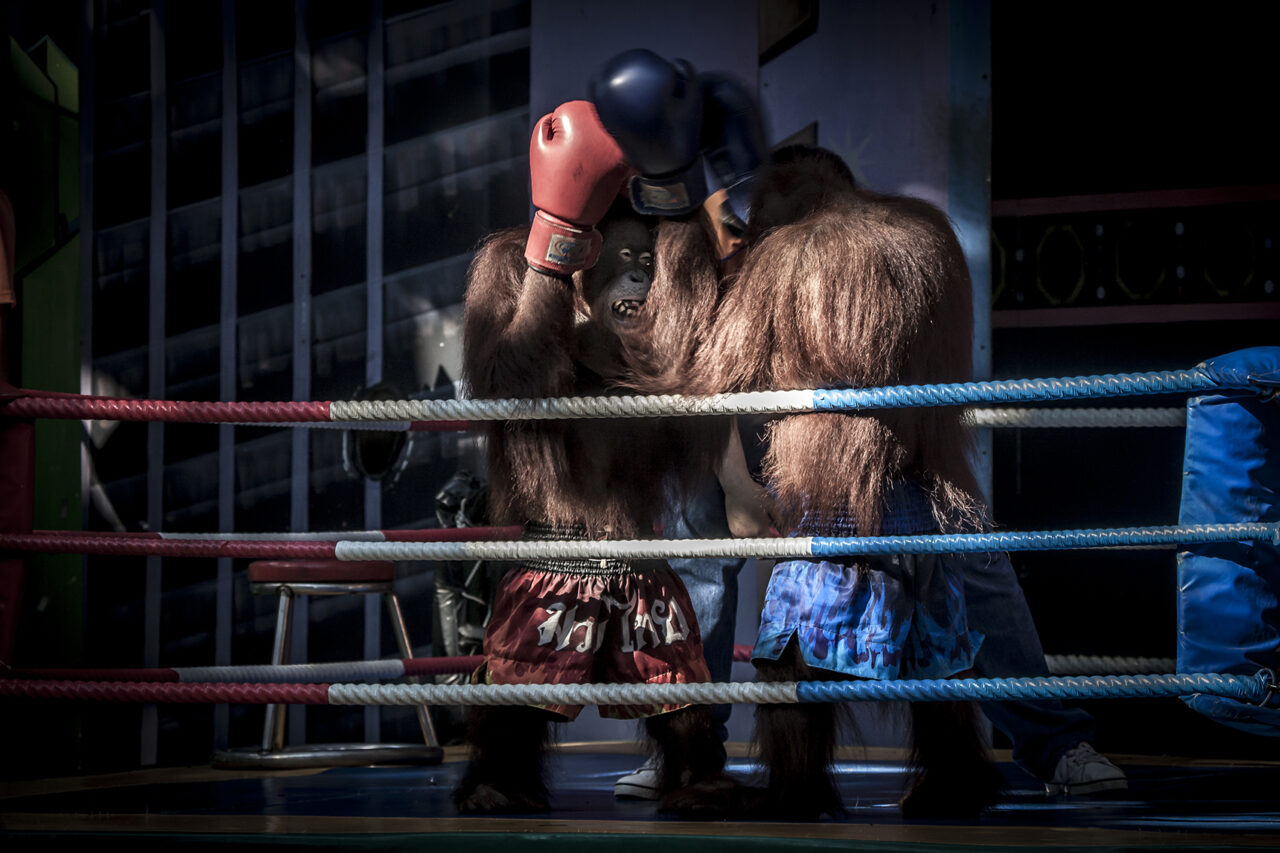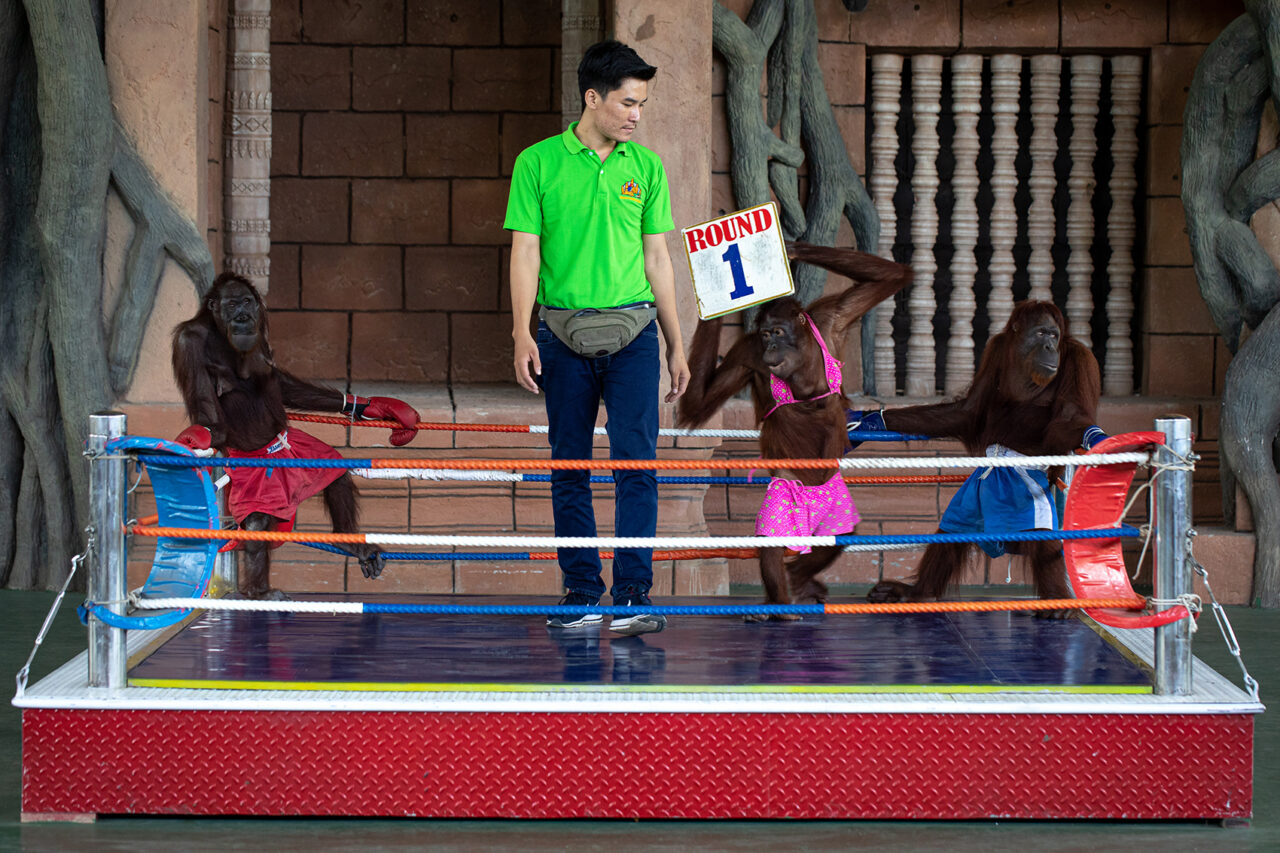 He's also had to contend with the brutality and anguish he's seen, and that's something he takes day by day. "A little like war correspondents, you become numb to the atrocities you witness, or you simply bury it deep in your toes and then plan to unearth it at a later date," he says. "As photographers, we have an opportunity to locate, document, and then broadcast the truth. It's the victories–big or small–that keep you going: a facility being shut down, changing someone's behavior, helping to shape legislation. These all keep me motivated to continue."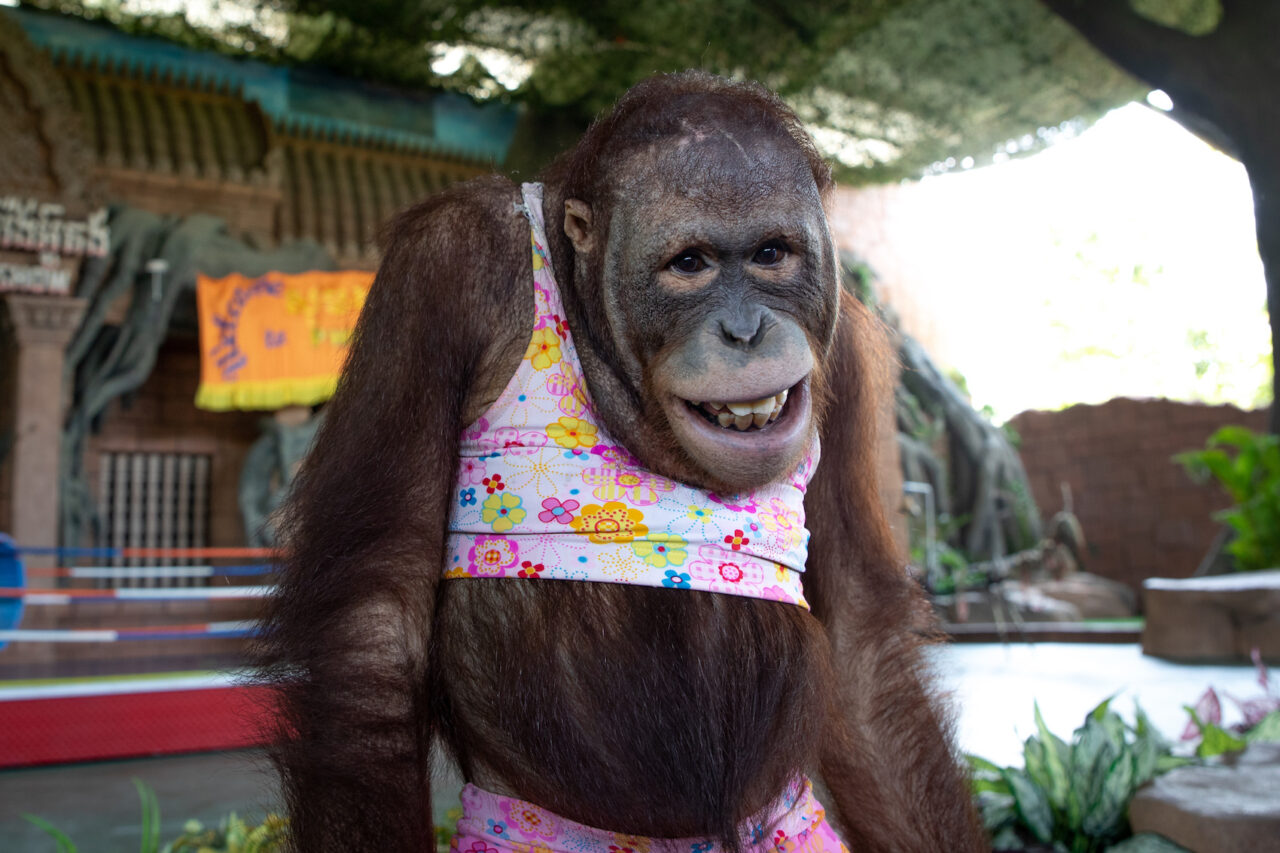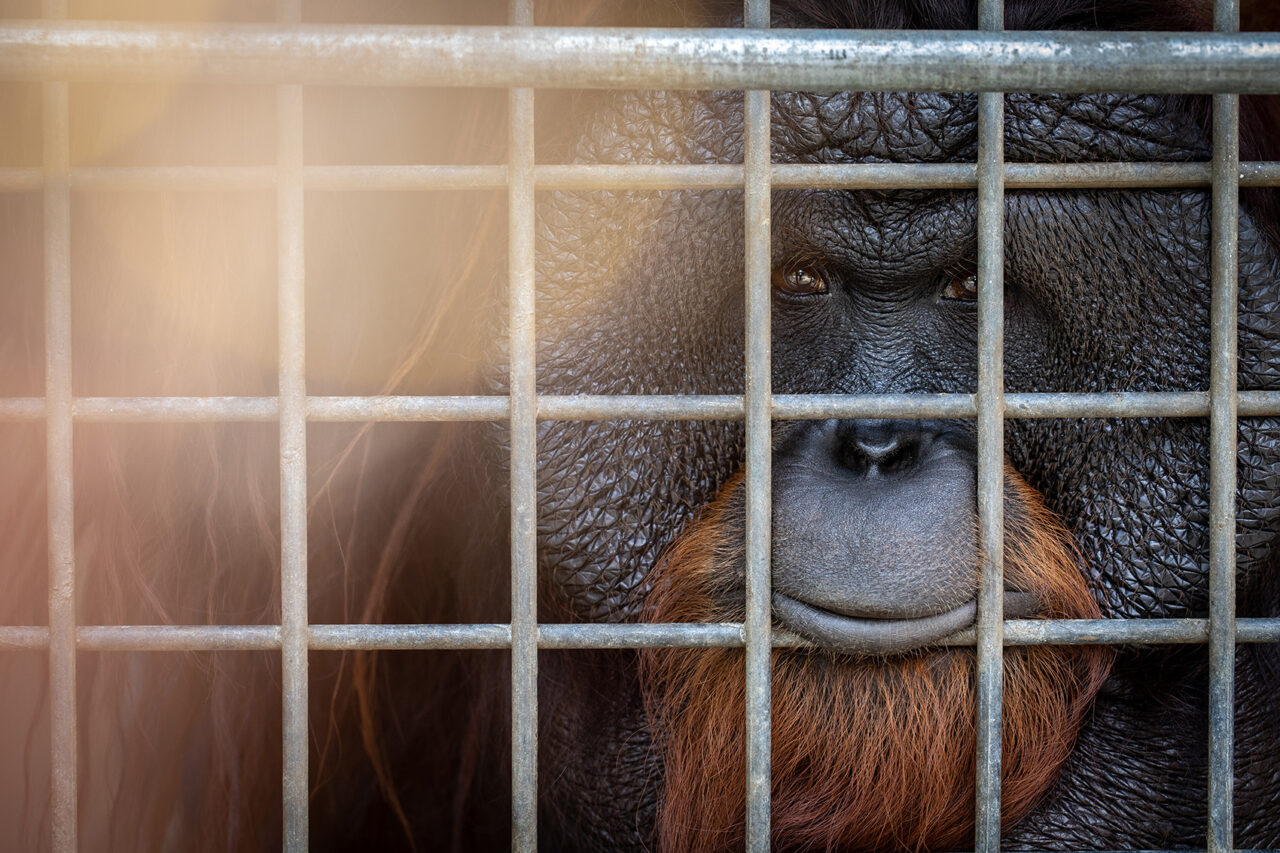 And there is hope. As part of the film, Gekoski and his colleagues traveled to Kalimantan, Indonesian Borneo, where the non-profit Borneo Orangutan Survival Foundation (BOSF) works to rescue, rehabilitate, and release individuals who have been orphaned by the wildlife tourism industry. Releasing them back into the wild can be complicated for two reasons: first, swaths of the rainforest have been destroyed, leaving little land and resources to safely return them all, and second, many formerly captive orangutans lack the skills to survive in the jungle.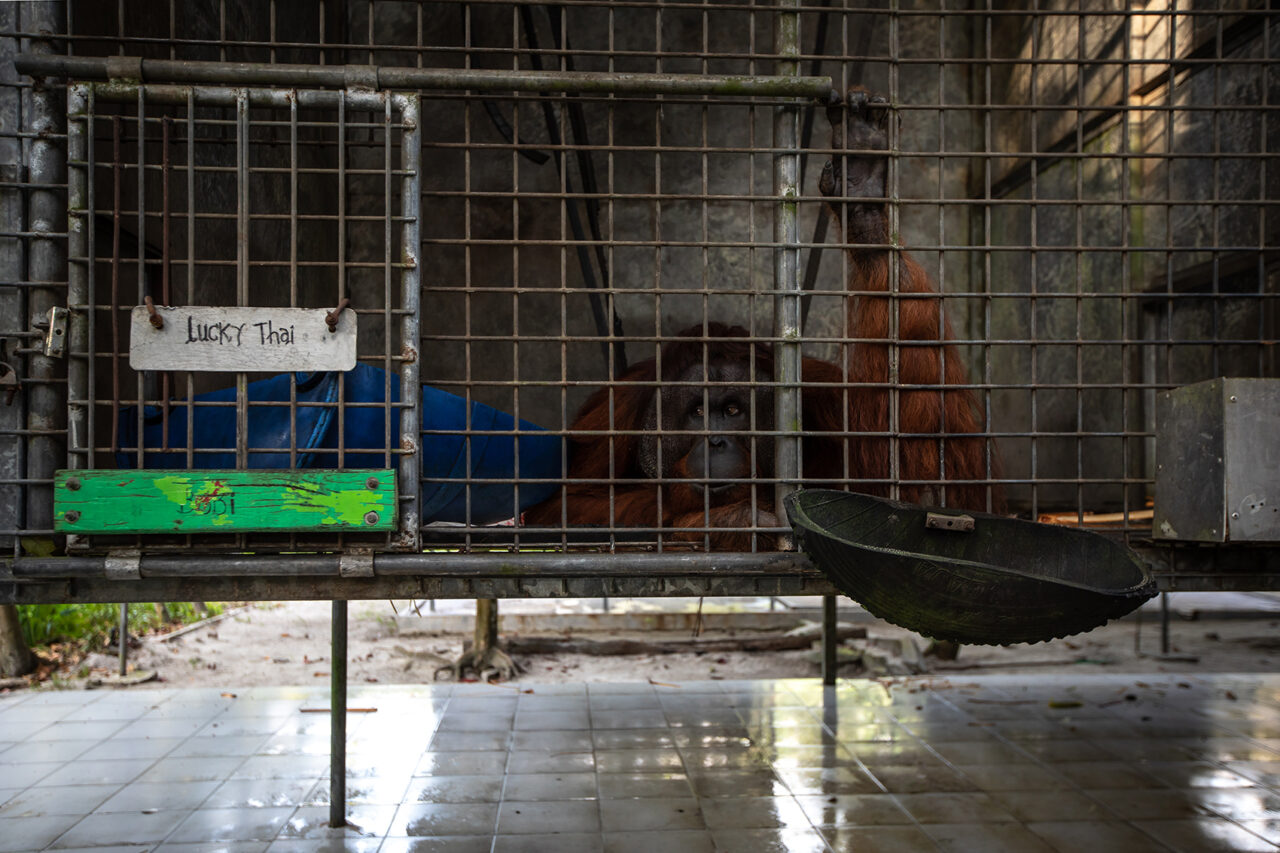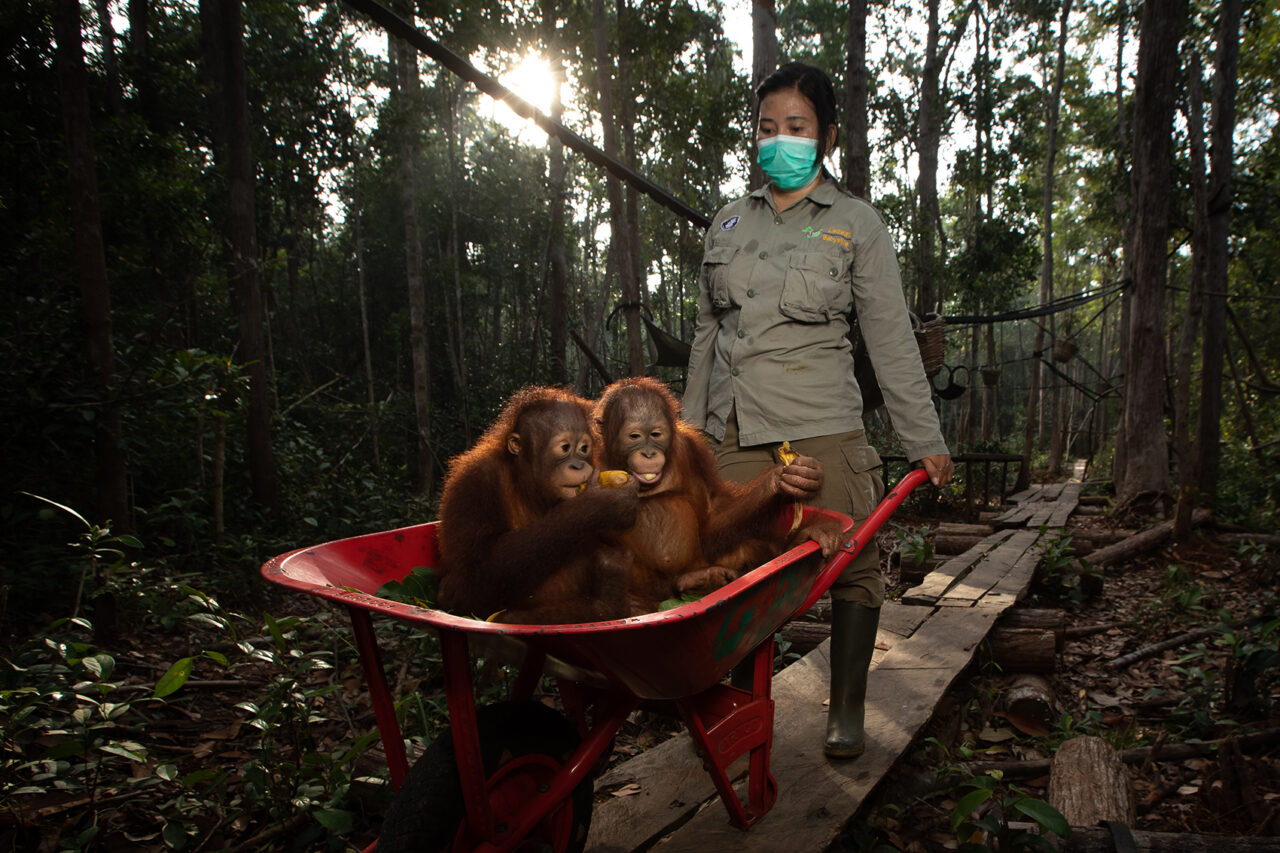 The babies at BOSF attend forest school so that one day they can be released. During this time, they're allowed to express natural behaviors and are taught the skills they'll need to thrive. Once they're capable of foraging, climbing, and nest-building, they're ready to return to where they belong. Gekoski tells me, "Seeing orangutans in their natural habitat is a huge buzz: watching them build nests, forage, look after their young–in other words, behaving exactly as orangutans should."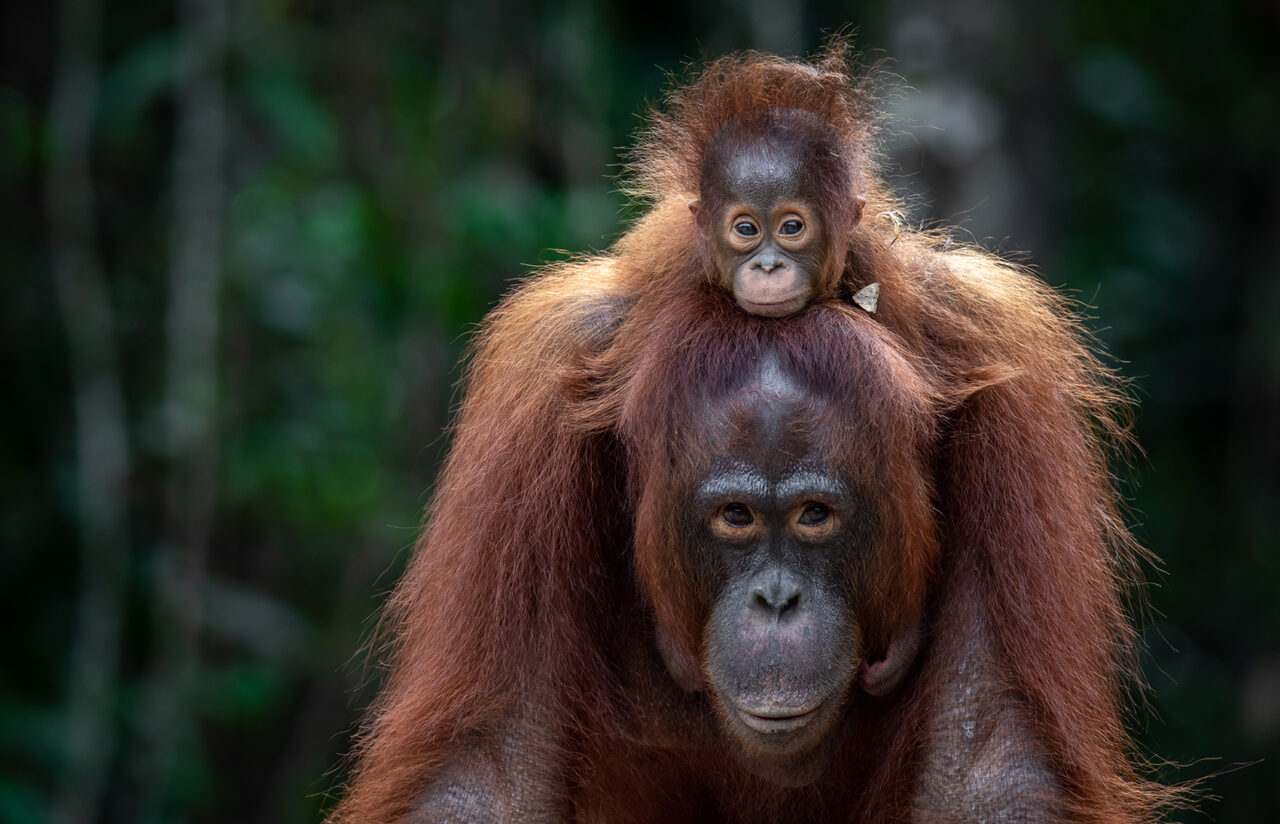 Eyes of the Orangutan premiers online on August 22nd. Places are limited, so secure your spot today. Eyes of the Orangutan was produced by Terra Mater, Aaron Gekoski, Chris Scarffe, Will Foster-Grundy, and Damian Antochewicz. The film is supported by the Borneo Orangutan Survival Foundation, Born Free Foundation, Jakarta Animal Aid Network, and Borneo Orangutan Survival Schweiz. Gekoski is also the author of ANIMOSITY, a book about animal-human conflict, including the exploitation of orangutans.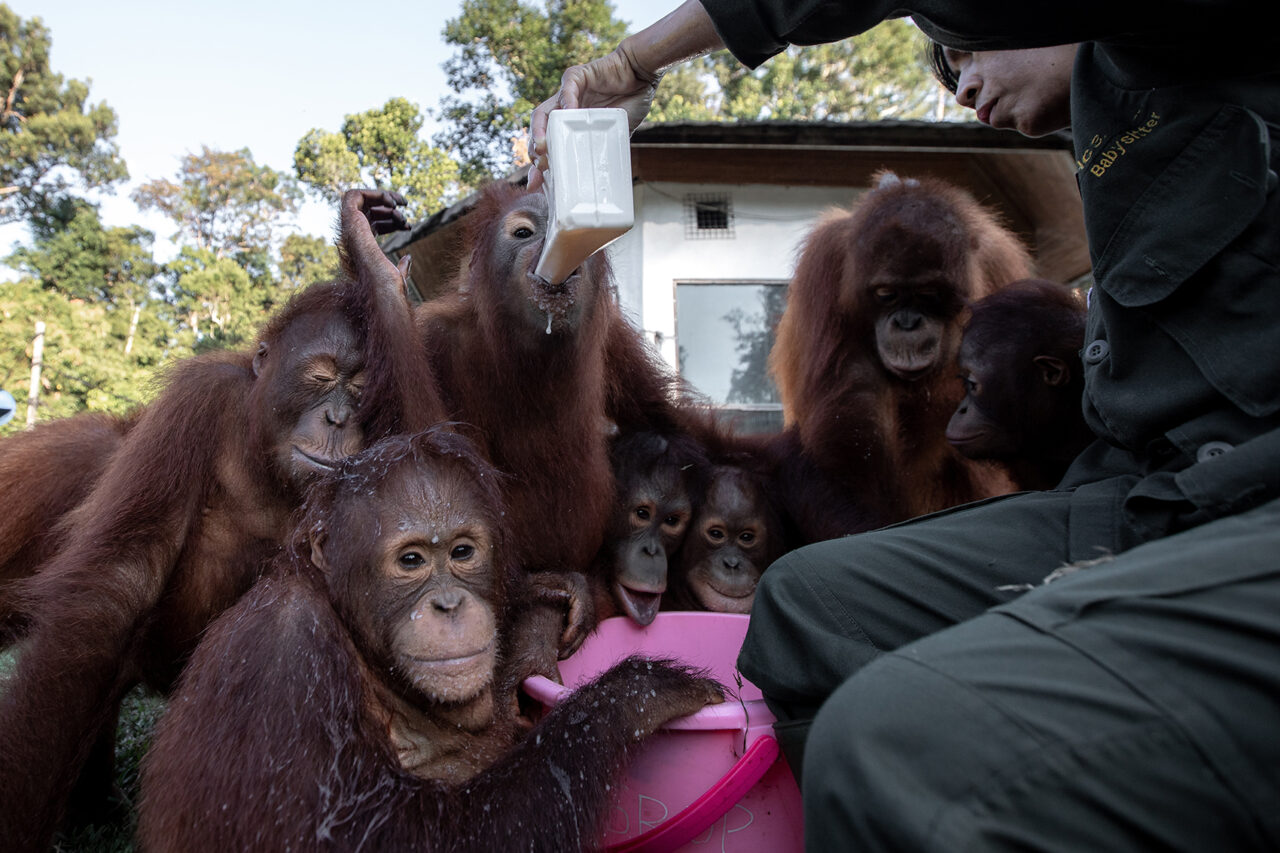 The Borneo Orangutan Survival Foundation has set the goal of becoming the first rescue center without cages for healthy orangutans, and as part of that goal, they're creating forested islands where the orangutans can live. You can make a donation toward building these islands through the Born 2 Be Wild website. If you'd like to report something you've witnessed as part of the wildlife tourism industry, we encourage you to do so through Raise the Red Flag, a program launched by Gekoski in partnership with the Born Free Foundation.
Discover More