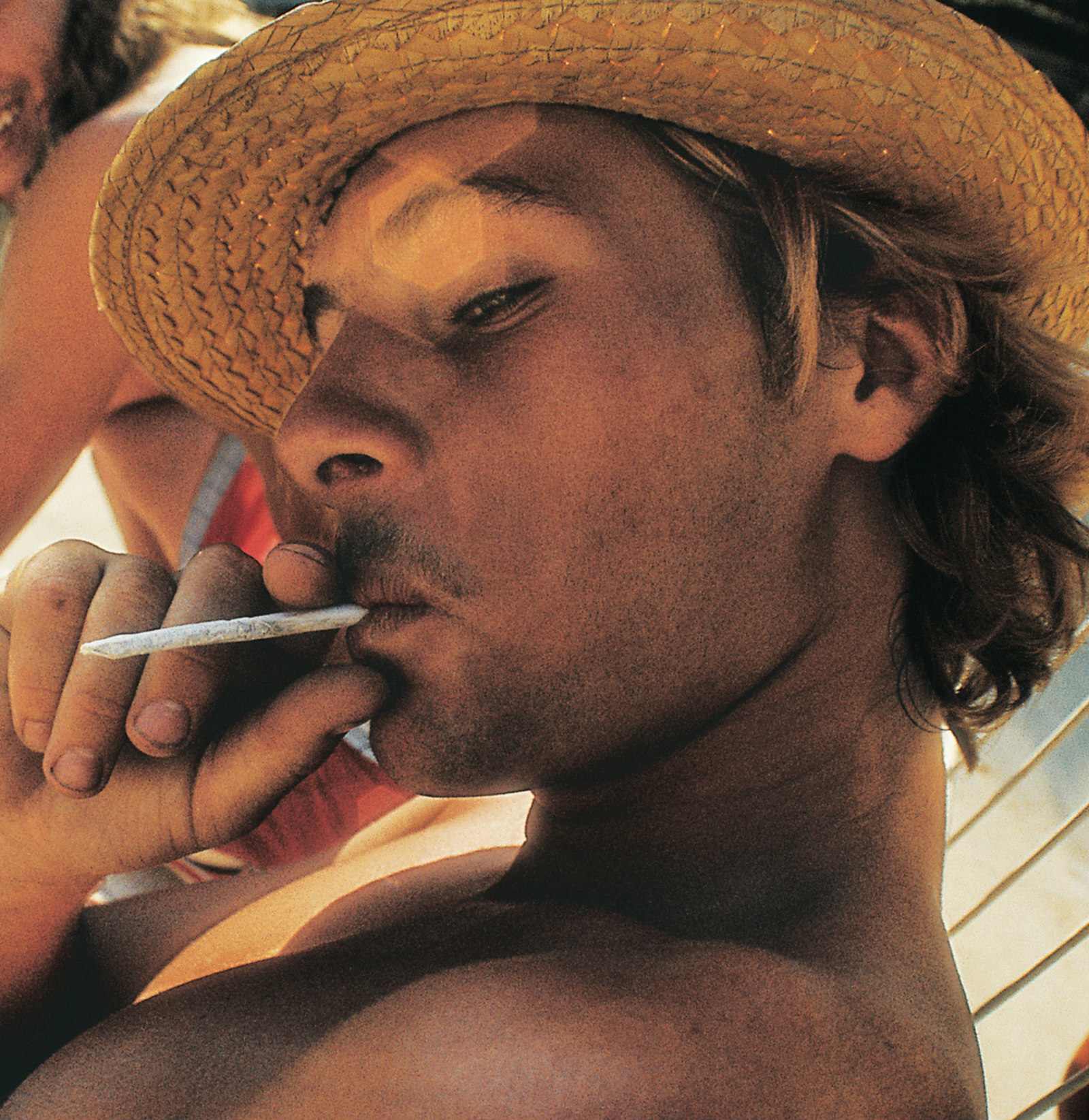 © Glen E. Friedman; Jay Adams, Krypto Bowl—1978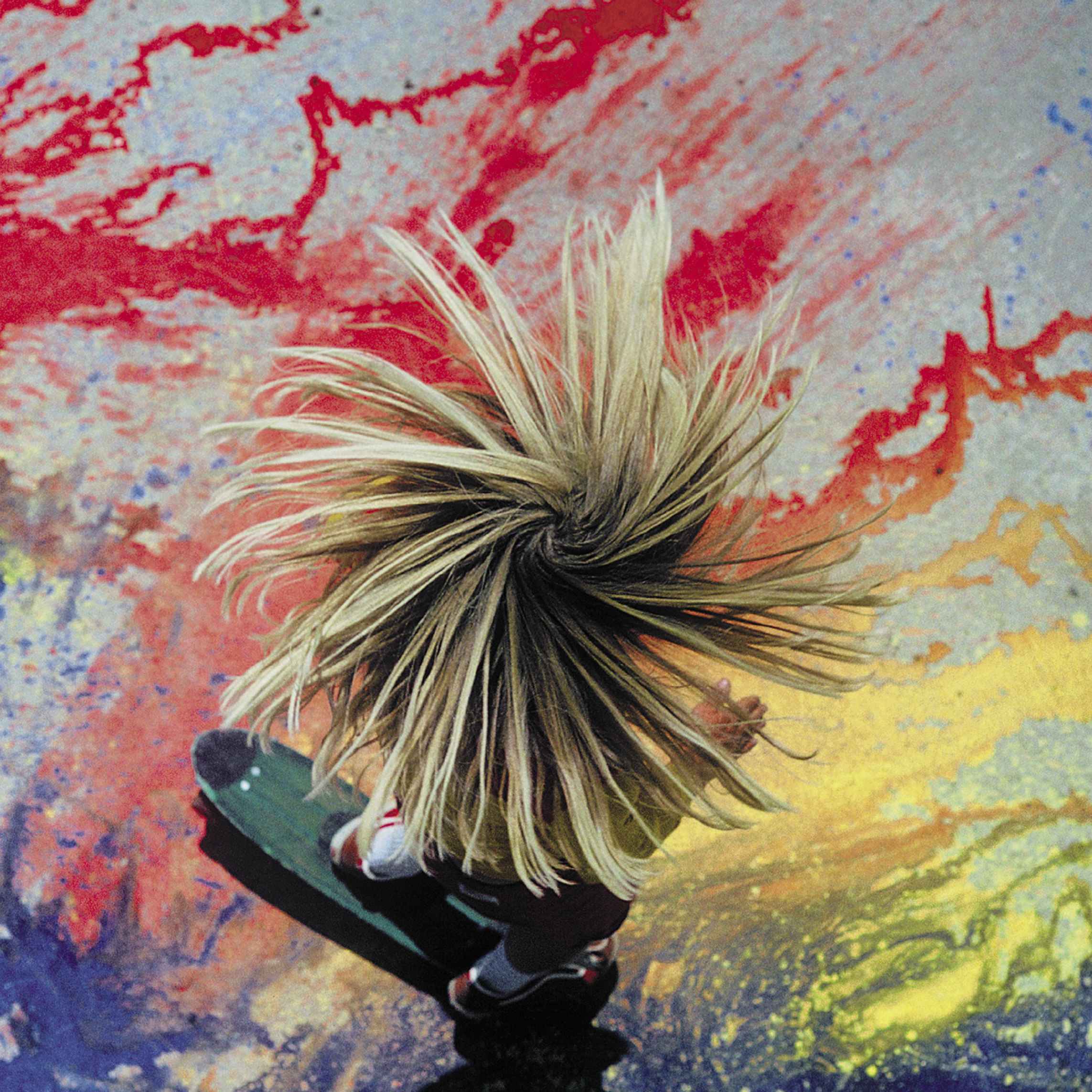 © C.R. Stecyk III; Stacy Peralta
Deep in the DogTown area of west Los Angeles, in the early 1970s, a group of young surfers known as the Zephyr Team (Z-Boys) took their talents to the street. With the introduction of the eurothane wheel, skateboards quickly became an underground phenomenon among the daring, innovative youth who made use of drainage ditches and empty backyard pools to create the ultimate DIY sport — which will finally debut at the 2020 Olympics.
But back in the days, long before it had become a commercial phenomenon, the Z-Boys were making their named when competition skateboarding returned in 1975. Along for the ride was a young skater and photographer named Glen E. Friedman, who had begun making photographs documenting the scene which first appeared in SkateBoarder Magazine.
In 2000, Friedman teamed up with journalist C.R. Stecyk III to produce the iconic book, DogTown: The Legend of Z-Boys, which has just been reissued in a bigger, newly designed edition by Akashic Books. Now spanning 1975–1985 and beyond, the book features DogTown articles written and photographed by C.R. Stecyk III along with hundreds of images from Friedman's archives, many of which appeared in the 2001 documentary film, Dogtown and Z-Boys. Here Friedman takes us back to his stomping grounds, revisiting the culture and community where he honed his talents behind the camera.
Can you take us back to the 1970s in LA and describe what the vibe was like at this time?
"In the '70s, L.A. was all about the beach. There was nothing else. There was no such thing as a person in California who didn't have a tan. Everything revolved around the beach, being outdoors, fun in the sun. That was Southern California. There was no punk rock yet, no one with pale white skin. No one was wearing all black. People were wearing corduroy shorts and t-shirts, a lot of hippie stuff. Skateboarding was very aggressive and life was all about the beach and beach culture. That was as far as I knew that was all of L.A. Jay Adams used to say anything east of Lincoln, he considered the Valley
"Everybody of my age group was into skating on the West Side. That's just what we did. I happened to go to the schools where that skateboarding style was developed, where the banked yards were. I went to Bellagio, Kenter Canyon Elementary School, and Paul Revere Junior High School. Those are three of the most well known places where skateboarding culture was born because of the embanked playgrounds for drainage from the canyons, when it would rain."
Can you talk about what it was like to be a published photographer while you were in junior high school – and when you realized photography was something you were really going to pursue?
"I never thought of things in that way, I just did it. I was making photographs and I was inspired by the people who were around me. I knew I was seeing something that I knew other people weren't seeing and I wanted to share that with other people. Being a skater, I wanted people to know what we were doing and what was going on around me.
"In the magazine, I didn't think it was being portrayed the way I saw around me until I discovered Craig Stecyk's work and his articles were almost catching up to what I was seeing. There was a lag time in publications back then; from the time a photograph was made to the time it was published could be 3, 4, 5, even 6 months later. Just because people weren't seeing it doesn't mean it wasn't happening."
Can you talk about what it was like to see your crew in SkateBoarder magazine back when there was so little media available to the public?
"It is important to know there was little media out then and what there was when it was good like SkateBoarder magazine was the Bible of the sport, where everyone in the world got their information. You had to wait every two months; something would come in the mailbox or you would go to the 7-Eleven and see the magazine. It would tell you what was happening, and show you the progression of the sport from the previous issue, Getting to be involved with them since I was 14 was very exciting, it was a great and fun time.
"To be able to be one of the people to show the world what was going on was empowering. The proof is in the pudding. At 14, 15, 16, 17 I was getting notoriety from my vision and that was fun and enthralling, it was also hard for most people to believe that someone so young was being published in a magazine.
"Media was much more particular back then. There was so much going on — there weren't enough quality people to write about what was going on. Back then to be in a magazine you had to be extraordinary. It had to be real, done well, artistically and professionally.
"Back in the '70s, because it was so hard to do it and so respected, the bar was a lot higher to get published. The fact that I got my first photo published when I was 14 was a big deal. It brought me a lot of attention but I was just a kid. I was still living at home and going to school every day. It was where I cut my teeth and helped make me the person I am today."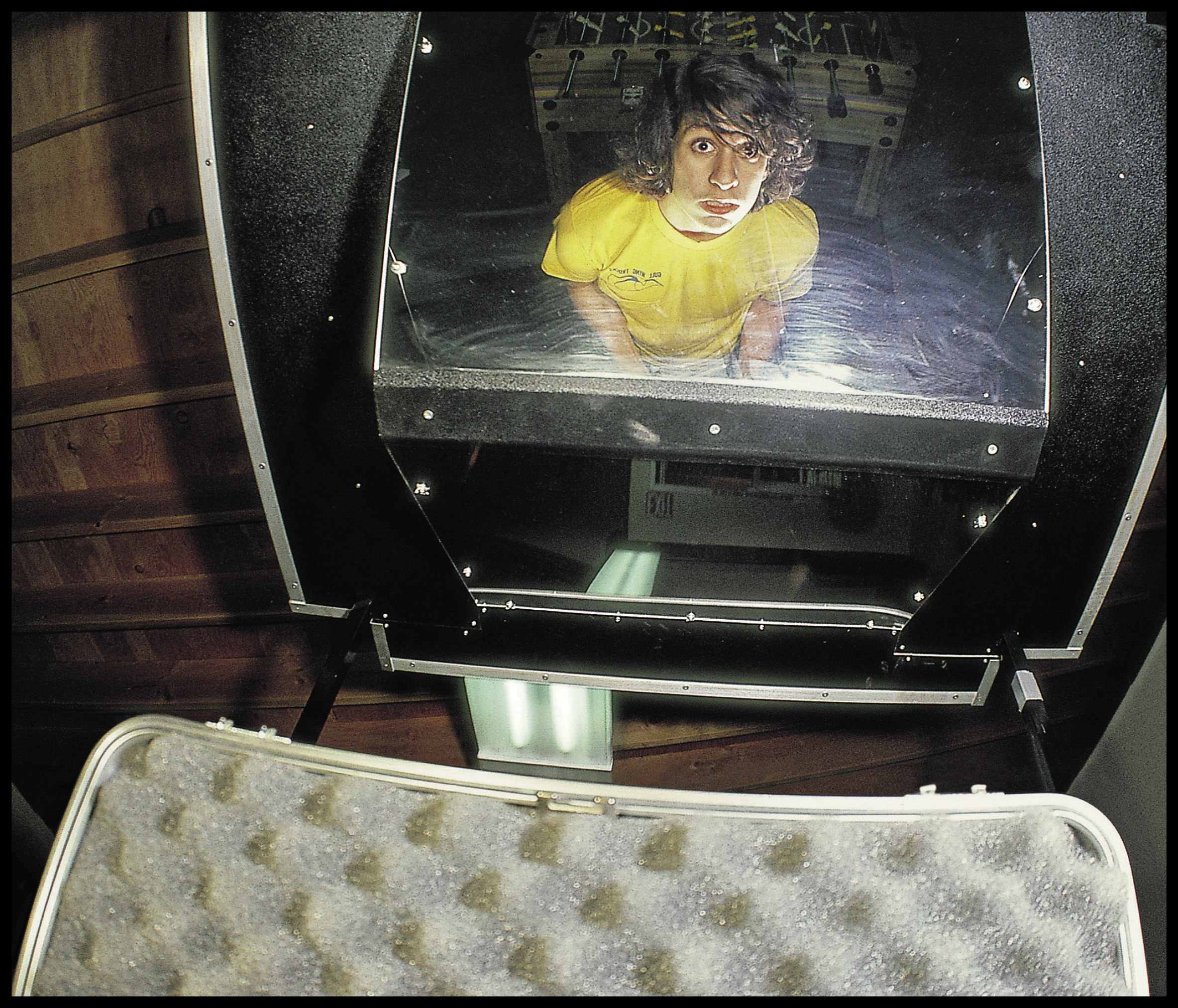 © Glen E. Friedman; Accidental, end of roll, first-ever self-portrait, sixteen years old—Marina del Rey Skatepark arcade—1978
Can you talk about what you noticed about shooting with a 35mm camera, versus an instamatic?
"I used a pocket Instamatic because I could fit it in my back pocket. It cost about $12.95 to own one and if it broke, I wouldn't have been freaked out. A camera back then cost over $100; it was a big deal. I didn't want to do that. Not only could I not afford a camera, I didn't think it was necessary. At the moment I was in photo class at 13, 14, I didn't recognize a big difference between what I could shoot with a camera that had a fixed lens that didn't focus; I just thought a picture is a picture.
"As I started doing it more, I could notice the differences. Even though I could make some pretty good pictures with the instamatic, when I took the photo class I did learn the basics, I was able to handle the equipment and I could see how it worked. Then a day came when I was thinking 'I can really do this and I have to do this' because what I am seeing is too important and I have to show people what is going on.
"I borrowed a 35mm camera and decided to go for the real thing where I had to focus and check the light, and make the image more than I did with an Instamatic. I made the photos, showed them to some friends, and a couple of other people said, 'You should send these to the magazine' — Craig Stecyk being one, Stacy Peralta being another. Stacy was 18 or 19; he was someone I looked up to. Stecyk I didn't even know who he was when I met him, he didn't tell me. He was just an older guy hanging out at the schoolyard and pushed me along, saying, 'This is what you should do.
"I looked at the masthead of SkateBoarder magazine and called the editor. They had already published a photo of Jay Adams, and I knew what I was seeing was better than any thing that they were publishing already. A couple months later I got a tear sheet in the mail and there was a full-page photo and a check. It was a full-page subscription advertisement and it had a big photo credit on it. There were so many things going on at that moment and it just took off from there.
"I was still skating more than half the time. Skateboarding was my thing; I just took pictures on the side. But once I started getting published, and vertical riding was getting big and I wasn't that good, it left me behind, I didn't have the ability it took or maybe I was uncoordinated. Slowly I started taking my time more with the camera and making photographs, and skating a little bit less. I always skated, I skate to this day. It runs through my veins, that's where I was born."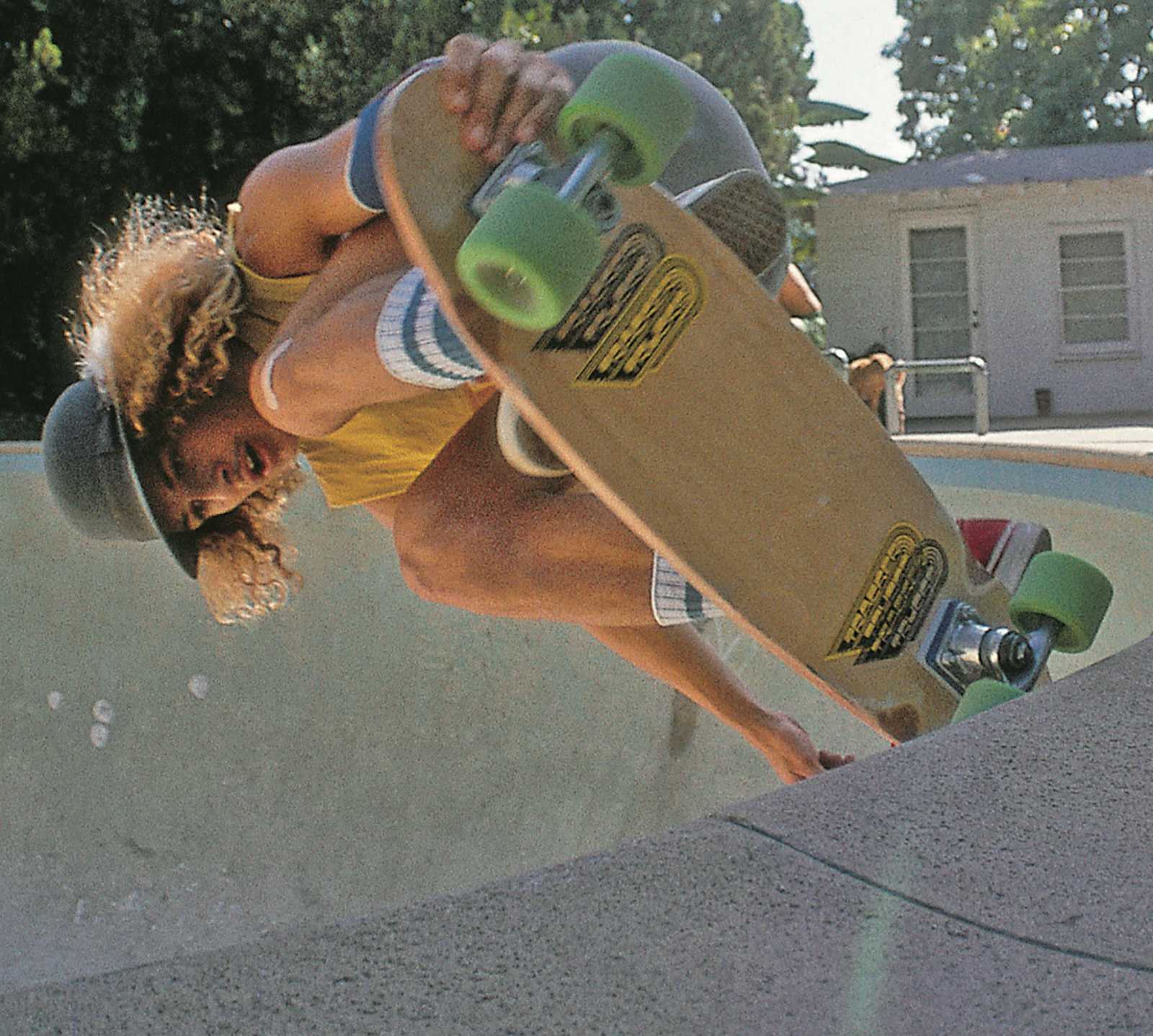 © Glen E. Friedman; Tony Alva, Dog Bowl—1977
At what point did you realize you were documenting a scene, and not just taking photos of your crew?
"I'm not taking photos. I'm making photos. I don't like those terms: 'capture' and 'take.' That is something I don't do. I take a lot of time. I make the work. I don't take it. It's a big distinction for me because a lot of people are there taking moments away from people. I'm not doing that. I'm working with people, I am there composing images, I am thoughtful in my work. I wasn't just there in the right place at the right time. This is something I feel with my heart and my soul, and so I make it look the way I want other people to see it.
"It was everything to me: it was my life and it was very important but I didn't know it would make a difference in anyone's future. We were just living in the moment to show people what was happening then and there. I did it so much and I wanted people to be as inspired as I was. It was very important in the moment but there was no great aspiration as to where it was going and how it would set a template for the future at all. It wasn't until I started thinking about making my first book, Fuck You Heroes, when it was basically all over, that I thought it was something that would inspire people into the future."
Looking back at these photographs, do you see anything in them now that takes on deeper resonance over the changes to the sport and the culture over the past four decades?
"By 1991, I started took look back on the skateboard photos I had made as a teenager in the '70s and then looking at the punk rock photos that almost no one got to see because punk was very underground and there were very few publications — and none that exhibited the work with the quality that it actually was. At the time all you had were fan zines, printed on shitty paper with crappy processes. You never got to see it with the quality that it actually was.
"There came a time in the '90s, after I was doing a lot of Hip-hop work, that I was able to look back and realize there was a level of quality there that wasn't fully realized by the public, that wasn't experienced by the way I made it. The Hip-hop work was getting exposed and shown in the way it was being made; there was no lack of quality because there was a lot of money involved. It made me look back at the older stuff like, 'Wow, this is really good!' and it started looking to me better now than it did then.
"In retrospect I started seeing that it was important and it set a standard for how people would be looking at things years down the line. In Fuck You Heroes, my first hardcover book, I wanted to expose the world to things that NOT only inspired skateboarders and punks, and the Hip-hop artists as well, but hip-hop had become mainstream so that didn't need the exposure as badly as the other stuff. I wanted to show all these things were interrelated through their attitude, aggression, excitement, and originality. I decided to make this book.
"No one understood how these cultures could all be together. They didn't understand how skateboarding and music mixed — how you could mix races and cultures so fluently. That was my goal all along, to show that it was bigger than any one thing. It was a rebel culture of youth.
"It was turned down by virtually every major and minor publisher I went to. They just didn't get it, and that was okay. I was on the cusp of many different progressive things that people just couldn't understand. I ended up publishing it myself. It set a new genre for book publishing. That book set the stage for a flood of books to come there after and brought back the whole DogTown story that had basically been forgotten, Except for a small group of hardcore enthusiasts, no one cared about them anymore. I put them in context of punk rock and hip-hop, and they became popular again. People learned something they never knew anything about and that lead to the making of the movies and revitalizing that era historically.
"Quite frankly the new expanded DogTown book is my favorite one I am putting out this year. The original book is great but we've added more photos, the articles are designed like they appeared in the magazine, little detail, fonts, colors, and some of the captions are now elaborated on, a lot of little insert photos that I added that add more context to the photographs themselves. More photos recently dug up since we made that book almost 20 years ago. It's the real deal. That book shows my upbringing."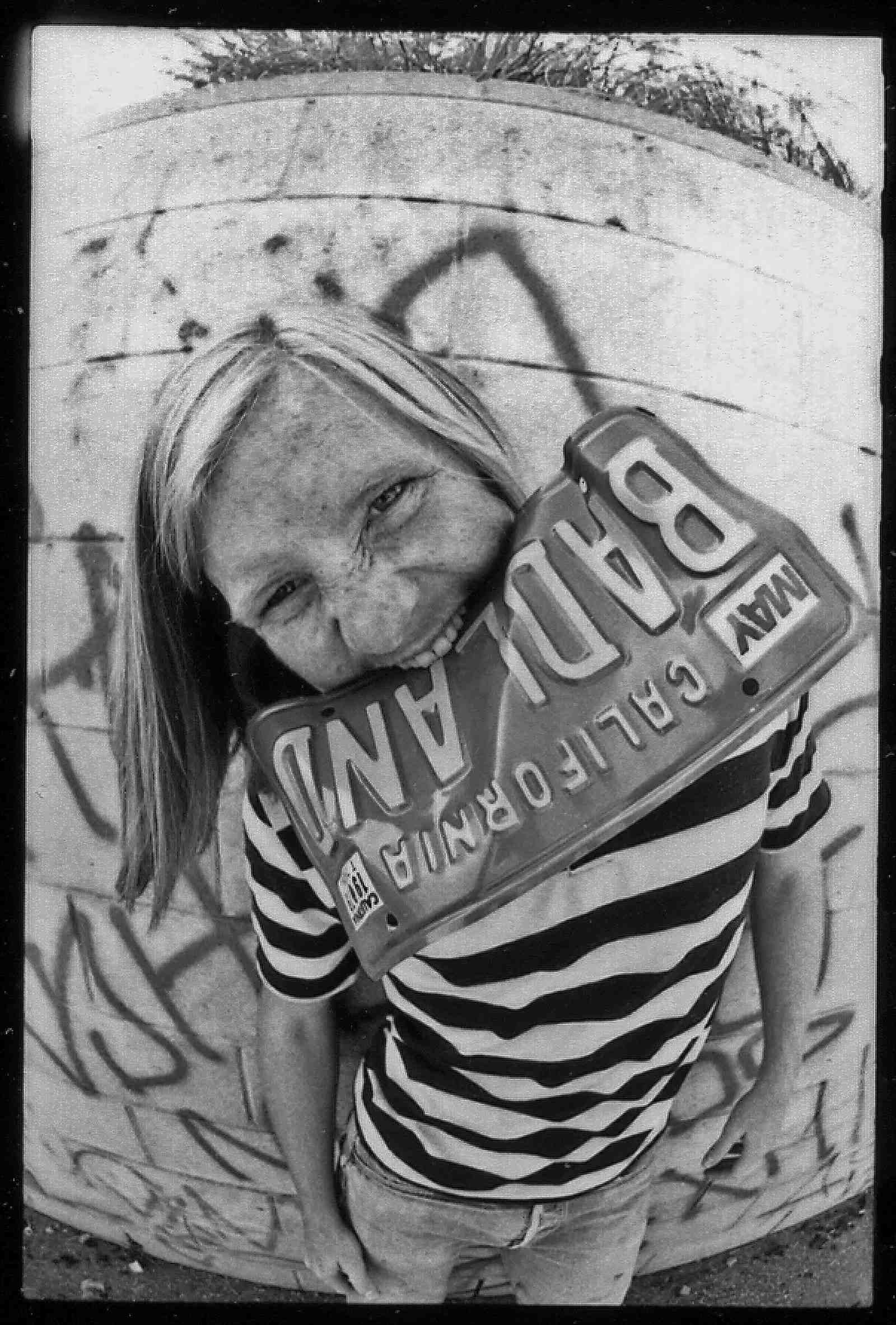 © C.R. Stecyk III; Muir with Badland plate (Dan Hoffman's) ripped off on Friday, October 13.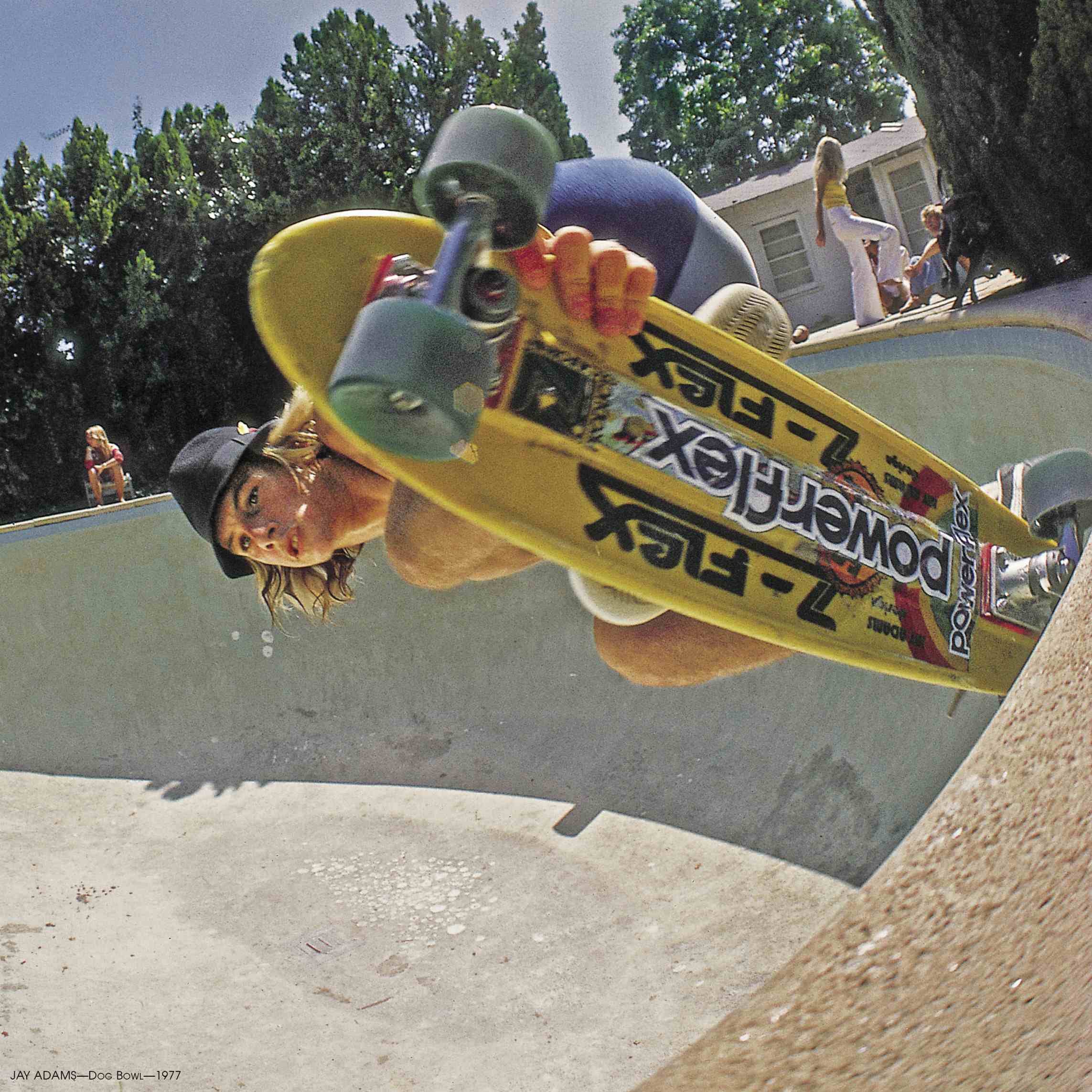 © Glen E. Friedman; Jay Adams—Dog Bowl—1977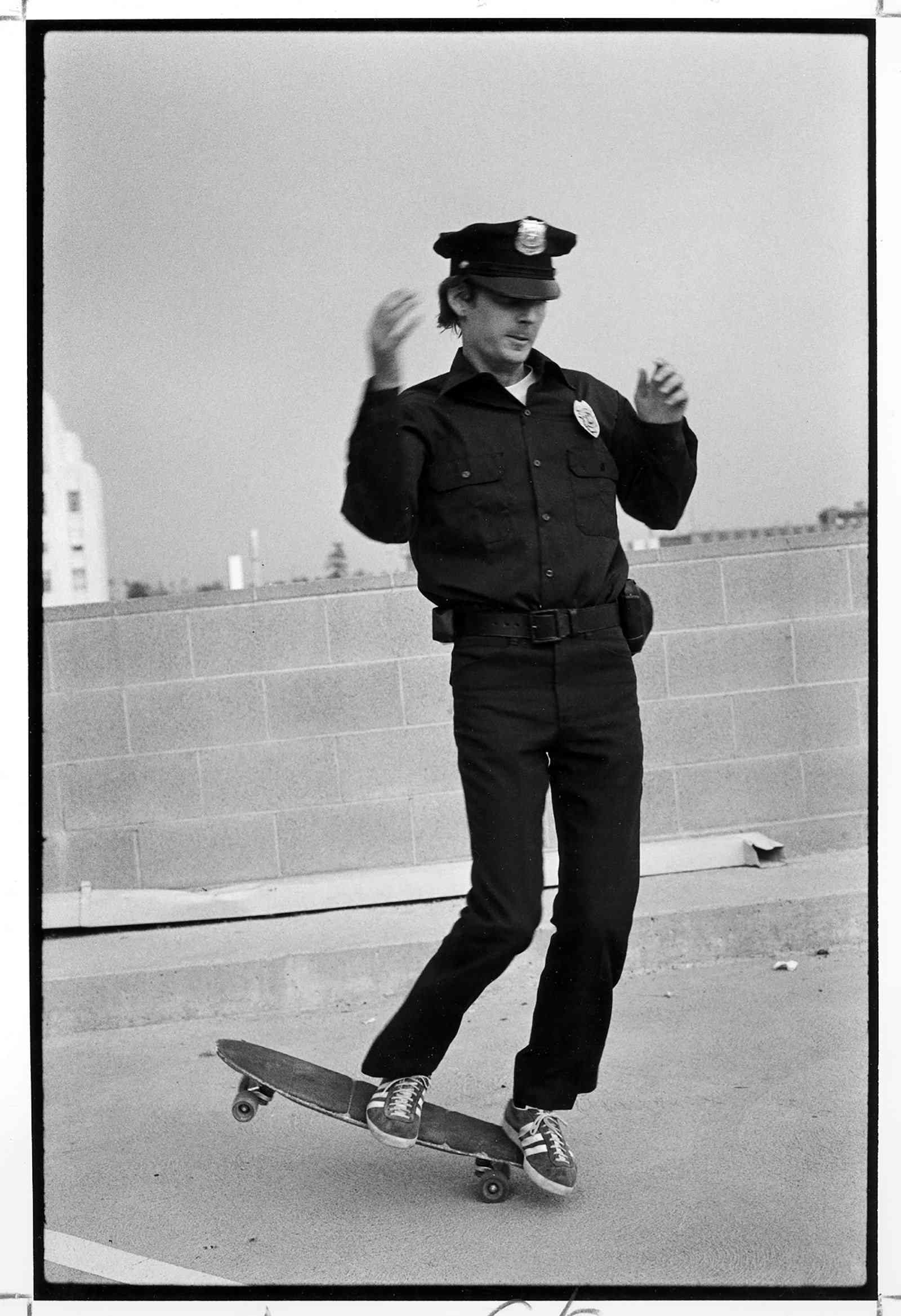 © C.R. Stecyk III; The skating policeman puts a little flow into his patrol.
All images: from DogTown: The Legend of the Z-Boys, copyright 2019 by C.R. Stecyk III and Glen E. Friedman; used with permission of the authors and Akashic Books.
Discover More