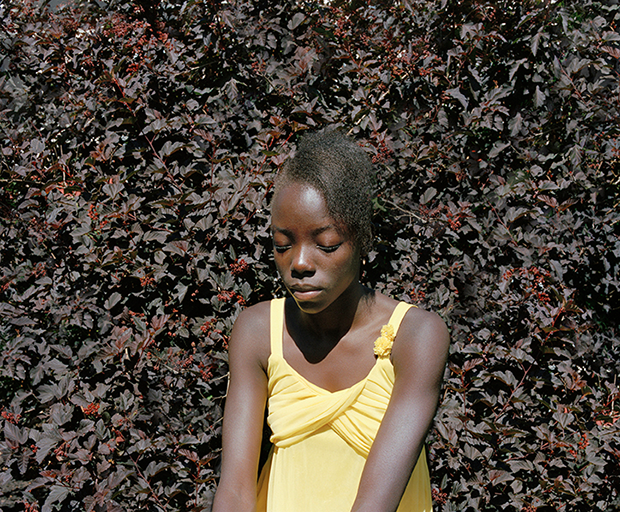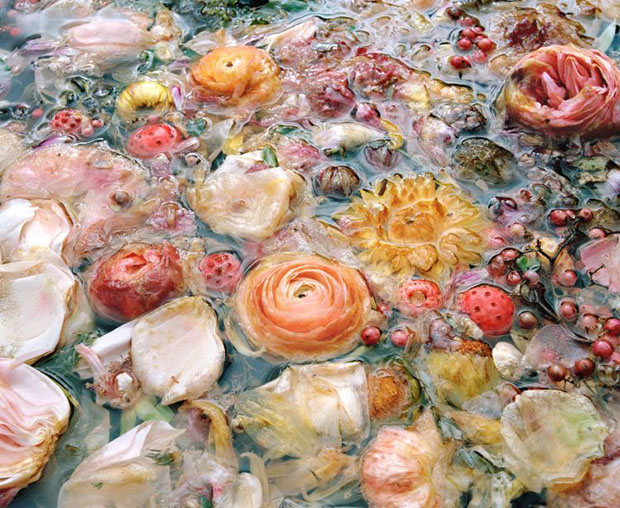 When the gallerist Giles Huxley-Parlour discusses the work of Jocelyn Lee, he doesn't talk about seeing the work "in person." Instead, he uses the phrase "in the flesh." When the poet Sharon Olds writes about Lee's photographs, she uses the same word, asking, "What is this flesh, anyway?!" And when Lee describes her own images, she tends to use the word "naked" instead of "nude." The Appearance of Things, created over the course of about a decade, is her exploration of our bodies, their strength, and their fragility.
Along with women of all ages, the landscape of Maine becomes a key player in these images; seaweed, fruit, and the artist's own wedding flowers blossom, fade, and rot. Known for abundant springs and brutal winters, Maine and its hidden, enclosed spaces become a kind of Eden, where Lee's modern-day Eves are welcome to roam, explore, eat, and learn. Here, female form is reborn; it grows, and it changes with the seasons.
The possibility of new life lingers in the background of every frame. So does the inevitability of death and loss. By breaking down the barriers between genres (portraits, landscapes, still lives), Lee invites us to enter a time before time–and a primordial realm where everything is beautiful and nothing ever stays the same. We asked the artist about the work. See Jocelyn Lee: The Appearance of Things at the Center for Maine Contemporary Art in Rockland, Maine, until October 14th.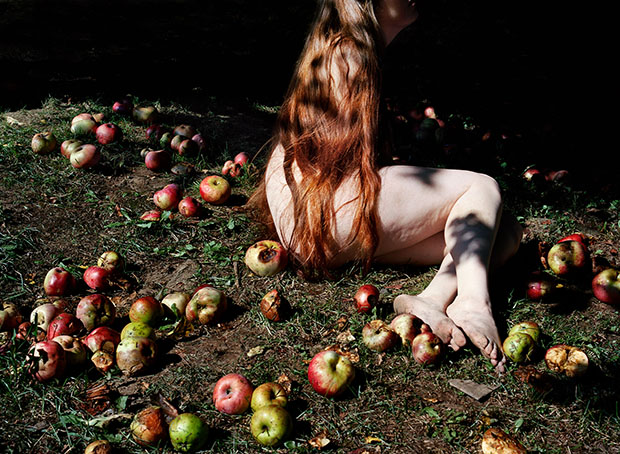 Why do you photograph women?
"I'm first and foremost a portrait photographer. I started photographing when I was 18 and I was immediately transfixed. I photographed my family, friends, and myself (in the early days) obsessively. I've never looked back. Now, as a result of that early work, I have a record of people I still know and am close to that spans 35 years. It's extraordinary—the record photography can create over a lifetime. It's fascinating to look at these pictures now.
"I think I mostly photograph women because I am a woman. I am interested in photographing men as well. It's not so apparent in the body of work, but it will be, so stay tuned. I've always photographed things I am curious about and want to study. When I was younger, pre-marriage and children, I photographed pregnancy and birth. Now I am photographing aging.
"The naked body interests me because it is our first home. It is the vessel we carry around with us, and the place from which we understand the world. I am interested in expanding ideas about physical beauty and creating compassionate honest images about real aging bodies. I want to expand cultural representations of what it means to be embodied.
"I am also driven to counter vanity and 'selfie' culture, which I hate and find really disturbing. I understand that vanity is a basic human instinct and impulse, but my hope is that my images will somehow make people feel more at peace with the truth of their own bodies when they see my subjects described in a sensual engagement with the nature."
What do you look for in the people you photograph, whether it's someone you know well or someone you've just met?
"I look for openness, honesty and vulnerability. I don't want people who are trying to 'model' and control their identity for the camera, and I don't want traditionally 'beautiful' people who are vain. These kinds of portraits are the exact opposite of what I'm trying to do. I want to make frank and vulnerable portraits that also demonstrate a great deal of internal strength of character.
"In terms of physical characteristics, I look for people that have some remarkable quality—this could be the quality of their hair, their skin, or their eyes. It's very subjective and not something I can really quantify. I also photograph the same people over and over again, so some of this is just due to the long relationship we have created."
What has Maine, and its landscapes, given you that another place might not have?
"Maine has been an extraordinary place for me photographically. When I moved to Maine full time four years ago, my work took off in a completely new direction. I live on two acres of land, and most of my photographs are made on the land around my house. The Maine landscape is incredibly dynamic. There is deep snow, forests covered in brilliant green moss, frigid dark ocean water, fog banks that roll in so that you can't see further than five feet in front of you, and tidal pools filled with seaweed and amber-colored sand. It's an exceptionally visual place, and it has a rawness that I love. It's not always easy beauty, which I like. It is very Wabi-Sabi."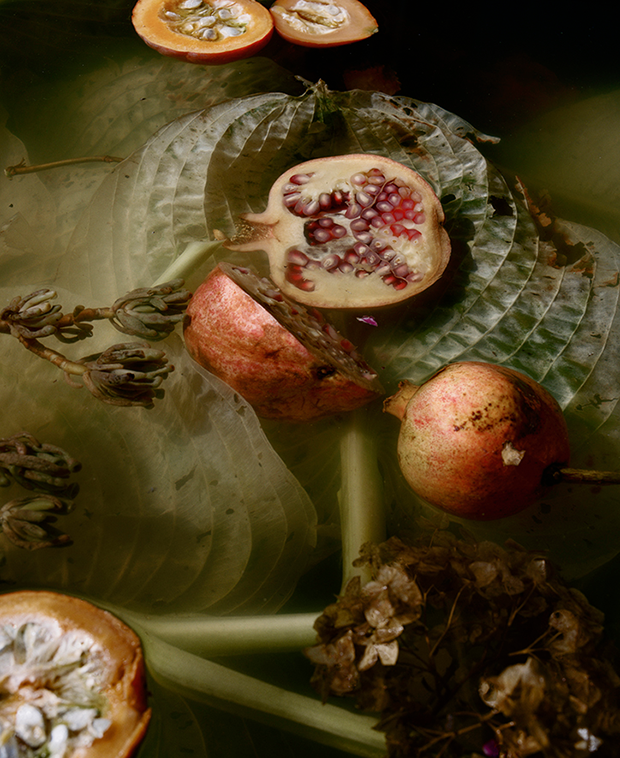 How has your relationship with bodies, life, and death changed throughout the course of the last decade? What have you found the final years of The Appearance of Things that you didn't expect to find when it first began?
"Both of my parents died of cancer, and I was with them when they died. Their bodies went through huge transformations in a very short period of time, and I photographed both of them through this difficult final stage of their life. I am very aware of the body as a temporary vessel and the fact that it ages and moves toward death—is always moving toward death.
"Now that I'm in my 50's, I think about gravity and it's affect on the body, vanity, ideas of beauty, and physical vulnerability all the time when I look at people. I have youngish kids that are at the peek of their bloom. I love seeing this in them, and I'm awed by their beauty, but I am also aware of the whole spectrum. I want illuminate this spectrum and continuum that we are all a part of."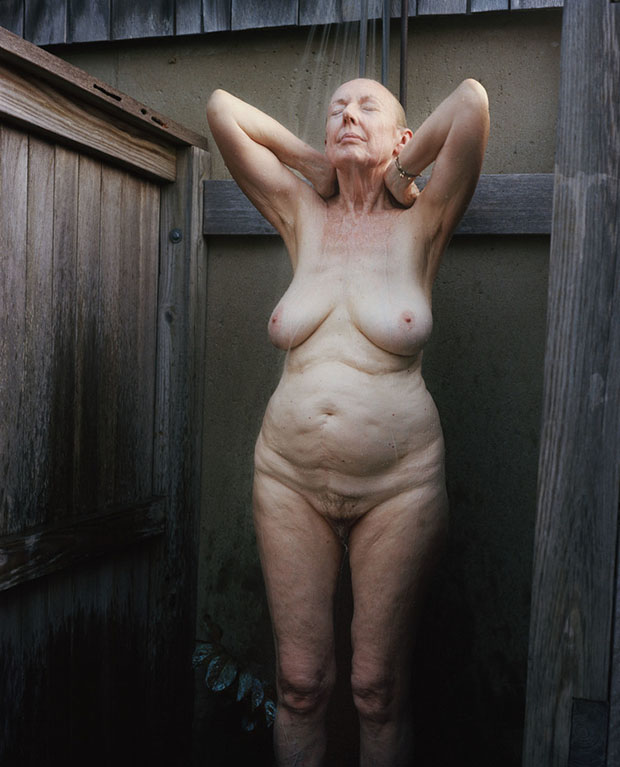 What's the most powerful memory you have from working on this project?
"My most powerful memory is a shoot I did with five women in Deer Isle, Maine. I wanted to photograph people naked floating in water, but I needed a private place so my models would feel comfortable. I ended up renting a house off-season on Deer Isle, and it had access to a very private cove. It was amazing and magical, and I made images I could never have anticipated making. If you stay open and really allow yourself to see what's happening around you at any given moment, the photograph you thought you were going to make is never the photograph you end up making. The world ends up being so much more interesting than what one pre-visualizes."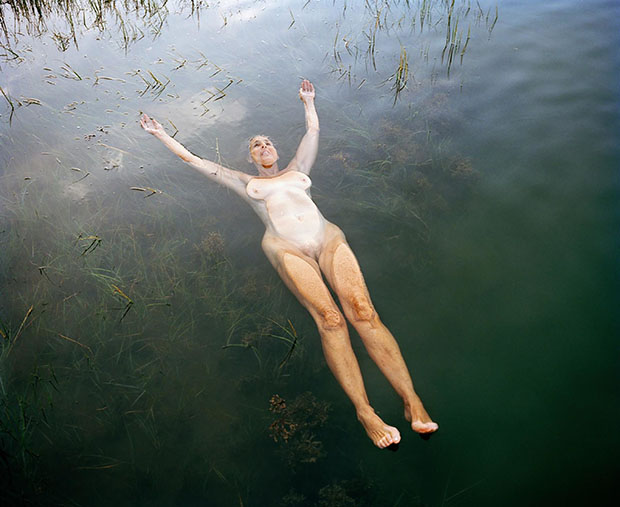 What do you hope to find in these pictures when you return to them years from now? How do you think your relationship with them will change over time?
"I hope they still feel sincere and that they continue to pose meaningful questions to a viewer. I hope they are both seductively beautiful but also frankly truthful."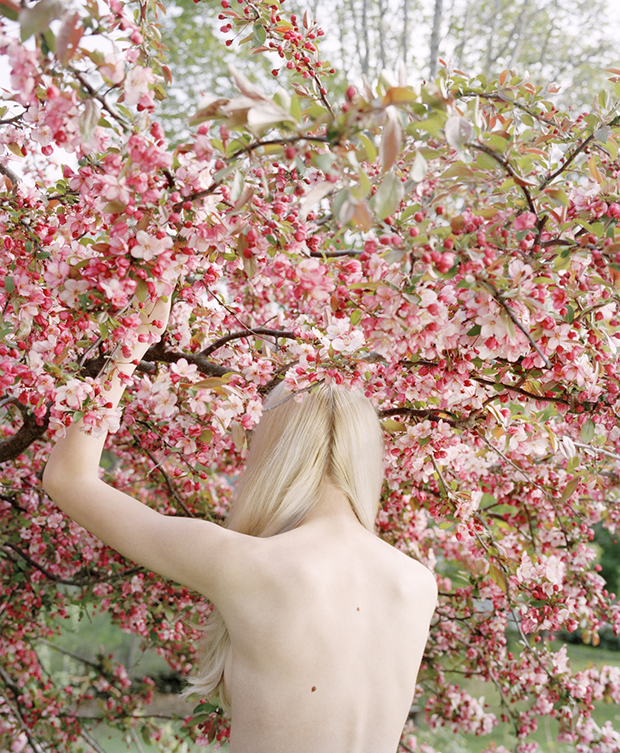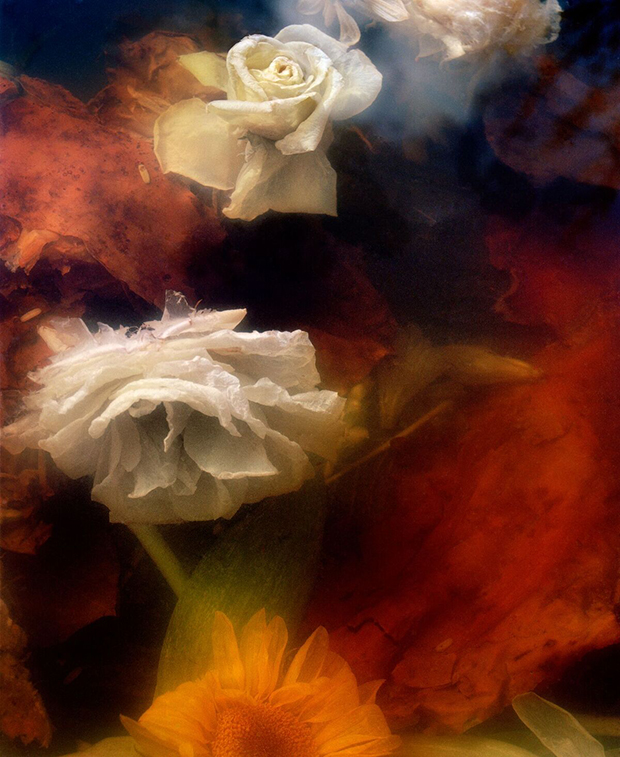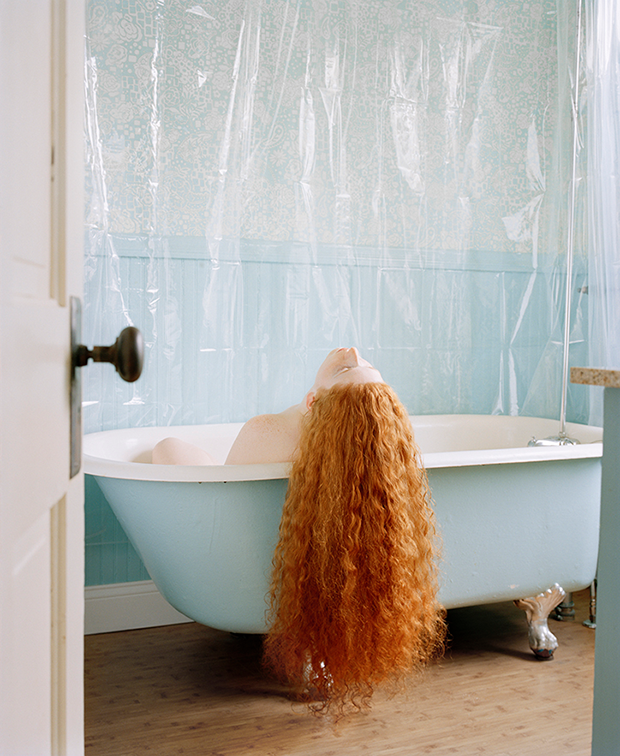 All images © Jocelyn Lee, courtesy Pace/MacGill Gallery
Discover More