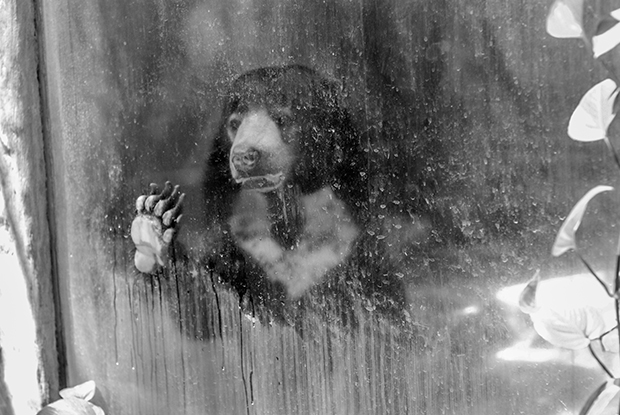 Malayan Sun Bear, Thailand 2008 © Jo-Anne McArthur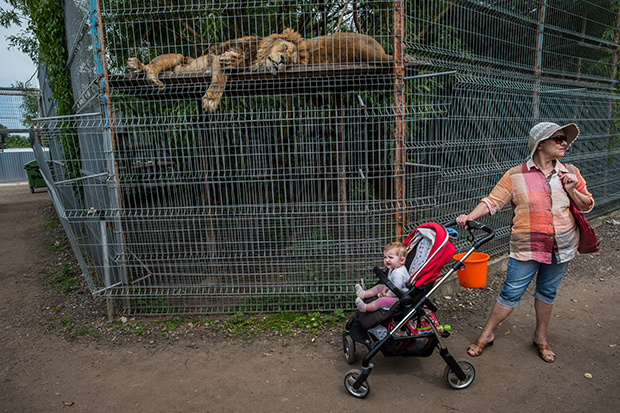 Lions, Lithuania 2016 © Jo-Anne McArthur / Born Free Foundation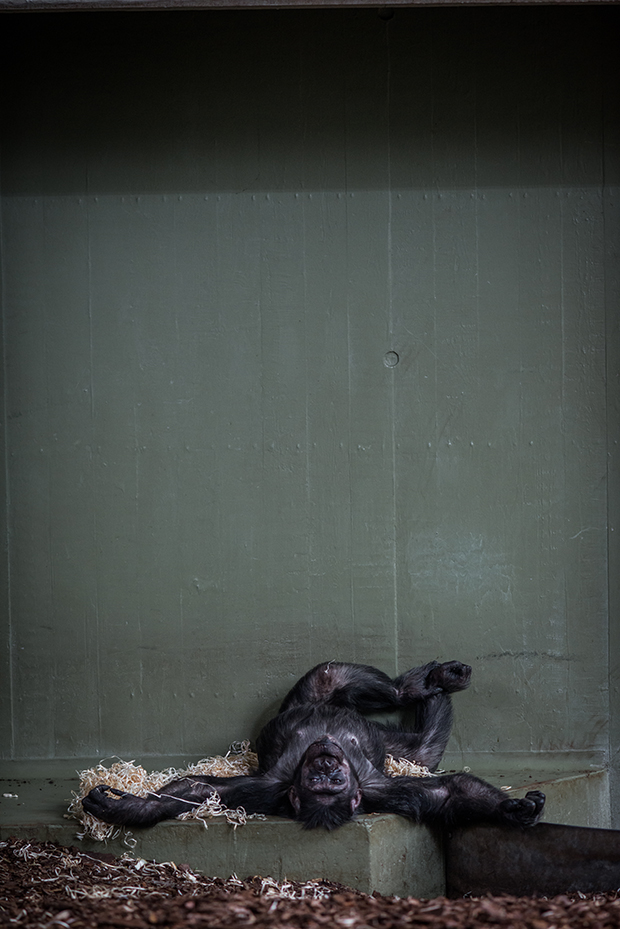 Chimpanzee, Denmark 2016 © Jo-Anne McArthur / Born Free Foundation
Photojournalist Jo-Anne McArthur met Mykoliukas the baboon at one of the many zoos she's visited over the last decade. As she passed, his hands reached out and grabbed the bars of his cage. He tried to groom her, as he tries with many of the countless people who walk by. Over the course of the day, McArthur allowed him to groom her a few times, and he waited for her to return. When she left for the last time, he climbed to the top of his cage and strained his neck. He kept her in sight as long as he could.
McArthur writes about the lonesome baboon in her newest book Captive, which she created in zoos and aquaria in more than twenty countries around the world.
Animals in confinement, living isolated from friends, family, and a habitat that allows the expression of natural behaviors, can deteriorate both physically and emotionally. McArthur has seen animals pace and walk in circles, so much so that their routine paths have been worn into the ground. She's seen other individuals who were too dejected to move very much at all.
The pictures in Captive might be less graphic than those featured in McArthur's first book We Animals, but they are equally painful. As Wesleyan Philosophy Professor Lori Gruen suggests in her essay for Captive, these individuals are living day-to-day with an absence of any "joy or purpose." We have denied them the freedom to roam, to fly, to swim, to explore— the life's ambition that is written in their DNA.
McArthur also makes a point of mentioning the moments that did not make it into the book. In strict confidence, off-the-record, she's listened to zoo employees and veterinarians express concerns over the welfare of the animals in their care. What goes on in the background at some zoos— forcibly removing animals from the wild, for instance— is not pictured.
But in the end, McArthur never allows the darkness to overtake the light. She mentions the efforts of the Detroit Zoo, which has taken a sanctuary-like approach to the animals in their care. This particular zoo includes rescued animals. Their two polar bears live in a four-acre habitat, and part of it is invisible to visitors. They can choose whether they want to be watched or not.
McArthur, in the end, seems to have a steadfast and abiding belief in mankind's capacity for goodness. She would not have created this book otherwise.
The We Animals dedication page reads in part, "For the hundreds of thousands of animals whom I've met and photographed with great reverence but could not save." Tellingly, I think, she dedicates Captive to humans, writing, "For you, the compassionate and courageous, who choose to see."
It takes emotional fortitude to sit with McArthur's pictures, but the choice to do so is a small act of kindness. If using animals for the sake of entertainment is a cruelty, then spending time— real time— with Captive is one small step towards redemption.
Visit The Born Free Foundation for more information on animals in captivity, and find the book here. You can follow McArthur's project A Year of Captivity, which coincides with the book, on Instagram and Facebook. She will be posting pictures and stories every single day. Also visit the A Year of Captivity page on the We Animals website to see how you can make a difference for captive animals.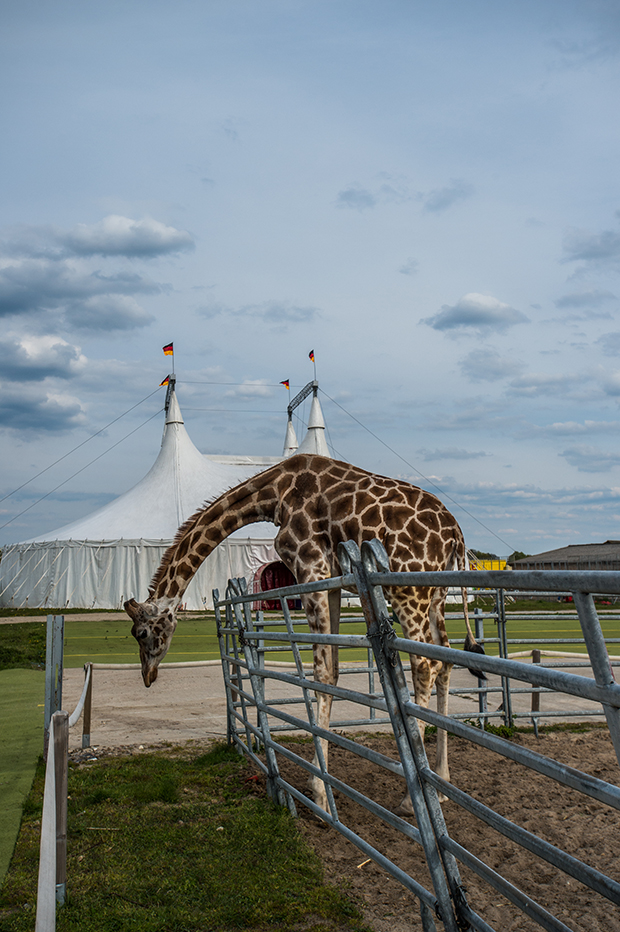 Giraffe, Germany 2016 © Jo-Anne McArthur / Born Free Foundation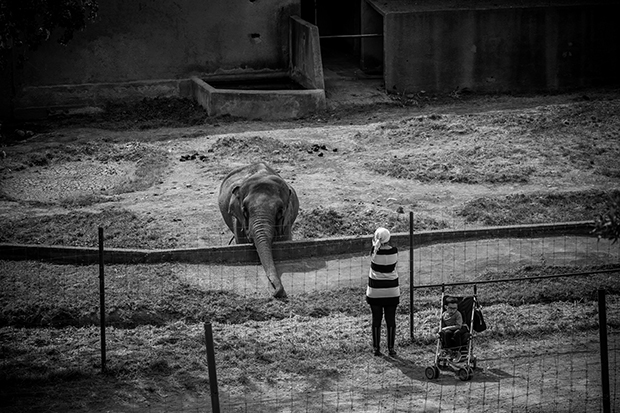 Elephant, France 2016 © Jo-Anne McArthur / Born Free Foundation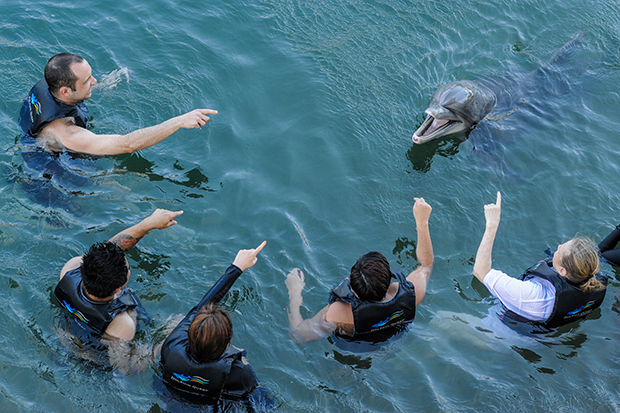 Bottle-Nosed Dolphin, USA 2012 © Jo-Anne McArthur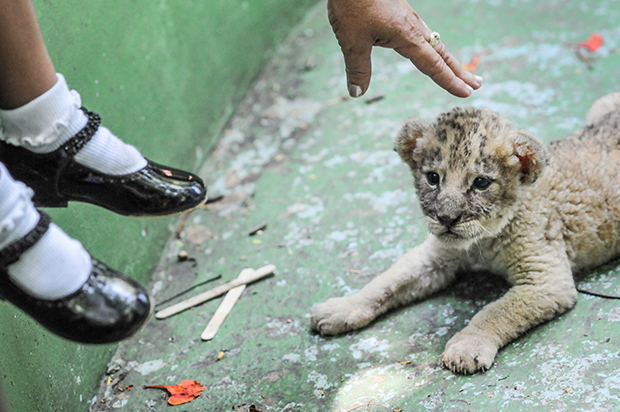 Lion cub, Cuba 2008 © Jo-Anne McArthur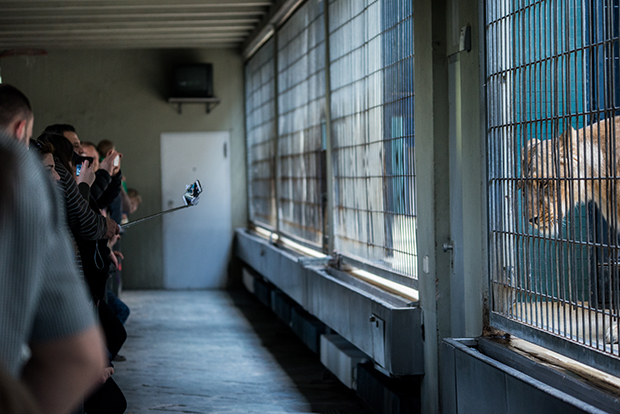 Lion, Germany 2016 © Jo-Anne McArthur / Born Free Foundation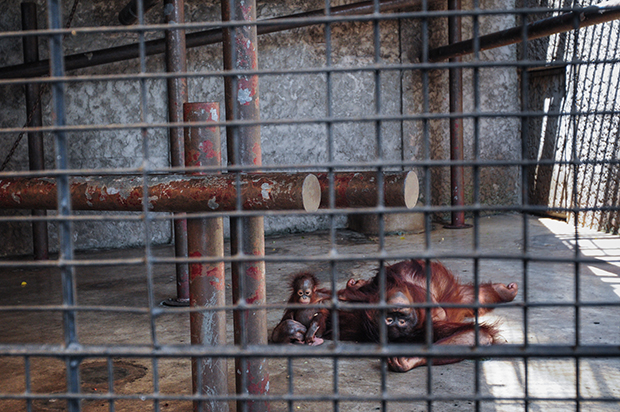 Orangutans, Thailand 2008 © Jo-Anne McArthur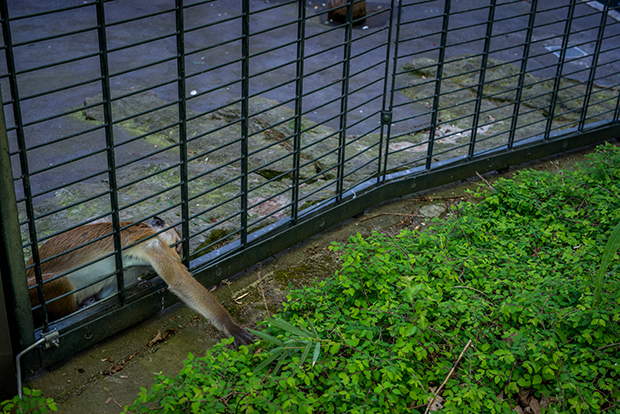 Toque macaque, Germany 2016 © Jo-Anne McArthur / Born Free Foundation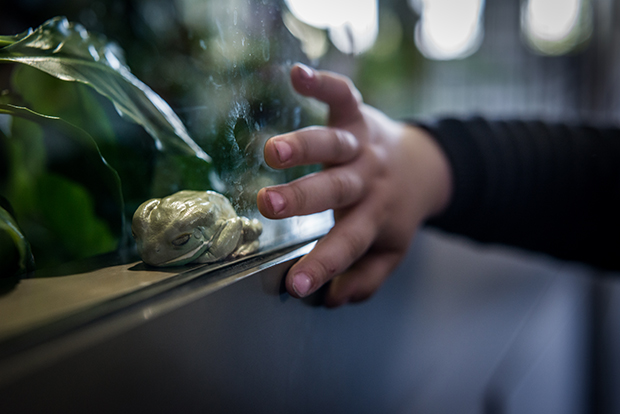 Waxy monkey tree frog, Germany 2016 © Jo-Anne McArthur / Born Free Foundation
Discover More