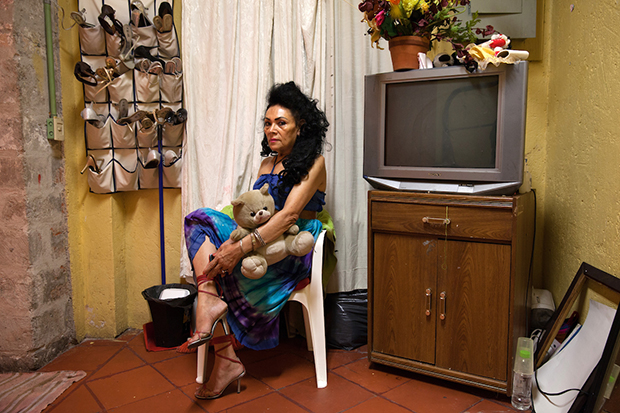 Portrait of Norma Angelica, a resident of Casa Xochiquetzal © Bénédicte Desrus
The residents of Casa Xochiquetzal in Mexico City range from the age of fifty-five to eighty-six, and at some point in their lives, they have all been sex workers. It's a two-story house, with food and medical care provided by the government and public donations.
In exchange for a safe place to live, the women must participate in the daily chores and activities. They attend courses on human rights. Some write poetry; others paint. One does yoga on the patio.
French photographer Bénédicte Desrus has spent nearly eight years documenting life at Casa Xochiquetzal, beginning two years after it was founded by a former sex worker named Carmen Muñoz and a passionate group of intellectuals and activists.
This is the only shelter of its kind Desrus was able to find. There is no similar refuge exclusively for elderly former sex workers in Latin America, and she's unsure if there's another in the whole world.
At first, only two or three of the eighteen women who lived there allowed Desrus to take pictures. Before she arrived, a photograph of one of the women had been published, and her history as a sex worker was made public. Her family hadn't known.
Photojournalists were generally mistrusted amongst the group, and for this reason, Desrus made a point of only taking photographs when she was given permission. When asked, she refused to offer payment in exchange for pictures.
When considering what it was that ultimately won her the confidence of this group of women, the photographer says simply, "They saw that I would return." She never forget them, and one by one, they came around. She brought them prints of the portraits she'd made.
The women of Casa Xochiquetzal confided in the photographer about their childhoods, their greatest loves, and their greatest traumas. They told her stories of abuse and redemption. Most were no longer in touch with their children, though they wished they were.
"They're never victimized," Desrus explains. "They're totally survivors." Often, they made her laugh, and she made them laugh too.
The photographer has also said goodbye to some of her sitters. She vividly remembers the time she saw one of the women die a painful death. She took photographs, though some of the other women asked her not to do so.
She talked frankly with them about it—"Death is a part of life," she said— and they saw her point of view.
Looking back, Desrus admits, "I think that's when they really understood my work."
These women, the photographer explains, have seen their friends die in the streets. When they're approaching the end, most ask for their families, and the shelter will try to locate them. Even if loved ones are not found, everyone at Casa Xochiquetzal gets a proper funeral. All residents are required to attend.
Because of the shelter, Desrus explains, "They know they're not going to die alone."
Desrus, with the help of writer Celia Gómez Ramos, published a book about the women and the shelter called "Las amorosas más bravas" (Tough Love in English). A large portion of proceeds of the sales went to Casa Xochiquetzal, and each woman received a copy to call her own. They were proud.
Only twenty copies of the book remain today. Still, Desrus continues to visit the shelter. The women know her well now. They followed her recent pregnancy, and they look forward to congratulating her on the birth of her child.
"Next time I'm going to Casa Xochiquetzal," Desrus assays, "I will go with the baby."
To help the shelter, you can make donations here. Readers are also invited to check out their website and Facebook page
The result of six years of in-depth journalism, French Photographer Bénédicte Desrus and Mexican writer Celia Gómez Ramos' new book, Las amorosas más bravas ("Tough Love"), presents intimate portraits of the women residing at Casa Xochiquetzal, a shelter for elderly sex workers in Mexico City. To receive information or purchase the bilingual book "Tough Love", please contact the authors at [email protected] A portion of the proceeds from the book are donated to the shelter.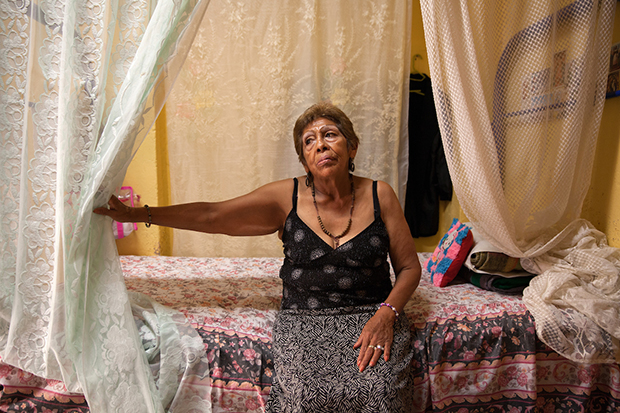 Portrait of Luchita, a resident of Casa Xochiquetzal © Bénédicte Desrus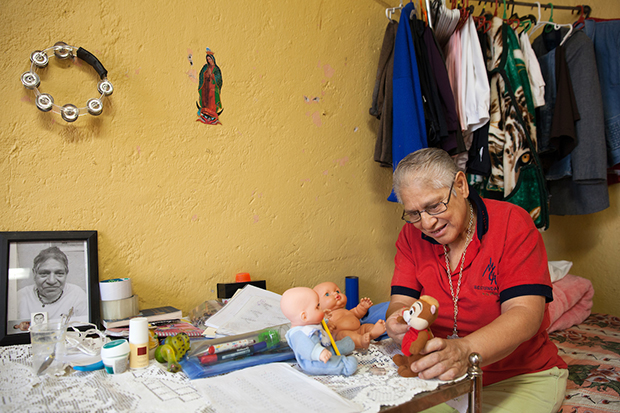 Elia, a resident of Casa Xochiquetzal, talks to her dolls as a method of coping with her past life in her bedroom at the shelter in Mexico City © Bénédicte Desrus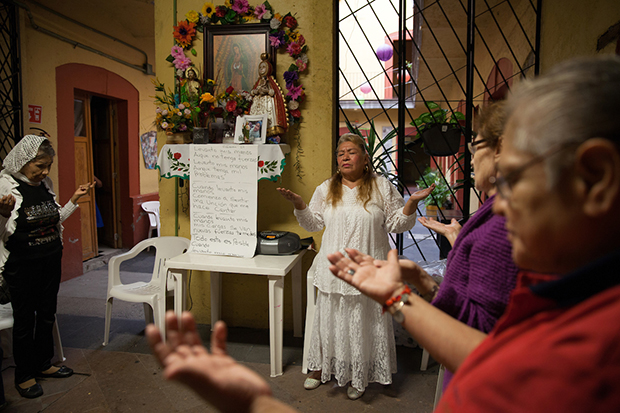 Juanita, a resident of Casa Xochiquetzal, conducts her weekly prayer service at the shelter in Mexico City © Bénédicte Desrus
Discover More