Untitled II, from the series The African Queens © Namsa Leuba
Cherry Lips © Pacifico Silano
"This show is for all my freaks, geeks, and queers," curator Efrem Zelony-Mindell says of n e w f l e s h, his new essay for the 23rd issue of Dear Dave Magazine and coinciding exhibition at Rubber Factory in New York City.
The fourteen images in n e w f l e s h are in some ways a revolt against the ways in which queer identity has until now been explored in photographs. Nothing is overtly erotic; no body parts are fetishized. Even when a human face appears, and it appears rarely, it's veiled, masked, or sliced in half.
"There is a saturation of the body," Zelony-Mindell explains, "I think there is so much more that makes people who they are. There is something so much more extensive and inclusive about being queer."
The ideas these photographers are grappling with are rooted in part in recent academic discussions surrounding queerness and the body, but they deal with those issues playfully and with an open mind and heart. Their assertion is this: queerness comes in many forms besides sexuality and anatomy. The ways in which we choose to define ourselves internal, infinite, and constantly shifting.
Zelony-Mindell stresses that these images aren't about homosexuality; they're about the fundamental queerness of all of us. We don't come into the world with any fixed sense of self; we try to piece together who we are as we go along. To quote the great drag queen RuPaul, "We're all born naked and the rest is drag."
It's easy to look at the abstracted, sculptural images in n e w f l e s h and think, "wait, what is this about?" And that's the whole point. It's not about knowing or claiming our existence; it's about setting it free. It's a scary and thrilling notion. Most photographs are of something— a picture of a cat, a car, a building—but these photographs are of nothing and of everything.
"I'm not sure that these works will mean the same thing to any one person," Zelony-Mindell admits, "In the end, each one of us has a little freak show deep inside the very most private part of ourselves. It's what makes us who we are. It should be celebrated."
See n e w f l e s h in the 23rd issue of Dear Dave and at Rubber Factory until September 23rd.
Refractory Mass © Dillion DeWaters
Untitled #4 © Thomas Albdorf
Stranegr (Full) © Joy Drury Cox
Obliterative Shading #1 © Aaron Hegert
Site #2 © Ryan Oskin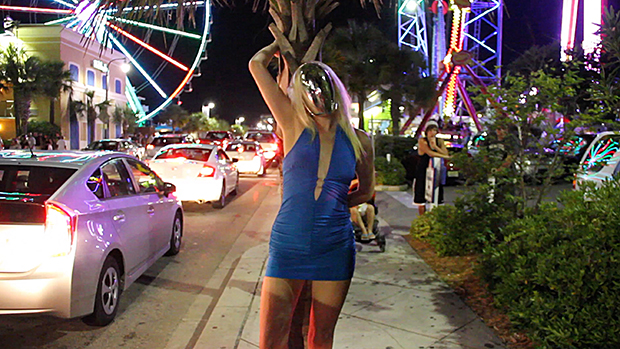 American Reflexxx (Still from video) © Signe Pierce and Alli Coates
Untitled © Izaac Enciso
Collage with Sandpaper and Bag © Quinn Torrens
Untitled © Ruth van Beek
Marital Troubles © Ilana Savdie