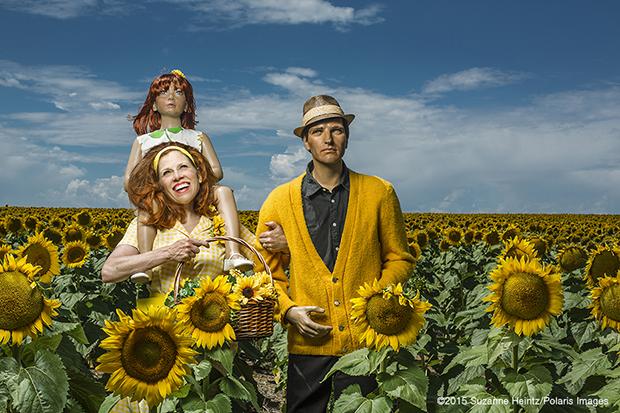 © Suzanne Heintz, who photographed her (fictional) "life" with a mannikin family as a satirical response to the expectation that women marry and have children.
In anticipation of the upcoming BlowUp, an event in which nine NYC-based photographers will discuss the experience of their work going viral, we asked some of our favorite international viral sensations over the past several years about the complexities of having their work seen (and shared) by such a wide audience. For our first installment of a three-part series of posts, we asked fourteen photographers about whether or not there were any downsides to "going viral." Stay tuned for two more posts, with a few new viral photographers thrown in the mix, and of course be sure to reserve your tickets to The BlowUp in Manhattan on December 10, 2015 to hear more stories.
Suzanne Heintz: Being overwhelmed, and miscommunication. I didn't sleep for weeks, well, months really. I couldn't handle all the emails and requests for interviews and images. I have a day job as an Art Director for TV. It's demanding and time consuming. After a full day at the office, I'd come home and work all night, just trying to keep up. I'd be on the radio at 4am in Europe, and have to go to work three hours later.
Since I couldn't respond quickly to requests, hundreds of periodicals simply ripped off my images and took liberty with my story and completely misrepresented it. Instead of understanding that my use of mannequins was symbolic, they took it literally, saying that I lived with them. They painted me as crazy to sensationalize the story and increase readership. I was mocked more than praised. I am still, two years later, trying to correct the misrepresentations rampant in the reporting of my story.
What I found most disturbing is that there was little sense of the rules of responsible journalism. No one checked facts. They simply borrowed them from another periodical, and passed the buck. No one is held accountable. They simply publish what they want, and once it's out of the gate, there's no getting it back in. I'm still on the fence with the notion that ANY publicity is GOOD publicity. There is a price to pay.
© Sebastian Bieniek, who created a series of double-faced portraits using simple drawings
Sebastian Bieniek: Yes, of course. You have a lot of stress, a lot of work, and people don't let you do the work you would like to do. Because I'm more interested in new works, but people mostly ask me for Doublefaced so I have to do Doublefaces. So that is not so nice. But than again, I always try to make a little something new so I'm happy at the end.
You know… If I would know that my work would go viral, I guess I would not do it, because before I had a much nicer life. I made my art, and I could afford very easily a nice small studio. But after it went viral, I had to rent a huge studio (because you have to have a huge studio when you are asked by Vogue for a feature), and so I have for the last two years had to make a lot of money every month just to pay for my studio. And it seems to me that it becomes harder and harder.
You know this hype is also a little like a drug. When you take it for the very first time, it's strong but after two years it does not feel so strong anymore, so you're afraid all the time that it won't work anymore, and that when it does not work anymore you're in really big trouble. These troubles I would not have now if it hadn't gone viral. But it went viral, so I have every day to work all day long to make it run faster and faster, but I'm really not sure if it's even possible to be faster. Perhaps not. Who knows.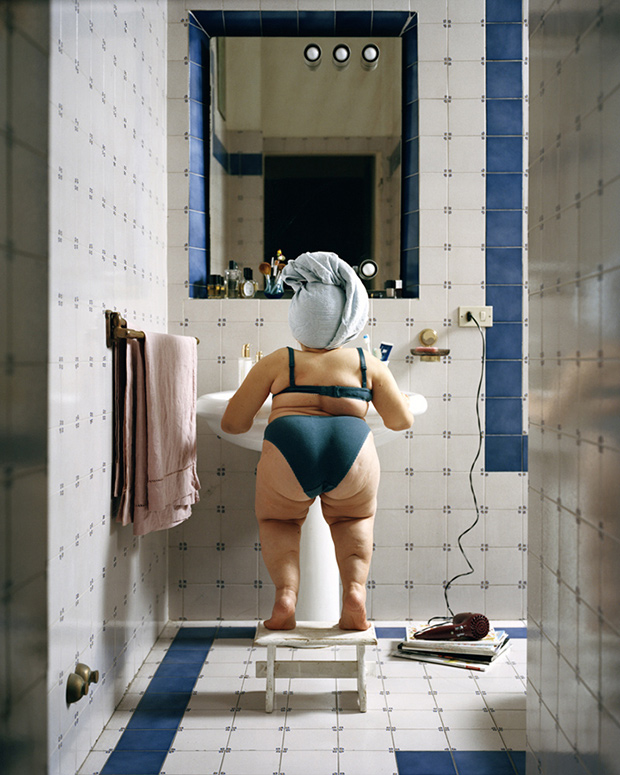 © Olivier Fermariello, who photographed the intimate, sometimes sexual lives of people living with disability
Olivier Fermariello: I wouldn't say so. Of course reaching a large public involve the fact that some may not like the project. I didn't always receive very nice feedback; sometimes they were even insulting. But I did not let them reach me since the principle of a debate must include any kind of opinion.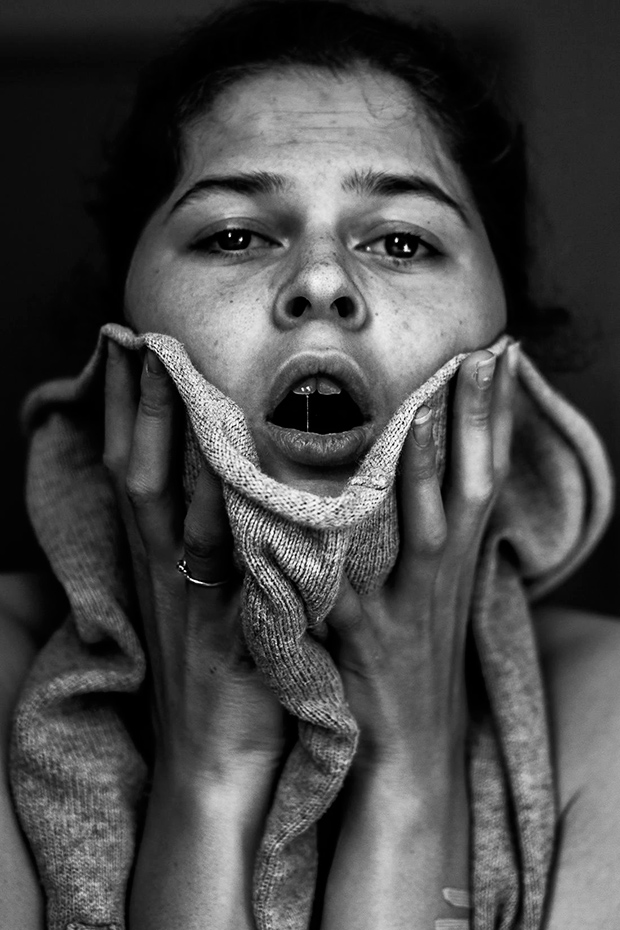 © Laura Hospes, who documented her time battling depression within a mental hospital
Laura Hospes: Oh yes.. Unfortunately! Going viral is very hard task! The series with which I went viral is about a hospitalization in a psychiatric ward. And that hospitalization was not over yet when it exploded on the internet. So I hired my sister Marlou to assist me with the huge amount of e-mails I got. I'm a perfectionist so I still feel like I have missed an e-mail, but I just couldn't overview it at that moment anymore. When I finished an e-mail and clicked on "send," my mailbox refreshed and found 4 more new e-mails, waiting to get in and be replied. It was a hard time, especially for a perfectionist. But because of the hard work, I still get beautiful opportunities every day, so it was worth it.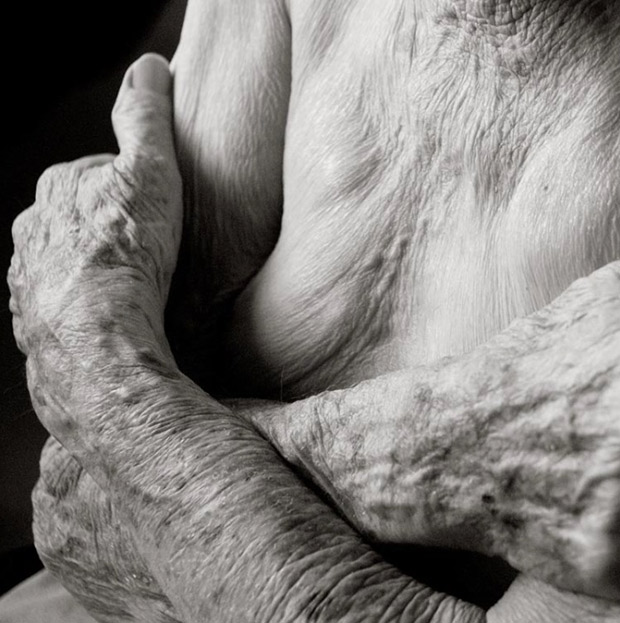 © Anastasia Pottinger, who photographed the bodies of men and women over the age of 100
Anastasia Pottinger: ha ha… unfortunately, yes. I really wanted to continue work on the project (I have worked with more centenarians since going viral and have several more lined up) and to publish a book. I have a fantastic literary agent, but the large publishers all said that the images were so readily accessible online and so widespread that they thought publishing a book would be redundant and unnecessary (UGH, groan).
I also learned about the crazy world of online reporting. Contact with the artist is not necessary. Most websites read my artist statement online, linked back to my site and the Feature Shoot article but never contacted me or asked permission to run the images. I spent A LOT of hours answering questions and replying to emails from the sites who did contact me and made a tiny amount of money from the entire experience.
It is unfortunate that I couldn't find a way to turn all the attention into a way of making some money to support my family and my project. I even put a 'tip jar' on my website asking people to donate a small amount if they liked what they saw. I asked every single site that asked permission to run the story to put something in the tip jar. I'd say only a few did. If I had $1 for every person who looked at the images, I'd be very wealthy right now. It's frustrating when I think about it too much because I know the writers get paid and the sites are making money from ad revenue… but I'm not getting anything.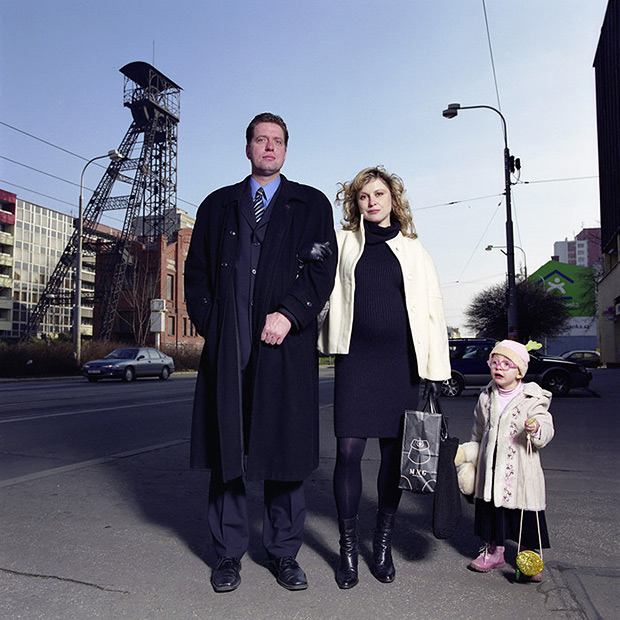 © Dita Pepe, who created self-portraits in which she imagined what her life could have been with various different men and families
Dita Pepe: The negatives are that it is really hard to balance it all. I am not only an artist, but I also have a family. When I gave birth to my first daughter, I was breastfeeding her until three years of age. In many ways I am a perfectionist, and I am afraid that I could slip into being more the artist. I am aware of that and I am trying to balance it out.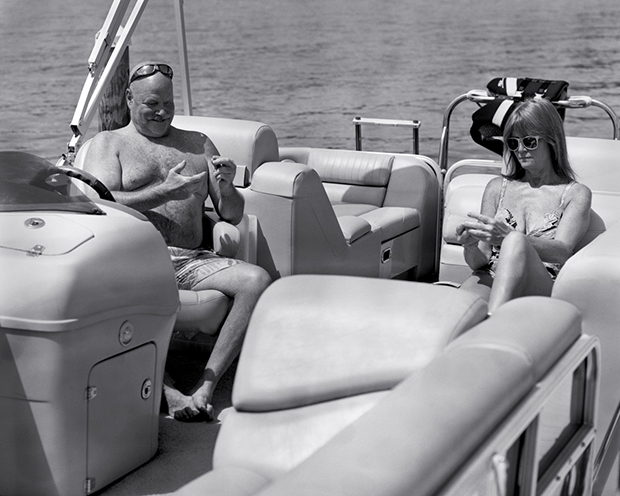 © Eric Pickersgill, whose series 'Removed' took mobile phones out of images to convey the personal disconnect that technology has facilitated
Eric Pickersgill: I got burnt out very quickly. I thought I could manage all of the media and print requests myself, and during the first 3 days, I was sleeping maybe three hours a night. I had to put my new job on hold so that I could keep up with all of the interviews and usage agreements and odd hours because of the international inquiries. I eventually hit a wall and was dropping the ball with journalists; some moved on from the story because I wasn't timely enough, and so I started asking around for suggestions of a professional who knows the editorial and licensing side of things. So, on Wednesday, October 14th, one week after the first story went live, I contracted Julie Grahame to represent my project Removed, which was the smartest move I made during all of this. I doubled my ability to seize this moment and was able to focus on interviews and trying to find a gallery and to sleep six hours a night instead of three. I felt and still feel responsible for participating in this conversation around what I have created, which made the rest of my life and relationships more difficult. I am only now, six weeks later, starting to put things back into a balance.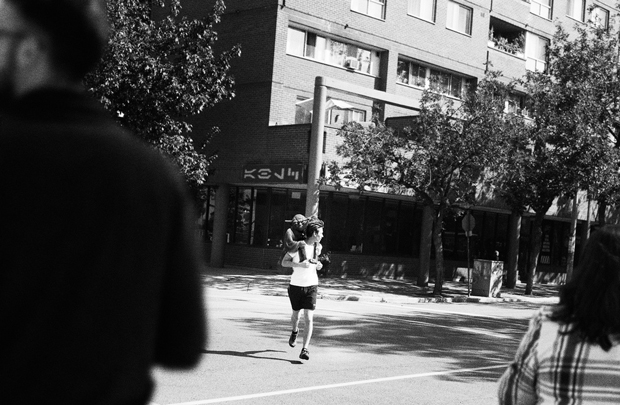 © Thomas Dagg, who used his Star Wars action figures to create a magical universe in which the beloved characters are real.
Thomas Dagg: I think the majority of people missed the message since most of the publications and shares that the series received focused purely on "oh this is Star Wars in real life." Yes, I guess that's what it boils down to, but the bigger picture was missed. I also got a lot of flack in the typical internet ways, but I just chose not to listen to that or laugh at it. I definitely saved a few of my favorite insulting emails or posts though!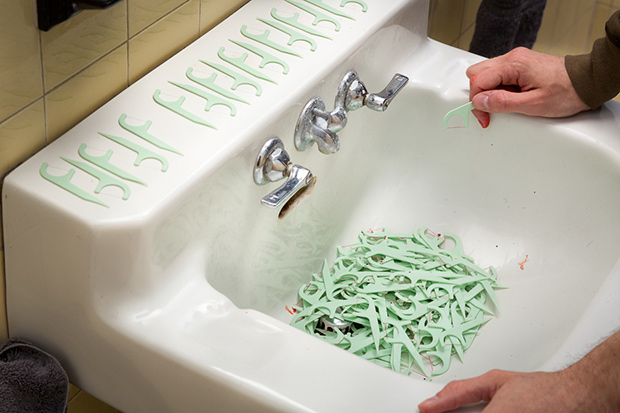 © John William Keedy, who used photography to visualize the struggle of living with anxiety
John William Keedy: It did make it a bit harder to continue to make work after going viral. There was a period I couldn't help but view each new image within the framework of the other photographs. Thankfully I've gotten past that mindset, but for a bit it was tempting to stop making changes and evolving the work out of a concern it would not be received as well.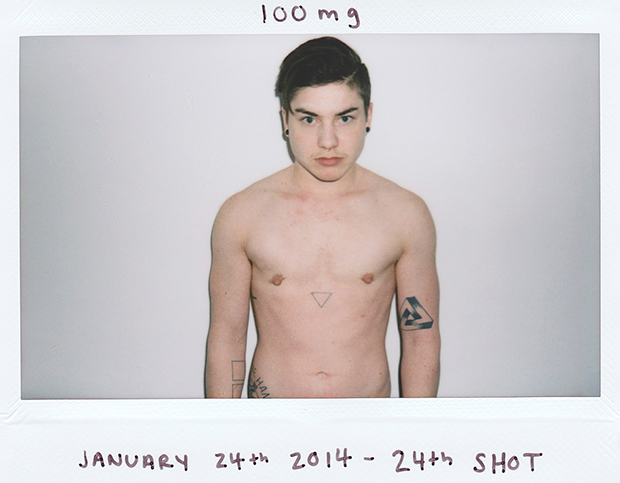 © Wynne Neilly, who documented his transition during testosterone treatment
Wynne Neilly: So far I would say no. I have had to sacrifice some privacy when it comes to people knowing about my trans identity, but I am generally a pretty open person about it anyways, so it doesn't really count as a drawback.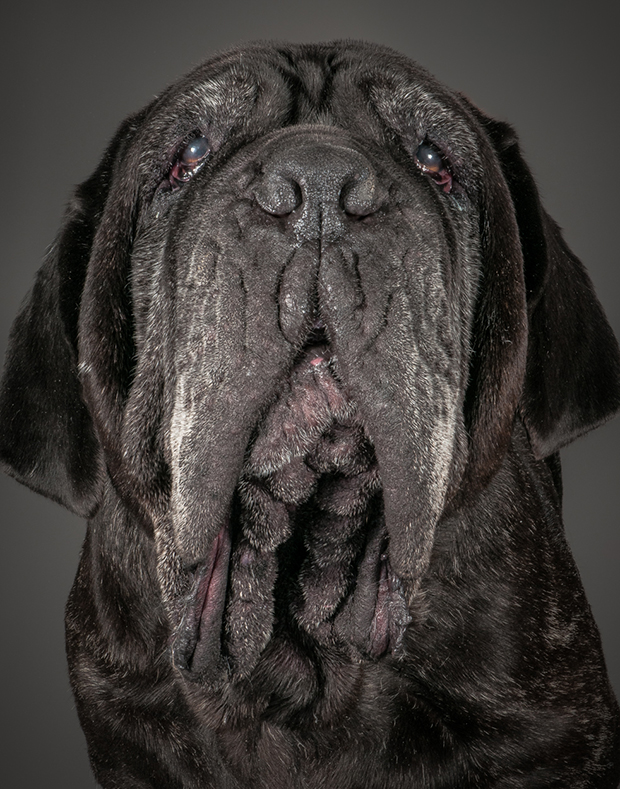 © Pete Thorne, who captured sensitive portraits of elderly dogs
Pete Thorne: Having reached a large audience I guess I am now in some ways worried about what is now expected of me. Can I do better? What will the follow up be? Now there is a lot more expectation. Not just for myself, but now I have an expectation to follow up with something better. There are people, not just my peers, or the artistic community, but people who have engaged with this first project. That's a bit scary. After a viral buzz, people expect the same but new. That's stressful.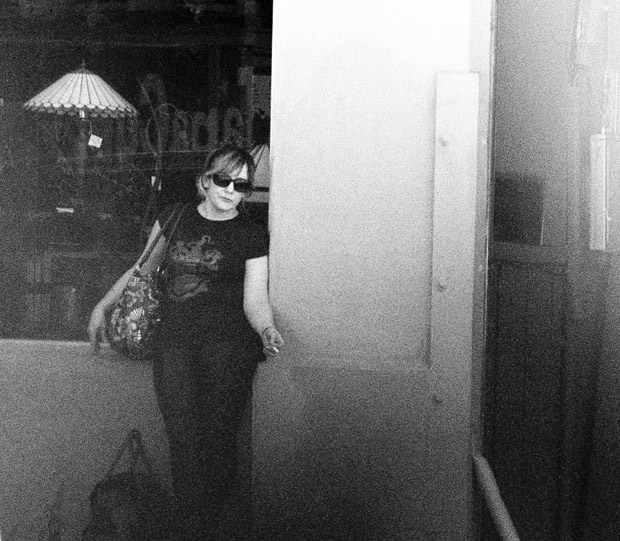 © Jessamyn Lovell, who found and photographed the woman who stole her identity
Jessamyn Lovell: At one point in the very beginning, I felt the story was twisting out of my hands and into something more sensational sounding. I immediately began contacting all the outlets misrepresenting what I had done as "Revenge" and corrected the editors one by one. I started really directing the interviews more as the requests came in, only taking the ones I had reassurance they would listen to what the work was about. Feature Shoot was one of the first interviews I felt totally respected as an artist and who respected the story for what it is.
I realized very quickly that there are always people who will hear what they wanted to hear and believe whatever they want and that is just out of my control. I also learned very quickly – NEVER read the comments.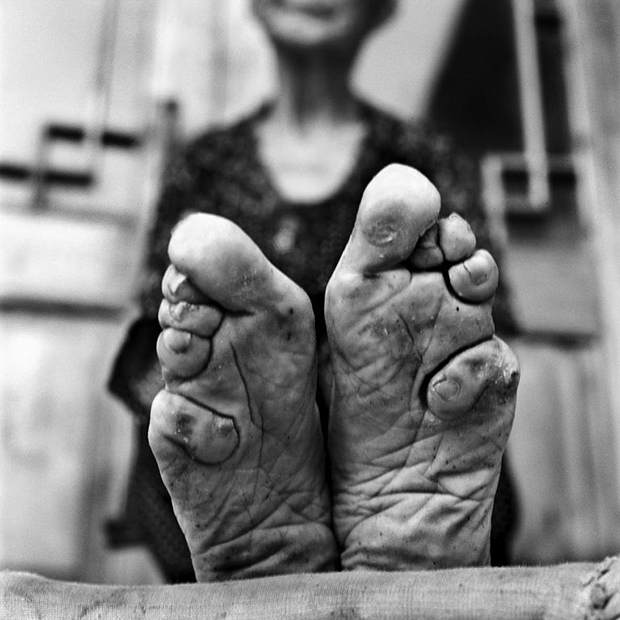 © Jo Farrell, who told the story of China's last remaining women with bound feet
Jo Farrell: At first I would read all the comments, which was a reality check—some people lack cultural perspective and are very judgemental, best to ignore them. The whole point of my project was to show these women in a different light. Also, apart from people responding with their own agenda, I would get actual hate mail from complete strangers.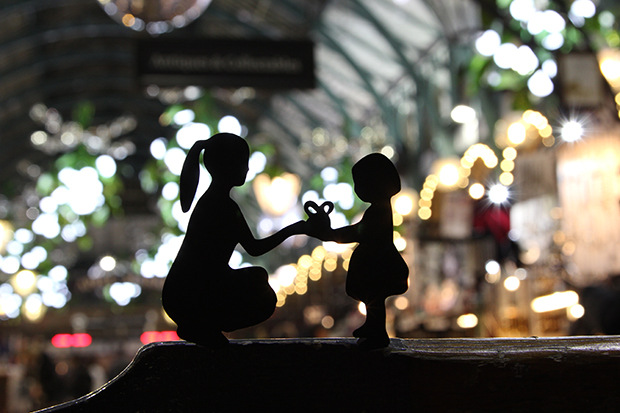 © Rich McCor, who uses paper cutouts to bring familiar scenes–like famous landmarks–into a new light. McCor also currently has an open Kickstarter campaign to fund the manufacture of paper cutouts that can be used by photographers around the world.
Rich McCor: I quickly learnt not to read the comments in some of the articles. I read a few and then I thought, I want to carry on doing what I was doing and ultimately I was doing it for myself so that's my mindset. That's not to say I won't take on board feedback, but not everyone's comments were constructive.
Discover More