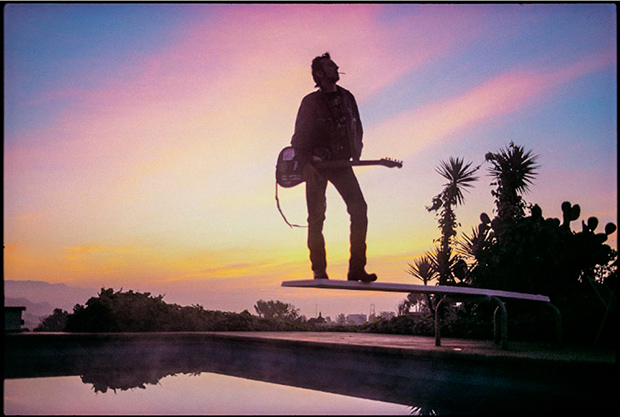 Joe Strummer, Lookout Mountain, Los Angeles 1989 © Josh Cheuse
EVENT: The BlowUp NYC, ROOT, 443 W 18th St, April 3, 2015, 6:30 – 9:00 PM
Feature Shoot is proud to present the inaugural edition of The BlowUp, a new quarterly event in which sought-after photographers share the stories behind their favorite shots. This evening will center around 14 prolific music photographers— Bob Gruen, Chris Stein, Sacha Lecca, Danny Clinch, Michael Lavine, Rebecca Smeyne, Janette Beckman, Jessica Lehrman, David Godlis, Ricky Powell, Tod Seelie, Paris Visone, Amy Lombard, Josh Cheuse and Gretchen Robinette— each of whom will tell a 3-5 minute story on a photo of their choice. RSVP here.
EXHIBITION: Sebastião Salgado, Sundaram Tagore Gallery 547 West 27th Street, April 2 to May 16, 2015
Internationally acclaimed photographer Sebastião Salgado showcases a collection of black and white prints shot throughout the course of the last three decades. Included are images from his iconic series Genesis, Migrations, and Workers, which focus respectively on remote and fragile corners the natural world, the suffering of displaced peoples throughout the globe, and firefighters and miners working in Kuwait and Brazil.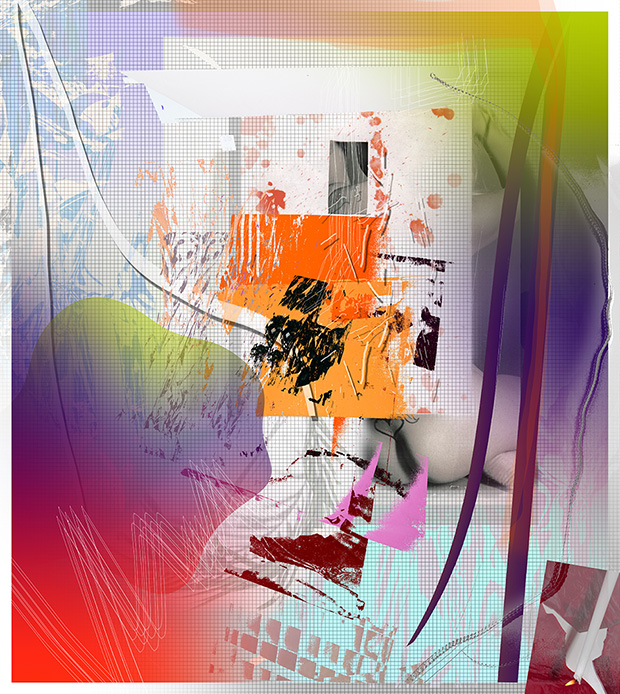 Hidden in Plain Sight © Patricia Voulgaris, Courtesy Baxter St at CCNY
EXHIBITION: Patricia Voulgaris: Hidden in Plain Sight, Baxter St at CCNY, 126 Baxter Street, April 2 -25, 2015
Photographer Patricia Voulgaris works with Photoshop to construct abstract images that allude to the human figure. Here, she blurs the lines between the real and the artificial, the believable and the digitally manipulated.
EXHIBITION: Ari Marcopoulos: L1032015, Marlborough Chelsea, 545 West 25th Street, April 4 – May 9, 2015
Through new photography and video work, artist Ari Marcopoulos explores themes of nature, the body, and art historical tropes. His painterly, inky landscape prints stand side-by-side with raw, gritty vision of New York City.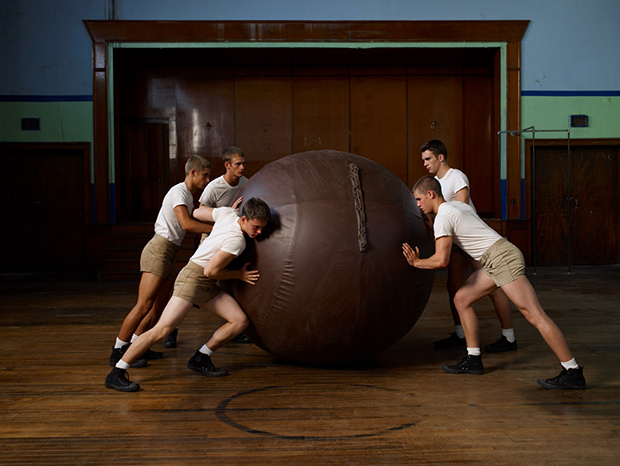 © Luke Smalley Partnership, "Push Ball," 2007, Courtesy of ClampArt, New York City
EXHIBITION: Luke Smalley | Retrospective, ClampArt, 531 West 25th Street, Ground Floor, April 2 – May 9, 2015
In this retrospective, ClampArt revisits the work of legendary photographer Luke Smalley, whose work centered around themes of nostalgia, adolescence, and masculinity. For much of the work on view, Smalley cast and directed high school athletes as they played staged, imaginary sports.
EXHIBITION: Halsband Portraits, The National Arts Club, Grand Gallery, 15 Gramercy Park South, March 30 – April 25
The National Arts club presents this exhibition of work by Michael Halsband, spanning more than thirty years of the photographer's prolific career in portraiture. Included are familiar and never-before seen images of cultural icons like Andy Warhol and Jean-Michel Basquiat, James Brown, Iggy Pop, The Rolling Stones and many more.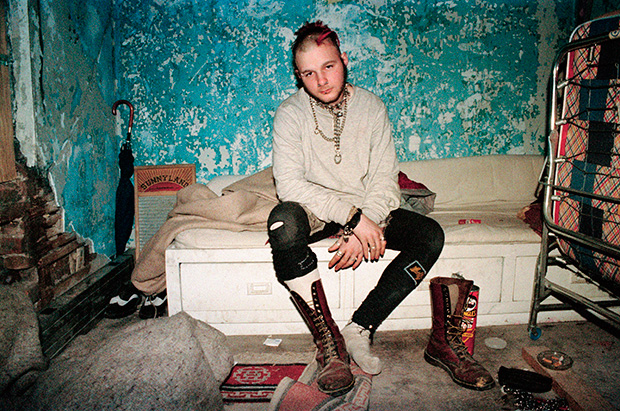 Jason © Ash Thayer, Courtesy powerHouse Books
BOOK LAUNCH: Lower East Side Squatters 1992-2000 by Ash Thayer, The Powerhouse Arena, 37 Main Street, Brooklyn, April 2, 2015, 6:00 – 9:00 PM
Photographer Ash Thayer launches her intimate and compelling book, a monograph of photographs taken while she was living with a group of squatters in Manhattan's Lower East Side that tell a story of friendship, survival and endurance.
EXHIBITION: Hip-hop Revolution: Photographs By Janette Beckman, Joe Conzo, And Martha Cooper, Museum of the City of New York, 1220 Fifth Avenue, April 1 – September 13, 2015
This major exhibition traces the evolution of Hip Hop in New York City from its grassroots origins to mainstream popularity through the eyes of iconic music photographers Janette Beckman, Joe Conzo, And Martha Cooper. On view are photographs of pioneering artists ranging from break-dancers to DJs to rappers.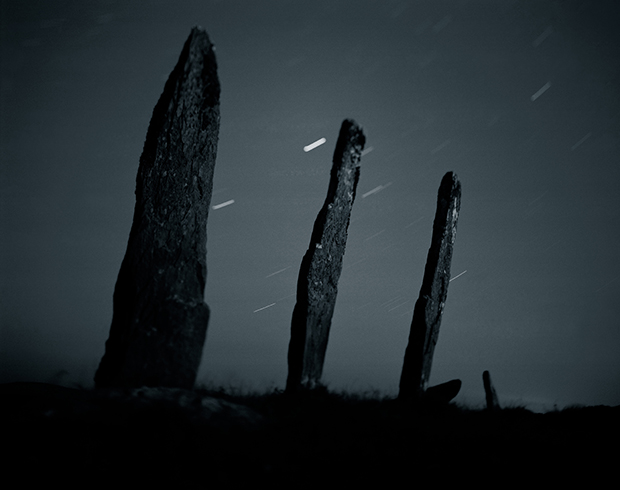 The Gurranes–Moonlight, Castletownshend, Ireland, 2005 © Barbara Yoshida, Courtesy of Umbrella Arts Gallery
EXHIBITION: Barbara Yoshida – Megaliths By Moonlight, Umbrella Arts, 317 East 9th Street, April 2 – April 25, 2015
Photographer Barbara Yoshida showcases a series of evocative prints depicting megalithic stone monuments around the world, all shot aglow in pools of moonlight under long exposures.
EXHIBITION: Margret: Chronicle of an Affair – May 1969 to December 1970, White Columns, 320 West 13th Street, March 6 – April 18, 2015
In collaboration with Galerie Susanne Zander / Delmes & Zander, Cologne, White Columns presents the contents of an abandoned suitcase discovered in an apartment thirty years after it was left by its original owner, a German businessman who was having an affair with his secretary. In the suitcase were found everything from photographs to diary entries, hair clippings to empty birth control packets, all kept by the owner in memory of the affair.
Discover More