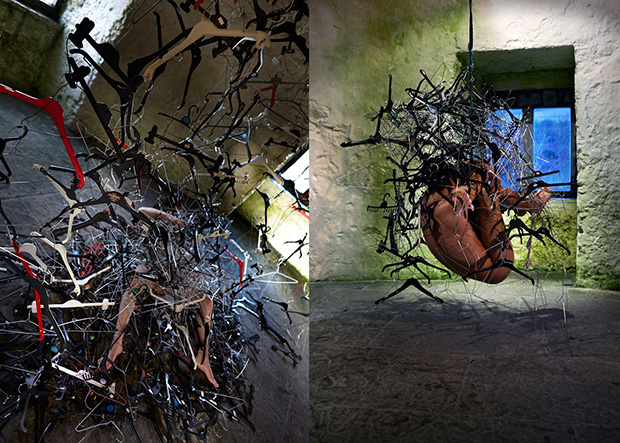 Áine Phillips and Manuel Vason, Double Exposures, Ballyvaughan, 2014
PERFORMANCE AND BOOK LAUNCH: Performance, Collaboration, Photography: Actions of Exchange, Tate Britain, Millbank, 17 February 2015, 18.30 – 20.00
In making Double Exposures, artist Manuel Vason invited a group of his contemporaries to construct performance-photography pieces, addressing the body in relation to artistic practice. Marking the launch of the book, Vason will join collaborators Hugo Glendinning, Alastair MacLennan, Aine Phillips, Marisa Carnesky, and The Famous Lauren Barri Holstein in a discussion of collaboration and performance. Book here.
EXHIBITION: Now we are five, Snap Galleries, 12 Piccadilly Arcade, 19 February – 19 March 2015
Ormond Yard Press presents five of its new titles, exhibiting work by Eric Meola, Keith Morris, Peter Webb, Donald Silverstein, and Gered Mankowitz. Pages from their respective books will be on view both in book format and on the gallery walls, as double-page spreads.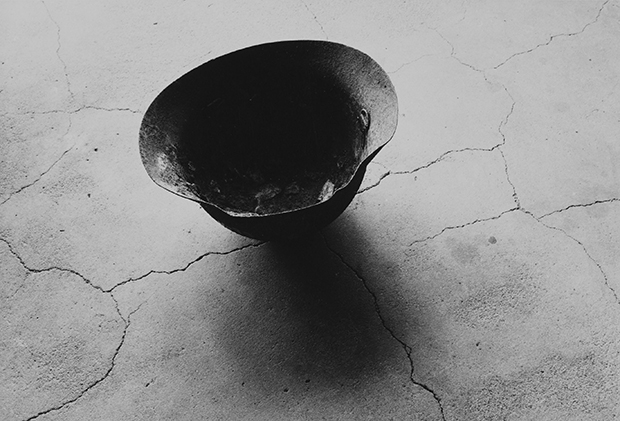 Shomei Tomatsu Steel Helmet with Skull Bone Fused by Atomic Bomb, Nagasaki 1963
© Shomei Tomatsu – interface. Courtesy of Taka Ishii Gallery, Tokyo
TALK: Photographing History: Conflict, Time, Photography artists in conversation with Simon Baker, Tate Modern, Bankside, 16 February 2015, 18:30-20:30
In conjunction with the exhibition Conflict, Time, Photography, which explores 150 years of war through images of conflict and its consequences, photographers Chloe Dewe Mathews, Hrair Sarkissian, and Diana Matar share thoughts on their work and the larger currents of war photography with curators Simon Baker and Shoair Mavlian.
EXHIBITION: For Richer For Poorer: Weddings Unveiled, Jewish Museum London, Raymond Burton House, 129-131 Albert Street, 13 February – 31 May 2015
This collection of wedding paraphernalia incorporates photographs, menus, invites, and dresses to paint a comprehensive portrait of the Jewish wedding from the late 19th century up through the first half of the 20th. Included in these vintage portraits are wedding shots by photographer Boris Bennett.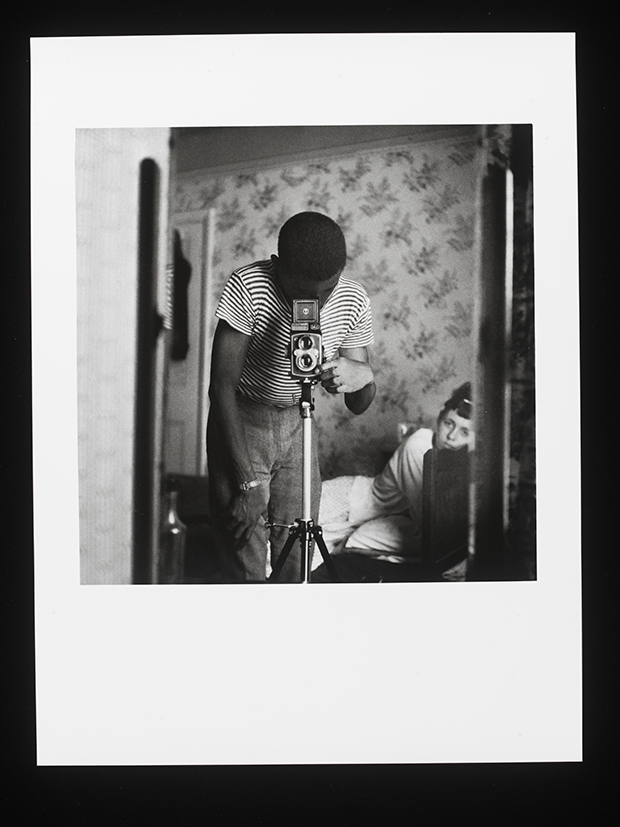 Armet Francis, 'Self-Portrait in Mirror', London, 1964
© Armet Francis / Victoria and Albert, London
DISPLAY: Staying Power: Photographs of Black British Experience 1950s-1990s, Victoria and Albert Museum, Cromwell Road, 16 February – 24 May 2015
Beginning in the 1950s and extending until the 1990s, this display of photographs is geared towards enhancing the narrative of British history to include black British subjects and photographers, both of whom have been widely excluded from major collections and holdings for generations. In turning an eye toward the experience of those of African and African-Caribbean heritage living in Britain, this display highlights the profound cultural and artistic influence of the country's diverse inhabitants.
EXHIBITION: Barbara Kruger: Early Works, Skarstedt Gallery, 23 Old Bond Street, 10 February – 11 April, 2015
This exhibition places the work of the legendary Barbara Kruger, including her iconic black and white photographs superimposed with bond statements in red, within a contemporary context. All photographs will be framed in red to highlight the abiding potency of Kruger's seminal works.
AUCTION: From the Earth to the Moon: Vintage NASA Photographs, Dreweatts & Bloomsbury Auctions, February 19 – 26 2015
Selections from this extraordinary collection of more than six hundred vintage photographs of space, including the first photograph of the earth shot from space and those shot by astronaut Ed White, will be on view at Mallett Antiques until February 19. Following that, the collection will be on view in its entirety at Bloomsbury Auctions preceding their auction on 26 February.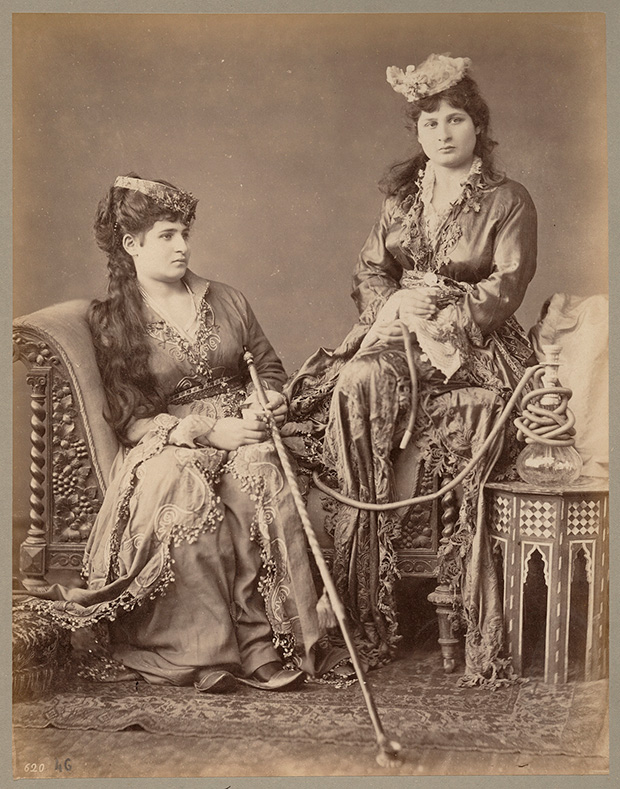 Pascal Sebah (1823-1886)
Turkish Women at Home, Constantinople, 1860
EXHIBITION: Hair: Object of Desire and Culture, Daniel Blau, 51 Hoxton Square, 20 February – 20 March 2015
Adnan Sezer presents this vintage photographic survey examining the cultural and historical implications of hair. Spanning the 19th and 20th centuries, this collection of imagery touches on subjects as diverse as religion, status, and gender.
DISPLAY: A History of Photography: Series and Sequences, Victoria and Albert Museum, Cromwell Road, 6 February – 1 November 2015
Pulled from the Victoria and Albert Museum's impressive holdings, this display examines the dynamic of the sequential image, reevaluating single frames within the context of larger series. Included in this collection are such artists as Eadweard Muybridge, Josef Sudek, Sally Mann, Sze Tsung Leong, Lewis Baltz, and Sian Bonnell.
EXHIBITION: History Is Now, 7 Artists Take on Britain, Hayward Gallery, Southbank Centre, Belvedere Road, 10 February – 26 April 2015
In anticipation of the upcoming general election, seven artists spanning several media take a stab at post-war British history. Artists Jane and Louise Wilson, Simon Fujiwara, Richard Wentworth, Hannah Starkey, John Akomfrah, and Roger Hiorns curate this collection of photography, collage, installation, painting, and sculpture, touching on subjects as diverse as poverty, civil disobedience, Margaret Thatcher, and David Beckham.
Discover More