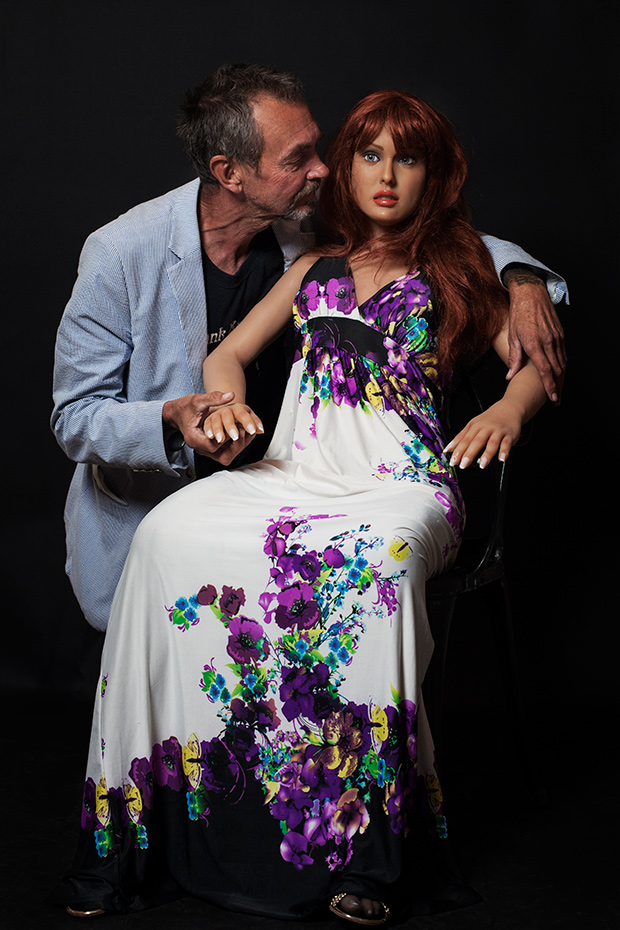 Phil stopped smoking for a year to be able to afford his doll, Pris. He is aware that she's a doll, but simply doesn't care what anyone thinks about his choice of lifestyle. Phil's friends all know of her existence.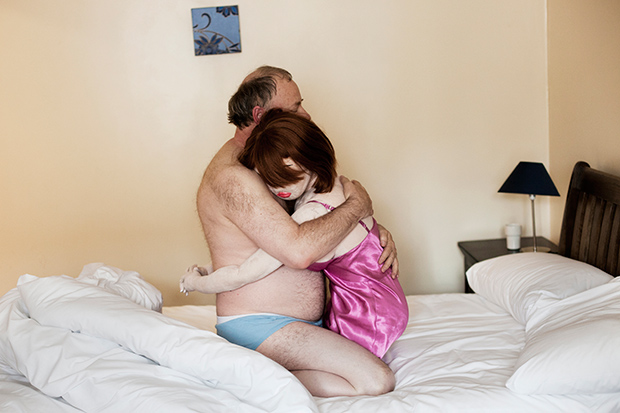 Early morning at the hotel in Wales. 'Shadowman' wakes up with his doll Carly. Besides Carly he has four other dolls. His dolls are not part of daily life with his family, but everybody knows of their presence.
For Men & Dolls, Copenhagen-based photographer Benita Marcussen captures the inner world of men who sustain long-term relationship with real dolls, or life-sized female figures made from silicone or plushy material.
Marcussen first approached her subjects through an online forum connecting real doll enthusiasts from around the world. Because most of the men she encountered kept their dolls a secret from their communities, this online network represented one of the few places in which they could openly share images and intimate details about their dolls. After six months of contact with the men, the photographer convinced them of her intention to document them without judgement, and she was invited to join them for a convention in Wales. Over the next year, she built upon that foundation of trust, and many introduced her to their dolls.
The dolls, Marcussen explains, are assigned distinctive personalities based on the fantasy of each man, and there is no single type of man to whom these dolls appeal. Over the course of her research, she met married men, divorced men, men with children, and men who had never been in a relationship with a real woman. Each cared tenderly for his dolls and placed great significance on her appearance, brushing her hair, buying her gifts, and speaking to her throughout the day. Most of the men shared sexual activities with their dolls. Despite their profound attachment to their inanimate mates, the men are not delusional; they recognize that the dolls are not real, and they do not expect them to talk back.
For most of these men, the real dolls operate as a sort of adult security blanket, giving them unending comfort and an abiding presence. While the dolls appease much of their loneliness, the artificial women cannot, of course, perform all of the rituals involved in a typical relationship. They cannot share meals, and in many cases, the dolls cannot join the men in bed, as their silicone flesh is stiff and cold to the touch. Still, like all of us, these men want someone to return to after a long day, someone who will remain by their side, unconditionally, non-judgmentally, and for years to come.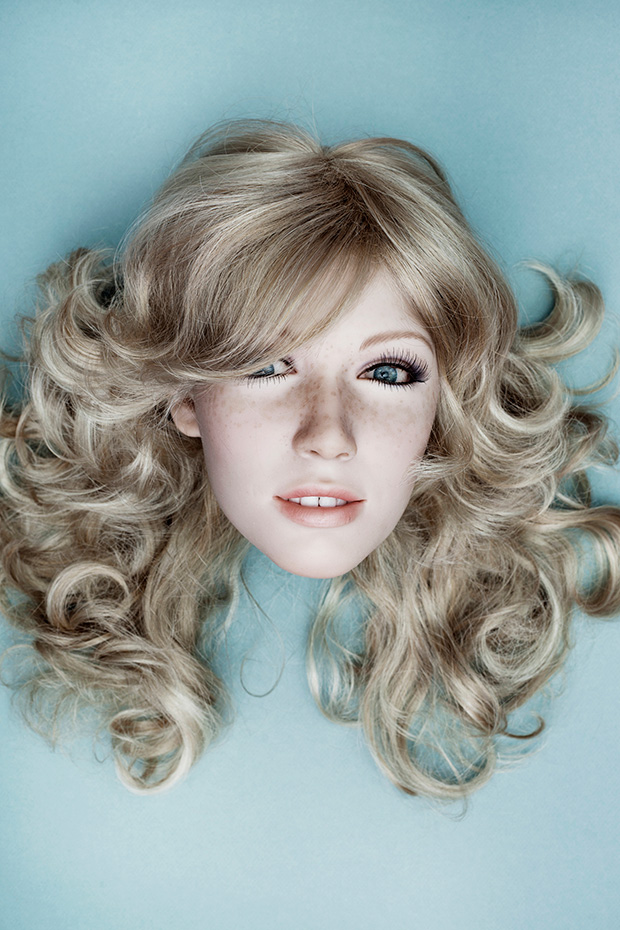 Annabelle lives with her owner Everard in the UK. She is named after a character from the fantasy thriller "Sucker Punch."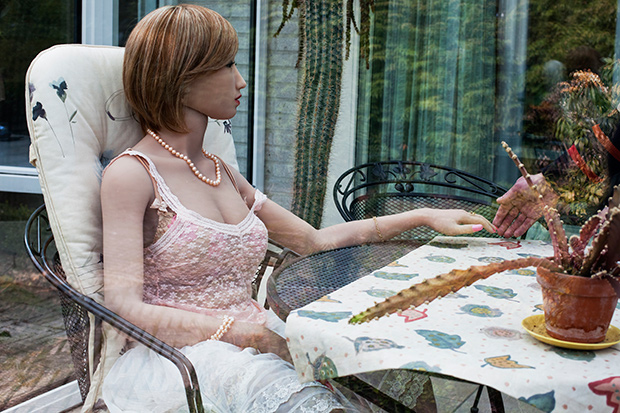 'Nescio50' and doll Lily. 'Nescio50' choose to stay anonymous as society still has a hard time accepting his choice of living with dolls. His mum has expressed how she would prefer him to live with a real woman. But for 'Nescio50' who never had a girlfriend the dolls create a kind of presence and make him happy.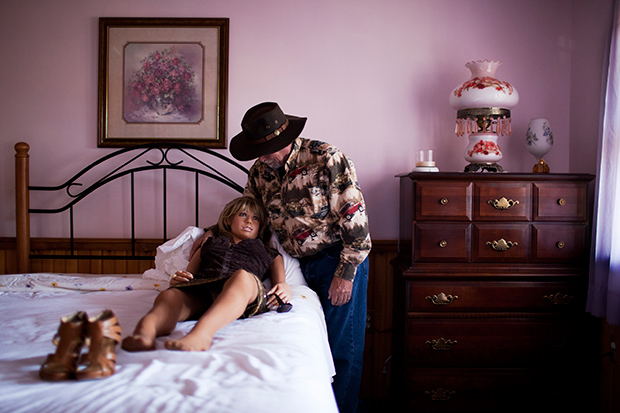 After losing his wife to cancer, 'Deerman' tried meeting new women, but found that women he liked were not interested in him. After some years he ended up buying a doll similar to his wife. Her name is Erica. Deerman's youngest daughter knows of his interest in dolls.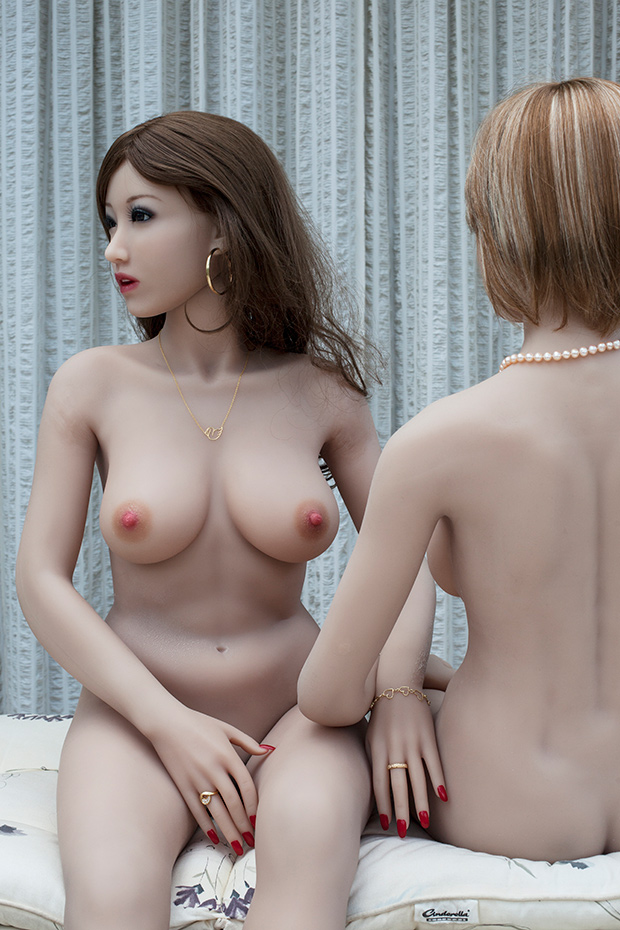 Sasha and Lily (with her back turned)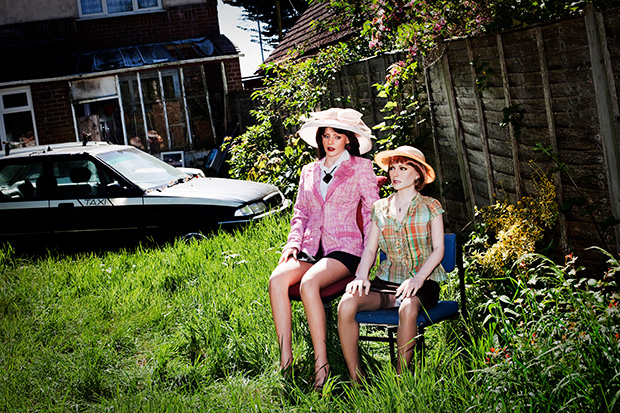 Everard has 12 dolls and often takes them into the garden for a photo shoot (which causes his neighbors to go inside). Everard has only had one relationship with a living women and has difficulties understanding women. He is lonesome but his dolls gives him a kind of comfort by their presence. The men are in general vain towards the dolls. They spend a lot of time to make the hair and make-up just right before they photograph them. Rebekka and June are wearing summer hats so they don't have the sharp sun on their faces.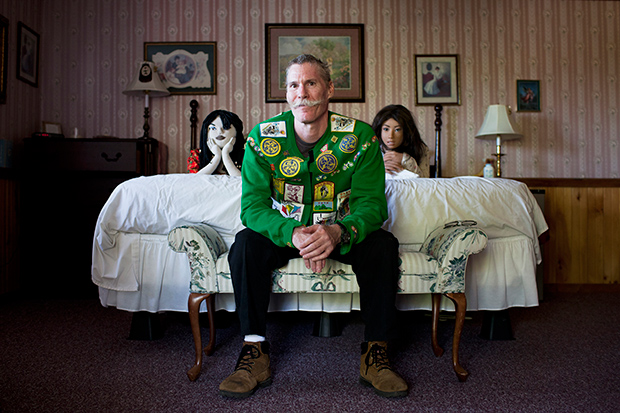 In 1986, after having their first child, Chris' wife filed for divorce. He was refused contact with his daughter for years. The bad experience of the divorce has affected his relations with women, and until today he still has not had a new girlfriend. On the bed lies Lala Salama (meaning sweet dreams in swahili). Chris only uses Lala Salama for cuddling up to at night. Sharon (to the right) is named after the character played by the Canadian actress Grace Park on the Syfy Channel's rendition of Battlestar Galactica.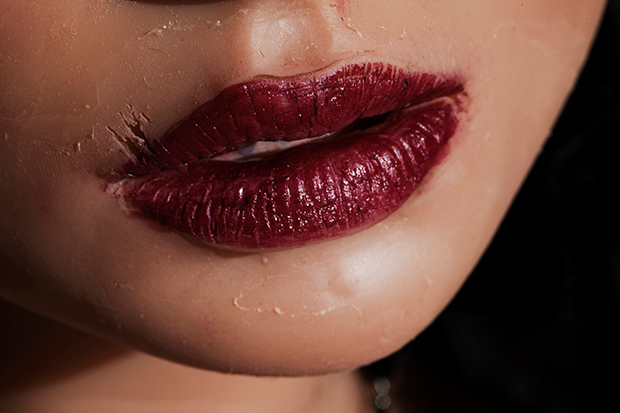 The silicone dolls are very fragile and often they get small injuries. Worst case scenario is that they are sent back to the doll factory to be healed again. This doll is Courtney.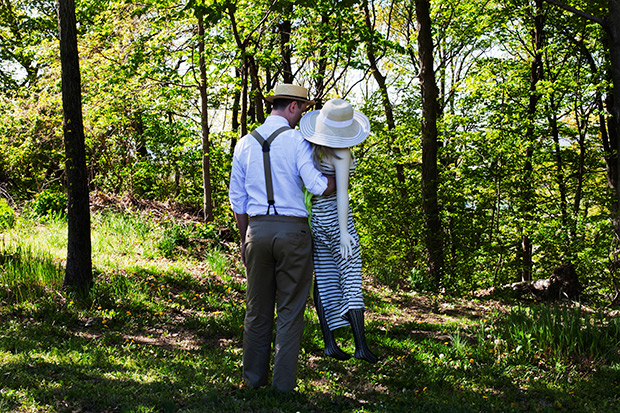 'Baron von doll' with doll Tania. 'Baron von doll' has chosen to stay anonymous. The doll community often experiences negative reactions from society which also is why many of them keep the dolls secretly in their homes.
All images © Benita Marcussen
via CNN
Discover More