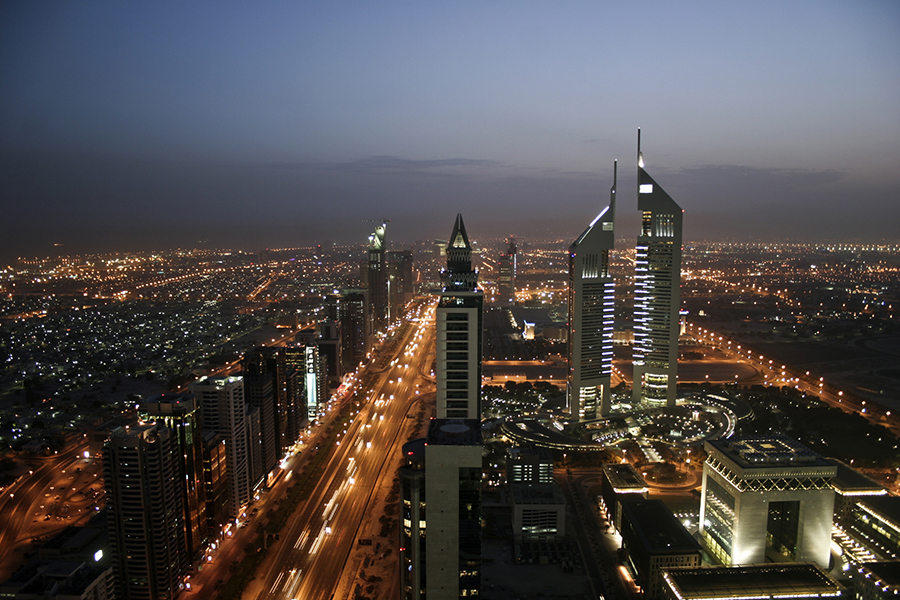 The view of one of the main high roads in Dubai "sheikh zayed" road, which was built by construction workers in recent years. This highway is surrounded by beautiful buildings and skyscrapers. The luxurious architecture of Emirates towers can be seen on the right.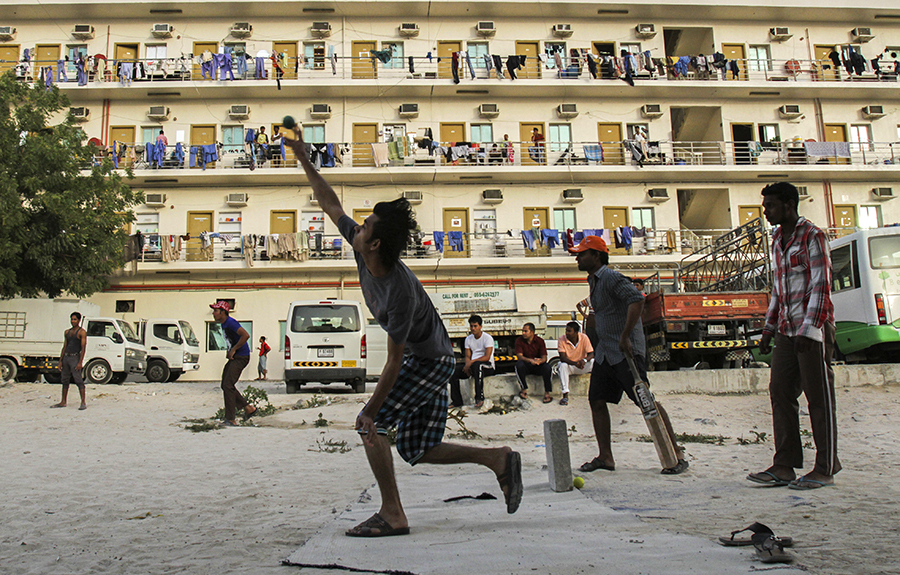 Laborers usually play cricket on Fridays. They play for more than six hours on their day off as inexpensive entertainment.
About a few hours away from the towering glass buildings of Dubai's city center, the dusty roads lead to the city's most inhabited area of Muhaisnah, unofficially referred to as Sonapur (meaning Land of Gold). Farhad Berahman, an Iranian photographer was the only photographer in Sonapur seven years ago, where he found himself documenting the police as they surrounded one of the labor camps filled with a troop of workers from South Asia. This for him was the beginning of his work in Muhaisnah.
Over the next five years, Berahman returned several times to the secluded colony of camps, where to gain access he had to spend hours sleeping in his car or lying in wait for the night, when slipping in and out of the camps would have been easier. The late night wandering allowed him to meet the men of Sonapur—first as a threat and later as a friend. Berahman needed to gain their trust, and once he did, the communities of men who may have come from India, Nepal, China or Bangladesh began to accept him. Kim Sun, 32, was one such man from China who barely knew any English and spoke little. It had been four months since he was last paid, and, feeling deeply homesick, he brought Berahman a wooden board on which he had written out his problem. Sun was one of the countless others in a similar situation—a situation described as "less than human" by the Human Rights Watch.
Berahman's series Sonapur is an intimate documentation of the long and hard everyday life for these men, where they share rooms by the dozen, cook for each other, eat together and survive together. And for just a moment, they may forget where they are or how far away from home they may be, sharing a lighter moment during a game of carom or over a frying pan in the sultry warm night of Dubai.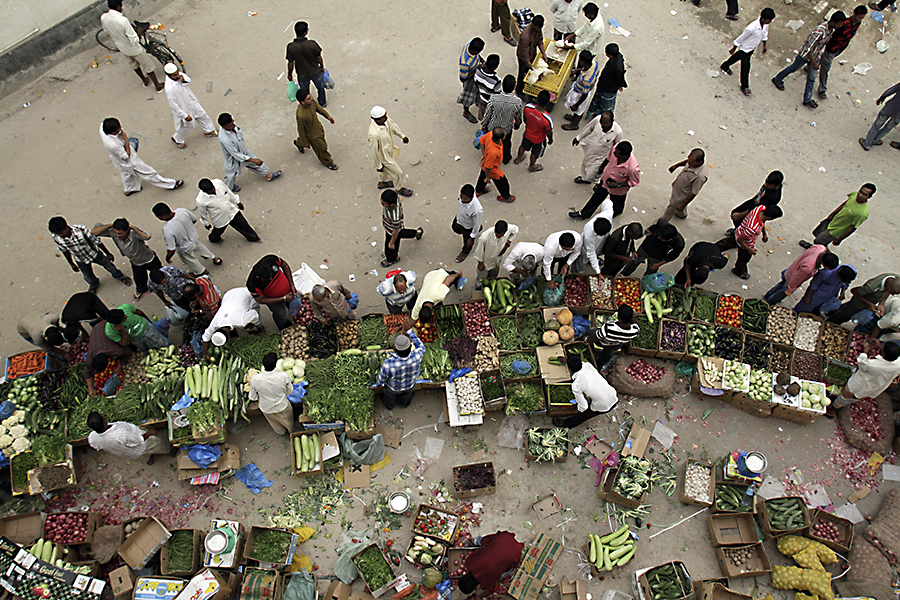 The secret vegetable market in Sonapur is a cheap place for laborers to provide themselves with vegetable and fruits.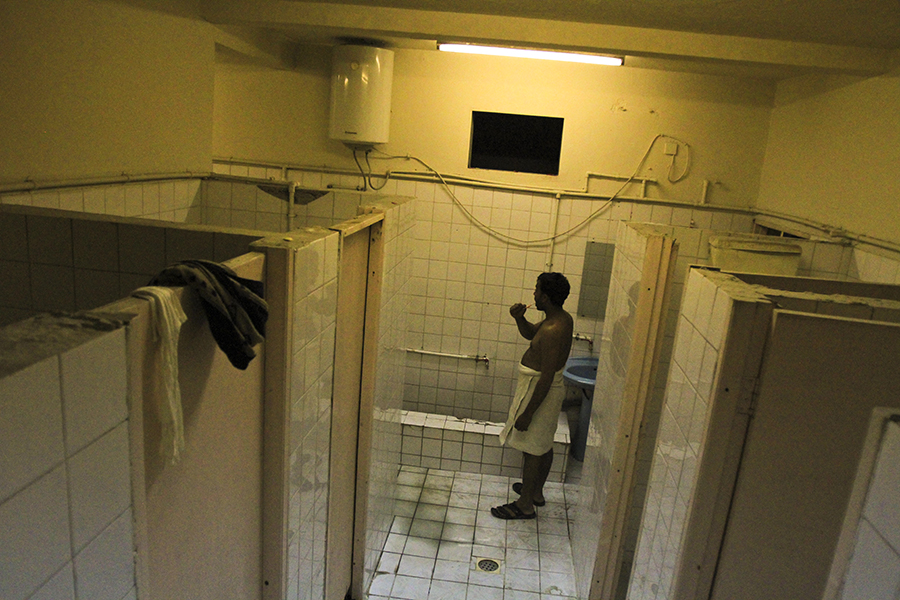 The shower and toilet area are in terrible condition. These rooms are designed without showers and laborers use buckets of water to wash themselves.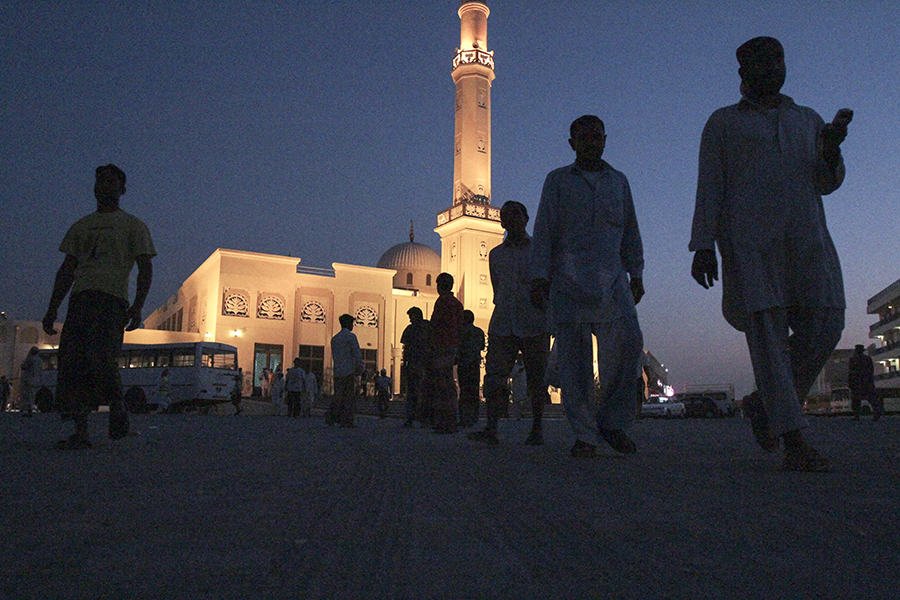 Laborers head back to their rooms after evening prayer.
The sleeping area.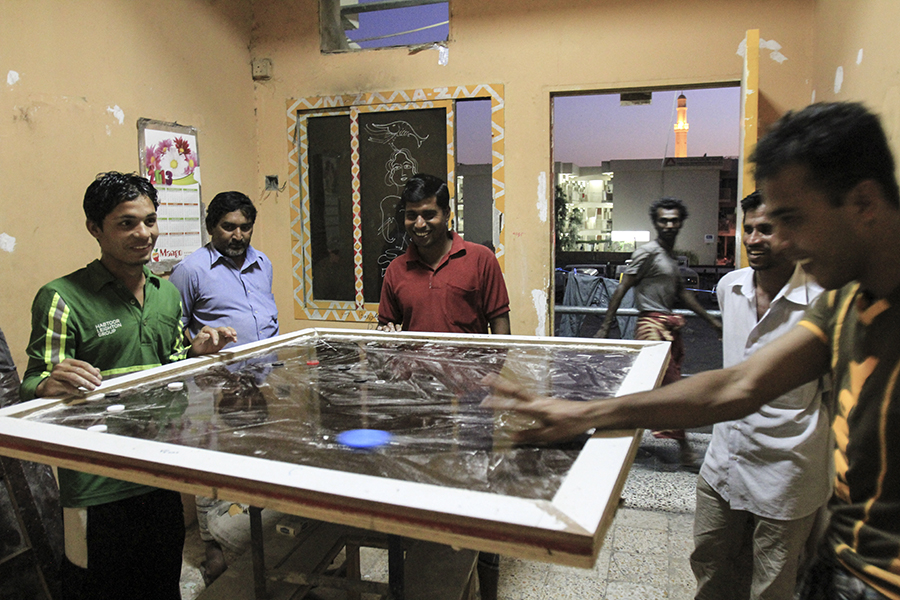 Laborers enjoying the game "Carrom board," similar to billiards, which they built by themselves.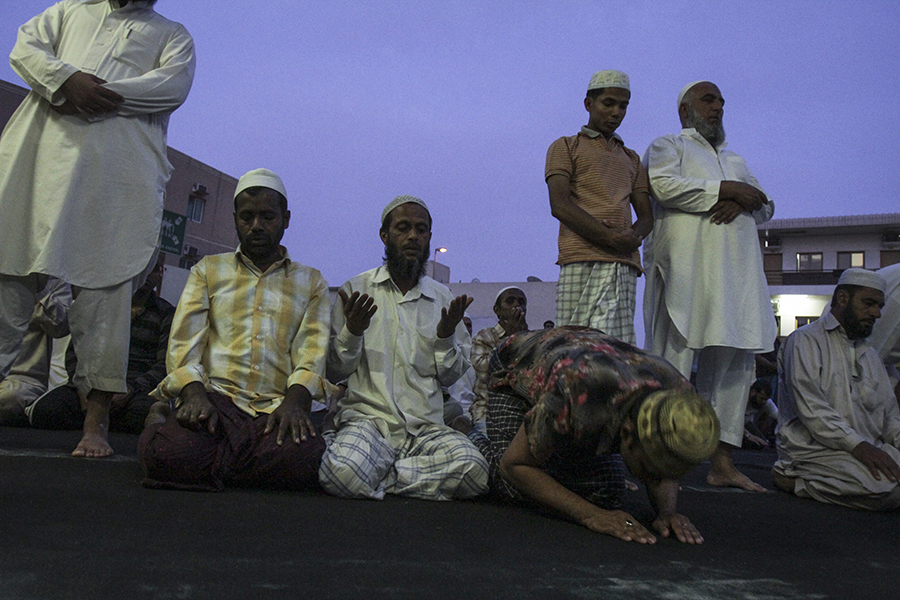 Muslim laborers during their evening prayer.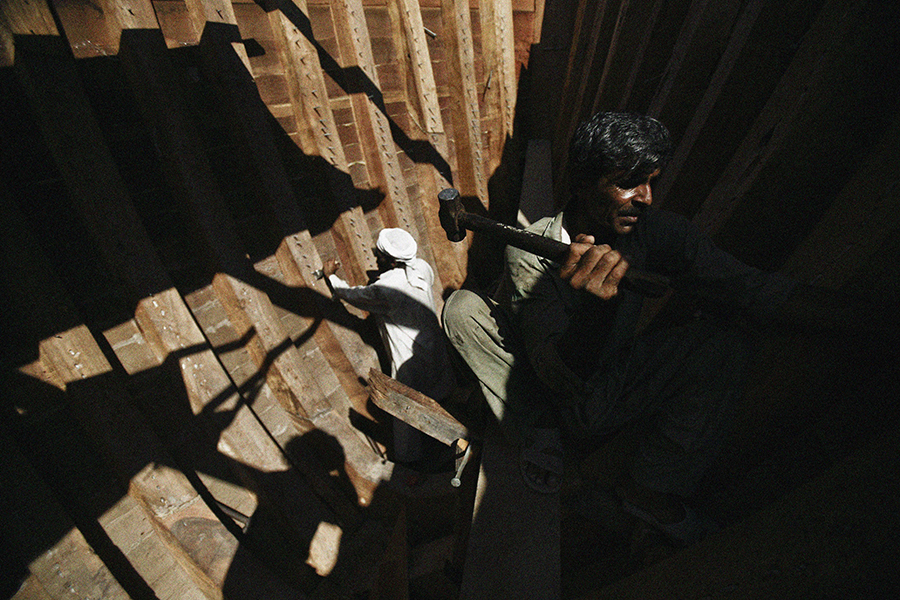 Many of the laborers are occupied with different jobs in Dubai, primarily in tourism and construction. Here, laborers work on luxurious boats in Jaddaf, these boats are used mostly for tourism and the may cost more than $3,755,000.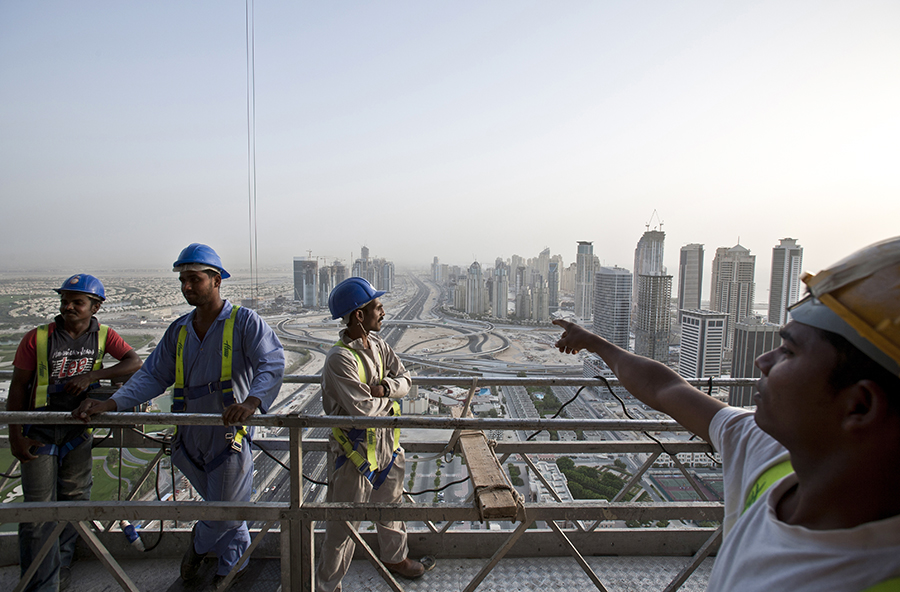 Laborers working on the 67th floor, before their shifts end and new laborers come on for the night shift.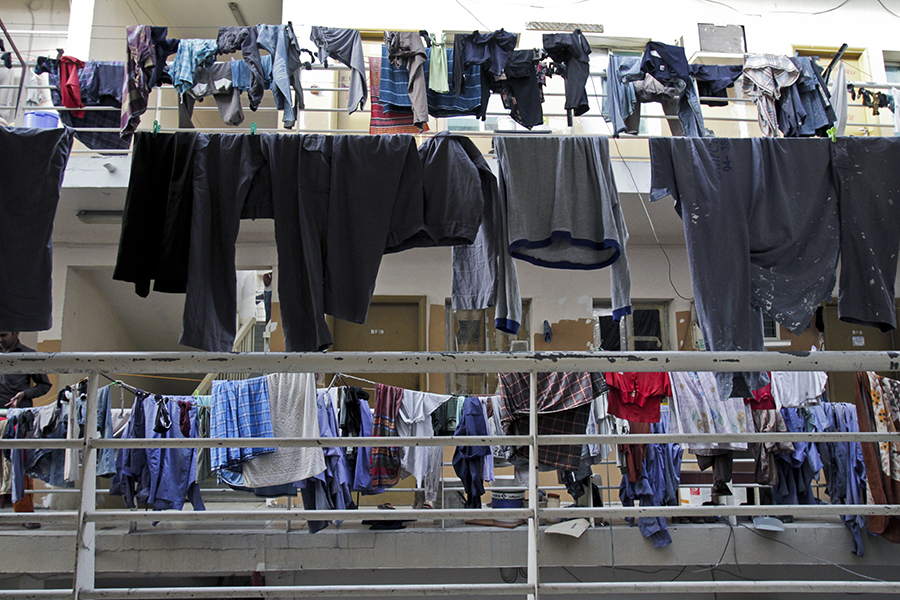 Rows of laborers' washed cloths. Clothes are washed only once in a week.
All images © Farhad Berahman
Discover More