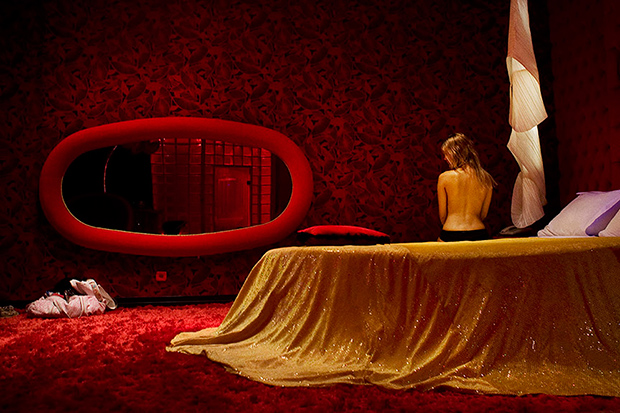 For The Attendants, photographer Myrto Papadopoulos captures moments in the lives of sex workers living in Greece, bringing to light the painful nuances of the sex industry. After meeting with charitable organizations, government officials, and medical professionals, Papadopoulos discovered that the distinctions between prostitution and sex trafficking were sometimes blurred, making it almost impossible to judge whether a woman was working voluntarily or by force.
Where the country's legal brothels require regular health screenings, the illegal sex trade has contributed to a skyrocketing of STDs throughout the past few years. Of the country's 15,000 sex workers, the vast majority are unlicensed and therefore unprotected. Illegal immigrants are often taken in by smugglers after having traveled to Greece in hopes entering the European Union.
In addition to her photographic project, Papadopoulos is currently working with the Salvation Army to aid victims of sex trafficking. In the coming year, she hopes to teach photography at one of Athens's safe houses. This image and many others are included in Flash Forward Tenth, an anniversary book set by The Magenta Foundation.
Image © Myrto Papadopoulos