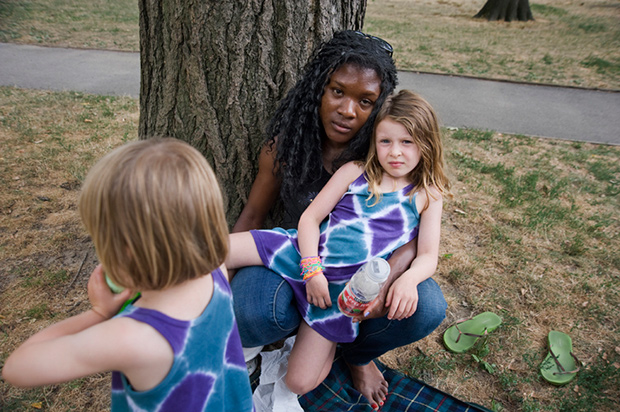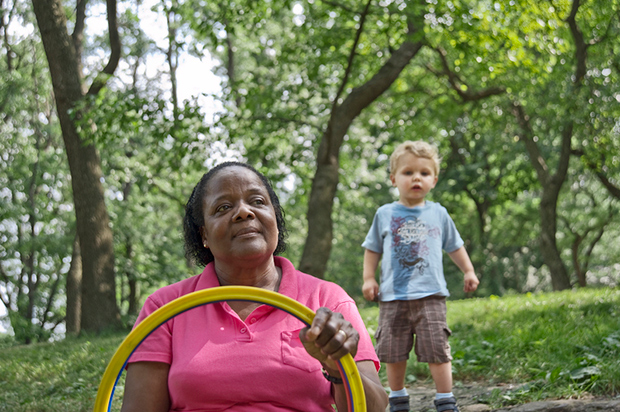 In Substitutes, photographer Ellen Jacob captures caucasian children and the women of color who care for them. In her Upper West Side Manhattan neighborhood, she explores the racial implications of the role of nanny, drawing a complex portrait of the economic and social currents that often go unnoticed in everyday life. Though her subjects explained to her that race did not figure much into the relationships between nanny and employer, Jacob provides a visual narrative that questions these assertions.
As a child, the white artist was nannied by a black woman named Martha, a relationship which left a lasting impression upon Jacob. Here, we see these caregivers as maternal figures, treating their children to a day of outdoor play or a McDonald's Happy Meal. As nannies, the women earn low wages in exchange for a loving bond and parental guidance. They play an important role in shaping the children who are not biologically their own; when the child is grown, the job ends.
Jacob's powerful series asks us to question the racial divide that often exists in these relationships, but also gives tribute to the bond between child and caregiver.