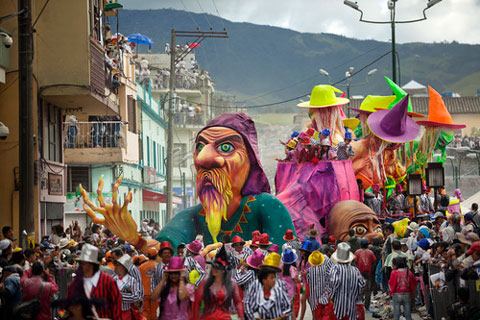 These artists work tirelessly for more than half the year to conceptualize, brainstorm, plan, and finally realize these gargantuan dreams that float above the sea of faces that marvels them.—Fernando Decillis
Photographer Fernando Decillis traveled to Pasto, Colombia for the elaborate Carnaval de Negros y Blancos, a five day festival celebrating the Epiphany that has been a tradition since 1912. The festival begins on January 3rd as children take to the streets in celebration for El Carnavalito (The Little Parade). The following days each have a theme rich with tradition and history, leading up to El Desfile Magno (The Great Parade), the final parade on the last day of the festival.
El Desfile Magno is a mind-blowing display of immaculately crafted floats made by incredibly talented artists. The artists are usually honored with this task through family ties and only after years of studying the traditional craft. There are 20 competing floats, with the grand prize being 30,000,000 Colombian Pesos (a little less than $17,000 USD). Decillis gives us a front row spot to the festivities, the artists and the giant masterpieces of Pasto's celebrated tradition.
Decillis was born in Montevideo, Uruguay. He is based in Atlanta mixing it up with a variety of advertising, editorial and conceptual work.