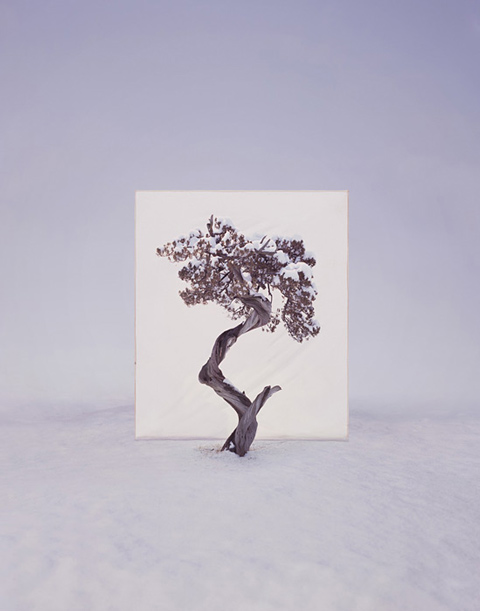 Myoung Ho Lee photographs solitary trees framed against white canvas backdrops in the middle of natural landscapes. To install the large canvases, which span approximately 60 by 45 feet, the artist enlists a production crew and heavy cranes. Minor components of the canvas support system, such as ropes or bars, are later removed from the photograph through minimal digital retouching, creating the illusion that the backdrop is floating behind the tree.—Yossi Milo Gallery
Tree is South Korean photographer Myoung Ho Lee's beautiful series of a variety of trees captured with a 4×5 camera in different seasons and locations. Lee's placement of the backdrop extracts the tree from its vast surrounding landscape, highlighting its beauty and uniqueness. He plays with perspective and scale, the tree becoming as separate as it is part of the whole. A meditative calm seems to float through the air in Lee's refashioned landscapes.
Lee is represented by Yossi Milo Gallery in New York.