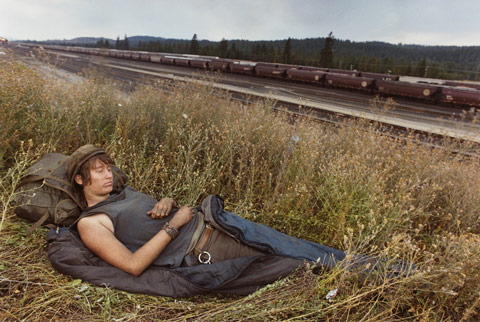 But I needed to find out for myself. Two weeks later I was gone, witnessing my new world wizz by, especially at dusk, then darkness as I watched the sum of all the city lights cast my silhouette across the pine trees of the Florida panhandle. This was it, I was riding my very first freight train. And soon, what would begin as mere natural curiosity and self-discovery would evolve into a casting call of sorts, taking photographs of my newfound friends.—Mike Brodie
I first came across Mike Brodie's photographs many years ago hanging somewhat precariously on the wall of Sluggo's, a vegan/punk rock bar in my hometown of Pensacola, Florida. The images stuck in my mind and many times over the next couple of years I would search for them, to no avail.
The next time I heard anything about Mike Brodie, aka The Polaroid Kidd, was when I learned his photographs of his freight train-hopping peers were hanging in the Louvre as part of the Paris International Photo Fair in 2006.
Seven years later, Brodie is once again having a moment. He has a new book out, A Period of Juvenile Prosperity, with two upcoming exhibitions – at Yossi Milo Gallery and M+B Gallery – to coincide with the release.
A Period of Juvenile Prosperity (published by Twin Palms Publishers) is full of tragic beauty. The photographs are as tender as they are raw as Brodie often photographs his friends while they are sleeping, making them appear vulnerable and a little lost. I find myself looking closely at the details (tattoos, posters on walls, book titles) in order to get a better insight into this mysterious life he has presented. Only by being one of them could he have captured such intimate moments.
There is also something utterly heartbreaking about this work that lingers with me long after I put the book down. It especially resonates in an image of a young, dirty woman lying on the beach breastfeeding a skinny, naked child; a moving image that conveys deep sadness.
In A Period of Juvenile Prosperity, Brodie has managed to romanticize a life that many of us have never before found ourselves envious of — a filthy, dirty, secret, unpredictable, off-limits world that only a few experience.