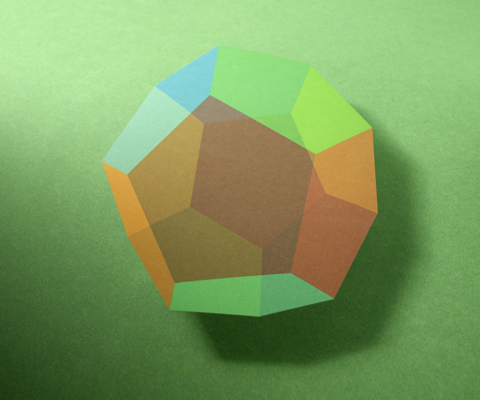 The five forms in this series of images represent the only known regular, convex polyhedra (the tetrahedron, hexahedron, octahedron, dodecahedron and icosahedron). Early philosophers believed these shapes were the building blocks of life- the most essential parts of each classical element (earth, wind, water, fire and ether). This work represents an obsessive and calculated solution to the problem of recreating these forms through photography, and, more generally, the construction of all forms, impossible to some extent in "real" 3-dimensional space, through photographic methods.

Each image was constructed using only two anamorphic sheets of (flat) inkjet paper, a roll of green seamless paper, a set of lights and a camera. The apparent three-dimensionality of each form is an illusion achieved through anamorphism and multiple strobes flashes (exposures) all executed "in-camera". The colors of the forms are the result of middle mixtures achieved through multiple exposures. The colors were determined by a strict formula- the color spectrum was quantified, using the hexadecimal format, and then divided by the number of faces of a given Platonic Solid, each face was then assigned a fraction of the color spectrum. For example, an octahedron has eight sides so the spectrum was divided into eight equal fractions and each face of the octahedron was assigned one of these colors.—Zachary Norman
Zachary Norman is an MFA Candidate (2014) in Photography at Indiana University in Bloomington, IN.