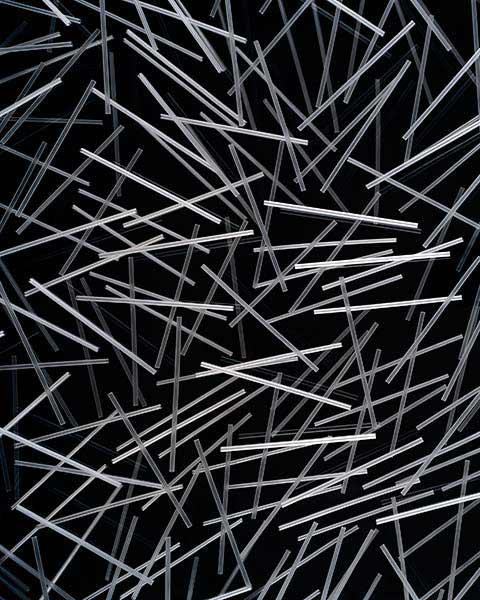 Boston-born photographer Nick Albertson recently talked to us about his abstract series of everyday objects Form Over Function. He is an MFA candidate in Photography at Columbia College Chicago and is expecting his first solo show at Aspect Ratio Projects in Chicago in early 2014.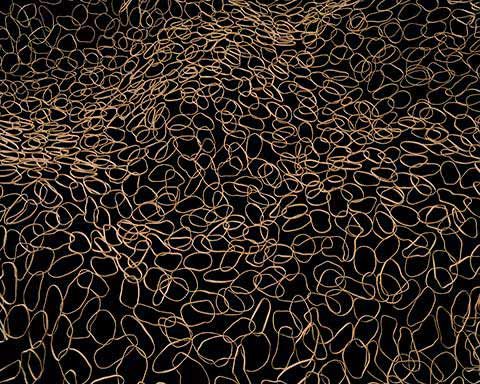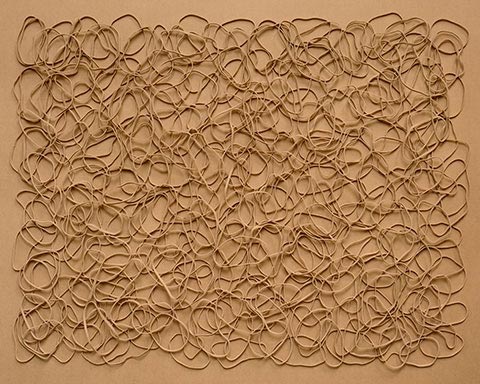 Your images are very minimal and sometimes abstract and there seems to be a relationship or reference in your work to painting and drawing. Can you talk a little about that?
"I would first specify that while my photographs have a formal relation to some abstract painting, I consider photography in general to be very linked to an indexical relationship with the world and only abstract in the sense that all two-dimensional images are abstract representations of a three-dimensional world.
"My photographs often have the aesthetic and formal qualities of abstract painting, but they are representations of objects the same as any other photograph. I find the work of artists from movements such as abstract expressionism and minimalism to be extremely beautiful. However, I find the accompanying notion of the artist-as-visionary and the general self-seriousness of these artists to be off-putting and outdated.
"In my photographs I use everyday household materials as a way of poking fun at the seriousness of it all. The artist's hand is supposed to translate their artistic genius, so what happens when the gesture has been created by a mass-produced object? Can we reconcile the mundaneness of the objects with high art aspirations inherent to the modernists?"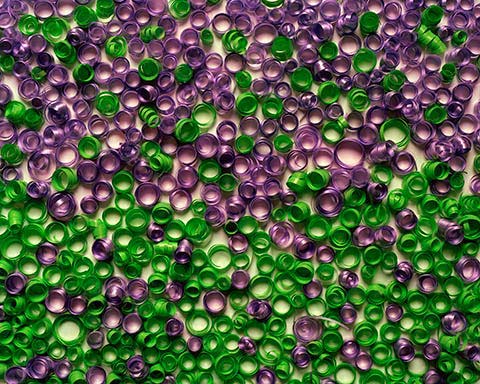 In some of your images it is really obvious what materials you are using, like envelopes, rubber bands, etc., and other times not at all. How important is it for the viewer to understand what they are looking at?
"It is not my goal to fool anyone, or to have a viewer wonder what he or she is looking at, only to figure it out and move on. I want to create an experience for the viewer. Sometimes the photograph can succeed experientially and still provide the viewer with identifiable objects. Other times I find that in order to create the emotion I am after I have to obscure the material. I see both strategies working together.
"My main concern is with the form of the material, depriving it of its functionality. The objects I photograph are designed to be utilitarian, and generally most people do not spend much time examining them. I provide images that decontextualize the objects, but offer the opportunity to contemplate them as pure form."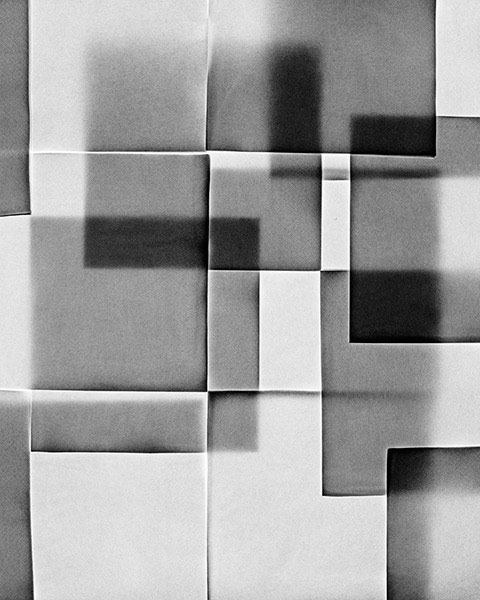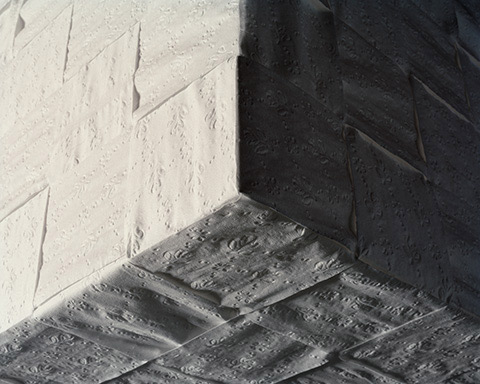 How do you go about choosing your materials to photograph? Are there any materials that you are specifically avoiding?
"My criteria for choosing materials are loose, or at least hard for me to put into words. I look for materials that are generally found in most homes or offices. I seek out generic objects, visually and in terms of branding. Everything I use has to be sold in large quantities and be minimal in its design. Mass production and interchangeability, or a lack of individuality, are key points. I tend to shy away from objects that are not malleable or have logos for aesthetic reasons."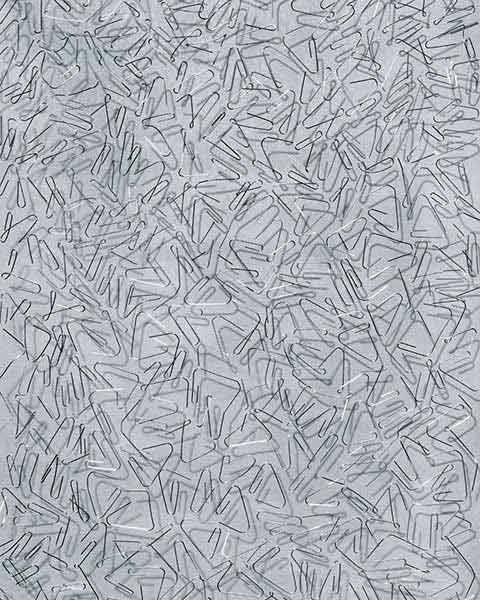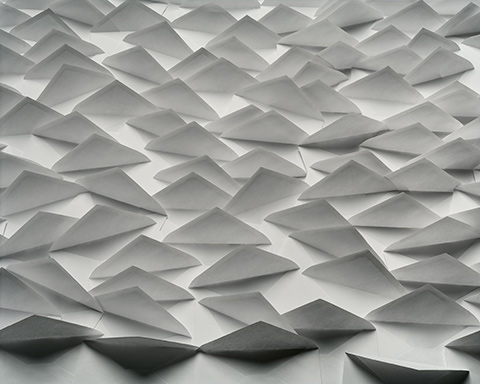 Light and shadow seem to play a crucial role in your work. You seem to use it in a way that creates a sense of depth to the image. Can you talk about the role light plays in the work? Are you trying to create a sense of depth and layering to the image?
"One thing inherent to photography is that light is rendered as a material. It is frozen in time and given form, just as, say, a rubber band or any physical object is. The camera lens records reflected (and sometimes direct) light.
"I use light much in the same way I use the household materials to craft my images. It becomes tangible, something to manipulate in the service of the composition. Oftentimes, as you have mentioned, I use it to create depth. But other times I flatten the image largely through the lighting. Painting, similarly, can allude to depth or it can feel very flat."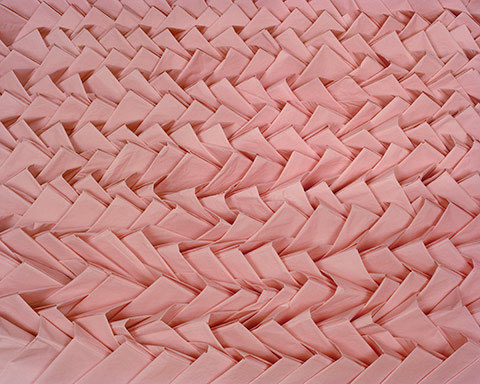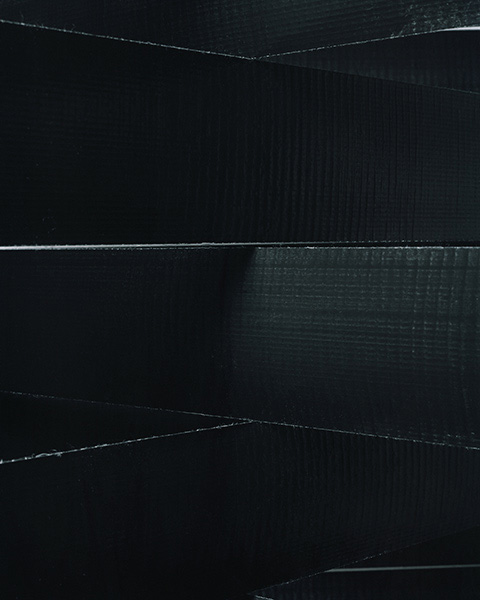 Who or what inspired you to start making these images?
"That's a hard question to answer. It definitely came about organically. I had started using similar materials and a somewhat similar aesthetic for a different, earlier project, and it just morphed into what I am doing now.
"Intuition and play guides my process. I pick up a rubber band and play with it unconsciously. A few days later, when I find myself playing with it again, I make a subconscious note of it. The third time I recognize the rubber band as a unique and interesting material and decide to make a photograph of it."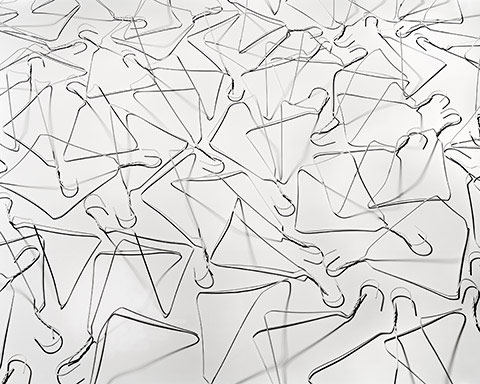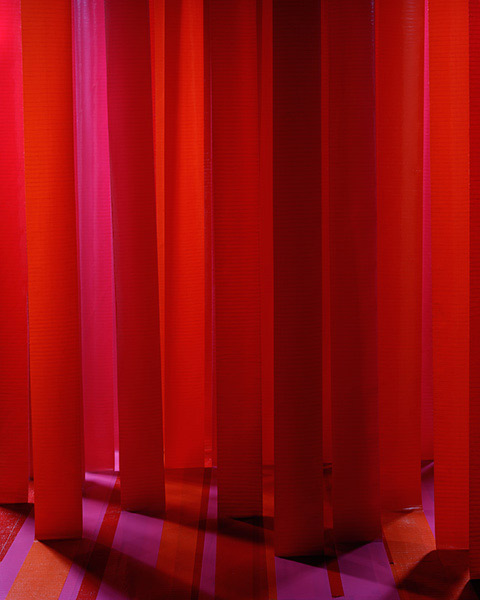 This post was contributed by photographer Clarissa Bonet.