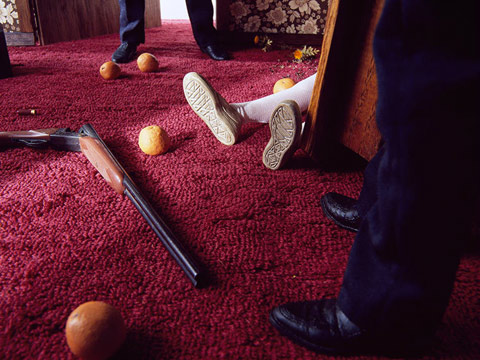 My images become an amalgamation of both truth and fiction. They are an entwining of places that I have been, with movie sets that I have worked on, during my career as an assistant cameraman.

By using the genre of crime drama, I emphasize a certain degree of theatricality within my images. It is this very theatricality that lends the photograph a certain sense of falseness. With movies there is a willing suspension of disbelief. With the photograph there has always been an expectation of honesty. But here is a photograph that blurs the lines between each.—Bill Finger
Seattle-based photographer Bill Finger stirs up drama and mystery in his skillfully crafted series Previously. Finger's narratives distort fact and fiction, channeling television crime scenes that beg the question, what happened here? Each image is actually a miniature diorama built specifically to be photographed—all staging and lighting is done looking through the lens. Once photographed the diorama is destroyed, living on only in the image, much like a film set.