Mountain2Mountain is a non-profit that works in conflict regions to create education and opportunity for women and girls to be agents of change within their communities and cultures.
Streets of Afghanistan is the organization's recent public art project featuring five public exhibitions and two photo stagings at historic sites in Afghanistan. Mountain2Mountain founder Shannon Galpin talked to us about the project.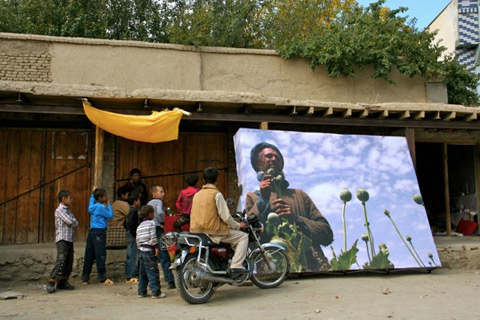 Can you describe the Mountain2Mountain public gallery project?
"The Streets of Afghanistan exhibition is a life-sized photography exhibition that was created to break stereotypes and inspire conversation. By immersing the viewer in the images the hope was to challenge our preconceptions of what Afghanistan is and who Afghans are, while highlighting the beauty and spirit of the country.
"By taking the exhibition to Afghanistan we wanted to show the world that projects like this, based in hope, can be done in countries like Afghanistan. More importantly we wanted to share these images of Afghanistan with Afghans who rarely get to see the photos taken of them and their country for the media."
How did the project come to fruition?
"Five years ago I knew I wanted to create a photography exhibition that would create a visceral story to build support and awareness for Mountain2Mountain's work in Afghanistan. I wanted to tell the story of Afghanistan from a variety of perspectives and showcase the emerging talents of the Afghan photography community. After my first visit to Afghanistan in 2008 I realized I didn't want to create another gallery show that invited people into a space to look at the walls. I wanted to surround people with the images and create an exhibition that would allow people to walk amongst the images in fluid, 3-dimensional ways."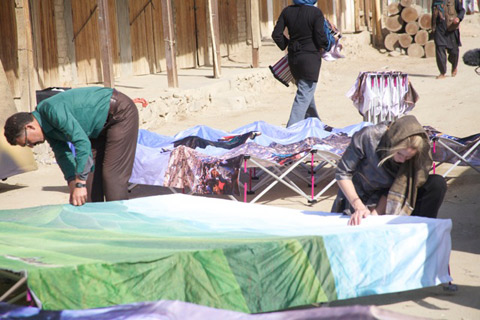 What is the goal of the project?
"To use photography to create conversation and challenge stereotypes and to use the power of street art to bring the conversations to the public, both in the US and in Afghanistan."
What is the role of the Western photographers involved in the project? The Afghan photographers?
"I met with the Afghan photographers in Kabul in 2008 and told them about the project and asked to see their favorite images of their country to consider for the exhibition. We paid each Afghan photographer for their image usage. I then reached out to the Western photographers whose work in Afghanistan I admired and who had great affection and respect for Afghanistan on a personal level, and asked them to donate images that represented their experiences and adventures in the country."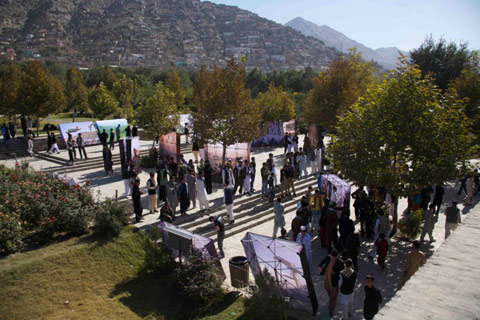 How did you find the participating photographers?
"The Afghan photographers were all part of the photo agency AINA Photo at the time and I met with them in 2008 to discuss this project. The Western photographers came from various corners. Tony Di Zinno travelled with me in 2008 to document my first trip and his images are like moving paintings in their style and beauty. Aussie photographer, Travis Beard, lives full time in Afghanistan and we became friends and colleagues. His work focused on street art and rock music with Afghan youth and his unique interactions in Afghanistan as a motorcycle enthusiast and rock musician.
"I was familiar with Getty photographer Paula Bronstein's beautiful work and she happened to be a longtime friend and colleague with a previous Board Advisor. A lot of her work focused on women, and in particular the issue of self immolation. Boulder-based photographer Beth Wald spent a ton of time living with the Kyrgz nomads in the remote area of the Wakhan and has also worked with environmental agencies tracking Afghanistan's indigenous wildlife. She brings that beauty to her landscapes and portraits. Our final photographer, the late Paula Lerner, spent her time advocating and fighting for the stories and voices of women and much of her time was spent in Kandahar and other areas where women's voices are most oppressed."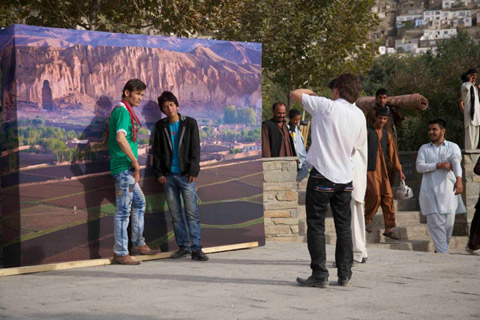 How have people in Kabul reacted to the photographs?
"They were fascinated by the enormity of the size – the landscapes and cityscapes were the obvious favorites. Everyone was taking photos in front of them as though to 'put themselves' into the landscape with cell phone cameras. Children would walk by and gently touch the images."
How many people have seen the exhibitions in Kabul? Where else will the images be displayed?
"A couple thousand Afghans have seen the images in a total of six public exhibitions. There was a final seventh exhibition at the US Embassy as the backdrop to an Afghan rock concert. The exhibition is still in Afghanistan and we hope to have a few more exhibitions in other areas of the country and to then distribute the images to various women's groups, orphanages, schools, and governmental offices that helped support the public exhibitions."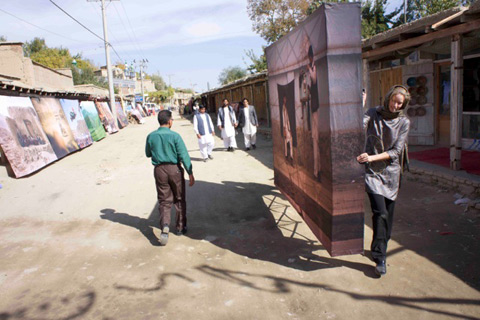 Mountain2Mountain works primarily with women in conflict zones. How did the mission on M2M impact the project?
"Our work is to empower voice and value with women through education, the arts, and activism. One of our previous projects was a graffiti art project with Combat Communications, and sponsoring the first Sound Central Music Festival – a central Asian modern music festival put on in Kabul.
"This project is all about voice. The use of photography is a visual voice, a visual story. This is at the heart of everything Mountain2Mountain does. Our founding ethos back in 2007 was 'connecting communities and cultures' knowing that if we could build cultural bridges then we could build support for our projects and further develop the understanding of our global humanity."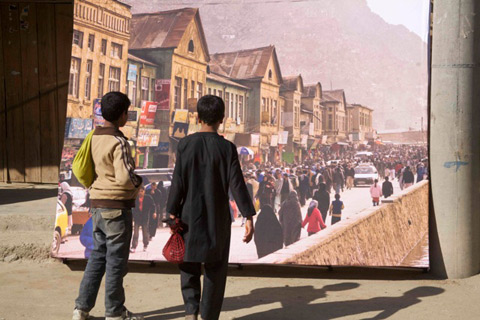 How should photography serve the nonprofit and NGO world?
"Photography is such a visceral way to showcase the work of NGO's, and when used responsibly it can create great conversations and build support for areas of the world many haven't seen. A big issue I have seen previously is NGO organizations using photos they take of communities and beneficiaries without context. One way to avoid this is to think about telling a story, using local photographers or even kids to tell the story of their community so that there is authenticity with the photography's usage."
*Photos courtesy of Tony Di Zinno.
This post was contributed by photographer Greta Rybus.